A celebration of the almond-based mixer orgeat, which features in classic cocktails and makes a delightful addition to whipped cream, too. A collaboration with Jessica and Mitch of Thread and Bones.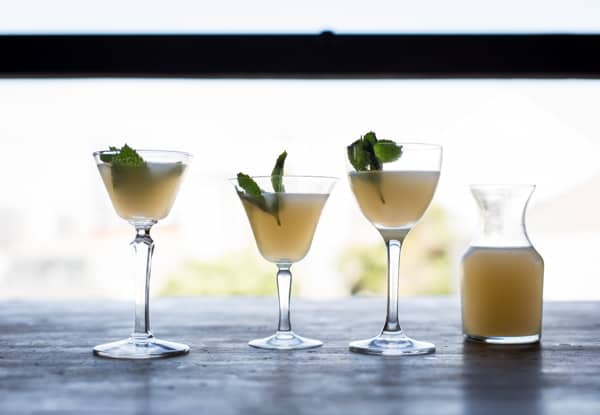 The first time I tasted or heard of orgeat was in the pastry department of Farallon, the classic San Francisco seafood restaurant where I worked for a stint under pastry chefs Terri Wu and Emily Luchetti. We had an orgeat granita on the menu and when I inquired about the main ingredient, Terri told me she had scored some from our bar. The precious stuff was made in small batches in Berkeley and was a classic mixer.
This piqued my interest. "I love mixing drinks," I admitted. "I kinda want to be a bartender."
Terri replied, "Oh, we used to have a pastry cook here who was a bartender… She wasn't a very good baker."
After that, I kept my boozy aspirations to myself, instead chatting up the lead bartenders who were always happy to detail their latest creations and nerd out on classic cocktails and obscure spirits. My bartender dream never came to fruition, but I continue to infuse my desserts with spirits whenever possible.
And I still mix drinks like a baker.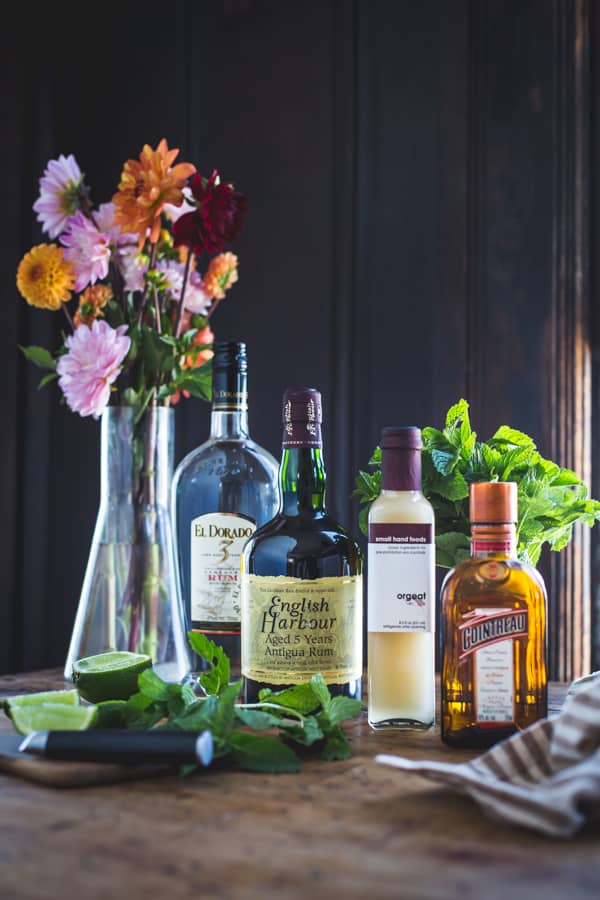 Farallon stocked the highest quality ingredients, and the orgeat, made by Small Hands in Berkeley (and available for mail order here), was one of them. The small bottles were special ordered, hoarded, and frozen with simple syrup to make an icy granita. We served the granita with a sorbet, but what flavor it was I can't remember. What I do remember is scraping giant pans of granita until the fork threatened to freeze my fingers off. But the bites of cool, almondy bliss that I got to sneak were well worth it.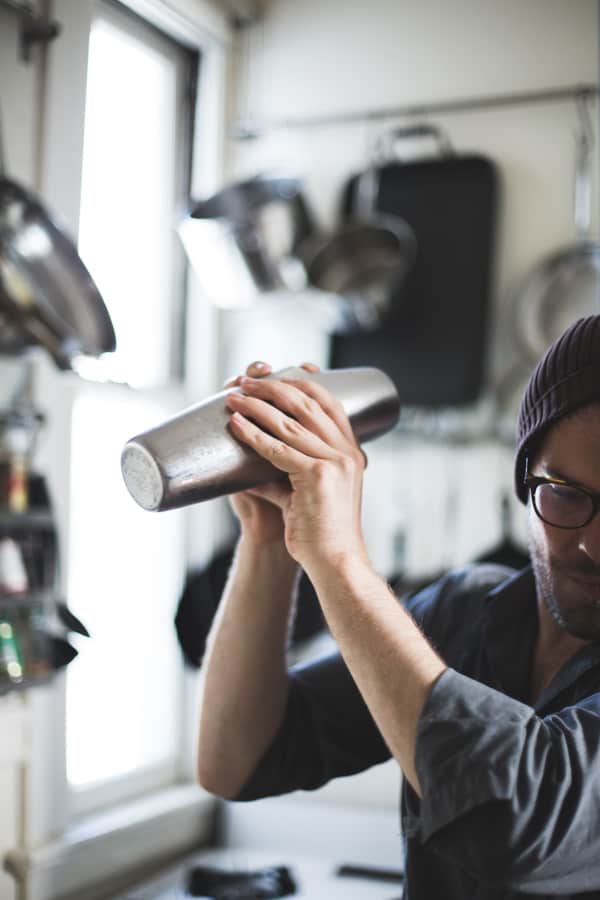 Orgeat came up in conversation recently during dinner with two of my favorite people: Mitch and Jessica, who write the lifestyle blog Thread and Bones while running a wedding photography business. We were discussing a new shop that had recently opened in the Mission, The Royal Cuckoo Market, which stocks everything you would ever want to put in a drink, and lots of good things to eat, too. Small Hands Orgeat had caught my eye, and this sparked a conversation about the little-used mixer. After much wine, the evening ended with us pressing our faces against the window of the shop, which had long since closed, and hatching a scheme: An orgy of orgeat.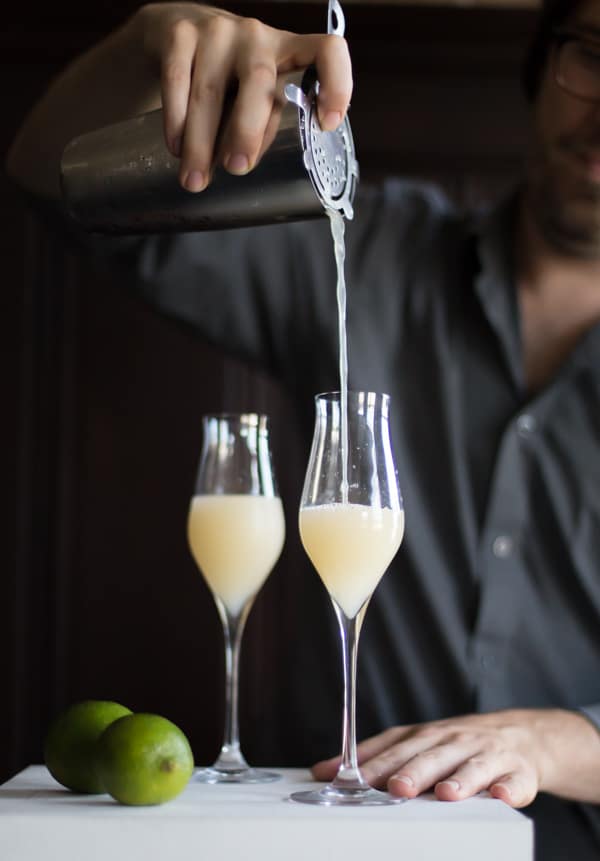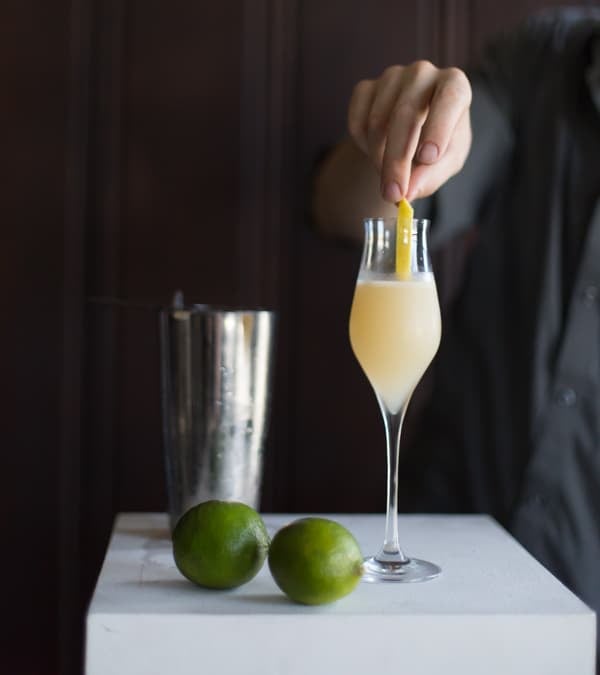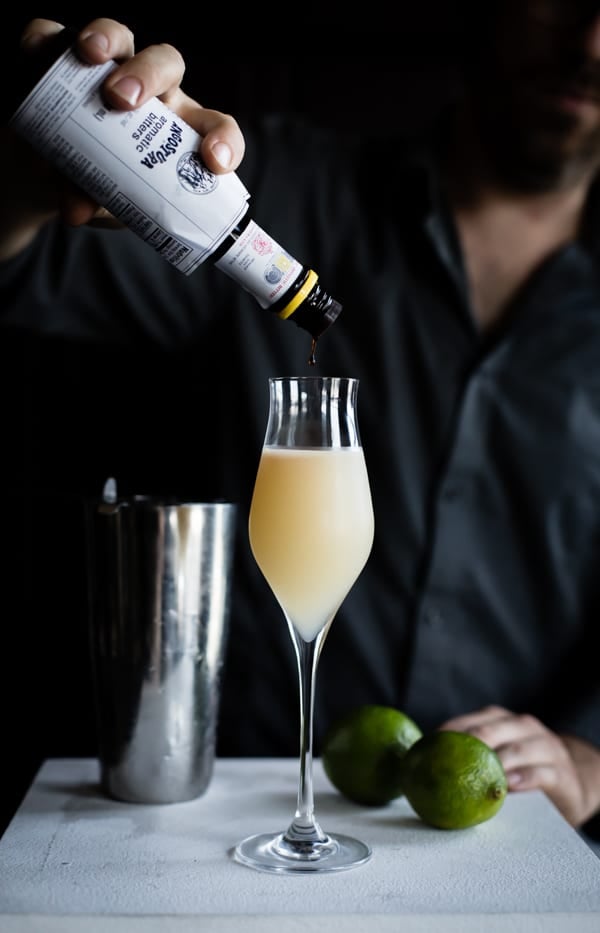 Orgeat is a classic almond-based spirit made through a fairly laborious process(think: French equivalent of horchata). Small Hand's version is sharpened with brandy and apricot kernels, and kissed with orange blossom water. It tastes like liquid marzipan (Jessica's words): sweet, floral, and intensely almondy. Orgeat adds body and depth to a number of classic cocktails in the way that simple syrup and bitters both would, only with an elusive flavor of its own. When we re-convened at Jessica and Mitch's Mission apartment for our orgeat three-way, Mitch shook up Mai Tais and Japanese Cocktails, Jessica served up delicious vittles, and I baked up a peach buckle to serve with orgeat whipped cream.
Our first sip of mai tais surprised everyone. I'd always thought of the mai tai as a super-sweet tiki drink brimming with tropical fruit juice, but this misinformation was just a product of having my bartender dreams crushed at an impressionable age. A classic mai tai is merely rum, lime juice, cointreau and orgeat, shaken and served garnished with fresh mint. And yet something magical happens between the floral orgeat and citrusy orange and lime, and the result tastes like a piña colada that's been to finishing school: well-balanced and demure, polished, but still a little wild.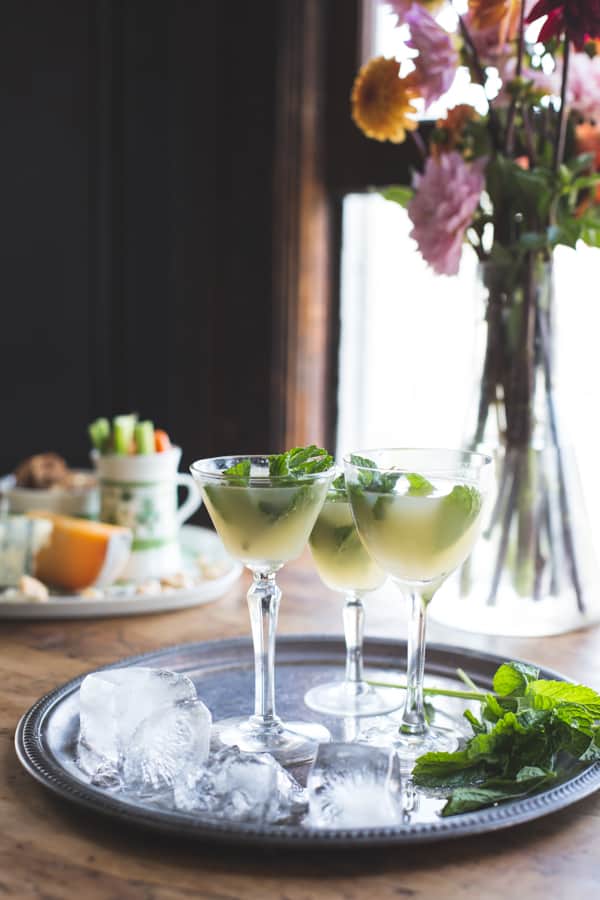 If the Mai Tai was slightly frivolous, the Japanese Cocktail was serious business. And no wonder; it was purportedly invented in 1860 by New York barman Jerry Thomas for the Japanese translator Tateishi "Tommy" Onojirou during the first Japanese diplomatic mission to the US. Nothing about the drink is remotely Asian; it features cognac and orgeat sharpened with lime juice and Angostura bitters and served up with a lemon twist. The orgeat smoothes the rough edges of spiritous cognac, adding body weight to the drink. Again, the citrus plus orgeat creates the illusion of tropical fruit, but the cognac keeps the Japanese cocktail more earthy than the rum in the mai tai. The bitters add a complexity that keeps the drink grounded.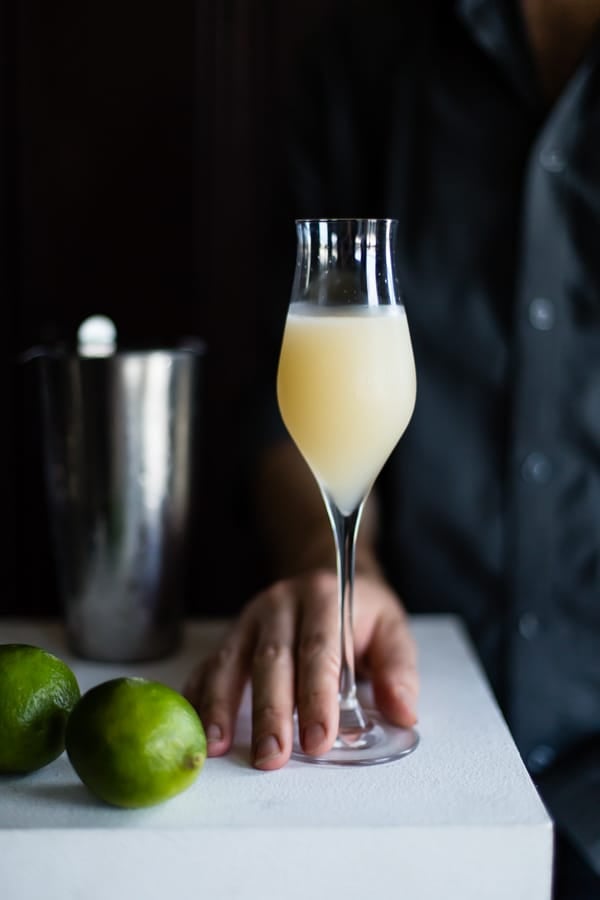 These are pro drinks, people – classic spirits that require nary a muddle. They are well-balanced and smooth, sweet enough to appeal to bakers but serious enough to be enjoyed by real bartenders, too.
Last but not least, the orgeat chantilly: what could be bad about almond-scented whipped cream? I would eat this stuff by the shovelful. It paired especially well with a slice of almond peach buckle, a variation of a recipe that will be in my book, but I can imagine it on all sorts of confections: a chocolate pot de crème, whiskey kissed coffee, or rolled into a roulade-style cake spread with apricot jam. The possibilities are endless.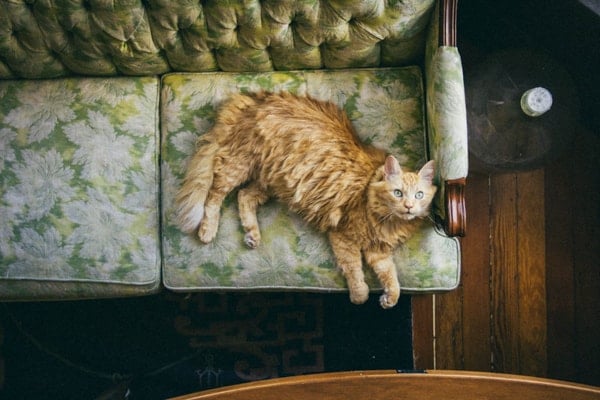 For more orgeat pics and the Mai Tai recipe, head over to Thread and Bones. All images were styled and shot in collaboration with Mitch and Jessica.
Thanks for reading! For more Bojon Gourmet in your life, follow along on Facebook, Instagram, Pinterest, Bloglovin', or Twitter, subscribe to receive new posts via email, or become a sponsor.
Spirited away:
Basil Plum Pimm's Cup
Raspberry, Lillet and Lemon Verbena Popsicles
White Nectarine Prosecco Sangria with Ginger and Elderflower
The Japanese Cocktail
Makes 1
ice
2 ounces cognac
1/2 ounce fresh lime juice
1/2 ounce orgeat (such as Small Hands)
2 dashes Angostura bitters
lemon twist, for garnish
Fill a cocktail shaker partway with ice. Add the cognac, lime juice, and orgeat. Shake vigorously for about 30 seconds. Strain into a chilled coup or cocktail glass and top with the bitters and lemon peel. Enjoy immediately.
Orgeat Chantilly
This almondy whipped cream is delectable on summer fruit desserts, or try a dollop over a cup of whiskey-kissed coffee. Orgeat varies in sweetness, so add more or less to your taste.
1 cup heavy whipping cream, very cold
1-2 tablespoons orgeat, to taste
Using a whisk, hand blender, or stand mixer fitted with the whip attachment, whip the cream until it just holds soft peaks. Beat in the smaller amount of orgeat, adding more if you like. Continue whipping until the cream holds soft peaks once more. Chill until needed.