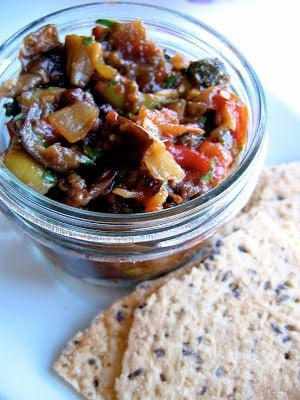 I have done many silly things in my life, but among the most foolish was going on the Atkins diet…

while in Italy.
When I think of all the pasta, pizza, gelato, sfogliatelle, rustici and cantucci that went to waste (i.e. didn't get eaten by me) I practically weep with regret. All things happen for a reason, however, and if I hadn't done the diet I may never have discovered caponata.

Consisting of large slices of grilled eggplant, bell peppers and zucchini, all marinated in some sort of tasty sauce,I found it at a deli of sorts at a large marketplace in Bologna. Luckily for me, I didn't know that the reason it tasted so good was that it contained plenty of sugar and vinegar to make it 'agrodolce', or sweet and sour. I ate it voraciously, believing it to be 'low carb' (how wrong I was!) and was thrilled to find a recipe for it in one of my favorite books, Once Upon a Tart, when I returned to the States.

I now make caponata several times each summer, when the markets and our boxes brim with summer vegetable-fruits.
Though it contains similar ingredients to ratatouille, this Italian version is more like a savory vegetable jam or chutney than a stew. Currants, capers and olives give it depth and piquancy, and parsley and celery lend a clean, bracing bite.

The original recipe calls for sauteing eggplant, celery and onions one at a time, so that the components remain somewhat distinct in the end. I add zucchini and bell peppers for color and to harken back to what I ate in Italy, and I roast the vegetables in the oven, which I find easier and tastier, too, as it concentrates the flavors of the vegetables.
Caponata makes a lovely snack or appetizer, spread on olive bread, focaccia or crackers. A bit of fresh goat cheese makes an ideal accompaniment. Or toss it with some leftover penne for a cool pasta salad.

It may be agrodolce, but you don't have to be aggro to make, or eat, it.
Extra Eggplant:
Smoky Baba Ganouj
Roasted Eggplant Parmesan
One year ago:
Roasted Summer Vegetable Caponata
Adapted from Once Upon a Tart
Makes about 6 cups
1 medium eggplant (about 1 pound), cut into 1″ cubes
1 teaspoon salt, plus another 1/2 teaspoon
4 medium summer squash (about 1 pound), cut into 1″ cubes
2 – 3 bell peppers, or 4 gypsy peppers, halved and seeded (or one 8-ounce jar roasted peppers)
4 tablespoons olive oil
1 large yellow onion, diced
2 stalks celery (or 1 small bulb fennel), finely diced
4 medium tomatoes (3/4 pound, preferably dry-farmed, romas or san marzanos), diced
3 tablespoons capers (preferably salt-packed), rinsed and drained
1/2 cup pitted green olives (such as picholines)
1/2 cup currants
1/2 cup red wine vinegar
1/4 cup sugar
1/2 cup parsley leaves, chopped
Toss the eggplant with 1 teaspoon salt in a colander. Let sweat 20 minutes.
Meanwhile, position racks in the upper and lower thirds of the oven and preheat to 425º. Rub a sheet pan with a bit of olive oil, and place the peppers on it, cut side down. Roast in the oven until collapsing and the skin is browned, about 25 minutes. Let cool. Peel and cut into 1″ squares. Set aside.
Meanwhile, toss the zucchini with a tablespoon of the olive oil. Spread in one layer on another sheet pan and roast until tender and browned in places, about 20 minutes.
When the eggplant is done sweating, blot it dry in a kitchen towel. Toss with 1 tablespoon of olive oil. Spread in one layer on another sheet pan and roast until tender and golden, tossing once with a metal spatula, about 30 – 40 minutes.
Meanwhile, heat 2 tablespoons olive oil in a large soup pot or dutch oven. Add the onion and celery and saute over medium heat until tender, 15 to 20 minutes. Add the roasted vegetables, tomatoes and their juices, capers, olives, currants, vinegar, sugar and 1/2 teaspoon salt. Bring to a simmer, then reduce the heat to low and cook, stirring occasionally, until the mixture has reduced to a thick, chunky jam, 20 – 30 minutes. Taste for salt, then remove from the heat and stir in the parsley.
Cool the caponata, then pack it into jars and store in the refrigerator for up to several weeks, or freeze for up to several months.