I had high hopes for plum season this year. Though not my favorite fruit for eating, their sweet-tartness makes them lovely for baking into desserts (and we are all about desserts, yes we are.) I plotted all summer long, daydreaming of frangipane tarts, lavender-plum ice cream, cornmeal crusted galettes, tarte tatin, cobbler, sugar plum cake…

Things got off to a bad start when Jay's mom's Santa Rosas and Elephant Hearts, which we'd eaten pounds upon pounds of last year, all ripened simultaneously… while we were at music camp. Then other fuits elbowed their bossy ways into the kitchen: pesky peaches, meddling huckleberries, and those dastardly pink pearls. I thought I had all kinds of time left, and kept expecting to see more than just a handful of pluots in the market, or the green guys that showed up in our box, then remained rock-hard for a month. At one point, sugar plums appeared (which I expected to see more of after all the other varieties had petered out) only to disappear after a week.

I've heard that plum trees tend to produce on an every-other-year basis, so maybe the entire west coast is on the same lame schedule. But what do I know about fruit trees and their whims? I live in San Francisco with one-square-foot of steel-slatted outdoor space (i.e., the fire escape).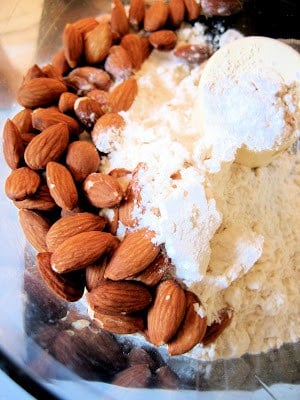 Anyway, I determinedly snapped up some Black Kats, Elephant Hearts and Flavor Richs to make this simple tart, which requires only 4 – 6 plums. The recipe comes from Alice Medrich's Pure Dessert, and though I may be a loser for waiting so long to make it, this delight is a pure win.

The dough, which comes together in just moments in the food processor, bakes up into a sort of big, chewy cookie-like confection. Dotted with tender, baked plums, it drinks up the juices of this notoriously liquid-when-baked fruit. The flavor has the same nubby, nutty qualities of a financier, only much faster to mix up.

This rustic tart is good warm or at room temp. It makes an elegant dessert with a scoop of spicy cardamom ice cream melting alongside, or, sans glace, it's not too sweet to make into breakfast, perhaps with a dollop of creme fraiche.

I go a bit nuts (as it were) for cardamom this time of year. The warming spice is a nice way to carry the dregs of summer fruits into the crisp days of fall. This ice cream steeps toasted green cardamom pods in the custard base, then adds some ground cardamom for pretty, grey flecks and extra flavor.

If you're going the make-your-own-ice-cream route, other flavors to consider are honey, lavender, vanilla, or noyaux (bitter almond or apricot kernal), which all pair nicely with plums and almonds.

If you've missed the boat on plums this season, don't fret too much; the cardamom ice cream would be at home on any apple, fig, pear, quince or pumpkin dessert, or even paired with chocolate. Or make a turkish affogato of sorts by pouring a shot of espresso over a scoop.
One year ago:
Rustic Almond-Plum Tart
Adapted from Pure Dessert
Makes 8 servings
1/2 cup almonds (blanched or unblanched; whole, sliced or slivered), lightly
toasted and cooled
3 tablespoons cold, unsalted butter, cubed, plus a bit of softened butter for greasing the pan
1/2 cup plus 1 tablespoon whole wheat or spelt flour
1/4 cup all purpose flour
2/3 cup sugar (I used turbinado), plus 1 tablespoon for sprinkling
3/8 teaspoon baking powder
1/4 teaspoon salt
1 egg
1/2 teaspoon almond extract
4 large or 6 smaller ripe plums or pluots, halved, pitted, the halves cut into 2 or three pieces each
powdered sugar and sliced almonds for deco (optional)
Position a rack in the center of the oven and preheat to 375º. Generously grease a 9 or 10" tart, cake, or pie pan, or oven-safe skillet.
In the bowl of a food processor, combine the almonds, flours, 2/3 cup sugar, salt and baking powder. Process until the almonds are very finely ground. Add the butter pieces, egg and almond extract. Pulse until the mixture begins to clump and resembles damp sand. Dump into the greased baking vessel and press evenly over the bottom (don't press up the sides of the pan, though.)
Leaving a 1/2" lip around the outer edge, arrange the plum slices in concentric circles over the dough. Sprinkle the tart with the remaining tablespoon of sugar. Bake the tart for about 45 minutes, until the plums are oozily collapsing and the pastry turns golden brown.
Let the tart cool a bit. Optionally sprinkle with powdered sugar and almond slices, then cut into wedges and serve, with cardamom or other ice cream, or a bit of whipped cream or creme fraiche.
The tart keeps well for up to several days at room temperature or in the fridge.
Toasted Green Cardamom Ice Cream
Makes about 1 quart, 8 – 10 servings
2 tablespoons green cardamom pods
1/4 vanilla bean, split and scraped
1/4 teaspoon ground cardamom
1 1/2 cups half and half
1/2 cup sugar
4 egg yolks
pinch salt
1 cup cold, heavy cream
Toast the cardamom pods in a medium saucepan over medium heat, shaking the pan regularly, until golden and fragrant, 2 – 3 minutes. Add the vanilla, ground cardamom, and half and half. Heat over a medium flame until steaming, and bubbles form around the sides of the pan, swirling occasionally. Cover and steep 30 minutes.
Pour the cream into a large bowl or quart-sized measuring cup. Place a fine mesh sieve over the top. Set aside.
In a medium bowl, whisk together the yolks, sugar and salt. Reheat the half and half. Gradually pour into the yolks, whisking constantly. Return the mixture to the pan and cook, stirring constantly with a heat-proof rubber spatula, until the mixture just starts to 'stick' (form a film on) the bottom of the pan, and/or registers 170º on an instant read thermometer.
Immediately strain the mixture through the sieve and into the cold cream. Optionally chill the mixture in an ice bath to cool it down quickly, and place in the refrigerator for at least 4 hours, or up to a couple days.
Optionally chill the ice cream base in the freezer for 30 minutes prior to churning, then spin in an ice cream maker. 'Cure' in the freezer for at least an hour, until firm enough to scoop. The ice cream is best eaten within a week or two, but will keep for up to a few months. (Place a piece of parchment paper on the surface of the ice cream to prevent ice crystals from forming.)