I have never been particularly career-oriented (hence the title of this blog). But while reading one of Ruth Reichl's books several years ago, I got an idea of what my dream job (if I really had to get one) might be.

Ruth reminisces about a co-op cafe in Berkeley, where each worker would come in at will and cook or bake whatever they made best. One cook, for example, would come in every day and just make quiche. Customers would line up around the block for this quiche, which was apparently phenomenal.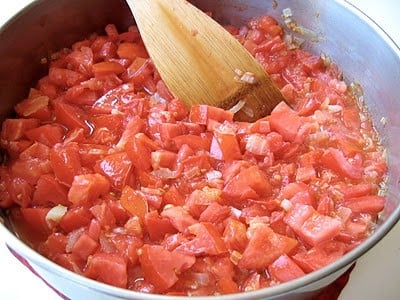 At UCSC, instead of paying attention during astronomy class, my mind would drift into daydreams about what I would make at my dream co-op cafe. Would it be scones? Or pies? Or maybe one day I'd go to pastry school and learn how to make perfect croissants…

I never realized my dream of either living in Berkeley or working at a co-op, but every time I page through my copy of The Cheese Board Collective Works, I get to pretend. On both counts.
The Cheese Board Pizza Collective is located in Berkeley's Gourmet Ghetto, across the street from Chez Panisse. Much like Ruth's co-op of yore, eager pizza-cravers queue down the sidewalk for the pizza du jour, where the only decision they get to make about their pizza is whether to order it by the slice or by the pie, and whether to imbibe wine or beer with said pizza. Other offerings on the small menu include a dessert (raspberry-plum tart this week!), a simple green salad, and whole heads of roasted garlic. Each customer gets a half slice, gratis, after ordering to tide them over while they wait patiently for their pie, grooving to the jazz band and basking in the convivial atmosphere. When the small seating areas indoors and out have been claimed, clientele overtake the grass-and-tree-lined center divider that runs down Shattuck Ave., creating what feels like a pizza-fueled block party.

But crossing the Bay Bridge for the Cheese Board experience can seem daunting, so we often make Cheese Board-style pies in the comfort of our own San Francisco home.
When we got some eggplants in our box, I decided, as per Jay's request, to brush them with olive oil, roast them in the oven, and bake them into a pizza. I've been monogamous with Cheese Board's sourdough pizza crusts since I inherited a killer starter a couple of years ago, but, typical for the summer, I'd managed to starve my starter in the refrigerator for months. (And people wonder why I don't want children..)

Indeed, I hadn't fed my starter since making beer rye sourdoughin late March, which was incidentally also inspired by a Cheese Board recipe, and I needed to have pizza, pronto, without three days of intensive starter-feeding to make a crust.

So I gave their yeasted pizza dough recipe a whirl, but with a couple of minor adjustments. I took a trip to Rainbow Grocery, also a co-op, to get some bread flour from their bulk section, which contains almost every flour you could ever imagine: buckwheat, sticky rice, rye, and even mesquite flour. But next to the bread flour, the word 'Pizzeria' caught my eye. Our local, organic mill, Giusto's, now makes Type 00 flour, which is very finely ground from hard winter wheat to the consistency of talcum powder. Since pizza dough is at its crispest and most bubbly when the dough has had a long, slow fermentation, 00 flour speeds up the process, as the smaller particles of dough absorb moisture more quickly. Italian pizzaioli have been baking up pies with 00 flour for (I believe) centuries, and for good reason; this turned out one of the best pizza crusts I've ever had; sturdy, crisp, and tender all at once. I added a bit of whole wheat bread flour to the mix, too, and I liked the complexity of flavor that it added.

Since the recipe makes enough dough for three large pizzas, I got to do some experimentation over the course of the week (the dough keeps well in the fridge for several days, and it just gets better and better). The first recipe I tried came from Everyday Greens. Three kinds of cheese top the dough, along with oven-roasted eggplant and cherry tomatoes. This pizza was delicious, but I wanted a deeper flavor. So for pizza #2, I cooked onions and dry-farmed tomatoes into a thick sauce, added a bit of chile de arbol for kick, and passed it through a food mill to make a smooth sauce and remove the tomato seeds and skins. I added some castelvetrano olives, and used mozzarella, fontina and ricotta salata for the cheeses. This pizza was even better than the first.

But for pizza #3 I tried pre-baking the dough partway, then adding the toppings. The dough bubbled up dramatically, and the finished crust stayed crisp and light. This was our favorite permutation.
Pazza for pizza:
Sourdough Pizza with Canterelles, Shallots and Chevre
Sourdough Deep Dish
Spinach and Chevre Calzone
Eggheads:
Roasted Eggplant Parmesan
Roasted Summer Vegetable Caponata
Smoky Baba Ganouj
One year ago:
Two years ago:
Roasted Eggplant Pizza with Fontina, Ricotta Salata and Olives
Each pizza serves 2-3 as an entree.
The dough recipe makes enough for three large pizzas; extra dough can be stored in an oiled, airtight container (that is a few times the size of the dough to allow for expansion) in the fridge for up to 5 days, or in the freezer for up to 1 month. Bring the dough to room temperature before proceeding with the recipe. Since pizza dough is generally fairly wet, it is best kneaded in a stand mixer fitted with the paddle attachment. If you must knead it by hand, add as little flour as possible to keep the dough from sticking to your hands and the kneading surface.
Make sure to use dense-fleshed tomatoes, such as romas, san marzanos or dry-farmed early girls, for the most voluptuous, flavorful sauce. A food mill is a handy way to puree the sauce, while removing the seeds and skins. Lacking one, you can peel and seed your tomatoes tomatoes like so: cut an X in the bottom of each tomato, dunk them, one by one, into boiling water for about 30 seconds until the skin looks loose, then plunge each into an ice water bath to stop the cooking. Peel the skin off each tomato. Cut the tomatoes in half, and squeeze the seeds into strainer set over a bowl to save the juices (add those to the sauce with the tomatoes).
If you don't have the time to make tomato sauce, add a handful of halved cherry tomatoes to the pizza instead, and skip the step of par-baking the crust.
The dough:
Adapted fromThe Cheese Board Collective Works
Makes enough dough for three 10-12″ pizza crusts
1 package (about 2 1/4 teaspoons) active dry yeast
1 1/2 cups warm water
2 tablespoons extra-virgin olive oil
1 1/2 teaspoons sea salt
1/2 cup whole wheat bread flour
2 1/2 to 3 cups "type 00" pizzeria flour (or white bread flour)
The eggplant:
Makes enough for 3 pizzas
2 large globe eggplants, about 2 pounds (or 2 pounds of japanese eggplants)
1/4 cup olive oil
2 garlic cloves
salt
The tomato sauce:
Makes about 2 cups, enough for 3 large pizzas
2 tablespoons olive oil
1 medium, yellow onion, diced
1-2 chiles de arbol, crumbled (or 1/4 teaspoon chile flakes)
2 large garlic cloves, chopped
1/2 teaspoon salt, or to taste
2 pounds fleshy tomatoes (preferably romas, san marzanos or dry-farmed early girls), chopped
Additional toppings (per pizza):
olive oil, for brushing the dough
1/2 cup tomato sauce (above)
4 ounces mozzarella, sliced
2 ounces ricotta salata, crumbled
2 ounces fontina, shredded
10 castelvetrano olives, pitted and halved
a few large basil leaves
Make the dough:
Place the water in the bowl of a stand mixer, and sprinkle the yeast over the top. Let sit 5-10 minutes to dissolve, then add the oil, salt, whole wheat flour, and 1 1/2 cups of the 00 flour. Fit the mixer with the paddle attachment, and mix on low speed for 5 minutes to make a wet dough, scraping down the sides of the bowl as necessary. Add 1 more cup of 00 flour. Increase the mixer speed to medium, and knead for 7 minutes, adding more flour by the tablespoon until dough comes away from the sides of the bowl. After 7 minutes, the dough should feel smooth and soft, and slightly sticky, but not too wet.
Place the dough in a large, lightly oiled bowl or container, and cover tightly with plastic wrap or a lid. Let the dough rise in a warm place until doubled or tripled in bulk, 1 to 1 1/2 hours.
Roast the eggplant:
Position two racks in the upper and lower thirds of the oven and preheat to 400º.
If using globe eggplants, slice them into 3/4″ thick rounds. (If the eggplants aren't garden fresh, sprinkle with 1 tablespoon of salt and leave to sweat out the bitterness for 1/2 an hour, then blot dry, and don't add any salt in the next step.) If using Japanese eggplants, slice them 1/2″ thick on the diagonal (no sweating necessary).
Place the olive oil in a small bowl, then pass the garlic through a press and into the bowl.
Lightly oil two rimmed baking sheets. Lay the eggplant slices on the sheets in a single layer, then brush both sides with the garlic oil and sprinkle lightly with salt.
Bake the eggplant until very soft and golden, 15-20 minutes for Japanese, and a bit longer for globe. Let cool, then cut into strips or quarters.
Make the sauce:
Heat the oil in a wide skillet over a medium flame. Add the onion and chile and saute until tender and translucent, about 10 minutes. Add the garlic, cook for another minute, then add the salt and tomatoes. Cook the sauce, stirring frequently, for about 15 – 20 minutes, until thick and broken down, adjusting the heat as needed to minimize splatters. Let the sauce cool a bit, then work it through a food mill to separate out the tomato seeds and skin.
Assemble and bake the pizzas:
Position a rack in the bottom of the oven, and remove any other racks from the oven. If you have a baking stone, place it on the rack. (Lacking a stone, form the pizza directly onto a parchment-lined sheet pan in the following steps.) Preheat the oven to 500º for at least 30 minutes.
Divide the dough into three balls, and keep the other two covered while you work with the first. On a lightly floured surface, tuck the edges of the dough under itself to make a loose ball, then flatten the dough into a disc. Gently press, pull and stretch the dough into a 10-12″ round; if it is very springy, let it rest for a few minutes to relax the glutens.
Place the dough on a piece of parchment paper set on a pizza peel (or large cutting board). Trim the edges of the parchment so they stick out 1″ on all sides. Brush the dough all over with olive oil. Slip the dough, parchment and all, onto the heated stone and bake for 3 minutes.
Use a pair of tongs to pull the pizza and parchment out of the oven and onto the peel.Squish any giant bubbles, and spread the crust with 1/2 cup of the tomato sauce, leaving a 1/4″ border on all sides. Evenly distribute the toppings in the following order: mozzarella, ricotta salata, fontina, eggplant, olives.
Return the pizza to the oven, without the parchment this time, and bake until the cheese is melted and the sides and bottom of the crust are golden brown, 10 – 15 more minutes. Remove from the oven and onto a large cutting board.
Sliver the basil and sprinkle it over the pizza. Cut the pizza into 6-8 wedges and serve.
Repeat with the remaining 2 pizzas.