I'm not much for babies. While other people ooh and coo over tiny bundles of chubby thighs and drooling, toothless mouths, I usually want to run the other way. I've learned to plaster on a smile and cry "oh, how cute!!!" But I'm sure the parents see right through my act, and, deep down, feel just as perplexed as I do when a guest fails to acknowledge that my cat is the most adorable precious thing on the planet.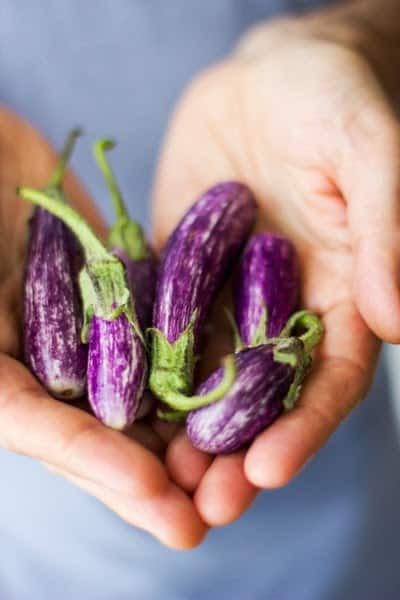 Weirdos.
Anyway, baby vegetables are another story. Tiny vegetables will reduce me to a baby-talking fool if I'm not careful.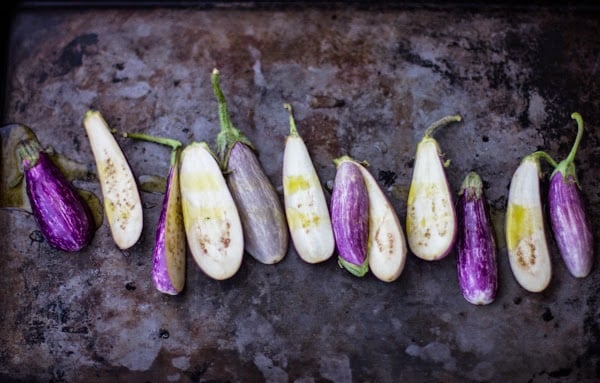 This was nearly the case yesterday, when Jay and I stopped by my favorite place in the whole world: the Everett Family Farm Stand located near Santa Cruz. The self-serve haven brims with organic produce worthy of the hippest San Francisco farmer's market, minus the swarms of cut-throat, basket-swinging, elbow-jabbing market-goers.
We usually have the whole glorious stand to ourselves, but yesterday a trio of farmsters pulled up and began to unload crates of shiny, just-picked zucchini, squash, and eggplant. When I saw the pint baskets of tiny, purple-speckled fairytale eggplant, I almost died.
The manager saw me eying them. "Aren't they great? I just roast them whole. They're so sweet."
"Oh my GOD! Look how PRETTY they are! They're PURPLE! They're so cute I can hardly STAND IT! I'll take them ALL! Who's the cutest little eggplant? Who?!" was what I was thinking.
Instead I summoned a nonchalant shrug. "Oh, nice. I guess I'll get some."
I got the idea to slather the adorable nightshades with some sort of creamy red pepper sauce kissed with middle-eastern spices, something similar to romesco only punchier. It took a bit of researching before I found what I was looking for. Muhammara, a Syrian dip or spread, is usually made from roasted sweet peppers, walnuts, pomegranate molasses, and spices, and thickened with bread crumbs. I decided to forgo the crumbs in favor of a more drizzle-able sauce, and combined the flavorings from a few different recipes. Almonds seemed like a more amicable match with sometimes bitter eggplant than walnuts, so I used them instead. The resulting sauce tastes like everything: sweet with pomegranate molasses and peppers, musky from toasted cumin and smoked paprika, kicky with garlic and cayenne, bright with lemon.
The small eggplants needed only a five-minute stint in a hot oven to bronze their bottoms and soften their flesh. I arranged them on a platter and doused with muhammara, feta, parsley and almonds. We ate the first round with our hands. The second we enjoyed on a bed of lettuce (panisse and red romaine, also from Everett) dressed with olive oil, lemon juice, salt and pepper. I bet you could stick all of these in a pita half and call it lunch, too.
I still have quite a bit of muhammara left over, so I'd love suggestions for other things to do with it, if you've got any. My eye is on these grilled tofu vegetable kabobs, though I'm guessing it would make a killer marinade for chicken or lamb, too.
Adorable aubergines:
Baked Penne with Eggplant and Fontina
Roasted Eggplant Parmesan
Smoky Baba Ganouj
One year ago:
Two years ago:
Three years ago:
Tonic Water
Apricot Cherry Clafoutis
Roasted Tiny Eggplant with Muhammara and Feta
For a more traditional muhammara, use walnuts in place of the almonds. You'll have extra muhammara left over; save the rest for another round of these, or use it as a dip or spread for flatbread or crackers. Heidi writes beautifully about muhammara here. If you don't have pomegranate molasses on hand, I think this dip
would still be tasty without it. (Just don't substitute regular molasses, which has a totally different flavor profile going on.)If you can't find tiny eggplant, make this with Japanese eggplant, or globe eggplant cut into rounds and salted to sweat out any bitterness. Feel free to throw the oiled eggplant on a grill if you prefer it to the oven.
Serves 4 as an appetizer
Muhammara (makes 1 cup):
2 medium-sized red bell peppers
1 teaspoon cumin seed
1/2 cup sliced almonds, toasted
2 medium garlic cloves
1 teaspoon smoked paprika
1/2 teaspoon salt
1/8 teaspoon cayenne
1 tablespoon pomegranate molasses
1-2 tablespoons lemon juice
2 tablespoons olive oil
The eggplant:
1 pint basket tiny eggplants, such as Fairytale (10 ounces)
olive oil
salt
2 ounces feta cheese, crumbled
handful parsley leaves, washed and torn
handful toasted sliced almonds
lemon juice
Make the muhammara:
Roast the bell peppers over an open, medium-low flame, turning frequently, until blackened and blistered all over, 5-10 minutes. Set aside to let cool. When cool, peel off the skin and discard. Slice the peppers open over a bowl to catch their juice, and remove and discard the seeds and stems. Place the walls in the body of a food processor. Reserve the juice.
Toast the cumin in a dry skillet set over a medium flame, shuffling the pan frequently, until the cumin is fragrant, a minute or so. Let cool, then grind finely in a spice grinder or with a mortar and pestle. Add to the food processor, along with the almonds, garlic, paprika, salt, cayenne and pomegranate molasses. Process the mixture until silky smooth, scraping down the sides of the bowl as necessary. Add the reserved pepper juice and the smaller amount of lemon juice, blend, then drizzle in the olive oil with the motor running. Taste the muhammara, adding more lemon or cayenne if you like.
Store the muhammara in a jar in the refrigerator. It should keep for at least a week or two.
Prepare the eggplant:
Position a rack in the lower third of the oven and preheat to 475ºF.
Rinse and dry the eggplants, then slice each in half lengthwise, leaving the stem in tact. Lay the eggplant halves on a small (quarter), rimmed baking sheet, drizzle with enough olive oil to coat them lightly, and toss with a few pinches of salt. Arrange the eggplant halves cut side down. Roast until the bottoms are golden the eggplant is tender. Mine took only 5-7 minutes, but the time will vary depending on their size, so check them frequently.
Use a thin, metal spatula to remove the eggplant halves from the oven. Place them cut-side up on a platter. Spoon a bit of muhammara over each half, sprinkle with feta crumbles, sliced almonds, and torn parsley. Serve warm or at room temperature. I find it easiest to eat these out of hand, but do leave behind the inedible stems.