Many people I know have fond childhood memories of eating flaky apple turnovers. My first occurred during a Girl Scout meeting in second grade, when we tucked grated apples into squares of puff pastry and baked them. Then we did egg white facials. (The turnover memories were more fond than those of having raw egg whites smeared on my face.)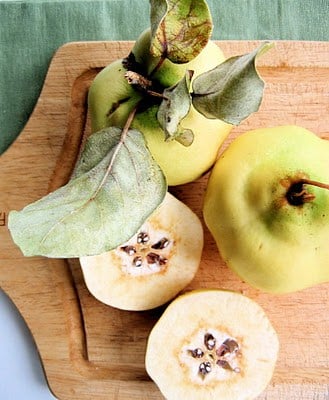 But few people I know have fond (or any) memories of eating quince. Up until a few years ago, I didn't either.

Quince are high-maintenance. In contrast to a laid-back raspberry or peach, a quince cannot be eaten fresh from the tree. Oh, no. The quince must be peeled, cored, sliced, submerged in a sweetened liquid and cooked for at least an hour before it becomes vaguely edible.

But sometimes it's ok to be high-maintenance (ahem); in the case of quince, all the fuss is well worth the outcome.

The quince looks something like a deformed, fuzz-covered apple or pear, but put one near your nose and you will inhale a most intoxicating perfume of tropical flowers and fruit. When prepared as above, the chalky, white flesh takes on a magenta hue, softens to the texture of a roasted apple, and tastes like nothing you have ever imagined, its flavor complex and magical.

I could never wrap my brain around the fact that apples are in the same family as roses; but the quince's floral aroma makes its lineage clear.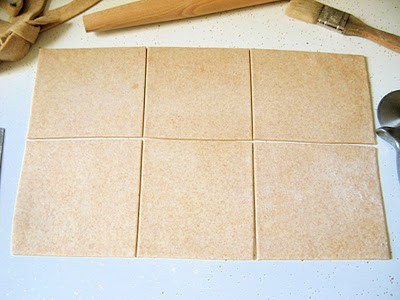 As with beets and rhubarb, I have Jay's mom, Mary, to thank for exposing me to quince. An old, gnarled tree, looking as though it grew out of a medieval fairy tale and into her backyard, produces dozens of the knobby fruits every year. She kindly lets me raid her tree each fall, and in return, I give her back poached slices of quince, or sometimes membrillo, a Spanish-style paste made from cooking the fruit down to a gel, which traditionally gets eaten with bread and manchego cheese.

This year, I tried Deborah Madison's recipe for 'nearly candied quince,' with a few tweaks, and discovered my favorite cooking method for this fussy fruit. I peeled the quince, cut them off the core and into slices, and immersed the slices in a simple syrup flavored with honey, vanilla and cardamom. I baked them in the oven until they turned rosy and soft, the juices thick and syrupy, then added a splash of white dessert wine, aptly named Nectar, also gifted from Jay's folks from a local winery.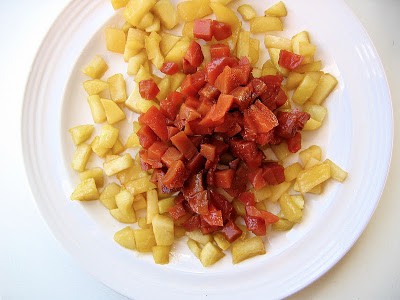 We'd been enjoying the quince slices atop sourdough crackers smeared with goat cheese for a sort of instant membrillo, but then I came across a recipe for apple quince turnovers inEveryday Greens. I sauteed up a couple of new varieties of apples that I found at Rainbow; one was a dry-farmed gala, the other a Rhode Island heirloom that tasted like a granny smith with denser flesh and less puckery-tartness.

The Greens recipe called for a pie-like dough made with cream cheese and cornmeal, but I decided to go all out and make my own puff pastry, with a little whole wheat flour thrown in there for nutty flavor.

I've written a separate post on making puff pastry by hand, the recipe and technique adapted from Baking Illustrated, which streamlines the process as much as possible. The dough still takes several hours to complete, but most of that time is inactive chilling (one of my favorite activities). But if you're feeling lower-maintenance (or just short on time), you can use a good, store-bought dough (just make sure it's made with all butter), or make them with pate brisee and call them apple quince pasties, empanadas, or hand-pies, instead.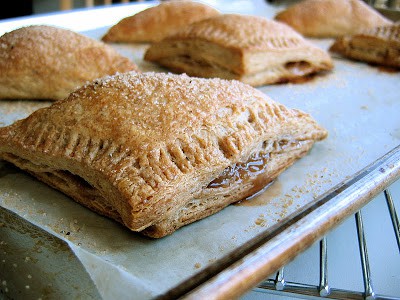 These turnovers may not be the quickest recipe, but you can make all the components ahead of time: the quince will keep in the fridge for at least 2 months; the puff dough can be stored, double-wrapped, in the freezer for 6 months; the apple quince filling can be made a day or two ahead, and the unbaked turnovers can be stored in the freezer for up to several months, then baked from frozen.

All in all, a high maintenance recipe. But when you taste the flaky crust with spiced sugar topping against the gooey, perfumed filling, I hope you'll agree that the work was well worth it. Hot from the oven, these turnovers are what fond memories are made of.
Love pomes:
Apple Rhubarb Pandowdy
Pear Cardamom Oven Pancake
Caramelized Apple Bread Pudding
One year ago:
Roasted Summer Vegetable Caponata
Almond Plum Tart with Cardamom Ice Cream
Two years ago:
Extra-Sour Country Boule
Chocolate Granola
Apple Quince Turnovers with Whole Wheat Puff Pastry
Makes six 5″ turnovers
See my post on homemade puff dough for step-by-step photos and instructions; you only need half the recipe, so store the other half in the freezer, or use it to make cheese straws, palmiers, or napoleons. Or use an all-butter, store-bought dough, defrosted in the fridge overnight; or make them with pate brisee, and call them pasties, empanandas or hand-pies.
As I mentioned above, you can make all the components for the turnovers ahead of time: the quince will keep in the fridge for at least 2 months; the puff dough can be stored, double-wrapped, in the freezer for 6 months; the apple quince filling can be made a day or two ahead, and the unbaked turnovers can be stored in the freezer for up to several months, then baked from frozen.
This recipe makes 4 cups of roasted quince; you only need 1 cup for the turnovers, but the remainder can keep for up to 2 months in the refrigerator, or frozen for longer. Try adding extra quince slices to any apple or pear dessert, like a pie, tart, cake, crisp or pandowdy. Or enjoy the quince warm with a scoop of ice cream and a crisp cookie, or chilled with crackers and cheese for insta-membrillo.
Feel free to make a double batch of turnovers and store them, unbaked, in the freezer for whenever a turnover craving strikes. It's the roasted quince that makes the recipe so unique, but lacking them, an all-apple turnover would be tasty, too. Enjoy them with a cup of tea for breakfast, wrap one up for a bojon snack in the redwoods, or serve with a scoop of ice creamand a drizzle of the quince syrup for dessert.
On the topic of quince syrup, extras make a great soda, stirred into some sparkling water and poured over ice. Add a shot of gin and a splash of dessert wine, and garnish with a slice of quince, for the grown-up version.
Roasted Quince
Adapted from Seasonal Fruit Desserts
Makes 1 quart
3 cups water
1 1/4 cups organic sugar
1/4 cup honey
1 vanilla bean, split lengthwise and scraped
6 cardamom pods, cracked
6 large quince (about 4 cups peeled and sliced)
1/4 cup late-harvest Riesling, Muscat, or other white dessert wine
Quince and Apple Filling
Adapted from Everyday Greens
1 tablespoon butter
2 tablespoons sugar
pinch salt
squeeze lemon or lime juice
2 medium, firm-tart baking apples, peeled, cut off the core, and cut into 3/4″ cubes (about 3 cups)
1 cup roasted quince (from above), cooled, chopped into 1/2″ pieces
Dough and Spiced Sugar:
1 pound all-butter puff pastry (1/2 recipe of homemade or store-bought, defrosted in the fridge overnight if frozen)
2 tablespoons sugar
1/8 teaspoon cinnamon
1/8 teaspoon ground cardamom
Cook the quince:
Position a rack in the center of the oven and preheat to 375º.
In a large saucepan, combine the water, sugar, honey, vanilla pod and scrapings, and cardamom. Bring the mixture to a boil, stirring occasionally, then simmer over low heat while you prepare the quince.
Peel the quince (I like to use a T-shaped vegetable peeler), and cut them off the core (or halve and core for cleaner slices). Cut the quince into 3/4″ thick slices. Lay the quince slices in a gratin dish or other shallow baking dish with a 2-quart capacity.
Pour the boiling syrup and spices over the quince.
Bake the quince, uncovered, for about 2 hours, turning the slices over in their juices every 30 minutes (and more frequently during the end of the cooking time). When done, the quince should be tender and rosy, and somewhat translucent.
Remove the quince from the oven and pour the wine over them. Cool the quince in the their juices, pack into a quart-sized mason jar, cover with the liquid, and store in the fridge for up to 2 months (or in the freezer for longer).
Prepare the dough:
On a lightly floured surface, roll out the puff pastry to an 11×16″ rectangle, about 1/8″ thick, chilling the dough if it becomes at all sticky or springy. Trim away the outer 1″ on all sides, and use a sharp chef's knife or pizza wheel to cut the dough into 6 squares. Stack the squares on a plate and chill while you prepare the filling.
Make the filling and assemble the turnovers:
Melt the butter in a skillet over medium heat. Add the sugar, salt and lemon juice, give it a stir, and cook until bubbling, 2-3 minutes. Add the apples and cook, stirring occasionally, until tender, about 5 minutes. Cool the apples completely (you can spread them on a plate and stick them in the fridge), then combine with the cooled, chopped quince.
Line a baking sheet with parchment paper.
Remove one dough square from the fridge, and moisten two adjoining edges with water. Place 3-4 tablespoons of the filling in the center of the dough, and shape it into a slight oblong on the diagonal. Fold the square in half on the diagonal, bringing the top edges 1/8″ over the bottom. Firmly crimp the edges with the tines of a fork to seal.
Place the turnover on the parchment-lined sheet, and repeat with the remaining turnovers (you may have some leftover filling). Freeze the filled turnovers until firm, about 20 minutes, while you:
Position a rack in the upper-center of the oven and preheat to 375º.
Remove the frozen turnovers, spray or brush them lightly with water, and sprinkle with the spiced sugar (you may not need all of it).
Bake the turnovers until the crusts are golden and flaky, and the juices from the fruit are bubbling, about 30 minutes. Remove and let cool slightly.
The turnovers are best the day they are baked, but they can be stored for up to 3 days at room temperature and reheated in a 350º oven or toaster oven.