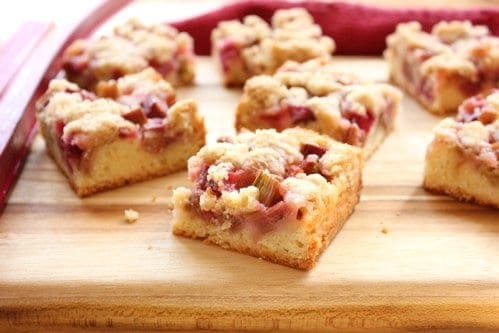 In Italy, a buckle can be offensive. If you get into someone's car and fasten your seat belt, you're essentially saying, "You're a crap driver; I don't trust you not to get into an accident." Rather than keeping you safe, as promised in the States, the seatbelt fastening action will merely enrage your driver, causing him (let's face it, this only applies to guys) to drive with even more crazed aggression and flagrant disregard of traffic laws.
(Or so I was told while buckling up in a friend's car in Lecce 10 years ago. Hopefully, things have changed.)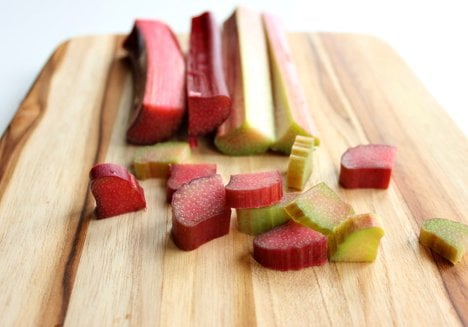 In any case, "buckling up" in your kitchen should neither offend anyone nor put your life in danger. (You may offend a few vegans, but, asAnthony Bourdain put it, "They don't eat enough animal protein to get really angry." So you're probably safe.)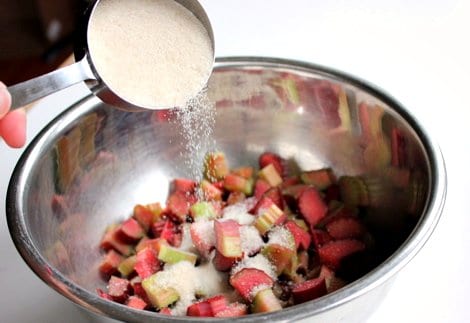 A buckle is a sturdy cake-like batter topped with an extraordinary amount of fruit; as it bakes, the cake "buckles" up through the fruit as the fruit breaks down and sinks into the batter, which sops up its juices.I made Deb's (of Smitten Kitchen) vanilla brown butter peach buckle a couple years ago with much success, and had been wanting to try something similar with rhubarb (which is technically not a fruit, but is baked with as if it were). I took a stab at one last year, but found its cardboardy texture offensive.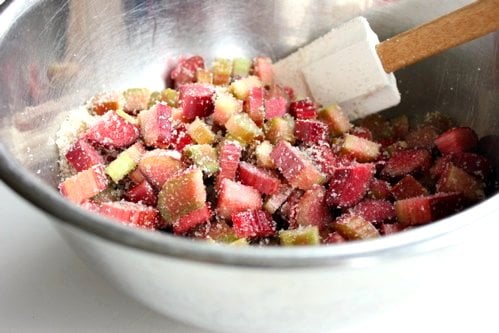 When I read through this recipe in the latest issue of Martha Stewart Living while waiting to check out at the co-op, I felt certain that it would be a winner. Being too cheap to buy the whole magazine,I thought I would be sneaky and use Jay's camera phone to snap a photo of the recipe. Jay chided me, "I'm sure that's considered uncool." But I flagrantly disregarded etiquette and clicked away.
However, my sneaky rudeness turned out to be unnecessary as I found the recipeon-linethe next day.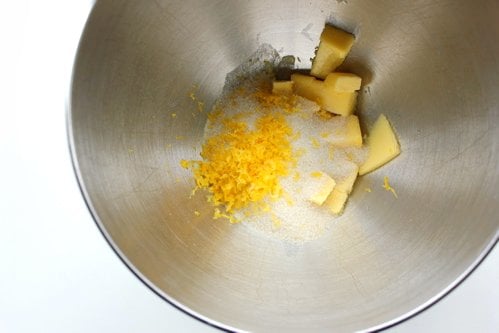 After a childhood devoid of rhubarb, I've embraced this "fruit" heartily. My tastebuds have always favored the tart end of the flavor spectrum – vinegar, citrus, cultured dairy – so rhubarb was a shoo-in. I look forward to its bright color and flavor every spring after a bleak winter of roots and pomes. (Ok, California's winters aren't exactly "bleak.")Rhubarb is usually brimming from tubs at the market this time of year, but I have yet to see it for sale.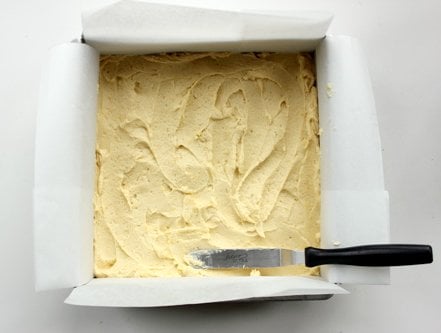 I was beginning to wonder where all the fresh rhubarb was hiding when we went to visit Jay's folks in Santa Cruz last weekend. And it turns out that all the rhubarb is hiding in Jay's mom's yard. Jay picked about 10 pounds of the red-and-green stalks, some weighing almost a full pound and feeling as fat and hefty as baseball bats.I'm quite thankful to Jay's mom's generosity, green thumb, and backyard that happens to have the perfect micro-climate for rhubarb-growing. I've been in rhubarb heaven for the past week (and, subsequently, Pinterest heaven – check out my pinboard, Rhubarb Love, for further rhubarb "pinspiration"). I've already turned two pounds of rhubarb into a crisp, half a pound into sorbet, and two more pounds into two batches of this delightful buckle.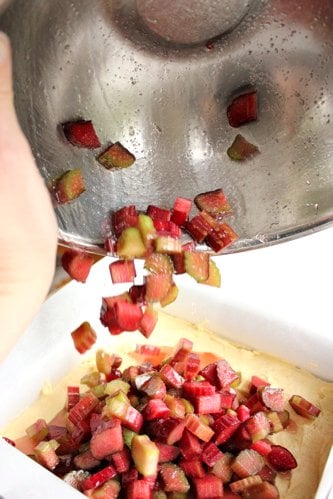 As the full batch would have made 32 squares of buckle, I halved it, and made a few small tweaks: I upped the rhubarb quantity just a bit, increased the lemon zest, used 1 egg and 1 yolk (in place of what would have been 1 1/2 eggs due to halving the recipe), and subbed yogurt and heavy cream for the sour cream since that's what I had on hand. The streusel seemed dry when I mixed it up, so I added a bit more butter and brown sugar. Slight changes.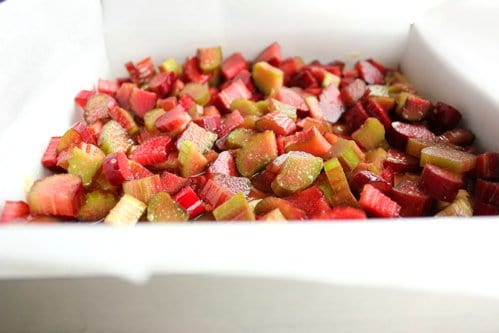 As you spread the small amount of batter into the pan, you will think that something is amiss. Ditto for when you add an obscene amount of macerated rhubarb and its copious juices, and seemingly inadequate amount of streusel. But when you cut the first slice, all the components will have magically realigned themselves into perfect proportions, the cake having risen in the oven and the fruit losing much of its volume in the form of steam and cooking into almost a chunky jam. With bit of sturdy cake, an ample layer of rhubarb, and a flutter of crisp streusel, these buckle squares fall somewhere between a coffeecake and a crumb bar. They're easy to eat out of hand at a party or a picnic, durable enough to stack and transport long distances. And they stay delectable for several days.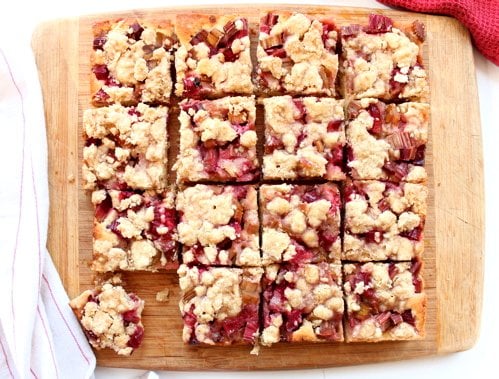 I know there are rhubarb haters out there, but I'm confidant that this recipe could sway the staunchest opposers. I'm guessing most rhubarb trauma has to do with once eating rhubarb that was either too sweet, too tart, or overcooked and therefore too gloppy. The rhubarb here is thinly sliced and tossed with sugar, where it hangs out while you prepare the batter and streusel. After a long, slow bake, it becomes tender in the heat of the oven while the sturdy batter absorbs the excess liquid, leaving the sliced stalks soft as ripe berries, but still holding their shape. The amount of sugar eliminates that astringent pucker while leaving a pleasant tartness, its delicate, floral notes enhanced by meyer lemon zest and vanilla.
So I encourage you to buckle down and bake a batch of buckle. And if you're a rhubarb hater, buck up: at least you're not buckled into a car being driven by a mad Italian.

Ravenous for Rhubarb:
Rhubarb Crumb Bars
Rhubarb Chèvre Galettes
Rhubarb Streusel Coffeecake
One year ago:
Two years ago:
Rhubarb Buckle
Adapted from Martha Stewart Living
Do be sure to cut all signs of leaf from the rhubarb stalk, as they are toxic. (The stalk is perfectly safe.) No need to peel the rhubarb; the macerating and long baking time turn it absolutely tender, and the skin contains the prettiest pigments.
Makes sixteen 2″ squares
The fruit:
1 pound trimmed rhubarb, halved if wider than 1 inch, sliced 1/4 inch thick (4 cups)
1/2 cup sugar
The cake:
6 tablespoons butter, softened
1/2 cup sugar
zest of 1 large (meyer) lemon
1 egg
1 egg yolk
1/2 teaspoon vanilla extract
1 cup flour
3/4 teaspoon baking powder
1/2 teaspoon fine sea salt
1/4 cup sour cream (or 2 tablespoons each plain yogurt and heavy cream)
The streusel:
1/2 cup flour
3 tablespoons soft light brown sugar
1/8 teaspoon salt
3 tablespoons butter, melted
Position a rack in the upper third of the oven and preheat to 350º. Grease a 9×9″ square pan, then line it with two crossing pieces of parchment paper, leaving a 1″ overhang on each side.
In a non-reactive (read: stainless steel, glass or ceramic) bowl, toss the rhubarb with 1/2 cup of the sugar. Let sit while you prepare the batter and streusel, tossing a few more times. The sugar will dissolve, and the rhubarb will release some juices and soften slightly.
Make the cake batter:
In the bowl of a stand mixer fitted with the paddle attachment, beat the butter, sugar and zest on medium speed until light and fluffy, scraping down the sides of the bowl once or twice. Add the yolk, then the egg, and beat to combine. Stir in the vanilla. Sift together the flour, baking powder and salt. With the mixer on low, stir in half of the flour mixture, then all of the sour cream, then the rest of the flour, mixing until just combined after each addition. Remove the bowl and paddle, and give the dough a final mix with a sturdy rubber spatula to make sure it is homogeneous.
Make the streusel:
Stir together the flour, brown sugar and salt in a small bowl. Add the melted butter and mix until moist and clumpy.
Bake the buckle:
Spread the batter into a thin, even layer in the lined pan. Top with the rhubarb and its juices; spread the slices into an even layer. Break the streusel into hazelnut-sized clumps and scatter them evenly over the rhubarb.
Bake the buckle until lightly golden on top, and a toothpick inserted in the center comes out clean, 65 to 85 minutes. Let cool completely, then lift the buckle out of the pan using the parchment handles. Remove the parchment, and cut the buckle into 16 squares.
The buckle is best the day it's baked when the streusel is crisp, but it will keep for up to 3 days at room temperature.