You know those people who can walk into a room and suddenly, it's a party?
I'm not one of those people.

If you bumped into me at a party, I would probably look something like this:

Parties do have one bonus, though: they're the perfect excuse to bake things.And gougères are the perfect party food. Essentially a cream puff dough (pate à choux) with loads of gruyere mixed in, they bake up into puffy sighs of cheesy love. Their crackled domes give way to a gooey, airy interior: the resulting love child if a biscuit and a souffle were to get it on.

I wrote about gougères in the very early days of this site; the version I concocted combined mashed winter squash and sage in a gruyere-laden dough. Gougères, like shakshouka, remind me of onomatopoeia in that they kind of taste the way they sound. Take a bite of one warm from the oven, and a crisp crust shatters softly, giving way to a pillowy-soft interior, like a gentle kiss. When you say "gougère," you inadvertently pucker up. French at its best!
Inspiration struck when we received a beautiful bunch of chives in our CSA, and I noted that Heidi, of 101 Cookbooks ,uses beer (BEER!) in place of water in her gougère batter.

Any recipe that begins by melting butter and beer together, and ends with mixing in obscene amounts of sharp cheddar cheese, is going to be good, and these gougères did not disappoint.The beer lends toasty depth of flavor to the batter, cheddar and parmesan cheeses give off the most tantalizing aroma as they bake, and ample flecks of green chives trick you into thinking you're eating something healthy.

On that note, I was psyched to see that Heidi also uses some whole wheat flour in her dough; I didn't know you could do that! I used spelt flour, which contributed nutty flavor while leaving the dough as feather-light as usual. I also like that Heidi makes the whole dough in one pot, rather than transferring the flour/butter/beer mixture to a stand mixer before adding the eggs and cheese. It takes a bit more arm strength, but you end up with fewer dishes to wash.

As I was stirring the stiff dough on the stovetop (and trying to ignore the burning sensation in my arm), smelling the lovely, toasty aroma it was emitting, my mind began dancing with ideas for beer-enriched pate à choux, like profiteroles filled with stout ice cream and topped with whiskey chocolate sauce, or beer cream puffs filled with chocolate-whiskey pastry cream. The beer lends the dough a full depth of flavor without tasting at all boozy, and I imagine this would work nicely with sweets as well as savories.

The one caveat to gougères is that they must be eaten when warm from the oven. But thankfully there are many do-ahead options: either chill the dough for up to a day, freeze scoops of dough and then bake them from frozen, or reheat the pre-bakedgougèresjust before serving.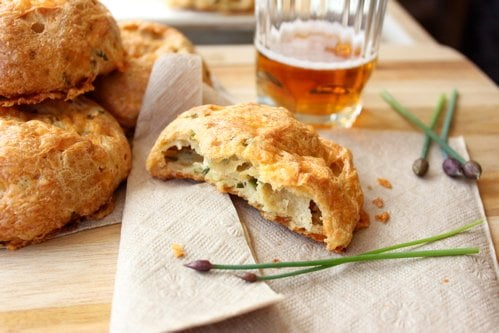 Just don't get jealous if they end up being the life of the party.
Party Flavors:
Crack Sticks (Herby Cheese Straws)
Pumpkin Sage Gougères
Bacon, Beer and Cheddar Scones
One year ago:
Chocolate Mint Chip Ice Cream
Lemon Mascarpone Tart
Pistachio Chocolate Torte
Two years ago:
(Raw, Vegan) Chocolate Pudding
Rhubarb Chèvre Galettes
Lemon Balm Crème Fraîche Ice Cream
Cheddar, Beer and Chive Gougères
Adapted from 101 Cookbooks
When you bake the gougères, be sure to let them brown all the way up the sides so they retain their structure and don't collapse into flat pancakes. Don't use extra-large eggs, or your dough will be too wet and floppy; large eggs should weigh 2 ounces in the shell. Feel free to play with additions here: caramelized onions, crisp bacon pieces, and different cheeses or herbs would all be excellent additions/substitutions.
If you don't want to bake all the gougères at once, you can either: re-heat pre-baked gougères to order; reserve the dough for up to a day in the fridge, then scoop and bake (the dough will oxidize if kept longer than that); or scoop the dough onto a parchment-lined sheet pan, freeze, then store the frozen scoops in a double zip-lock bag and bake from frozen.

Makes 2 dozen large (or 4 dozen small) gougères
2/3 cup beer (I used Anchor Steam lager)
1/3 cup milk
8 tablespoons butter, thickly sliced
scant 3/4 teaspoon fine sea salt
1/2 cup (2 1/2 ounces) all-purpose flour
1/2 cup plus 1 tablespoon (2 1/2 ounces) whole spelt (or whole wheat) flour
4 large eggs
1 cup grated sharp cheddar, plus another 1/2 cup for topping the gougères (4 1/2 ounces total)
scant 1/2 cup (1 ounce) grated parmesan
1 cup finely chopped chives (from 1 bunch)
Position a rack in the upper third of the oven and preheat to 425º. Line a baking sheet with parchment paper.
Combine the beer, milk, butter and salt in a large, heavy-bottomed saucepan and bring just to a boil over medium-high heat. Reduce the heat to medium. Dump in the flours and stir vigorously with a wooden spoon until the dough comes together in a smooth ball. Keep stirring heartily for another 1-2 minutes until the dough looks shiny and smells toasty; feel the burn (but don't burn the batter).
Remove the pot from the heat and let cool slightly for 5 minutes, stirring occasionally, so that the eggs don't scramble when they hit the dough. (You can also do this in a stand mixer fitted with the paddle attachment). One at a time, stir in the eggs; the dough will break apart at first, but will come back together as you stir. Add 1 cup of the grated cheddar, and all of the parmesan and chives.
Scoop the dough onto the parchmented baking sheet, spacing the blobs at least 2 inches apart. A spring-loaded ice cream scoop works wonders. I used the red-handled (#24) scoop for the ones shown, which makes heartygougères; a #40 scoop (a generous tablespoon) makes smaller, snack-sized treats. Sprinkle the tops with a bit of extra cheddar.
Put thegougères in the oven and bake for 10 minutes for largegougères, 5 minutes for small ones. Decrease the oven temperature to 375º. Bake thegougères until golden-brown all over, puffed, and set, 15-20 more minutes for large ones (less time for small ones), rotating thegougères toward the end of the baking time.
Gougères are best served warm from the oven, but they will keep at room temperature for a few days and can be reheated "to order."