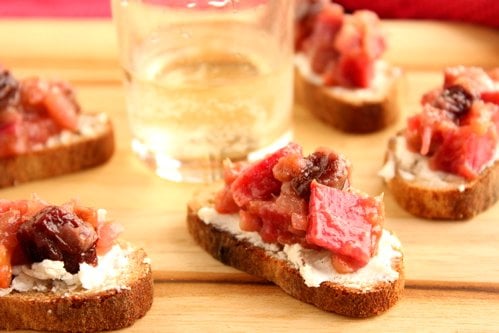 Today marks the momentous occasion in which we finally made it through the last of the ten pounds of rhubarb that we got from Jay's mom's garden on Easter Sunday. (Pound 9 of it went into an exquisite custard crumble cake from Delicious Days.)
And today, pound 10 became a generous pint of this piquant chutney.
When I came across the recipe in Martha Stewart Living, I wasn't sure what to think. Though it is technically a vegetable, I've only tasted rhubarb in sweet preparations. But when I took my first bite, I learned just how right rhubarb chutney is.
This is less like the chutneys that I'm used to dousing papadums with in Indian restaurants and more like a savory jam to dollop on slices of baguette spread with soft goat cheese. In fact, this chutney reminds me of caponata, the agrodolce (sweet and sour) Italian condiment comprised of eggplant cooked with onion, celery, currants, sugar, tomatoes and vinegar. Caponata has been a favorite late-summer snack since I tried it at a deli in Bologna many years ago, and subsequently learned to make it from a gem of a book called Once Upon a Tart. I'm thrilled to have a caponata stand-in for spring, and made with two of my biggest gastronomical fixations: rhubarb and ginger. I added a third and fourth with sourdough baguette and chèvre. (Now if only I could work chocolate and whiskey in somehow… kidding!)
This chutney contains no vinegar, but gets its tartness from the rhubarb itself and a bit of white wine. Honey, sugar and raisins (we got the loveliest raisins in our CSA box last week – thanks, Eatwell!) add sweetness; onion, garlic and fresh ginger bring savoriness and a bit of heat. Like caponata, the chutney cooks into a chunky jam, and makes an eye-opening dip paired with cheese and whole grain baguette (the one pictured comes from Firebrand bakery in Oakland, via Rainbow).
This chutney would pair nicely with meats as well; think turkey and cranberries or pork with applesauce.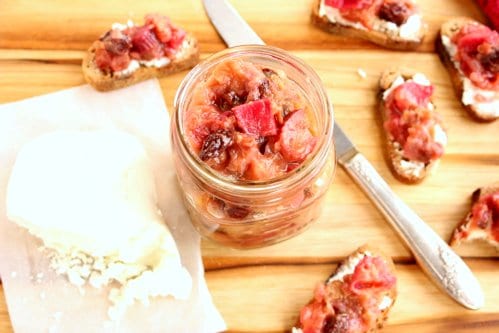 Best of all, you don't need ten pounds of rhubarb to make this chutney. Though if you did, you could make over a gallon of chutney.
In which case, call me!
Rhu the day:
Rhubarb Chèvre Galettes
Rhubarb Buckle
Brown Butter Rhubarb Squares
One year ago:
Apple Rhubarb Pandowdywith
Honey Yogurt Ice Cream
Two years ago:
Panela Rum Buttercrunch Toffee
Rhubarb Chutney
Adapted from Martha Stewart Living
Serve this savory-tart condiment on slices of toasted baguette spread with soft goat cheese, or with meats. It will keep well, refrigerated, for at least a week.
Makes 1 generous pint
1 pound trimmed rhubarb, sliced 1/4″ thick (4 cups)
1 tablespoon olive oil
1 medium yellow onion, finely diced
2 cloves garlic, peeled and minced
1 tablespoon minced or grated fresh ginger (from about 1″)
1/2 teaspoon fine sea salt
1/2 cup dry white wine, such as Sauvignon Blanc
1/3 cup raisins or currants (or coarsely chopped golden raisins)
1/4 cup sugar
3 tablespoons honey
Heat the oil in a medium saucepan over medium heat. Add the onion, garlic, ginger and salt and cook, stirring occasionally, without letting it brown, until transluscent, about 5 minutes. Off the heat, add the wine and raisins. Return to the heat and bring to a boil; cook for 1 minute. Add the sugar and honey and stir to dissolve.
Stir in half of the rhubarb and bring to a boil. Reduce the heat and simmer, partially covered, until the rhubarb breaks down, 5-10 minutes, stirring occasionally. Add the remaining rhubarb, raise the heat and bring to a boil. Reduce the heat again and simmer, partially covered, until the second batch of rhubarb has just begun to soften. (It will continue to soften from residual heat.)
Let the chutney cool to room temperature, uncovered, then taste for balance, adding more salt, honey or a dash of white wine vinegar if needed. Store in a jar in the fridge.