Pasta salad with roasted cherry tomatoes turned up to 11 with loads of crunchy vegetables, briny olives, salty ricotta salata, and a piquant basil vinaigrette. Use GF fusilli or penne in place of the orzo to make it gluten-free.
It is 7 p.m. The fog has settled like a humid, grey blanket over San Francisco. I'm bundled into multi-layered pajamas, fuzzy socks and a scarf. Even the cat isn't above using me for my body heat as he dozes on my lap. A typical San Francisco summer.
But I know it's still hot in other parts of the state. Case in point, we went rafting on the American River on Labor Day, where the high clocked in at 97º. Regular drenchings of icy water kept us cool as we navigated rapids with names like Meat Grinder, Satan's Cesspool, Hospital Bar and Recovery Room. Hot wind whistled through the gorge like a giant hair dryer, chapping our lips and hands.
Back in the city, my teeth chattered as I gathered still-damp shorts and top from the back of the car as freezing gales of wind assaulted my bare knees and neck. Inside, I gratefully slipped into a hot shower and then a warm bed.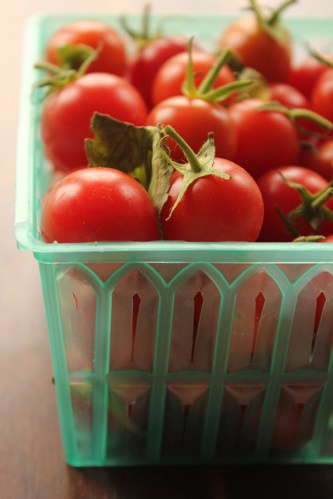 But luckily for us, the days have been warm-ish, even in SF. The sun comes out mid-morning, the cat, a heat-seeking missile, leaves my lap to roll around in a patch of sun, and we get to savor summer in the form of cool salads, such as this pasta salad with roasted cherry tomatoes.
I was late to jump on the orzo train. When the craze hit 10 or so years ago, I was in a gluten-avoiding phase, and wondered to myself why people didn't just use brown rice. Orzo looked like rice, but it contained gluten, and was made from evil refined wheat.
After eating my share of cold, hard rice salads, I now see the virtue in orzo. The tiny bits of pasta cook up into feather-light grains, which stay pleasantly tender, even when cold; quite unlike rice, which seems to ossify in the fridge. I happily found whole wheat orzo at the store.
I concocted this pasta salad almost entirely from contents of my CSA box, which has been brimming with exciting summer produce, and gave it a Mediterranean spin with kalamata olives and cubes of salty ricotta salata. Yellow sweet pepper, Middle Eastern cucumber and fresh red onion, all cut into a fine dice, get mixed with cool whole wheat orzo, the olives and the cheese. A garlicky basil vinaigrette adds punch, and the salad is crowned with cherry tomatoes that have been roasted in olive oil, salt and a splash of balsamic until collapsing and concentrated.
This pasta salad is sweet from tomatoes, pungent from olives, salty with cheese, herbaceous with basil, and a little spicy from fresh garlic. It gets crunch from the fresh vegetables, chew from the orzo, and melting tenderness from juicy, roasted tomatoes. It is just the thing to bring to a potluck, picnic, or to have on hand for a quick meal or snack, though I like it best when freshly made, when the tomatoes still retain some heat from the oven. With the first few bites of pasta salad with roasted cherry tomatoes, I can close my eyes and pretend I live inland somewhere, and that I just pulled the warm tomatoes from the vine, hot from the sun.
Then I look around and thank my lucky stars to live on the coast, with fog for air conditioning and a fuzzy, orange heating pad that purrs.
More Salad Recipes:
*Bojon appétit! For more Bojon Gourmet in your life, follow along on Instagram, Facebook, or Pinterest, purchase my gluten-free cookbook Alternative Baker, or subscribe to receive new posts via email. And if you make this orzo pasta salad recipe, I'd love to know. Leave a comment and rating below, and tag your Instagram snaps @The_Bojon_Gourmet and #bojongourmet.*
Orzo Pasta Salad with Roasted Cherry Tomatoes, Basil & Ricotta Salata
Print Recipe
Pin Recipe
Pasta salad with the classic flavors of basil, cheese, and tomatoes but turned up to 11 with loads of crunchy vegetables, olives, and oven roasted cherry tomatoes. Feel free to vary this salad to your taste: roasted corn kernels or zucchini could be a good addition, the ricotta could be omitted for feta or small balls of fresh mozzarella, the kalamatas swapped out for a different olive, other herbs, like mint or parsley, added to the vinaigrette. Omit the cheese to make this vegan. Use a gluten-free pasta if you prefer – I especially like the fusilli from Bionaturae. And add a half cup of cooked chickpeas if you like a little more protein.
Ingredients
Tomatoes:
1

pint

(heaping)basket cherry tomatoes

1

tablespoon

olive oil

splash balsamic vinegar

salt and pepper
Salad:
1/2

pound

dry orzo (I used whole wheat) or other small pasta such as fusilli

1

tablespoon

olive oil

1

small cucumber, peeled if the skin is tough or bitter, seeded and diced

1

small sweet pepper (such as bell or gypsy), seeded and diced

3

tablespoons

finely diced red onion

1/2

cup

pitted kalamata olives, halved

3-4

ounces

ricotta salata
Vinaigrette:
1

large or 2 small cloves garlic

1

cup

packed basil leaves, plus a few pretty leaves for garnish

1/4 - 1/2

teaspoon

salt, to taste

2

tablespoons

red or white wine vinegar

3

tablespoons

olive oil
Instructions
Position a rack in the upper-center of the oven and preheat to 400ºF.

Wash, dry, and stem the tomatoes. Place them in a shallow roasting pan or 10" oven-proof skillet, and drizzle with the olive oil, vinegar, a big pinch of salt, and a good grinding of fresh black pepper. Roast until the tomatoes have split, are collapsing, and oozing juices, about 30 minutes. Let them cool to warm in the pan.

Meanwhile, cook the orzo according to the package directions in well-salted water until al dente. Drain, rinse with cool water, and drain well. Place the orzo in a large bowl and toss with 1 tablespoon olive oil.

Add the cucumber, sweet pepper, onion, olives and ricotta, and toss to combine, seasoning with a big pinch of salt and a good grinding of black pepper. Set aside while you make the vinaigrette.

With a mortar and pestle, mash the garlic and salt to a paste. Work in the basil a little at a time until fairly smooth. (If your basil is old and tough, better to whizz everything together in a small food processor or blender.) Blend in the vinegar, then the olive oil.

Toss the salad with the vinaigrette. Gently lift the cooled tomatoes out of their juices (sop up the juices with a bit of bread for a treat) and scatter them atop the salad. Carefully spoon the salad into serving bowls or plates, and garnish with small basil leaves.

I like this salad when freshly made, but it keeps well, chilled, for up to a few days.
Notes
Nutritional values are based on one of six servings.
Nutrition
Calories:
316
kcal
Carbohydrates:
35
g
Protein:
8
g
Fat:
16
g
Saturated Fat:
3
g
Cholesterol:
7
mg
Sodium:
496
mg
Potassium:
400
mg
Fiber:
3
g
Sugar:
5
g
Vitamin A:
1360
IU
Vitamin C:
46.1
mg
Calcium:
66
mg
Iron:
1.5
mg