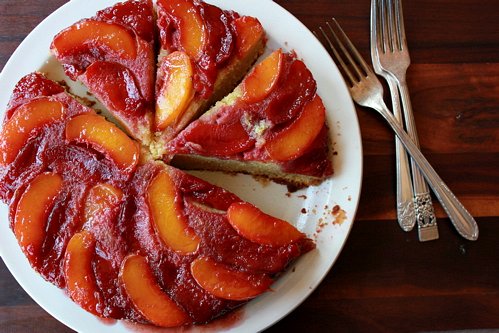 When I "graduated" from elementary school, our principal made a speech stating that by the time we young'uns made it into the work force, 50% of jobs would require the use of a computer. I assumed I would never fall into this category. The only thing computers were good for was playing Crystal Quest. I would never be caught dead working on a computer.
Imagine my chagrin to find myself, 20 years later, the proud mama of an almost-three-year-old blog as my full time "job." (And I mean "job" not in the getting paid sense of the word, but rather that which takes up much of my energy.) Do I wish I'd taken a programming course or two instead of wasting my expensive college education on a less-than-useless art history degree? Why, yes I do.
Luckily, I have bojon friends like Jocelyn, an early-retired techie who finds picking through Blogger's CSS code "fun" and is willing to do so in exchange for gluten- and cow's milk-free baked goods. She is my hero.
You may have noticed some of Jocelyn's cosmetic changes to this site in the past week (and there will be more to come!) My first payment installment was a batch of chocolaty, rummy Congo Bars; the second is this cake. Both are gluten-free and, except for the butter, dairy-free.
The recipe hails from Everyday Greens, one of the first cookbooks I bought for myself from the UCSC bookstore. When I should have been memorizing dates that I would instantly forget after I got my diploma, I was baking brown butter plum cakes, maple spice muffins, and this superb upside-down cake.
Fresh nectarines (and I added plums) nestle into a brandy and brown sugar caramel. A silky batter comprised of lots of butter and almond paste tops the fruit. The abundance of eggs and almond paste make this cake easy to de-glutenize; the result is absolutely indistinguishable from the original. People will think you are lying when you tell them that this cake contains neither gluten nor any starches or gums, but it is the case.
You might expect a cake like this to be dense and heavy; not so. I used a combination of sticky rice and oat flours, and it baked up into the fluffiest, moistest upside-down cake I've ever eaten. The slightly floral almond flavor, which is distinct yet soft, complements the stone fruit, which are in the almond family, as evidenced by their almond-esque pits.
I like this cake even better the second day, when the cake has absorbed even more of the caramel and juices, though it is prettiest on the first. Feel free to trade the plums and nectarines for peaches, apricots or cherries, or even ripe pears. Serve it with a spot of crème fraîche or softly whipped cream if you like.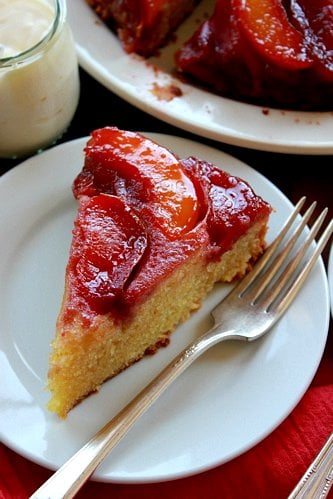 More Nectarine and Plum Recipes:
*Bojon appétit! For more Bojon Gourmet in your life, follow along on Instagram, Facebook, or Pinterest, purchase my gluten-free cookbook Alternative Baker, or subscribe to receive new posts via email. And if you make this upside down cake recipe, I'd love to know. Leave a comment and rating below, and tag your Instagram snaps @The_Bojon_Gourmet and #bojongourmet.*
(Gluten-Free) Nectarine Plum Almond Upside-Down Cake
Print Recipe
Pin Recipe
People will think you are lying when you tell them that this upside down cake contains neither gluten nor any starches or gums, but it is the case.
Servings:
8
to 10 servings (makes one 9" cake).
Ingredients
The Topping:
2

ounces

unsalted butter

(4 tablespoons, half a stick)

1/2

cup

light brown sugar

1/4

cup

brandy

big pinch salt

2

medium nectarines, sliced into eighths

2

large plums, sliced into eighths
The cake:
3/4

cup

almond paste

(6 3/4 ounces)

6

ounces

unsalted butter, softened

(1 1/2 sticks, 12 tablespoons)

3/4

cup

sugar (preferably organic turbinado)

4

large eggs, at room temperature

1/2

cup

+ 1 tablespoon oat flour

(2 1/2 ounces)

1/2

cup

sticky rice flour

(2 1/2 ounces)

3/4

teaspoon

baking powder

1/4

teaspoon

salt
Instructions
Get the party started:
Position a rack in the center of the oven and preheat to 350ºButter a 9" round cake pan and set aside.
Make the topping:
In a medium skillet over medium heat, melt the butter. Whisk in the brown sugar and salt, cook until bubbling, then slowly add the brandy (it will flame up if you add it too quickly). Cook, whisking, until the caramel is bubbling thickly, 2-3 minutes. Pour the hot caramel into the greased pan. When the caramel has cooled (it will still be fairly liquid), arrange the plum and nectarine wedges in concentric circles, nestling them close together. Set aside while you...
Make the cake batter:
In the bowl of a stand mixer fitted with the paddle attachment, beat the almond paste and butter until combined, scraping down the bowl and beater as needed. Add the sugar, and beat on medium until light and fluffy, 3 minutes. Add the eggs one at a time, beating until combined after each addition.

Sift the flours, baking powder and salt into a medium bowl, and add to the cake batter, beating until combined. (Since there is no gluten, you needn't worry about over-mixing the batter.) Scrape down the bowl and beater, give the batter a final fold with a spatula to make sure it is homogenous, then dollop the batter over the fruit and spread smooth.
Bake the cake:
Bake until a tester inserted into just the cake comes out clean, about 1 hour. Immediately run a thin knife or small, off set spatula around the edge of the cake to loosen it. Place a large plate upside-down on top of the cake pan, put on your oven mitts, grasp both cake pan and plate firmly, and flip the whole thing over so that the cake is right-side-up. Remove the pan. Spackle any fruit or cake that got left behind back onto the cake. Let the cake cool for at least half an hour. Serve warm or at room temperature.

The cake is best within the first 2 days of being baked.
Notes
Adapted from Everyday Greens.
If gluten isn't an issue, feel free to use all-purpose flour in place of the rice and oat flours. If gluten is an issue, be sure to use certified gluten-free flours. Sticky rice flour, sometimes called "sweet" or "glutinous," is available at most well-stocked grocers. I usually use Mochiko brand.
This cake would be equally good with peaches, apricots, cherries, or even ripe pears. I used yellow nectarines and elephant heart plums here - you want 1 pound total of fruit that is ripe yet firm.
Make sure your almond paste is fresh and soft so that it will incorporate into the butter.
You can make this in a 10" oven-proof skillet if you like; the sides will be more rounded and the cake a bit more flat (a 9" skillet will likely be too small and result in escaped caramel, as a friend who made this in a 9" skillet discovered).
All ounce measurements are by weight.
Nutritional values are based on one of eight servings.
Nutrition
Calories:
565
kcal
Carbohydrates:
61
g
Protein:
7
g
Fat:
32
g
Saturated Fat:
16
g
Cholesterol:
143
mg
Sodium:
118
mg
Potassium:
291
mg
Fiber:
3
g
Sugar:
44
g
Vitamin A:
1000
IU
Vitamin C:
3.5
mg
Calcium:
90
mg
Iron:
1.3
mg
More Gluten-Free Cake Recipes: