A ramen / pho hybrid, this vegetarian and gluten-free soup recipe starts with a gingery miso broth packed with brown rice pasta, smoky tofu, sesame broccolini, roasted sweet potato, and a softly set egg.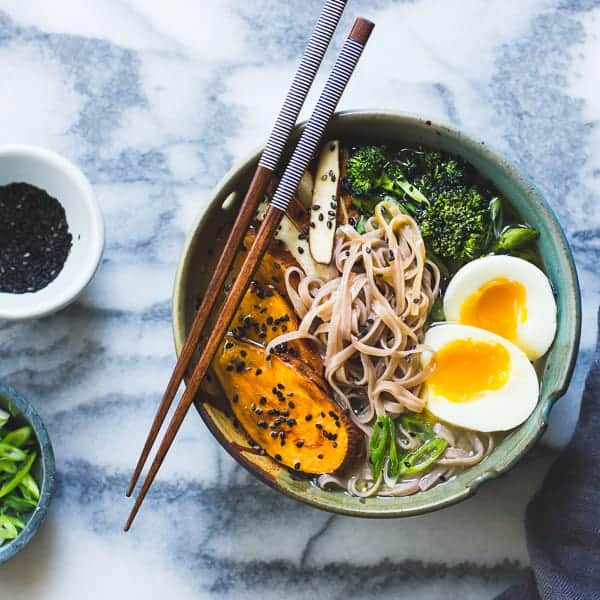 *Many thanks to Prudy of Butter, Basil and Breadcrumbs for sponsoring The Bojon Gourmet this month! Head over to her site for lovely recipes from a lovely lady.*
Jay and I both got hit with gnarly colds over the holidays. I thought bowls full of deliciousness might help ease the blow of being sick as dogs on both Christmas and New Years. Hence these ginormous bowls of miso broth packed with goodies, which manage to feel decadent while being sneakily healthy at the same time.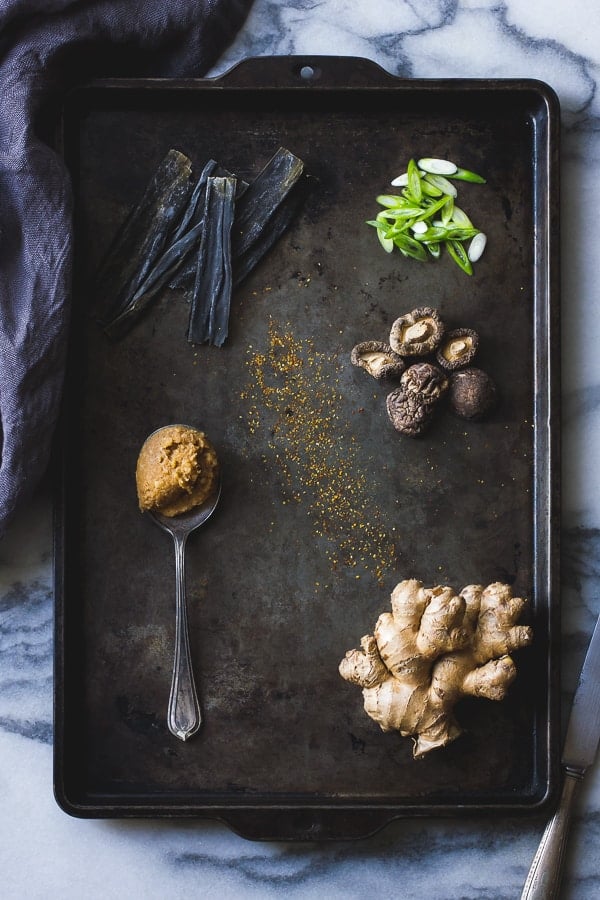 Also, much Prosecco and cocktail drinking is in order to make up for our holiday deprivations, don't you think?
I've been a little obsessed with brothy bowls of noodles and veggies as of late, and it seems I'm not alone. This recipe is a variation on a miso soba noodle soup that I made last year, which is currently my second most viewed recipe of all time! The broth is a simple infusion of kombu, dried shiitake mushrooms, and ginger mixed with sweet white or yellow miso and a bit of tamari.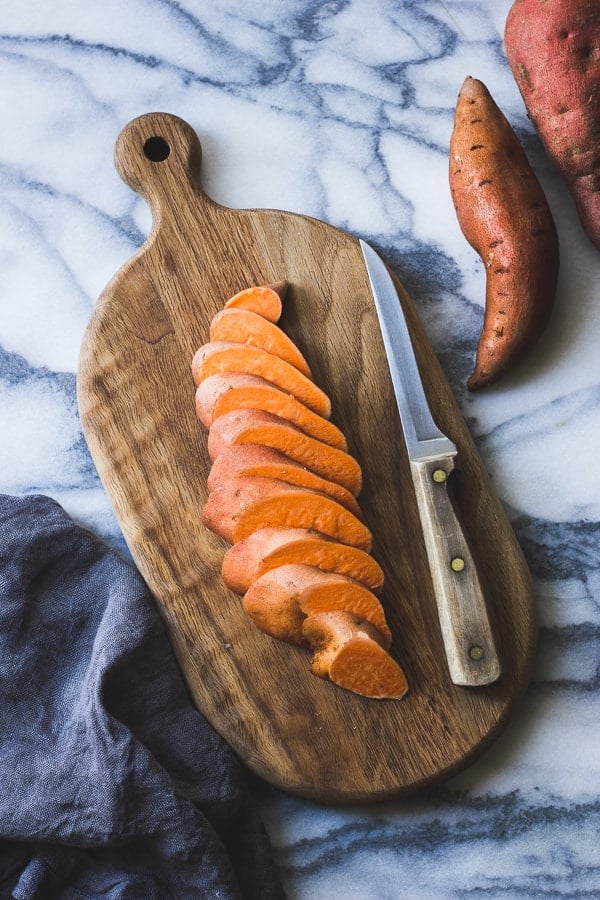 Sarah had the brilliant idea to make a ramen of sorts with rice noodles from Star Anise Foods, a local company that produces chewy brown rice noodles that cook in one minute, aptly called Happy Pho. They come seasoned with either green tea or seaweed. I went the seaweed route here to match the kombu in the broth; both add a briny minerality to the soup that reminds me of authentic ramen. Sarah also coached me in how to soft-boil an egg to perch on top, which I now I consider an essential addition. The way the broth mixes with runny yolk drives me wild.
I've been craving sweet potatoes like nobody's business, and these sliced slabs remind me a little of the pork usually served atop ramen. They add a sweet counterpoint to the savory soup. I add greens in the form of slender broccolini roasted with sesame oil and black sesame seeds. A pile of sliced smoky tofu from another local company, Tofu Yu, adds protein and umami.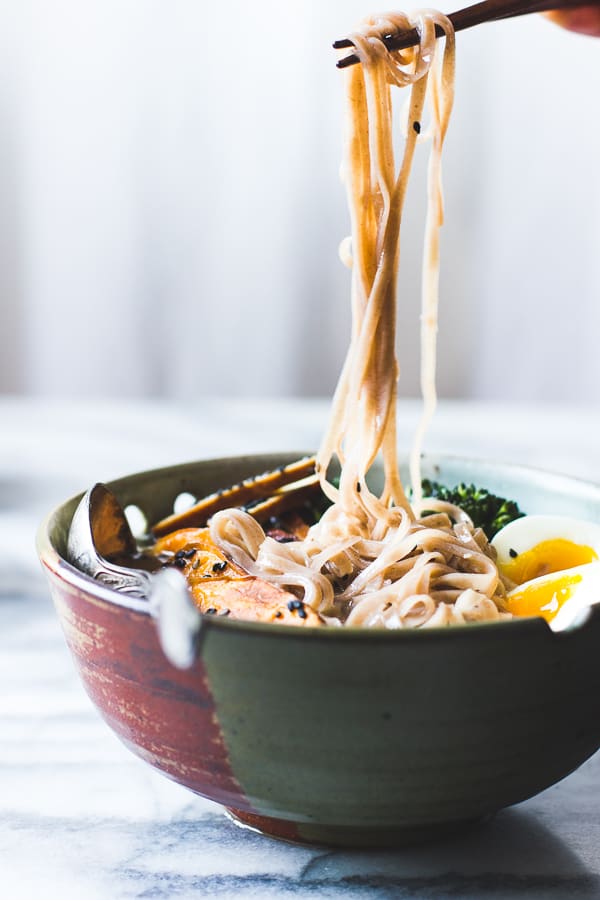 A bowl of this is steamy bliss.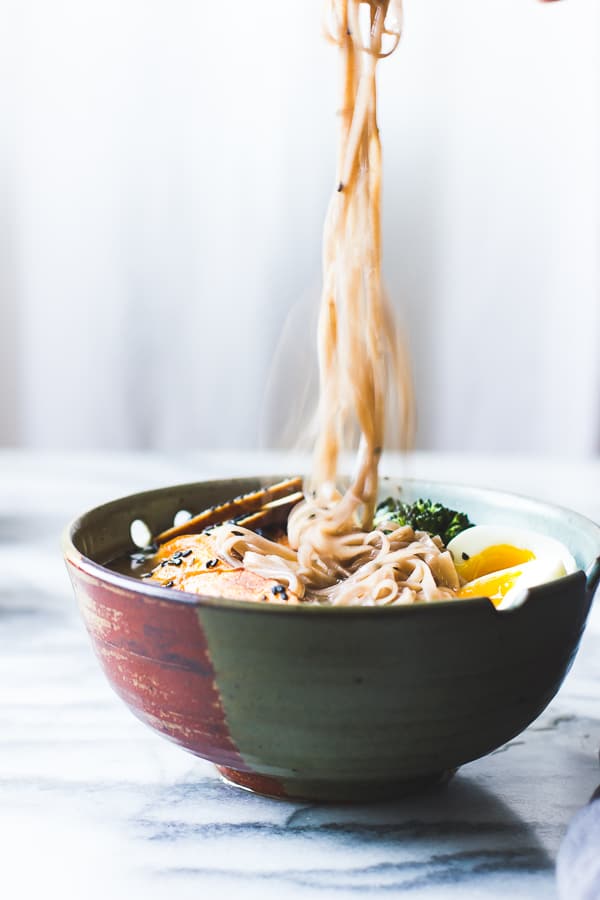 By now we're both mostly recovered. And I'm pleased to say that this soup is just as tasty when you are well, preferably preceded by gluten-free scallion pancakes, accompanied by a glass of sake, and chased with matcha ice cream.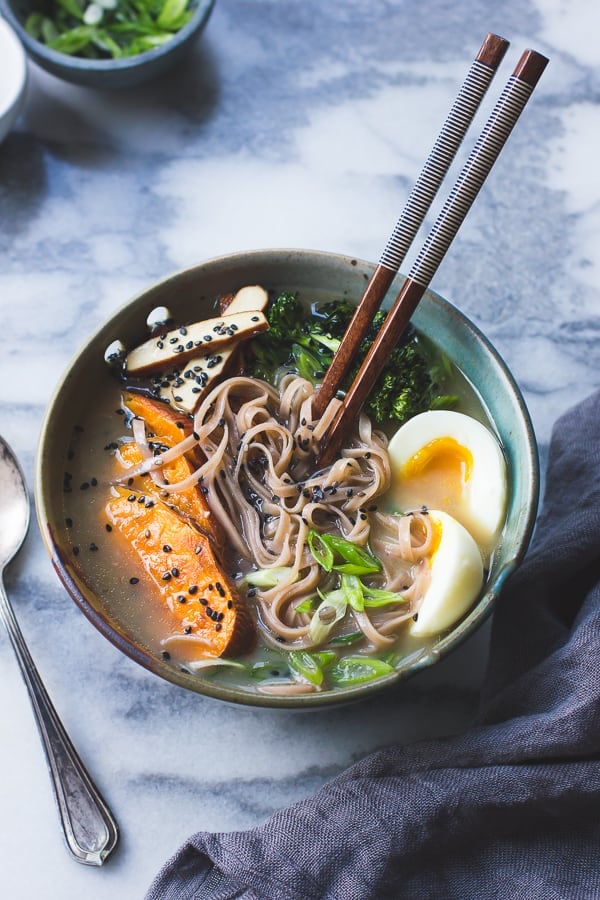 Thanks for reading! For more Bojon Gourmet in your life, follow along on Facebook, Instagram, Pinterest, Bloglovin', or Twitter, subscribe to receive new posts via email, make a donation, or become a sponsor.
Super soups:
Miso Soba Noodle Soup with Roasted Sriracha Tofu and Shiitakes
Curried Carrot Soup with Ginger and Coconut Milk
French Lentil and Spinach Soup
One year ago: 
Gluten-Free Pumpkin Ricotta Gnocchi with Pancetta and Radicchio
Two years ago:
Masala Chai Snickerdoodles 
Honey Oat Beer Buns
Three years ago:
Quinoa, Kale and Sweet Potato Salad
Four years ago:
Spiced Sweet Potato Oven Fries
Five years ago:
Sourdough Flax Waffles
Miso + Rice Noodle Soup with Sesame Roasted Sweet Potatoes + Broccolini
I love the combination of chewy rice noodles, smoky tofu, crisp-tender broccolini, and earthy sweet potatoes here, but feel free to play fast and loose with the goodies in this soup. The soft boiled egg is my favorite part, but you can leave it off for a vegan option. For technique on making soft boiled eggs, see this post from The Kitchn.
Makes 4 meal-sized servings
Miso Broth:
4-6 (4″ square) sheets kombu
6 dried shiitake mushrooms
2 tablespoons coarsely grated fresh ginger root
8 cups boiling water
1/2 cup sweet white or yellow miso
2 tablespoons tamari or soy sauce (optional, depending on saltiness of miso)
Noodles and Veg:
2 medium garnet or jewel sweet potatoes (1 pound)
1 tablespoon sunflower oil
salt, as needed
2 bunches broccolini (1 pound)
2 tablespoons roasted sesame oil, plus more for finishing the soup
1 tablespoon sesame seeds (black or otherwise), plus more for sprinkling over the soup
6-7 ounces flavored firm tofu (I like Tofu Yu's hickory smoked tofu), in bite-sized pieces
8 ounces dry rice noodles (I use Happy Pho brown rice noodles with seaweed)
4 large soft boiled eggs
2 scallions, sliced thinly on the diagonal and soaked in cool water
ichimi togarashi (or other chile flakes or hot sauce)
Make the miso broth:
In a large, heat-proof bowl or pot, combine the ginger, kombu, dried mushrooms, and boiling water. Cover and let steep while you prepare the rest of the ingredients, 20-30 minutes. Carefully strain the stock, leaving behind any sand that may be hanging out on the bottom of the pan (or pour through a coffee filter if you prefer). In a small bowl, whisk a half-cup of stock into the miso paste and stir it to loosen. Add the miso to the stock, and taste for salt, adding tamari until you like the flavor.Make the goodies:
Position racks in the upper and lower thirds of the oven and preheat to 400ºF.
Scrub the sweet potatoes and slice them into half-inch thick rounds. Place on a baking sheet, toss with 1 tablespoon of the sunflower oil and a big pinch of salt.
Roast until tender and bronzed, 25-30 minutes, flipping the slices over when the bottom sides are golden.
Meanwhile, trim the tough ends off of the broccolini, give them a rinse, and lay them on a baking sheet with a bit of water still clinging. Drizzle and toss with the sesame oil and a few pinches of salt, then sprinkle with the sesame seeds. Roast in the oven until turning golden around the edges and crisp tender, 10-15 minutes. Cut each broccolino into 2 or 3 pieces.
Finish the soup:
Cook the noodles according to the package instructions (I like to salt the water to give them a bit of flavor). Divide the noodles between four large bowls and top with a pile of broccolini, a fan of sweet potato slices, the tofu, and the scallions. Reheat the broth if necessary to just below a simmer and pour it over the bowls. Slice the peeled eggs in half and perch them cut-side up in the soup. Finish the bowls with a sprinkle of sesame seeds and a drizzle of roasted sesame oil. Serve with the ichimi togarashi for those who like a kick.
Leftovers are best with the components kept separate (chilled airtight) and heated together before serving.