Berry pies seem like a luxury. Berries are small. They take a LONG time to pick, should you be fortunate enough to come across an ample patch, unless you have small children to put to work. (All I have is this guy

who unfortunately [or rather, fortunately] lacks opposable thumbs.)
Sans berry patches/child labor, organic berries are expensive. So bojon gourmets often mix berries with other, bigger, cheaper fruits, such as apples, figs, peaches, and the elusive ice cream fruit.

The other day, however, I came across a sweet (literally) deal at a farmer's market. I don't often get to farmers markets. One becomes complacent when one receives a handsome boxful of produce every other week, and when one's awesome co-op carries farmers market-caliber produce, including specialties like pea shoots and squash blossoms.

But I'd heard about a fairly new market in Mission Bay, which is somewhat close to our Potrero Hill apartment, and Jay and I went to investigate. Or at least we tried. We spent a good while despondently driving around, looking for parking that was cheaper than the $20 event parking (Giants game that day), but found a spot on our way back home after having given up.

The market, being in a non-residential neighborhood with non-existent parking, contained mostly prepared foods stands. But when we were about to declare it a wash, we came upon a solitary organic stand with beautiful summer produce: pristine heads of lettuce, colorful squash, tiny beets, seascape strawberries, and dry-farmed tomatoes, which turned out the be as sweet as crack candy. (Do they make that? If they did, it would taste like those tomatoes.)

A second table was laden with pints upon pints of black and blueberries. Though this farm was not certified, I was assured that they used no pesticides on their fruit. I'm usually skeptical of this sort of thing, but I believed them because the berries looked organic, like something you might come upon on a path in the woods somewhere, and cajole/bribe/Tom Sawyer a small, pliable child into helping you pick.

So we bought ample (for bojon us) quantities of each, and, warm from the sun, the berries tasted like they were fresh off the brambles. I managed to save a few from the fate of being shoveled into my maw on the walk back to the car. Then I mixed them with the seascapes (and some raspberries from the aforementioned co-op) and baked them into this pie.

Ok, it sounds pretty cavalier, but I did my share of obsessively researching before I put it all together and into the oven. I felt as though I had only one chance to get it just right, since the farmer's market wouldn't occur for another week, and then I mightn't have found more berries/parking.

I worried about watery filling, and feared faulty crumble.But I must have done something right, because this pie turned out exactly as I had hoped: crisp crust, firm, bright-tasting filling with a bit of saucy ooze, and just the right amount of buttery streusel topping. In fact, it may be my favorite pie that I have ever made. Maybe even my favorite pie, ever.

For the crust, I used Martha's all-butter pate brisee, but fraisaged and with a bit of whole spelt flour. For the filling I followed Cooks' advice and used tapioca flour as a thickener, and lemon zest and juice and sugar for flavorings, to make the berries pop. For the crumble, well, I pretty much made it up.

I couldn't wait long enough to make, chill, spin and cure a french-style ice cream, so, inspired by Alice Medrich's recipe in Pure Dessert, I stirred together some sour cream, sugar, half and half and a splash of vanilla, and churned up a batch of sour cream ice cream. The clean tang of the ice cream complimented the warm pie, and the texture stayed creamy and pliant for a quite a while after being frozen.

I can't wait to make this pie again. So if you have any small children/berry patches, give me a call.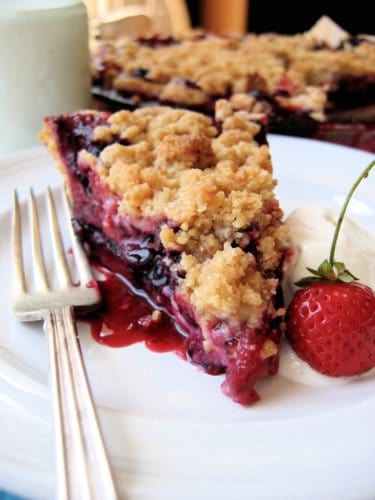 On second thought, maybe I'll try my luck at the farmer's market…
Berry patch:
Huckleberry Fig Crumble Tart
Berry Peach Oven Pancake
Huckleberry Chèvre Cheesecake Squares
One year ago:
Berry Crumble Pie
Makes one 9″ pie, about 10 servings
To save a bit of time, measure out the ingredients for both the crust and the crumble at the same time – most of the ingredients are the same (just keep track of which bowl is which). Blueberries and blackberries (and their relatives) hold their shapes well when baked; straws and raspberries break down more, and may make for a watery pie if used exclusively. I used approximately the following: 2 cups blueberries, 1 1/2 cups blackberries, 1 1/2 cups strawberries, 1 cup raspberries. Huckleberries would make an excellent addition, too, as would boysens and ollalies.

If you can't find tapioca flour, you can whiz instant tapioca in a clean coffee grinder for about a minute until floury in texture, or use potato starch instead. Flour and cornstarch aren't ideal (says Cook's) but you can try them in a pinch.
All-butter crust:
3/4 cup all-purpose flour
1/2 cup whole spelt (or whole wheat pastry) flour
1 teaspoon sugar
1/2 teaspoon salt
4 ounces (8 tablespoons/1 stick) cold, unsalted butter, in 1/2″ dice
about 4 tablespoons ice water
Crumble:
1/2 cup all-purpose flour
1/4 cup whole spelt (or whole wheat pastry) flour
3 tablespoons sugar
3 tablespoons packed light brown sugar
1/4 teaspoon salt
3 ounces (3/4 stick/6 tablespoons) cold, unsalted butter, in 1/4″ dice
Filling:
6 cups of berries (see headnote)
zest and juice of 1 lemon
3/4 cup sugar
3 tablespoons tapioca flour
big pinch of salt
To serve:
Sour Cream Ice Cream (recipe below)
Make the pie dough:
In a large bowl, stir together the flours, sugar and salt. Scatter the butter pieces over the flour, and rub in with your fingertips until the mixture resembles sand with some pea-sized butter chunks. Drizzle the ice water over, 1 tablespoon at a time, tossing with a rubber spatula, until the dough will hold together when you give it a squeeze. Dump the dough out onto a counter, divide it roughly into 6 portions, and fraisage by dragging a portion of dough across the counter using the heel of your hand. Scrape up the dough, gently press it into a ball and flatten into a disc. Slip it into a plastic bag, and chill for at least an hour or up to 2 days.
Remove the dough from the fridge, unwrap, and place on a lightly floured surface. Roll out the dough into a 12″ circle, dusting the dough lightly with flour as needed, rotating and flipping it to prevent it from sticking. Ease the dough into a 9″ pie plate, fit it into the corners, and trim it to a 1″ overhang. Fold the overhang under, and flute the crust by pressing it between the thumb of one hand and the index finger and thumb of the other hand.
Chill the crust for 20 minutes, then freeze it for 20 minutes.
Position a rack in the bottom of the oven and preheat to 400º.
Place the frozen crust on a rimmed baking sheet. Line it with a piece of parchment paper, and top with pie weights, dry beans, or clean pennies. (I keep my weights in a cheesecloth bag for easy handling.)
Bake the crust for 20 minutes, then remove the weights and parchment and bake until the bottom is dry, 10 minutes more. Let cool slightly.
While the pie dough is chilling, make the crumble:
In a medium bowl, combine the flours, sugars and salt. Add the butter and rub with your fingertips until the mixture resembles damp, clumpy sand. Chill while you roll out and bake the crust.
Make the filling, and assemble and bake the pie:
Reduce the oven temperature to 375º.
In a large bowl, combine the berries, lemon juice and zest. Whisk together the sugar, tapioca flour and salt in a small bowl, then sprinkle over the berries, and fold everything gently to combine. Dump the berries and their juices into the par-baked pie crust. Remove the crumble from the fridge, and sprinkle it evenly over the top; the fruit and crumble will mound slightly in the center.
Bake the pie (on the rimmed baking sheet for sure – it will ooze a lot of juice) for about 1 hour, until the crumble and crust are golden, and the fruit is bubbling thickly.
Cool the pie completely, ideally 2 – 4 hours, to set the filling. (I know, it may be best to leave the house for that time.) For the cleanest slices, chill the pie, cut and plate the slices, then let the slices come up to room temperature before eating, about 30 minutes. Serve with sour cream ice cream, below.
The pie is best the day it is made, when crust and crumble are crisp, but it will keep in the fridge for up to several days.
Sour Cream Ice Cream
Inspired by Pure Dessert
Makes about 1 pint
1 cup sour cream
1/3 cup sugar
2/3 cup half and half
splash vanilla extract
In a medium bowl, whisk together the sour cream and sugar to combine. Whisk in the half and half and vanilla extract, stirring to dissolve the sugar. (Chill for an hour or two if you have the time; the mixture will solidify a bit.) Process in an ice cream maker. The ice cream is firm enough to scoop when freshly churned, or can be cured in the freezer for several hours, and up to a month (though it is smoothest the first couple days after being churned).