Does anyone out there know the difference between a crisp and a crumble?
When two of my blog idols (blidols?) posted recipes for the respective fruit desserts, I thought I finally had this one figured out: a crisp has a finer topping made of sugar, butter and flour, and a crumble contains those things plus oats and/or nuts, with a clumpier texture. Suddenly everything made sense (at least as far as crisps and crumbles go, and sometimes, that is everything): crisps are actually crisp, whereas crumbles, well, crumble.

Now, though, I'm no longer sure. I was certain Martha Stewart would have the answer, but, apparently, she thinks crumbles don't even exist. Ditto for Cook's. Deb and Molly imply that a crumble is a crisp with added leavening and no oats/nuts, but Wikipedia, which I would imagine would know these things, says that a crisp is just an American version of the British crumble, and the images shown (which aren't very good – really, Wikipedia?) look more like what I thought was a crisp.
Now I'm more confused than ever; this here thing that I made is more crumbly than crisp in texture. But (despite desperately wishing otherwise) I am not British, nor does this thing contain leavening. So just to cover my bases and until someone learns me otherwise, I'm calling this a 'crisple.'

Anyway, when I asked my brother what dessert he wanted for his birthday, and he answered, 'Some kind of fruit crisp,' I knew then that we must truly be related, the crisp being, if I had to choose, my favorite dessert of all. (Or maybe it's the crumble? I just don't know anymore..)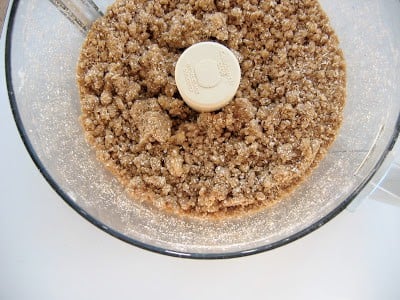 Since there isn't much of anything crisp/crumble-able in season right now, I settled on plain apple. It's been a long time since I've resisted throwing something crazy into an apple crisp: rhubarb or huckleberries, rosemary, vanilla bean or browned butter. I did have some pretty fetching red walnuts to use in the topping, brought to me by my dear friend Kelly via the Berkeley Bowl. As there were a few gluten-avoiders on the guest list to accommodate, I sat down with several recipes (all of which were called 'crisps,' for the record) to create what I hoped would be an undetectably gluten-free version of this fruit dessert.

I had planned to use sticky rice flour in the topping, since that usually proves the best substitute, texturally mimicking wheat's gluten and fine grind, and planned to throw in some rolled oats for texture. But then I remembered a gluten-free cookie recipe in Alice Medrich's new cookie book which uses only oat flour. Since I had none, I decided to grind my own from the oats. I pulsed in brown sugar, cinnamon, nutmeg, salt and cold butter, and then the walnuts. What emerged from the oven was possibly the best crisple I've ever made. The topping tasted rich and full, with flecks of earthy oats and a subtle hint of spice. The texture was buttery and sandy and you never would have known that the dessert you were eating was 'missing' something (i.e. gluten) because it tasted completely right. My only regret (other than sticking a candle in the center of the still-warm crisple, which melted – and I call myself a pastry chef?!) was altruistically leaving the remains of it for my bro and his fam to polish off later (what was I thinking?).

With fruit crisp, I don't consider ice cream to be optional. A crisp without ice cream would be like a cupcake without frosting, in other words, just plain (wrong). Where gooey fruit and buttery topping meet melting ice cream is Bojon Gourmet heaven. For the record, apple crisp happens to go well with vanilla-black pepper ice cream; other options are vanilla, horchata or green cardamom.

Crisp, crumble, or crisple: whatever you call it, this dessert defines 'delicious.'
And gluten-free, too.
Crisped up:
Apple Rhubarb Crisp
Crumble tart (Huckleberry-fig, plus other suggestions)
Rhubarb Streusel Coffeecake
One year ago:
(Gluten-Free!) Apple Crisp
Adapted generously from Baking Illustrated
Makes 10 – 12 servings
This makes enough crisp to fill a 9 x 13″ baking dish; feel free to halve the recipe and bake the crisp in an 8″ square pan. The topping can be made ahead and stored in the fridge for up to a few days.
Feel free to add a cup or two of blackberries, huckleberries, cranberries, plums or thinly sliced rhubarb to the apples; you may need to adjust the sweetness for tart fruit.
Cook's says you can substitute 5 – 6 pounds of ripe pears or plums, or 6 pounds of peaches, for the apples. If using plums, or peaches mixed with berries, add 2 tablespoons quick-cooking tapioca to the fruit mixture.
If you lack a food processor, you can grind the oats in a coffee grinder, or use purchased oat flour, and work in the butter with your fingertips or in a stand mixer fitted with the paddle attachment. A corer-peeler-slicer makes quick work of the apples, should you have one.
Crisp topping:
1 cup old-fashioned rolled oats
1 cup light brown sugar
1/2 teaspoon cinnamon
1/2 teaspoon freshly grated nutmeg
1/2 teaspoon salt
10tablespoons(5 ounces, 1 1/4 sticks) cold butter, in 1/2″ dice
1 1/2 cups coarsely chopped raw walnuts
Apple filling:
4 1/2 pounds apples (12 – 15 medium-large, such as pink ladies, fujis or golden delicious; or half and half granny smiths and McIntosh), peeled, cut off the core and sliced crosswise 1/4″ thick (12 cups)
1 teaspoon lemon zest (from 1 lemon)
3 tablespoons lemon juice (from 1 – 2 lemons)
1/2 cup light brown sugar
1/8 teaspoon salt
Make the topping:
In the bowl of a food processor, grind the oats to a floury consistency. Pulse in the brown sugar, cinnamon, nutmeg and salt to combine, then pulse in the butter until the mixture looks like coarse meal, with no large butter chunks remaining, about 10 four-second pulses. Add the nuts and pulse several more times until the topping looks like 'slightly clumpy wet sand'. (Cook's warns: Don't over-mix, or the texture will be too wet and homogenous.) Chill the mixture in the fridge while you get on with the fruit, at least 15 minutes or up to several days.
Make the apple filling and bake the crisp:
Position a rack in the lower third of the oven and preheat to 375º. Have a 9×13″ glass baking dish (or the equivalent) at the ready.
Peel the apples if you like, cut them off the core and then slice them crosswise 1/4″ thick. (Alternately, you can use a dandy corer-peeler-slicer, then cut the peeled, cored, sliced apples into quarters.) Toss the apple slices in a large bowl with the lemon zest, lemon juice, brown sugar and salt to combine.
Lay the apple mixture in the pan, sprinkle the topping over (don't press down) and bake until the apples are bubbling thickly and the topping is golden brown, about 55 minutes. Serve warm with generous scoops of ice cream.
The crisp can hang out at room temp for several hours, then be reheated before serving. It is best the day it is baked, but you can keep leftovers in your fridge, reheating in the oven or toaster oven.