Well, we must be officially cursed because we just spent another weekend in the Sierras getting snowed on. Jay's sea shanty band, The Barbary Ghosts, played at the Strawberry Music Festival in Yosemite. While for our last Yosemite trip we got fair warning of the chilly weather, the forecast last Thursday insisted that it would be sunny, with highs in the 70s, all weekend long.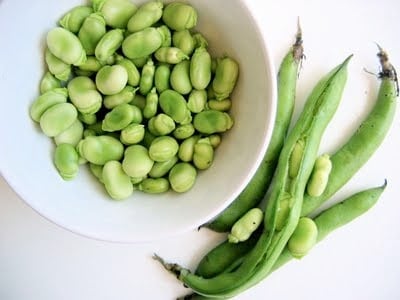 It wasn't.
Though I desperately wished to see Aaron Neville croon away on Saturday night, we spent the evening huddled in our tent with a million layers on, listening to the show being broadcast over the radio, while the more hard-core festival-goers (probably from Alaska or Siberia) stuck it out in the open meadow before the main stage out as the freezing rain turned to snow.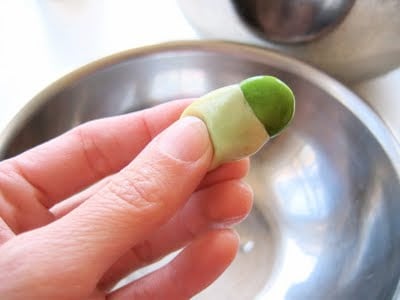 This is about the least springy spring I can remember, and it's hard to believe that in just 21 days summer will officially begin. Yet the spring produce marches on. Every time I look at Rainbow's produce section, I am astonished to see more evidence of the season in full swing: apricots, cherries, peaches, blueberries as well as the usual strawberries and rhubarb; and in the vegetable section, peas, favas, asparagus and artichokes as well as cucumbers and even the first of the summer squash.

When I first subscribed to a CSA several years ago, I was mystified by the long, green pods filled with beans that arrived one spring. But I enjoy a challenge in the kitchen, and shucked, blanched and peeled with gusto. I grew to love fava beans not only as an indicator of the peas and asparagus to come, but also for their earthy, clean flavor, and the meditative experience of preparing them, which makes me feel quaintly old-fashioned and homesteader-ish. I'm sure if I had to shuck them for a living I would quickly wish to claw my eyes out, but I manage to enjoy preparing the few pounds I go through each spring.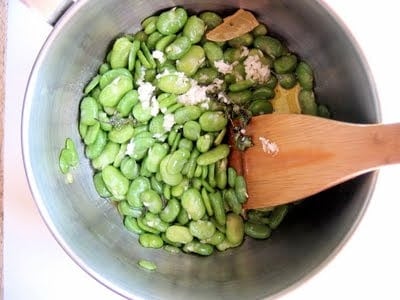 This time around, I decided to make a fava bean puree, so I consulted the queen of obscure produce, Alice Waters of Chez Panisse fame. The recipe called for shucking, blanching and peeling the favas, then stewing them in olive oil with a few herb sprigs and mashing them to a purée. The amount of olive oil called for shocked me: half to three-quarters of a cup for a mere 3 cups of fava beans. But Alice warns, 'Don't be stingy with the olive oil; good olive oil is as important to the flavor of the purée as the beans themselves.' I think I got away with closer to half a cup in the end, and the resulting purée was quite rich, but then I went and brushed the crostini with more olive oil…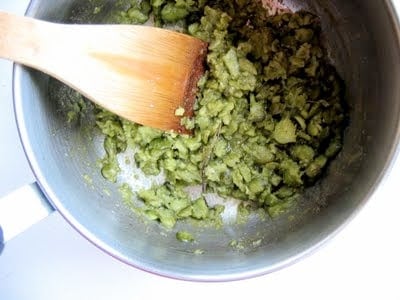 After all was said and done, I didn't have a whole lot of hope for the pea-green goop before me. But then I tasted it and thought 'chicken stock!' It tasted uncannily like chicken stock, rich and meaty. And yet the purée was not only vegetarian, but vegan. I rushed out for a baguette (well, Jay did) and put together these crostini.

The crunch of the radish and clean flavor of the slivered parsley compliments the richness of the bean purée nicely. A little bit of the precious purée goes a long way. Though I don't profess to being a oenophile, I highly recommend washing these down with a crisp white, such as sauvignon blanc.
Even if the weather outside is cold and rainy (or snowy), at least it will still be spring in your mouth.
Savory spring:
Saffron Risotto with Spring Vegetable Ragout
Asparagus Skillet Quiche
Green Garlic Chive Potato Cakes
One year ago:
Creamy Sesame Soba Noodles
Rosemary Pine Nut Biscotti
Fava Bean Crostini
Makes about 3 dozen
Though fava beans take a bit of prep – they must first be shucked from their pods, then the beans blanched and slipped, one by one, from their outer skin – a little of this purée goes a long way. I'd imagine any soft herb would work in place of the parsley, such as basil, chives, tarragon or chervil.
For the fava bean purée (adapted from Chez Panisse Vegetables – makes about 3 cups):
3 pounds fava beans in their pods, shucked (3 cups of beans)
6 tablespoons extra-virgin olive oil, plus more for finishing the purée.
1/4 teaspoon salt
2 cloves fresh garlic, peeled and finely chopped
1/4 bay leaf
1 thyme sprig
a few splashes of water
1/2 a lemon
fresh pepper
For the crostini:
1 fresh baguette, preferably sour, sliced diagonally 1/4 inch thick
olive oil for brushing the baguette slices
8 medium radishes, slivered
a handful of italian parsley leaves, slivered
flaky salt and fresh pepper, for finishing
Make the purée:
Bring a medium pot of water to a boil, and dump in the shucked fava beans. Prepare an ice water bath. Let the water return to a boil, then boil the beans for a minute or so, until a bean will slip easily from its skin. Drain the beans and stick them in the water bath to cool. Drain the beans again, and slip the beans from their skins by piercing the tip with your thumbnail, then squeezing the bean out.
When all the beans are peeled, warm 6 tablespoons of olive oil in a medium saucepan over medium heat. Add the peeled beans, salt, garlic, herbs and a splash of water. Stew the beans at a slow simmer for about half an hour, stirring often, until they are very soft and beginning to break down, adding more splashes of water to keep the pan moistened and prevent the beans from sticking.
Pull out the bay and thyme, and mash the beans into a paste (you can do this by hand with a wooden spoon, in a small food processor, or in a food mill). Add more olive oil and/or a splash of water to moisten the purée if it seems dry. Add a few drops of lemon juice to brighten the flavor, and a grind of pepper.
The purée is best served immediately, but will keep in the fridge for up to a week. Serve warm or at room temperature.
Assemble the crostini:
Preheat the oven to 350º. Spread the baguette slices on a baking sheet and brush lightly with olive oil. Toast in the oven until golden, 5-10 minutes.
Spread each baguette slice with a smear of fava purée, and top with some radish slivers and then a few strands of the parsley. Finish with a pinch of flaky salt and a dusting of pepper. Serve immediately.