My current favorite musical duo, The Two Man Gentlemen Band, have a thing or two to say about cacao-flavored dairy…
And I'm quite certain that any proper gentleman (or woman) would enjoy this hot version made from whole milk, bittersweet chocolate, malted milk, and whiskey, all whisked together until frothy and smooth.
Malted milk has a warm, comforting flavor that you might recognize if you drank Ovaltine as a child (which I found neither warm nor comforting at the time, but now appreciate the way it adds old-school flavor, body and sweetness to this drink.)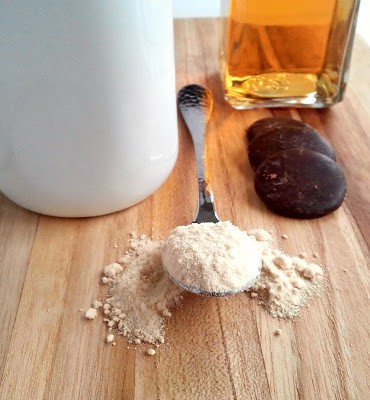 The secret, if you can call it that, to good hot chocolate made with chocolate (rather than cocoa powder) is to whisk the bejeezus out of the milk and the stubborn chocolate in order to combine the two. You could use an immersion blender if you like, but a good thirty seconds of vigorous whisking brings the two components together, and creates a light, sippable texture.
Use a good bittersweet chocolate and whiskey that you enjoy the flavor of.
If you do, you might stay up all night long sippin' chocolate milk along with the Two Man Gentlemen Band. (I know I would like to.)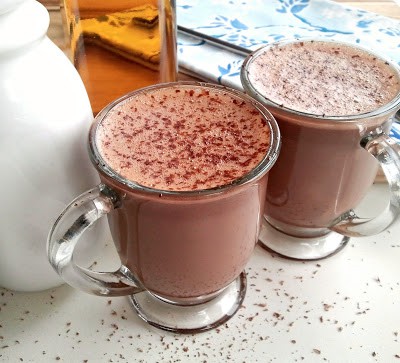 Hot on chocolate:
(Gluten-Free) Bittersweet Whiskey Brownies
Chocolate Bouchon Cakes with Black Pepper Ice Cream
Triple Chocolate Chile Cookies
One year ago:
Double-Malted Hot Chocolate
Do use a good chocolate that you like the flavor of here; Tcho, Scharffen Berger and Valrhona are all excellent choices. Malted milk powder can sometimes be found near the ice cream section in markets, I picked mine up in the swoon-worthy bulk section at San Francisco's Rainbow Grocery Co-op. The amount of whiskey I use is relatively small and blends with the flavors of the malted milk; add more if you like, though you may need to add more milk powder as well. Grate a bit of chocolate over the tops with a Microplane.
Makes 2 gentle servings
1 cup whole milk
1/3 cup bittersweet chocolate wafers (or a chopped bar; 60-70% cacao mass)
1 tablespoon plus 2 teaspoons malted milk powder
2 tablespoons whiskey
Heat the milk in a small, heavy-bottomed saucepan, swirling occasionally, until the milk is steaming and small bubbles form around the edges. Remove from the heat, and add the chocolate and milk powder, and whisk like mad until the hot chocolate is slightly frothy and the chocolate is completely incorporated, 30 seconds or so. Stir in the whiskey, pour into small cups, and top with a grating of chocolate.