This gluten-free persimmon layer cake recipe brims with hachiya and fuyu persimmons, warming spices, and a gently-sweetened cream cheese frosting kissed with vanilla and bourbon.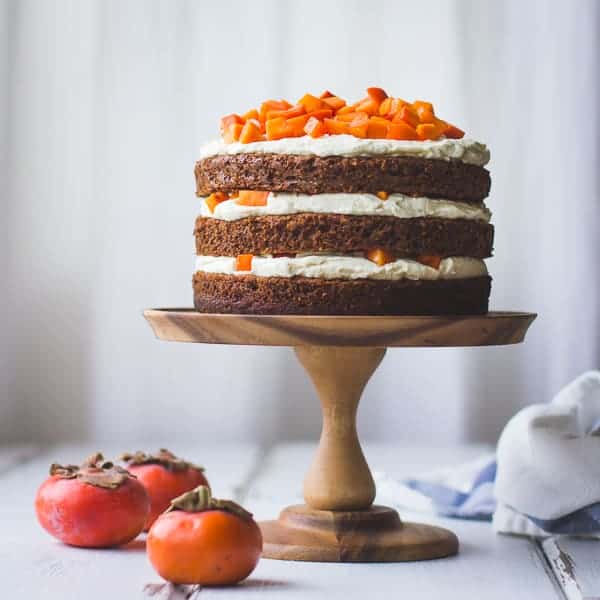 For us, persimmons are synonymous with the holidays. Each year we take a drive down the winding foothills of highway 280 to Jay's folks' house where we're treated to a feast of dungeness crab, copious amounts of white wine, and a deep, dark, spiced persimmon pudding with a plume of softly whipped cream for dessert.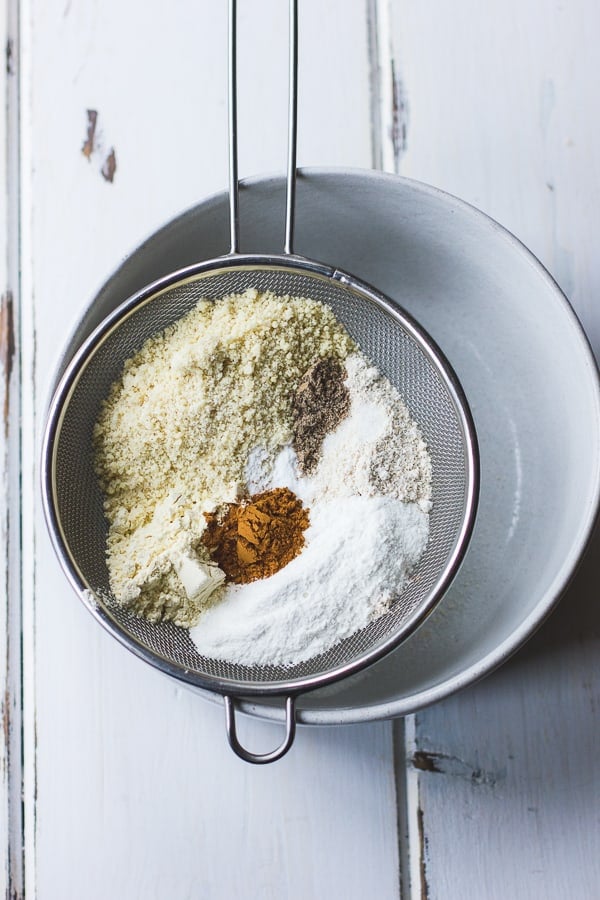 Persimmons peak during December, when the bare branches of their trees hang with heavy, flame-colored orbs. Oblong hachiyas need to be squishy-soft before they're ripe enough to soften their copious tannins. The jelly-like flesh is often pureed and baked into cakes, puddings, and cookies (check out these GF beauties by Snixy Kitchen). Squat fuyus can be eaten crisp, like an apple, and make a tasty addition to salads, smoothies, and crumbles.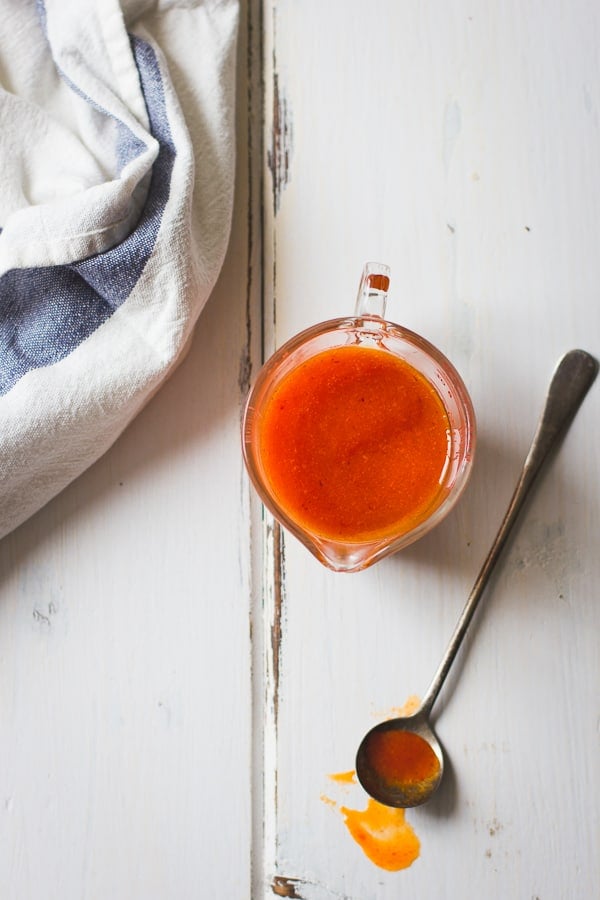 I rarely make layer cakes (in fact, this is my very first layer cake recipe post in 5 years of Bojon!) but this idea came to me last week, when my hachiyas were attracting fruit flies on the counter and Jay kept nagging me about them every time he entered the kitchen. Plus it was my birthday, so I couldn't think of a better excuse to bake a cake. (In fact, I baked two cakes, the second of which – chocolate chestnut cake – is also perfect for the holidays.)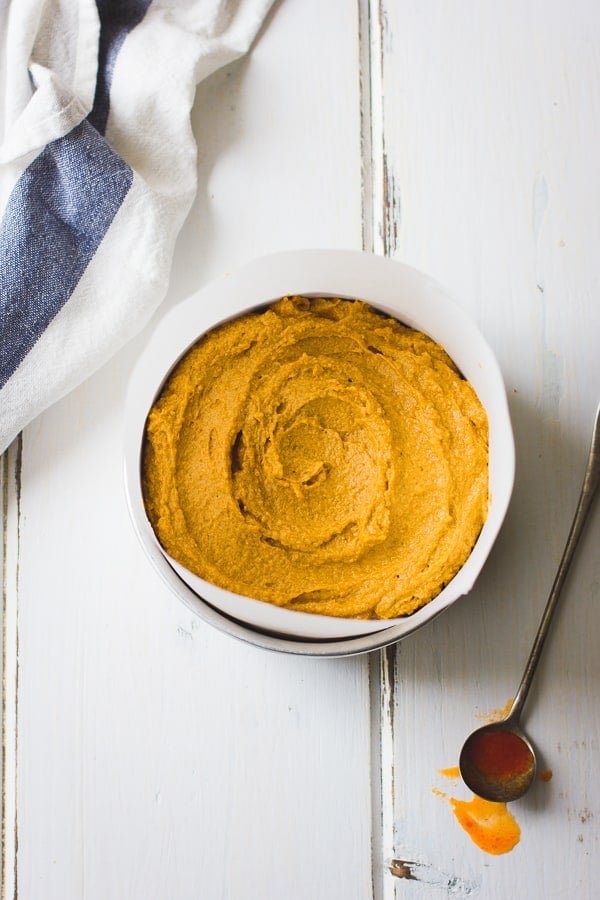 This cake base consists of fragrant, buttery layers seasoned with cinnamon, cardamom, and hachiya persimmons. To make it gluten-free, I used a combination of almond, oat, sweet rice, and millet flours. Though I think you could simply combine almond flour with a GF all-purpose blend if you preferred. I particularly love the nubby texture the almond flour adds to the mix, and its proteins help strengthen the batter, making gums or starches superfluous.
The filling involves a gently sweetened cream cheese frosting kissed with vanilla bean and a splash of bourbon, and diced fuyu persimmons tossed with lemon to keep them looking and tasting fresh.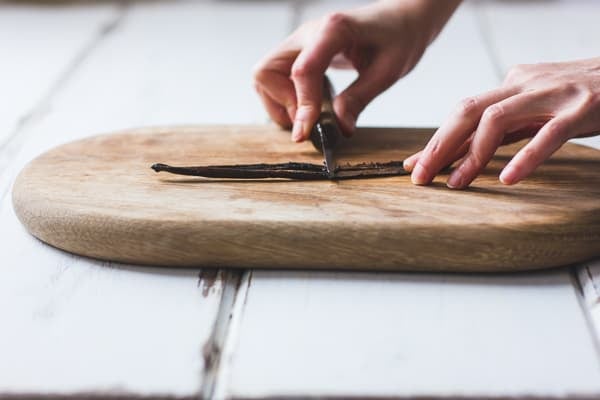 I bake the cake in a six-inch pan lined with a parchment collar to keep it from splooshing out the sides as it bakes. When cool, I cut it into three layers, topping each one with frosting and persimmons, leaving the sides bare. This technique cured me of my layer cake phobia, and I think it looks prettier than hiding the cake in layers upon layers of icing and deco.
Dark slices of cake redolent with butter, muscovado sugar, and warming spices contrast tangy frosting and jammy fruit. Serve slices at room temperature to maximize the moist, gooey factor with the butter in both cake and frosting softened up. It's just the thing to eat on the longest night of the year.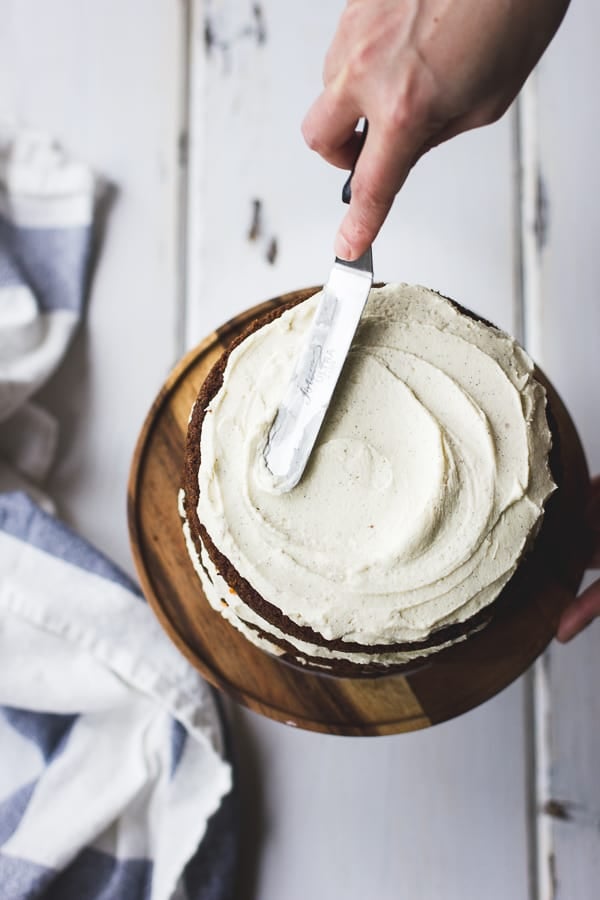 Jay even declared this his favorite dessert of the year.
To make a dairy-free version of this cake, use vegan butter in the cake and top it with vegan cream cheese frosting or paleo cashew cream cheese frosting.
Persimmons are reaching the end of their season here in California, so if you see any, snatch them up. Hachiyas will usually take at least a week to ripen before they're ready to use.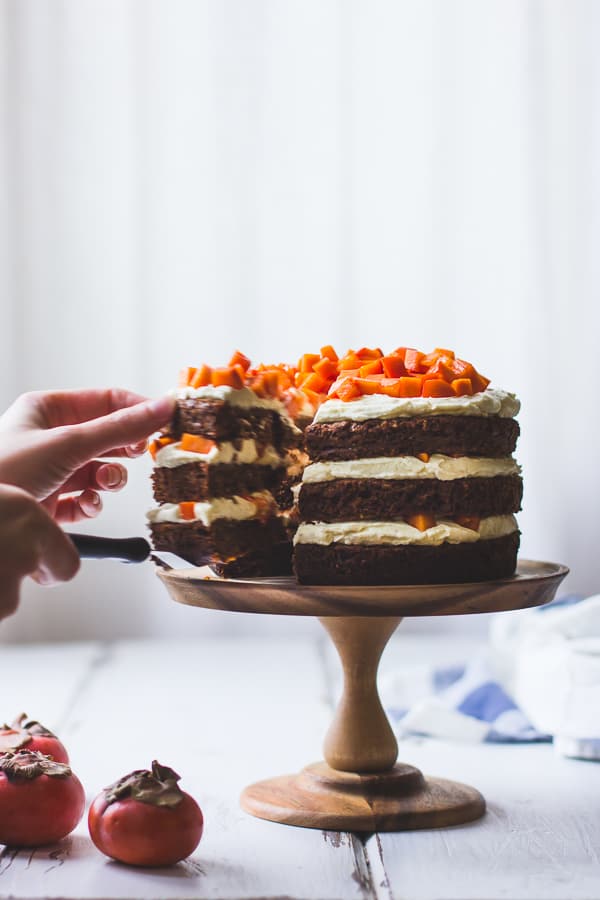 If there are no persimmons in your holiday future, never fear – I've got a persimmon-less cake coming up next. (Here she is!) And happy winter solstice.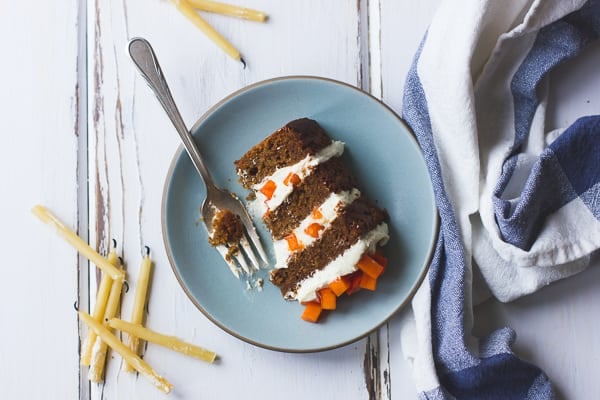 More Persimmon Recipes:
*Bojon appétit! For more Bojon Gourmet in your life, follow along on Instagram, Facebook, or Pinterest, purchase my gluten-free cookbook Alternative Baker, or subscribe to receive new posts via email. And if you make this gluten-free persimmon cake recipe, I'd love to know. Leave a comment and rating below, and tag your Instagram snaps @The_Bojon_Gourmet and #bojongourmet.*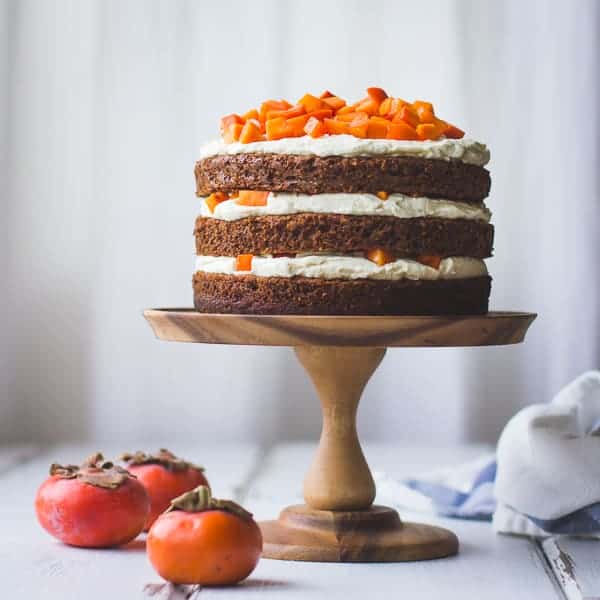 Two-Persimmon Layer Cake with Vanilla Bourbon Cream Cheese Frosting
Print Recipe
Pin Recipe
This gluten-free persimmon layer cake recipe brims with hachiya and fuyu persimmons, warming spices, and a gently-sweetened cream cheese frosting kissed with vanilla and bourbon.
Servings:
8
to 10 servings (makes 1 (6") layer cake)
Ingredients
For the cake:
½

cup

blanched almond flour

(2.25 ounces / 65 grams)(such as Bob's Red Mill)

½

cup

GF oat flour

(2 ounces / 55 grams)

½

cup

sweet white rice flour (Mochiko)

(2.75 ounces / 80 grams)

⅓

cup

millet flour

(1.75 ounces / 50 grams)

1

teaspoon

baking soda

1

teaspoon

cinnamon

½

teaspoon

cardamom

½

teaspoon

fine sea salt

½

cup

+ 2 tablespoons unrefined muscobado sugar (such as Alter Ecor dark or light brown sugar)

(3.5 ounces / 100 grams)

1

cup

hachiya persimmon puree

(9 ounces / 260 grams)

½

cup

unsalted butter, softened to room temperature

(4 ounces / 115 grams)

2

large eggs, separated

1

teaspoon

vanilla extract
For the frosting and finishing:
8

ounces

cream cheese, at room temperature

(225 grams)

½

cup

unsalted butter, softened to room temperature

(4 ounces / 115 grams)

¾

cup

powdered sugar

(3 ounces / 85 grams)

seeds from 1 vanilla bean

(or 1 teaspoon vanilla extract)

pinch

of fine sea salt

2

tablespoons

bourbon whiskey

(or a squeeze of lemon juice)

2

large fuyu persimmons, ripe but firm

a squeeze of lemon juice
Instructions
Make the cake:
Position a rack in the lower third of the oven and preheat to 350ºLine a 6" round cake pan with 2" high sides with a round of parchment paper. Cut a 4-5" wide strip of parchment paper that's longer than the circumference of the pan and use it to make a collar around the inside of the pan.

Place a strainer over a medium bowl and add the almond, oat, sweet rice and millet flours along with the baking soda, cinnamon, cardamom and salt. Sift the dry ingredients into the bowl, adding back in any almond or bran bits that get caught.

Combine the butter and sugar in the bowl of a stand mixer fitted with the paddle attachment and beat on medium speed until light and fluffy, 3-5 minutes, scraping down the sides of the bowl a few times. Beat in the egg yolks and vanilla. With the mixer on low, beat in a third of the flour mixture until combined. Beat in half of the persimmon pulp until combined. Repeat until you've added everything. The mixture may look grainy and that's ok.

In a separate, clean bowl, use a whisk to whip the egg whites until they hold firm peaks when the whisk is lifted out of the bowl. (Hint: this is easier if they're at room temperature. You can also do this in a clean bowl for your stand mixer with the whisk attachment.)

As soon as the whites are whipped, stir a third of them into the cake batter. Gently fold in the remaining egg whites until no streaks remain.

Scrape the cake batter into the prepared cake pan (don't forget the parchment collar if using a 6" pan!). Bake the cake until a toothpick inserted near the center comes out clean, 60-75 minutes for a 6" cake (less time for an 8" pan). Let the cake cool completely, 2-3 hours.

When the cake is cool, us a small offset spatula or butter knife to loosen the edges and bottom from the pan. Invert it into your hand, and pry off the pan. Remove the parchment and discard.

Place the cake upright on a board, plate, or cake stand (if you have one that rotates, bonus points!). Use a large, serrated knife to trim the top of the cake flat. Mark the cake horizontally into even thirds. With your palm on the top of the cake and the knife held parallel to the work surface, use a sawing motion to cut the cake as you rotate it, taking care to make the layer as even as possible. Repeat with the second layer.
Make the frosting:
In the bowl of a stand mixer fitted with the paddle attachment, whip together the cream cheese, butter, powdered sugar, vanilla seeds, and salt on medium speed until light and fluffy. Be careful not to overbeat, or the mixture could break and become grainy or liquidy. Add the bourbon and beat to incorporate. (Mine always become slightly grainy at this point due to the low amount of powdered sugar, but I find that preferable to being too sweet.) The frosting can be covered and kept at cool room temperature for up to a few hours.
Prepare the fuyus:
Slice the tops off the fuyus and cut them into an even dice about 1/4" square or a little larger. Place in a small bowl and toss with a squeeze of lemon juice to keep it from oxidizing.
Assemble the cake:
Place the bottom cake layer on a fresh round of parchment or a 6" cake board. Lay the other layers on a clean surface. Divide the frosting between the three layers. Starting with the bottom layer, smooth the frosting over the surface, taking it almost to the edge. Top with about a quarter of the diced persimmon, and press the persimmons into the frosting. Top with a second cake layer. Repeat this process, using the remaining half of the diced persimmon to top the cake.

Serve immediately, or, for the cleanest slices, chill the cake at least 1 hour. The cake is best at room temperature when the butter in the cake and frosting has softened, so let individual slices come to room temperature before enjoying.

The cake is best on the day of baking, but it will keep refrigerated (ideally in a cake dome or large, inverted containefor up to a few days.
Notes
Make sure your hachiya persimmons are so squishy-ripe that they feel like water balloons about to burst. I let mine ripen on the counter for at least a week or two, stem side down to protect their delicate bottoms, transferring them to a container in the refrigerator as they ripen. They'll keep there for up to a week. When ready to bake, cut the blossom off the persimmon, squeeze out the jelly-like flesh into a mesh strainer placed over a large bowl, and use a flexible silicone spatula to work the flesh through. It will be the consistency of a runny jelly. This puree can also be frozen to use later.
If gluten is an issue for you or your guests, be sure to use certified gluten-free ingredients, especially bourbon and oat flour. If gluten isn't an issue, give this a go with almond flour, all-purpose wheat flour in place of the rice and millet, and whole wheat flour in place of the oat.
I bake this cake in a six-inch cake pan, using a parchment paper collar to keep it from spilling over the sides. Alternatively, you can bake it in an 8" round cake pan and cut it into 2 layers for a wider, shorter cake.
For persimmon muffins or cupcakes:
Divide the batter among 12 muffin cups fitted with paper liners. Bake for 28–32 minutes. Let cool. When ready to serve, spread or pipe with the frosting and sprinkle with the diced Fuyus.
Nutritional values are based on one of eight servings.
Nutrition
Calories:
591
kcal
Carbohydrates:
55
g
Protein:
7
g
Fat:
39
g
Saturated Fat:
21
g
Cholesterol:
133
mg
Sodium:
402
mg
Potassium:
218
mg
Fiber:
2
g
Sugar:
26
g
Vitamin A:
1150
IU
Vitamin C:
21.5
mg
Calcium:
82
mg
Iron:
2
mg