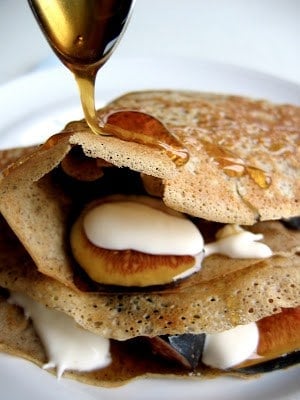 I never felt truly at home while growing up in LA, but when my dad took me up to Berkeley one summer to visit my older brother, I fell immediately in love.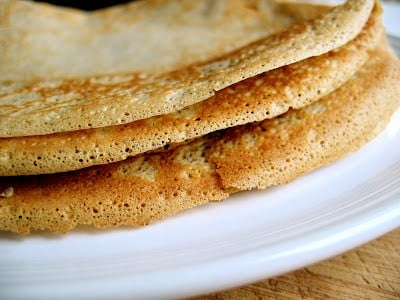 (With Berkeley, that is, not my brother. Though naturally I love him, in a brotherly way.)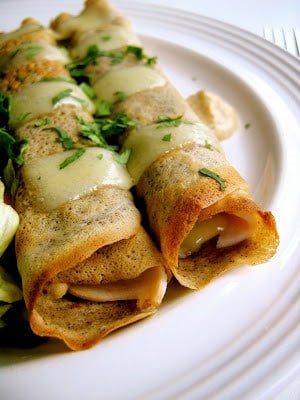 While the craftsman architecture, lack of strip malls, and clean(er) air certainly didn't hurt, the deal was sealed when we breakfasted at Cafe Fanny one morning. I loved perusing the handwritten menu, ordering at the counter, and sitting outside at a table in the parking lot with the locals waiting for our food. There, I sipped my first non-Starbuck's coffee (a creamy latte served in a giant ceramic bowl), tried baked goat cheese salad (transcendently unctuous), and ogled artisan loaves at Acme next door.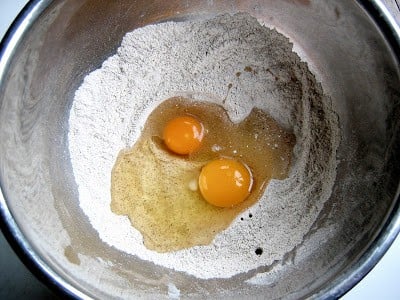 But what stayed in my mind the most were the buckwheat crepes.
Wrapped around thick, tangy yogurt and a handful of pristine strawberries, the crisp-chewy-spongy crepes were unlike anything I'd ever tasted before. I fell hard for those crepes, which to me embodied the understated elegance of Northern California.

While some fourteen-year-olds dream of becoming movie stars or models, I spent math classes imagining going to college at UC Berkeley and working as a cook at Cafe Fanny. (I'd be a shoe-in due to my close friendship with Wolfgang Puck, natch.)
My hopes were dashed when, at 18, the only school I got into was UC Santa Cruz (probably shoulda payed more attention in that Algebra class!), and I was forced to work instead at the College 8 bakery under a boss who couldn't even pronounce 'focaccia' properly. It was rough. By the time I'd made it to the Bay Area, Alice Waters had sold Cafe Fanny to someone who thinks that it's ok to have eggplant on the menu in February, and I realized that getting up at ass o'clock every morning to get payed minimum wage just wasn't my thing.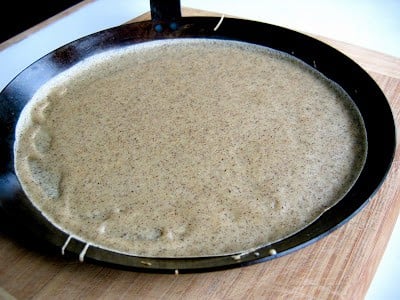 But none of that matters now, because I can make Alice's buckwheat crepes anytime I want(read: not ass o'clock) at home. My dad gifted me the Chez Panisse Menu Cookbook shortly after that first crepe-obsession-inducing trip and I was thrilled to find the recipe on page 66. I have since made it many, many times.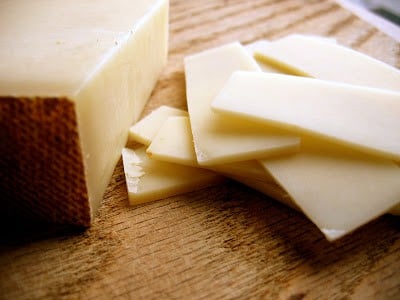 Buckwheat, or blé noir, has become one of my favorite grains, with hints of nuts and cinnamon in its pretty black flecks. It is gluten-free, and full of l-lysine, an amino acid that can help kick canker sores.This batter contains plenty of buckwheat flour, as well as hefty doses of butter, beer, and milk. A healthy amount of salt and a bit of sugar make the crepes full flavored, but neutral enough to wrap around sweet or savory ingredients.
The only change I make to the recipe is to substitute some whole spelt or wheat flour for the all-purpose. Just be sure to let the batter rest for at least two hours, so that the glutens have time to relax, ensuring tender, lacy crepes.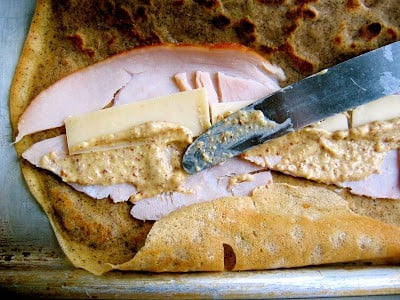 Traditionally, buckwheat crepes are called 'galettes' and are reserved for savories, while 'crepes' are made with white flour and filled with sweet things. But Alice suggests serving these for dessert with a mango-sauternes compote, and if she says it's ok, then it must be. I like these equally with sweet and savory fillings, for any meal of the day. This morning I sliced some fresh figs and drizzled them with creme fraiche and honey. At lunchtime, the crepes got rolled with thinly sliced gruyere, stoneground mustard and smoked turkey and served with a crisp green salad.
Other filling ideas:
sauteed spinach, mushrooms and caramelized onions or leeks
poached quince with goat cheese
sauteed pears, apples or peaches with maple syrup
sweetened ricotta cheese and fresh berries
smoked ham with swiss
roasted asparagus with beurre blanc
softly scrambled eggs with herbs
brie and ripe pear slices
wild mushrooms and cream sauce
Making crepes takes a bit of practice to get the hang of, and I won't lie: I get nervous every time I go to swirl the batter around my well-seasoned pan. But it is a task I find meditative and quite satisfying. The crepes can be made up to a day or two in advance, stacked on a plate, and heated 'to order' as needed.

And nothing washes them down better than a glass (or crock) of dry, French cider.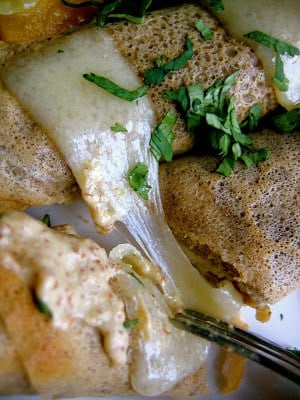 Though a bowl of latte would be a close second.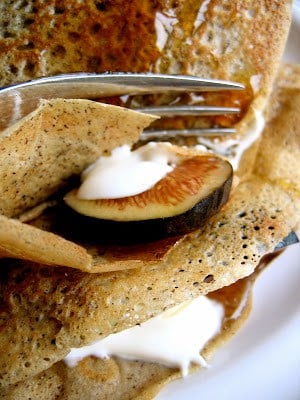 Brunchy bites:
Sourdough Apple-Oat Cheddar Pancakes
Sourdough Flaxseed Waffles
Bacon Beer Scones
One year ago:
Buckwheat Crepes
Adapted (barely) from the Chez Panisse Menu Cookbook, by Alice Waters
Makes about 1 dozen crepes, 6 servings
1 cup whole milk, divided use
2 ounces (1/2 stick, 4 tablespoons) unsalted butter
1/2 teaspoon salt
1/2 teaspoon sugar
1/4 cup plus 2 tablespoons buckwheat flour
1/4 cupplus 2 tablespoonswhole spelt or wheat flour
1/4 cupplus 2 tablespoonsall-purpose flour
2 eggs
1 1/2 teaspoons vegetable oil (such as sunflower)
1/2 cup beer (such as Anchor Steam, or another lager)
In a small saucepan, gently heat 1/2 cup of the milk with the butter, salt and sugar until the butter is melted. Let cool to room temperature, about 20 minutes.
Meanwhile, whisk together the flours in a medium bowl. Make a well, and add the eggs and oil. Whisk until very smooth, gradually adding in the beer and the cooled butter/milk mixture. Chill the batter for at least two hours in the fridge, or up to a couple of days. Remove from the fridge and stir in enough of the remaining 1/2 cup of milk until the batter reaches the consistency of heavy cream.
To cook the crepes, heat a well-seasoned 8 or 9″ crepe pan or skillet over medium heat. Swirl about half a teaspoon of butter or oil in the pan, then wipe it out with a paper towel. (Unlike pancakes, you don't want a lot of fat in the pan, just enough to prevent the crepes from sticking. If your pan is well-seasoned, you will only need to oil it once before you begin, but wipe the pan with a bit more butter if your crepes begin to stick.) Pour 3 – 4 tablespoons of batter into the pan and swirl it to coat it evenly. If you've poured in too much batter, you can pour the excess back into the bowl. If you have some holes in your crepe, you can dab on a bit of batter to fill them up. This may take a bit of practice, but you will soon be swirling like a pro.
Let the crepe cook until lightly golden on the first side, about a minute, then flip and cook another 30 seconds or so on the second side. (I like to use a small, metal, offset spatula to pry up a side of the crepe, then I bravely use my fingers to flip it over.) Slide the crepe onto a large plate, and continue with the batter, stacking the crepes as you go, until you've used it all up. (If you want this to go faster, you can use two pans: one to cook the first side, then flip it into the second pan to finish cooking while you start another one in the first pan.)
Cover the crepes with a damp towel and leave at room temp for an hour or two, or cover with plastic wrap and store in the fridge for up to several days.
To reheat and serve:
Each crepe will have a pretty side (the first side it was cooked on) and an 'aesthetically challenged' one (the second side.) Melt a little butter in a pan and heat the crepe pretty-side-up for a few seconds. Flip and heat the second side (ugly-up). You can melt cheese on the crepe, and add any other ingredients you like. Fold it half or into quarters and serve. Alternatively, you can roll the crepes up (with any desired ingredients), place them side by side in a baking dish, sprinkle some cheese over the tops if you wish, and bake in an oven until heated through.