In the preface to Chez Panisse Desserts, Alice Waters writes:
[Dessert] should be just the right flavor and texture to complete the meal, something to amuse and surprise the palate one more time–never overwhelming or dulling.
This ice cream embodies those principals, with its creamy, delicate texture and unusual combination of flavors. A bit of flaky salt lends eye-opening crunch, and I dare your palate to not be amused by the subtle complexity of fruity olive oil and herbaceous tarragon.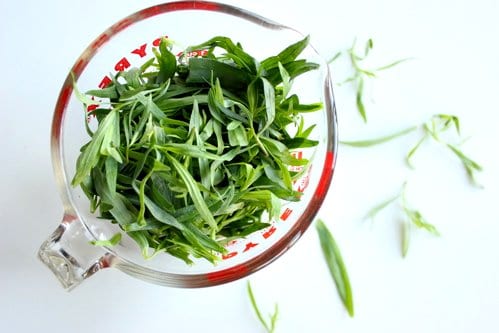 I never would have thought to combine tarragon and olive oil in an ice cream. But last week, I came upon the idea while helping professional food photographer Eric Wolfinger style a shoot illustrating the concept of savory elements in desserts for Kimpton Hotels and Restaurants.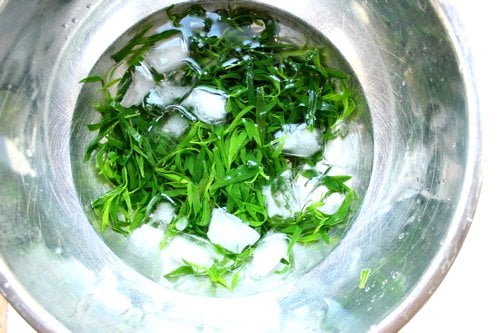 Pre-shoot, I read through a series of interviews by Kimpton pastry chefs, includingTim Nugent of Scala's in San Francisco, who said that his favorite dessert to incorporate savory elements into is gelato; specifically, tarragon olive oil. So I put that on the list, and Eric responded by saying, "Tarragon olive oil gelato? I want to eat that!"
He didn't have to twist my arm. I whipped up a batch based on David Lebovitz's olive oil ice cream from my ice cream bible,The Perfect Scoop,and blended in a bunch of blanched and shocked tarragon, a technique I learned from my stint at Farallon which keeps the herb looking vibrant. The finished ice cream was bright pea green and tasted like nothing I'd ever experienced previously. During the shoot, we ended up nestling a scoop of it beside a strip of bacon topped with whole roasted baby bell peppers which we drizzled with dark chocolate and sprinkled with flakes of sea salt and crushed peppercorns.It tasted as outrageous as it sounds.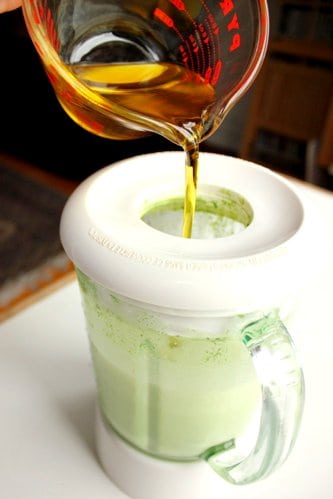 While I enjoyed the crazy dessert we concocted for the photo shoot, I like this ice cream best plain, drizzled with a bit more olive oil and flecked with a tiny pinch of crunchy Maldon salt. But tarragon and olive oil both pair well with citrus (especially grapefruit), berries and chocolate. I can imagine serving this in a berry soup, with grilled peaches or pineapple, with black pepper shortbread, or next to a slice of flourless chocolate cake. And I'd wager that basil olive oil ice cream would be a tasty variation, lacking tarragon.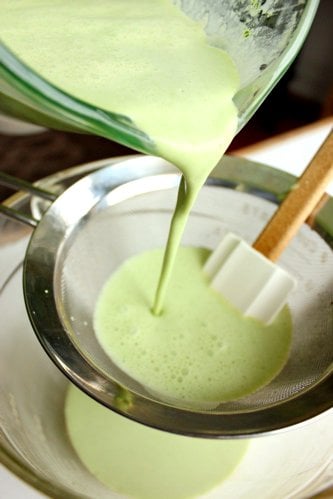 While you might expect olive oil ice cream to feel heavy on the palate, or taste unpleasantly like olives (or oil), the effect is actually sublime. The texture is as smooth, dense and delicate as any good, home-churned ice cream, and the flavor comes through as something mysterious, subtle and fruity. In this ice cream, the flavor of the tarragon adds yet another dimension, winding its way around the nuances of the olive oil without obscuring it.
If you're not familiar with the flavor of tarragon, it is often (unjustly) said to taste like licorice. But licorice conjures up waxy red and black candies that no one in their right mind would get excited about.Jerry Traunfeld, owner of The Herbfarm, gives a more vivid description of the misrepresented plant inThe Herbfarm Cookbook:
Freshly picked tarragon will fill your mouth with a strong minty heat and release a peppery sensation in your throat that lingers for quite some time. The predominant flavor in tarragon comes from the identical essential oil that's found in anise, but rather than having a cloying licorice quality, it has citrus and green herb characteristics that, combined with its spiciness, produce a delicious savoriness.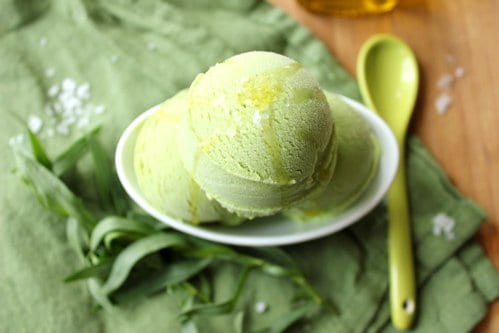 Or, to quote my friend, videographer Pete Lee, who also tasted this ice cream:
Eric said tarragon tastes like licorice, and I was like, 'I don't like licorice.' But then I tasted the ice cream and I was like, 'I like that.'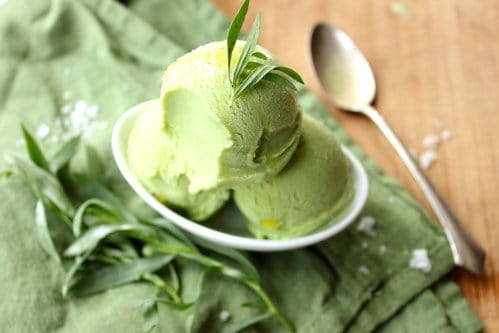 Herbal Ice Creams:
Lemon Balm Crème Fraîche
Chocolate Mint Chip
Lemon Verbena (and Red Berry Shakes)
One year ago:
Buckwheat Chocolate Chip Cookies
Caramelized Apple Bread Pudding
Beer Rye Sourdough
Two years ago:
Tangerine Poppyseed Brunch Cake
Nibby Matcha Wafers
Tarragon Olive Oil Ice Cream
Inspired by Tim Nugent and based on David Lebovitz' Olive Oil Ice Cream from The Perfect Scoop
This ice cream is all about the olive oil, so use the best stuff you can afford, preferably freshly-pressed and extra-virgin. French tarragon (as opposed to the Russian variety) has the best flavor and is the stuff most commonly found at well-stocked grocery stores and farmer's markets (see photo in post, above). This ice cream is 'amusing and surprising' on its own, or drizzled with a bit of extra olive oil and flecked with a pinch of flaky sea salt; see the post above for further serving suggestions.
Makes about 1 quart, 6-8 servings
1 cup heavy cream
6 large egg yolks
1 1/3 cups whole milk
1/2 cup sugar
pinch salt
1 bunch tarragon, de-stemmed (1 generous cup, gently packed)
1/2 cup fruity, extra-virgin olive oil
Cook the custard:
Place the heavy cream in a 1-quart capacity container (I use a mason jar) and set aside.Place the egg yolks in a medium bowl anchored on a damp towel and set aside.
In a medium saucepan, warm the milk, sugar and salt over a medium flame, swirling the pot occasionally until the milk is steaming and small bubbles form on the bottom of the pan, a few minutes.
When the milk is hot, dribble it into the yolks, whisking constantly. Return the mixture to a medium-low flame, and cook, stirring constantly with a heat-proof silicone spatula, scraping the sides and bottom of the pan, until the mixture begins to "stick" (form a film on) the bottom of the pan, a few minutes.
Immediately remove the pot from the heat and pour the hot custard into the cold, heavy cream. Place in the fridge to chill for at least 4 hours, and up to 2 days. (If you're in a hurry, you can place the mixture in an ice water bath and stir until it is cold.)
Prepare the tarragon:
Bring a medium saucepan of water to a rolling boil. Have a medium bowl filled with ice water at the ready. Blanche the tarragon until bright green, 5-10 seconds, drain through a strainer, and plunge into the ice water. When it's cold, drain it and use your hands to squeeze all the water out.
Place the blanched, squeezed tarragon in a blender. Add about a cup of the cold ice cream base and blend on low until smooth, slowly adding the remaining ice cream base. With the motor still running, slowly pour in the olive oil. Strain the mixture through a fine-mesh sieve.
Churn the ice cream:
Return the ice cream base to the jar and place it in the freezer for half an hour to get it really cold, shaking or stirring it every 10 minutes (this will make for a smoother ice cream). Spin the ice cream in an ice cream maker until it is the consistency of a thick milkshake. Transfer the ice cream to a storage container (preferably one that has been chilled in the freezer) and freeze for at least 2 hours for a scoopable consistency.
Serve scoops of ice cream with a drizzle of olive oil and a pinch of flaky sea salt, such as Maldon. The ice cream is best within a week of being made, but will keep for several months.