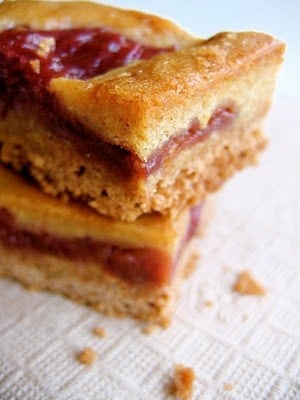 One weekend in late September, my cousin threw the coolest birthday party for herself. And when I say cool, I mean that not only was a campout in Big Sur's Pfeiffer National Park an awesome idea for a birthday weekend, but it was actually physically very cold. And wet.

Jay checked the weather on the Thursday before and was surprised to see rain in the forecast. As we drove down the breathtakingly beautiful coast, with waves crashing up the sides of the craggy mountains, the clouds became more and more, well, cloudy. By the time we pulled into our campground, things were looking downright ominous, but we managed to get our tent set up, rain fly firmly in place, before the first drops started to fall.

Not so my cousin, who arrived with her hubby in the dark, during a full-on deluge.
Thankfully, we had had the foresight to reserve a table for four at the Big Sur Bakery and Restaurant. We bundled into our warm, dry car, and proceeded to one of the loveliest meals I've ever had. In a peaceful candlelit setting among easygoing staff, we listened the the rain pummeling the roof while enjoying a beet salad with goat cheese and beet green crostini, a flawless heirloom tomato wood-fired pizza, and a juicy California Pinot Noir.

Hopefully Joelle and Brian drank enough wine that they didn't mind setting up their tent in the pissing rain, or siphoning out the reservoir of water that pooled inside it, when we returned to the campground. Two other guests showed up even later and, I believe, slept in their car that night.
So enamored were we of the bakery (and of getting out of the still-driving rain and back into the warm, dry car), that we immediately returned the following morning to buy bread (a crusty asiago loaf) on which we optimistically hoped to grill sandwiches later.

In case you're wondering how the rest of the weekend fared, you'll be happy to know that the clouds lifted later that afternoon, leaving us with an almost entirely empty, sunny, though somewhat sodden campground to enjoy all to ourselves.
And the best grilled pesto-portabello sandwiches on Big Sur Bakery asiago bread. And s'mores with homemade marshmallows and graham crackers, and bittersweet chocolate.

While I am sad that the Big Sur Bakery is a three-hour (albeit beautiful) drive away, I was elated to see that they'd come out with a cookbook. When I saw the rhubarb brown butter bars recipe, I knew it would be mine.
These bars combine several of my favorite ingredients into one treat: loads of butter, cooked with a vanilla bean until nutty-brown (the French call it 'buerre noisette,' which of course sounds much better, being French and all); a rhubarb jam made with more vanilla bean and blood orange. I added some grated fresh ginger to the jam, as well.

But it took me a while to get around to making these, despite reading through the recipe several times. Though the book is filled with droolingly glossy food photos, no picture accompanied this particular recipe, and I spent an unhealthy amount of brain power wondering what the brown butter topping would be like, what the texture of the jam was, why (why!?) the recipe did not call for salt, and why they have you brown two separate batches of butter.
So I finally made it, with some tweaks and streamlining. And I got some answers. The brown butter topping is sort of like a dense, custardy cake batter, not unlike a financier. The jam cooks up perfectly thick and intensely flavored, ideal for spreading on toast with goat cheese or stirring into yogurt. And while the bars are undeniably delicious and may even have the power to convert rhubarb-haters, I think I really prefer a nice crumble bar, which are so much easier to make. The bars are certainly a fun project if you have time to spend melting butter just to freeze it again, and making three different recipes for one bar. They also travel well, and, well, they're just pretty, the way the ruby jam pokes through the topping in irregular orbs, like stained glass.

As for the tweeks and streamlining: I decreased the sugar in every aspect of the recipe, as the amount seemed extreme, and I thought the final bars were just right in their sweetness. I used whole spelt flour for the crust, and brown sugar in the filling to add some rich, nutty notes and assuage my guilt about all the white sugar in the jam. (Next time I will use agave in said jam, as it comes out so nice and thick I don't think the extra bit of liquid would affect it. I would only use 1/2 cup of agave, as I believe it is sweeter than sugar.) I halved the crust and topping, but kept the rhubarb filling the same for a greater jam-to-bar ratio, and baked them in an 8×8″ pan. I was glad I did. Even though I gave a lot away, they are very, very rich and intense little buggers.

I also browned all the butter at once, since it seemed crazy to brown them in separate batches, though surely there is good reason to do this at the bakery, like making the dough ahead of time or something. (Although at Farallon we used to brown a lot of butter all at once and store it in the fridge to use as needed, so I am at a loss.) I also added salt, which the recipe didn't call for at all. I have been bamboozled by saltless sweets recipes in the past and always (always!) regret not adding some. Saltless sweets just taste flat, bland and overly sweet to me. Luckily for me, my blood pressure is so low that a nurse once asked me if I was dead! (I wasn't; not yet, at least.) So for the time being, I salt it up.
These bars are sturdy enough to travel well, but are best in the first couple of days, when the crust is still crisp. They'll keep for up to a week, but store them in the fridge after a day or two.

In closing: while I love the idea of these bars, the recipe is fairly involved, so if you're pressed for time, you might consider making these guys instead, using the rhubarb jam from this recipe. The jam is so good, you may want to make extra and store it in the fridge for using in other ways, or can it if you enjoy that sort of thing.
A note on vanilla beans: I consider vanilla beans an absolutely essential ingredient in my cupboard, but buying them from grocery stores can be absurdly expensive. I suggest investing in a bulk purchase of the little tropical orchid fruits if baking is something you do frequently. (And if it isn't, then what are you doing reading this blog? Don't you have better things to do?) If you live in the bay area, check out Vanilla Saffron Imports in the Mission, or place an order from them online.

And if you go to Big Sur to camp and check out the bakery (which is highly recommended!), you may want to check the weather forecast before you go, just in case.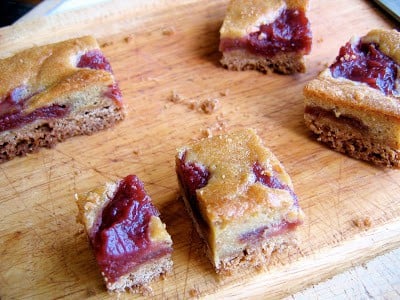 Bunches of bars:
Rhubarb Crumb Squares
Plum Cardamom Crumble Squares
Huckleberry Chèvre Cheesecake Squares
(Gluten-Free) Congo Bars
Gingered Brown Butter Rhu-bars
Adapted from the Big Sur Bakery Cookbook
Makes 12 bars
The Brown Butter:
6 ounces (1 1/2 sticks) unsalted butter
1/2 vanilla bean, split and scraped
The Jam:
5 stalks rhubarb (each about 14″ long and 1″ wide, about 1 pound total), cut into 1/2″ pieces
3/4 cup sugar (or try 1/2 cup agave)
1/2″ knob of ginger, finely grated
1/2 vanilla bean, split and scraped
zest and juice of 2 blood oranges
The Crust:
3/4 cup plus 2 tablespoons whole spelt flour (or use 3/4 cup all-purpose)
1/4 cup powdered sugar
1/4 teaspoon salt
The topping:
1 egg plus 1 egg yolk (use 3 eggs if doubling recipe)
1/2 cup brown sugar
1/4 teaspoon salt
1/4 cup plus 3 tablespoons flour
Brown the butter:
Place the butter and vanilla bean in a medium saucepan and melt over medium heat. Continue cooking, swirling the pan occasionally, for about 5 more minutes. The butter will foam up a lot, then it will turn a golden-brown and smell nutty and good. Watch closely so that it doesn't go too far; remove from the heat. Measure out 1/4 cup of the browned butter and set aside for the topping. Pour the rest of the butter (1/2 cup) into a small metal bowl and freeze for 30 minutes, for the crust.
Make the jam:
In a medium saucepan, combine the 3/4 cup sugar, grated ginger, vanilla bean pod and scrapings, orange zest and juice. Over high heat, bring the mixture to a simmer, then dump in the rhubarb. Cook, stirring frequently, until the mixture has broken down into a thick jam, about 10 minutes. Set aside to cool, and remove the vanilla bean. (You can wash it, leave it to dry at room temp, and reuse.) Measure out 1 1/4 cups of jam, and save the rest to enjoy on toast or otherwise.
Make the crust:
Sift the 3/4 cup plus 2 tablespoons flour, powdered sugar and salt into a bowl. Cut the frozen butter into tiny chunks and add to the flour mixture, working with a pastry blender or your fingers until large clumps of dough start to cling together and most of the butter chunks are gone. (You could also use a food processor for this.) Line an 8×8″ square pan with a sling of parchment paper, and press the crust mixture evenly into the bottom. Chill the pan for 30 minutes.
Make the topping and bake the squares:
Position a rack in the center of the oven and preheat to 375º.
Bake the crust until golden and firm, 15 – 20 minutes. Remove and let cool.
In a medium bowl, whisk together the eggs, brown sugar, flour and salt to combine. Re-melt the 1/4 cup of brown butter and gradually whisk it into the topping to create an emulsion. Spread half of the brown butter topping over the cooled crust. Dollop 3/4 of the jam over the brown butter topping, spreading slightly, then spread the remaining brown butter topping over the jam. Drop the remaining jam onto the bars in random dollops. Return the bars to the oven and bake for 30 – 35 minutes, until the topping is firm and golden. Let cool completely, then cut into 12 bars.
These bars are sturdy enough to travel well, but are best eaten within the first couple of days, when the crust is still crisp. They'll keep for up to a week, but store them in the fridge after a day or two.