Summer Vegan Green Goddess Salad = my favorite salad of the summer with crispy lettuce, heirloom tomatoes, crunchy cucumbers, toasted seeds, creamy cashew herb dressing, and a dusting of nutritional yeast.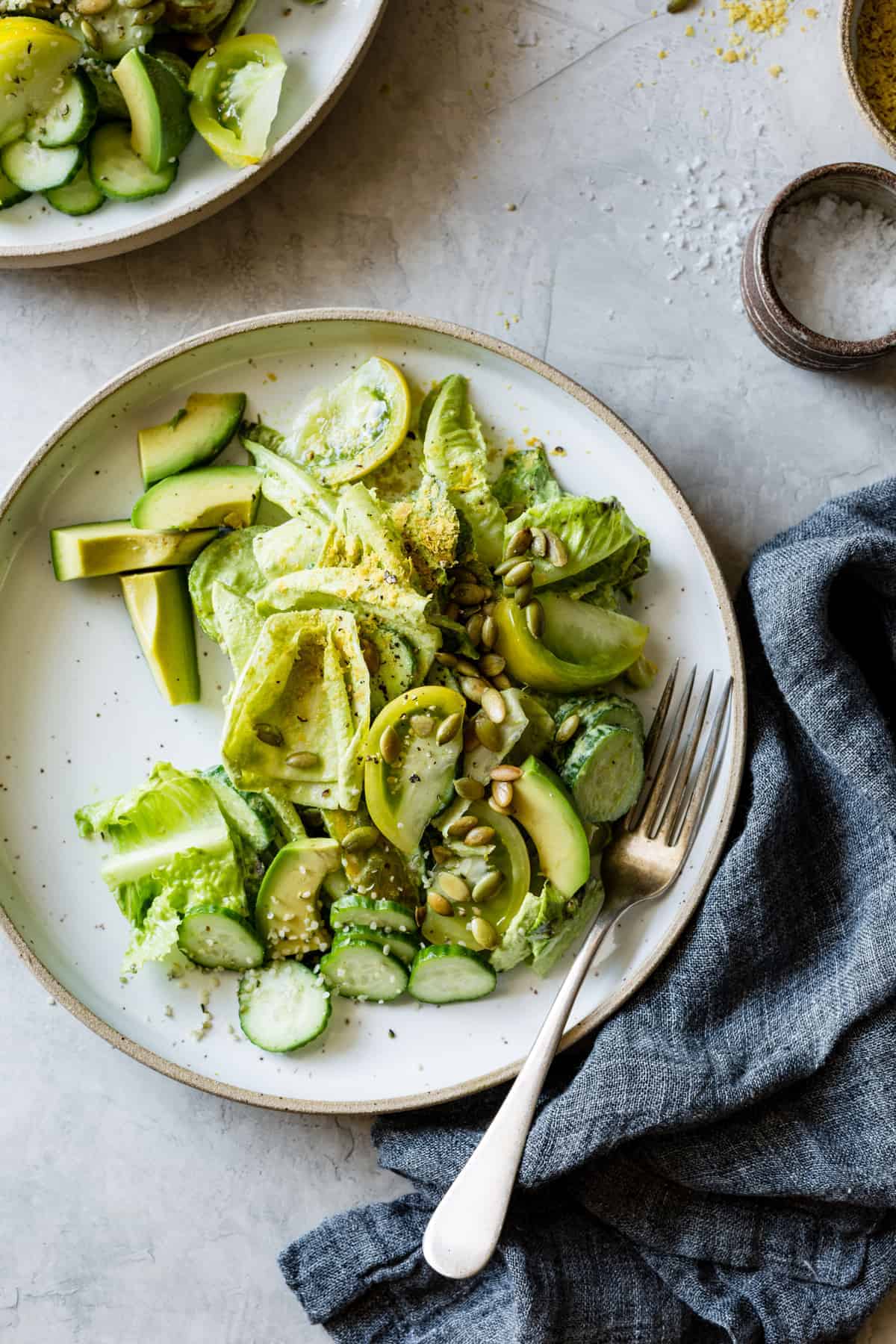 It takes a lot to get me excited about a salad. While rationally I know I'm utterly privileged to be able to eat all the fresh produce I want, day in and day out, my inner child still sees salad as an obligatory and not always entirely pleasant detour en route to dessert. As an adult I've come to crave leafy greens at every meal. But a bowl full of salad for dinner can still seem like punishment, the exception being when said salad contains copious amounts of cheese – see exhibits A, B, C, D, and E.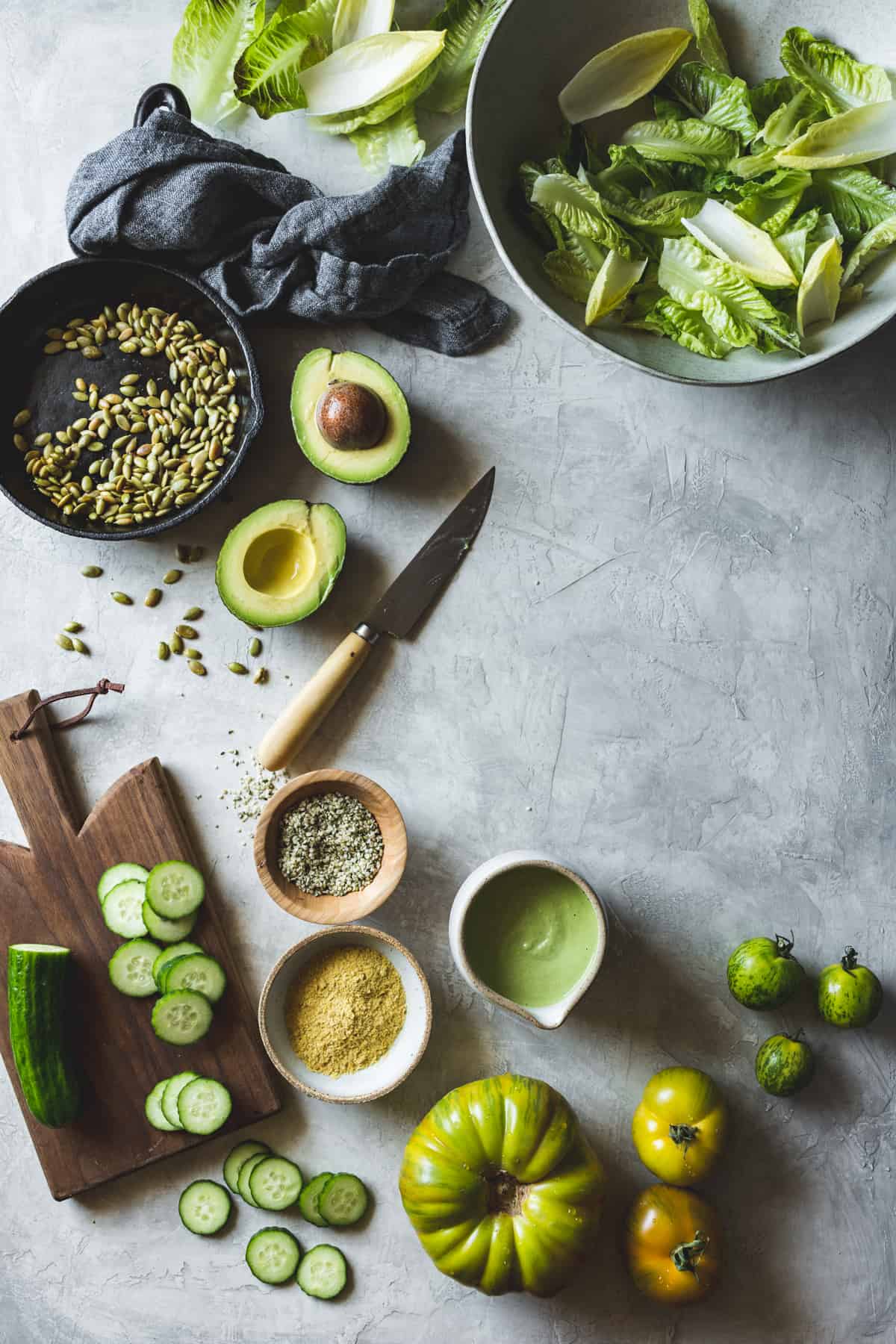 But that was before summer vegan green goddess salad entered my world (and my mouth).
This salad took inadvertent inspiration from an outrageously delicious vegan kale caesar salad made in Sebastopol at a sweet little restaurant called Slice of Life. Sarah, Gerry, Carla and I shared an order alongside a couple of GF pizzas the evening before our food photography workshop.
Tender kale leaves were coated in a nap of tangy, creamy dressing doused with nutritional yeast, capers, avocado, toasty seeds, and deceptively delicious coconut bacon. Despite being vegan, the salad felt hearty and nourishing, with deep cheese-like flavor from the yeast and whatever gave the dressing body. It took all of my willpower not to bogart the entire salad for myself.
Back home in SF post-workshop, I thought about that salad a lot. I considered trying to replicate it, but feared that the platonic salad ideal in my head would never match up to reality. Instead, armed with a bag of insanely good Arise Bakery gluten-free baguettes (which, pssst, you can order), I made panzanella topped with green goddess buttermilk dressing and loads of fresh mozzarella. Then I got the idea to make the panzanella vegan, swapping marinated white beans for the cheese and making this cashew-based version of the dressing. Both were pretty good.
But then one evening, needing a quick side salad to go with dinner, I tossed some basic salad ingredients – lettuces, cucumber, tomatoes, avocado – with the dregs of the vegan green goddess dressing. On a whim, I sprinkled a little nutritional yeast on top, and bam – I was transported back to our pre-workshop dinner. This salad hit all the same notes.
Despite containing neither crispy croutons nor cheese, this salad trumped all the others. Creamy cashew green goddess dressing loaded with fresh herbs and piquant capers, garlic, and lemon coats crunchy lettuce leaves. Little gems or romaine hearts and endives stand up beautifully to the thick dressing. Crisp cucumber and juicy heirloom tomatoes fill the salad up with summer love, while avocado and toasted pepitas and hempseeds add extra healthy fats and make the salad into a filling meal, no cheese needed. Nutritional yeast adds an addictive flavor layer akin to parmesan on a classic caesar. And if you make a batch of Kate's coconut bacon to throw on top, it makes this even more satisfying.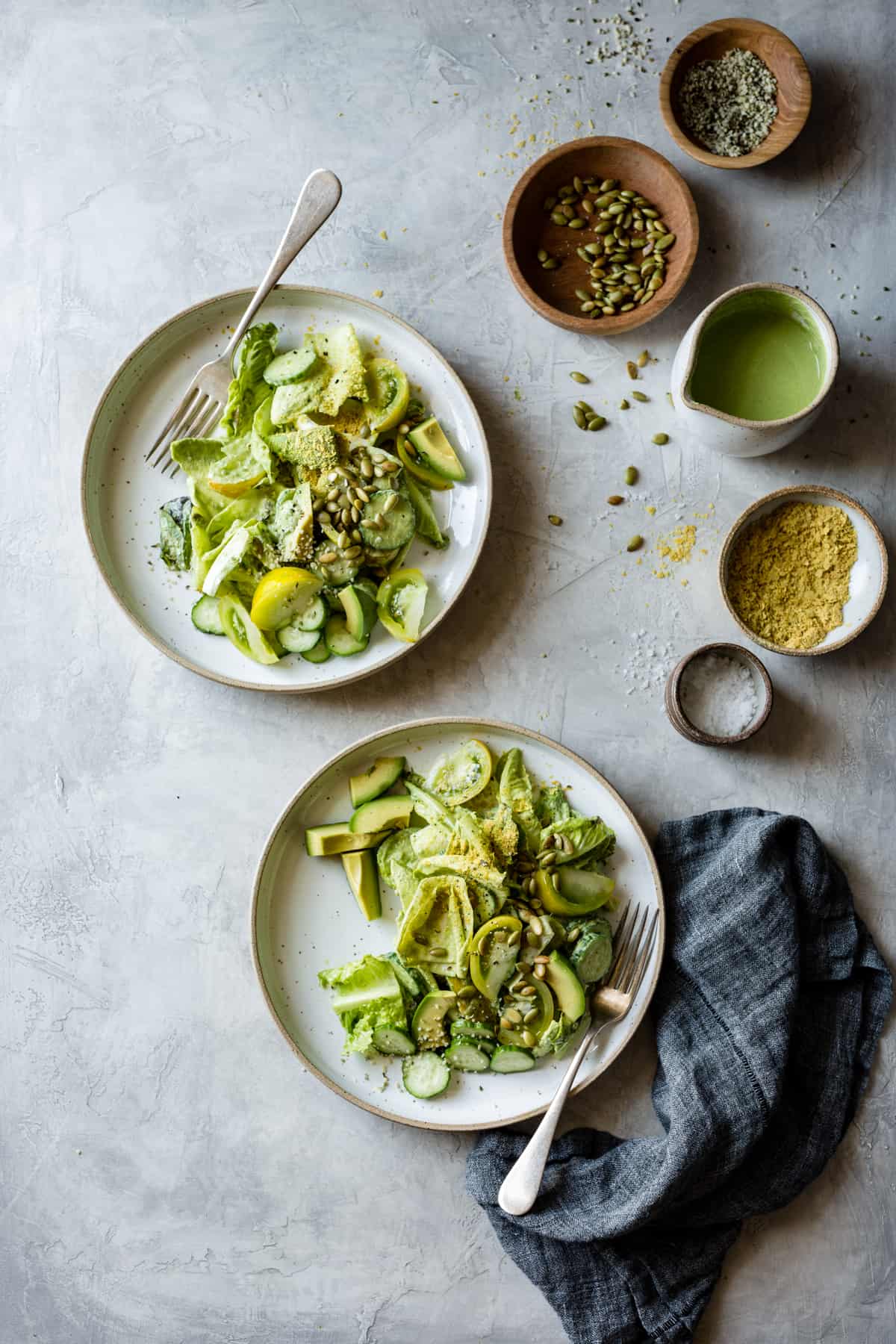 So cheers to the bounty of summer and our good fortune in having access to such amazing produce...even when it's salad.
More Salad Recipes:
More Green Goddess Recipes:
*Thanks for reading! For more Bojon Gourmet in your life, follow along on Instagram, Facebook, or Pinterest, purchase my gluten-free cookbook Alternative Baker, or subscribe to receive new posts via email. And if you make this green goddess salad recipe, I'd love to see! Tag your Instagram snaps @The_Bojon_Gourmet and #bojongourmet.*
Summer Vegan Green Goddess Salad
Print Recipe
Pin Recipe
A vegan salad that satisfies, loaded with healthy fats from creamy cashew dressing, toasted seeds, and avocado.
Servings:
2
large or 4 small servings
Ingredients
1/2

cup

(75 g) raw pepitas

a drizzle of olive oil

fine sea salt, as needed

4-6

cups

lightly packed sturdy salad greens (such as little gems, romaine hearts, endives) cut or torn into large bites

2

small Persian cucumbers, thinly sliced crosswise

2

medium heirloom tomatoes, cut into wedges (or 1 cup stemmed and halved cherry tomatoes)

about ½ cup Creamy Cashew Green Goddess Dressing, or to taste

1

small firm-ripe avocado, peeled, seeded, sliced

hempseed hearts

nutritional yeast

flaky salt

cracked black pepper
Instructions
Toast the pepitas in a dry skillet over medium heat, shuffling the pan frequently, until puffed and golden, 3-5 minutes. Remove to a small bowl and toss with a little olive oil and salt to coat the seeds.

In a large bowl, combine the greens, cucumbers, tomatoes, and as much of the dressing as you like, tossing to coat the vegetables evenly. Gently toss in the toasted pepitas and avocado. Divide the salad among bowls and finish each with a good sprinkle of hempseed hearts, nutritional yeast, and a pinch or two of flaky salt and pepper. Serve right away.
Notes
If you want to gild the lily, add a handful of coconut bacon to the top.
Nutritional values are based on one of two large servings.
Nutrition
Calories:
492
kcal
Carbohydrates:
25
g
Protein:
13
g
Fat:
58
g
Saturated Fat:
9
g
Cholesterol:
20
mg
Sodium:
372
mg
Potassium:
1215
mg
Fiber:
11
g
Sugar:
7
g
Vitamin A:
2165
IU
Vitamin C:
49.1
mg
Calcium:
77
mg
Iron:
4.2
mg