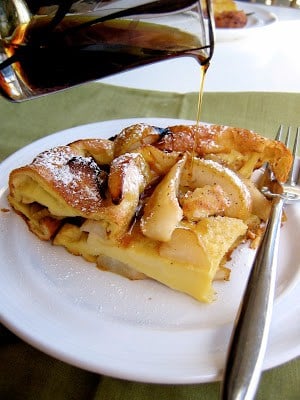 The end of summer always comes as a bit of a shock. I'm not talking about the lack of beach days, road trips or forest hikes – I'm a spoiled Californian, after all, and can enjoy these activities nearly year-round.
No, I'm talking about breakfast.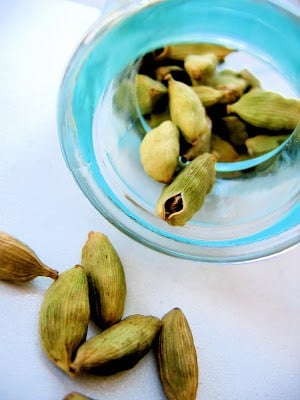 There is a time of the year, usually in late October or early November, where yogurt, fruit and granola simply stop being appealing. The 'last chance' peaches sit, neglected and rotting, in the airing cupboard. The jar of Saint Benoit yogurt remains in the fridge, untouched. And the granola jar has long run dry.
For someone who spent her first 12 years of life eschewing breakfast (until I read in Sassy magazine that doing so can actually make you gain weight), I certainly give it a lot of thought these days. (Chuh, I don't want to get fat!)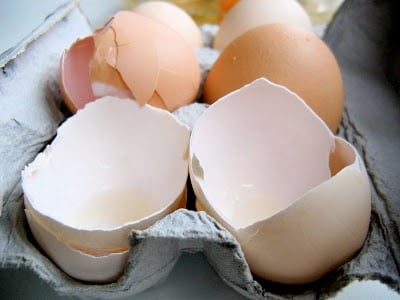 So what does one make on a chilly fall morning for a quick breakfast?
Well, lately I've been simmering oatmeal with an apple grated into it. But that's not particularly exciting, now is it? (Still, I may bore you with it in a later blog post.)
If you're not in a rush, though, you can have this glorious baked pancake puffed and ready to eat in less than an hour.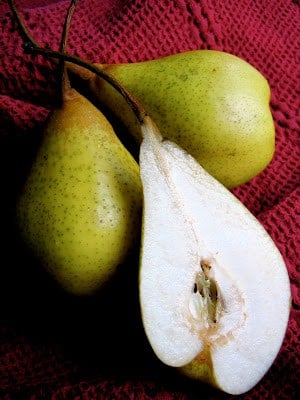 The other day I was seduced at Rainbow not by a cute produce worker (sadly), but rather some slender and fragrant Japanese pears. Their skin was sticky to the touch, and they smelled of tropical fruits, like guava or passion fruit. I came upon this Deborah Madison recipe, which I've been wanting to try since I purchased the book seven years ago, and mixed up the batter. I lovingly sliced the pears, and with much anticipation, tasted one-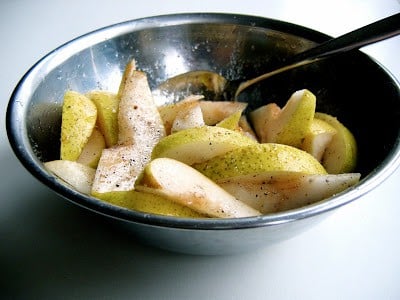 -and realized my error! It was a secret asian pear – tasty, but crisp and almost watery; certainly not a pear you would want to bake with. I guess the 'Japanese' bit should have tipped me off, but in my defense, they looked nothing like the apple-round 'asian pears' one usually meets in the fall.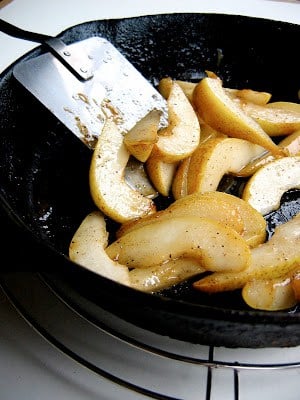 But I made the pancake thingy anyway, and despite the lack of 'buttery' (as the recipe calls for) pears, it was still awesome. Dramatically puffed from the oven, it was a sight to behold. The barely sweet batter encased lightly-caramelized pears flecked with freshly ground cardamom. The crusty brown edges made a satisfying contrast to the delicate interior, and despite my greatest fears, the pears tasted tender and, well, pear-like.Drizzled with a bit of warm maple syrup, it felt decadent and nourishing all at once.

I compared clafoutis to an oven pancake, so it probably won't be particularly helpful when I compare the texture of this oven pancake to a clafoutis. But I'm gonna do it anyway.
This is like a breakfast version of clafoutis. Where clafoutis is rich and sweet, this batter contains milk, rather than half and half, and no sugar (2 tablespoons flavor the pears, but the batter itself contains none.) Clafoutis puffs a bit, but not nearly as much as this bad boy. Clafoutis would be offended if you deigned to pour maple syrup over it, but this pancake begs for it shamelessly.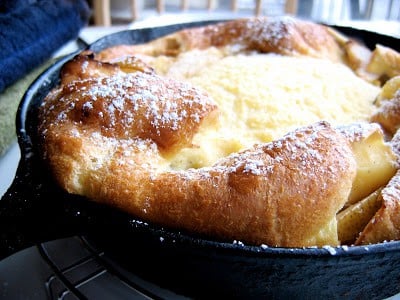 I casually studied Traditional Chinese Medicine for a time (I did live in Santa Cruz, after all), and learned that baking foods in the oven makes them not only hot in temperature but warming to the body, having been slowly infused with heat. Whether you buy this or not, turning on the oven undeniably warms up the house. It is said that pears benefit the lungs, important during flu season, and cardamom, a warming spice, aids digestion and increases spleen chi. (I won't go into all the smack they talk about sugar, eggs and dairy, though.)
See? Even Chinese medicine agrees – this is an ideal breakfast for fall. It may not be quick enough to make before work, but it is simple enough to throw together on a leisurely bojon morning.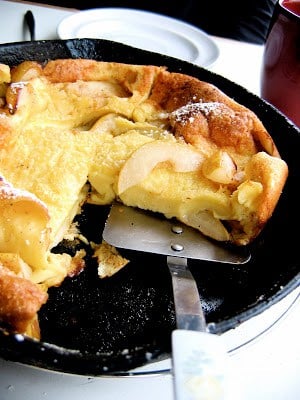 And nearly as virtuous as a granola bowl.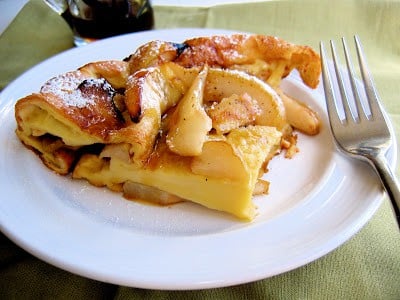 Skillet skillz:
Summer Veg Crustless Quiche
Über Apple Upside-Down Cake
Apricot Cherry Clafoutis
One year ago:
Curried Coconut Sweet Potato Teacake
Baked Pancake with Pear and Cardamom
Adapted from Local Flavors
Makes 4 servings
3 tablespoons butter
3/4 cup all-purpose flour
1/2 teaspoon salt
4 eggs
1 cup whole milk
1 teaspoon vanilla extract
2 – 3 medium, buttery pears, ripe but firm, cut off the core and sliced 1/4 – 1/2″ thick
1/2 teaspoon ground cardamom
juice of 1/2 lemon
2 tablespoons sugar
powdered sugar for dusting (optional)
maple syrup for drizzling
Position a rack in the center of the oven and preheat to 400º. Place the butter in a 10″ cast iron (or other oven proof) skillet and put in the oven to melt.
Combine the flour and salt in a large bowl, make a well, and add the eggs. Whisk to combine, adding the milk little by little until the batter is smooth. Whisk in the vanilla and about two-thirds of the melted butter. Set aside.
Heat the skillet with the remaining butter over a medium flame, and brush some of the butter around the rim of the skillet. Toss in the pears, cardamom, lemon juice and sugar. Cook, stirring occasionally, until the pears are tender and the sugars are beginning to caramelize, about 10 minutes.
Pour the batter into the hot pan over the pears and place in the oven. Bake until golden and dramatically puffed, as though trying to escape from the pan, about 25 minutes. Dust with powdered sugar and cut into wedges. Drizzle with maple syrup and serve immediately.
Leftovers, should there be any, reheat beautifully in a toaster oven in 5 or 10 minutes.