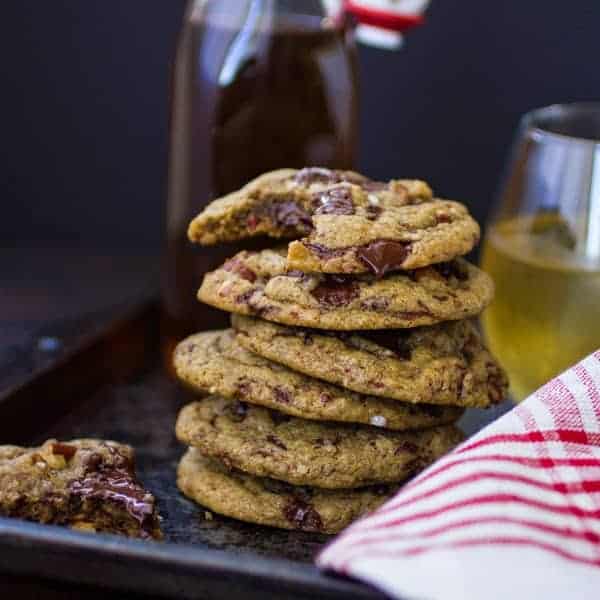 Ah, summer! This is the time of year when we look forward to spending weekdays recovering from busy weekends; when we return home from road trips anticipating a vacation from our vacations.
I realize that it won't be officially summer until later this month, but the madness has already begun nonetheless. Last week, Jay and I drove to Northern Washington State and back in six days, playing five shows with The Barbary Ghosts along the way (they kindly let me sit in on bass – so fun!) We went straight from Ashland, Oregon to rehearsal in Berkeley, then had rehearsals Wednesday and Thursday, and played a show with Bugs in Costumes on Friday. We went to Santa Cruz on Saturday to celebrate Jay's mom's birthday (and I made a version of this lovely crumble tart with rhubarb, raspberries, blueberries and a cardamom-oat crumble – easy and delicious. I've posted the variation beneath the original.) Sunday was the most grueling day of all: a four-hour video shoot with our old-timey swing band The HoneyBelles followed by an evening show with Bugs in Costumes.
As though punishing me for being so busy, suddenly everything's in season, too. Corn, cherries, peaches, basil, green beans, nectarines, apricots, blueberries, and even a small basket of tiny plums were all hanging out at our co-op, taunting me. I made a simple salad yesterday that I'm looking forward to telling you all about (and eating all summer).
But first things first: cookies! Chocolate chip cookies are always in season, right? These are a chocolatey cure for the famous June Gloom that likes to settle over San Francisco. They're a little bit special as they contain a duet of rye: malty rye flour and smooth rye whiskey. The whiskey lends a boozy roundness to the overall flavors that reminds me of brandy-soaked cherries. In fact, these might be nice with some dried cherries folded in, or sandwiched around a scoop of cherry ice cream.
I used to associate the taste of rye with caraway, as I'd only ever tasted the two together in bread. Caraway has a savory, pungent taste that people either love or hate. But on its own, rye flour is as earthy and mild as whole wheat or barley flour. It has a deeper, greyish hue and makes these cookies bake up with a tender texture. You wouldn't know there were whole grains in these, but the cookies are softer and more flavorful than ones made with white flour. I have Kim Boyce to thank for freeing rye from the confines of caraway in her book Good to the Grain, which lead me to the idea for these cookies.
They're gooey and soft and chewy, packed with nutty pecans and bittersweet chocolate. Dark brown sugar (the extra-molassesy organic kind) creates a butterscotchy base that stays moist for several days when properly under-baked. A dusting of flaky salt adds a savory counterpoint to the tops.
Alla Alice Medrich, I let this dough rest at room temperature for an hour before scooping and baking the cookies. This short rest allows the starches in the flour to absorb some moisture, which is especially important what with the added liquid of the whiskey.
My favorite thing about this recipe is that you need neither a mixer, nor to wait for the butter to soften. The butter gets melted and stirred into the rest, meaning you can have cookies ready ASAP, no matter how busy you are.
Rather Risky:
(Gluten-Free) Bittersweet Whiskey Brownies
Apple of Your Rye Cocktail
Homemade Irish Cream Liqueur
Me want cookie:
Soft and Chewy Gluten-Free Chocolate Chip Cookies
Gluten-Free Über Chocolate Cookies
Buckwheat Chocolate Chip Cookies
One year ago:
Spring Vegetable Fried Rice (this stuff is the bomb)
Two years ago:
Pasta Alla Carbonara with Peas and Pea Shoots
Three years ago:
Salty Rye Whiskey and Rye Flour Chocolate Chip Cookies
Adapted from these Buckwheat Chocolate Chip Cookies, which I adapted from Alice Medrich's Chocolate Chip Cookies from Chewy, Gooey, Crispy, Crunchy Melt-in-Your-Mouth Cookies
I'm guessing that these cookies would be equally good made with another type of liquor – whiskey or bourbon – and with whole wheat, barley, or spelt flour in place of the rye (though you'll want to use the weight measurement if you substitute a different flour). Cacao nib fans may want to add 2 tablespoons of nibs along with the chocolate. I like chopping my own chocolate rather than using chips, which contain lecithin that helps them hold their shape, while bar chocolate melts into pretty, uneven pockets. A serrated bread knife works well for chopping the chocolate into 1/2- and 1/4-inch chunks, with smaller flecks of chocolate that mingle with the dough. You can store the dough in the refrigerator for up to a few days, or scoop it into balls and store them in the freezer for up to a few months. In either case, let the dough come to room temperature before baking to ensure proper spreading. Be sure to let the dough rest at room temperature for at least half an hour, and preferably 1-2 hours, for the best texture. See more tips on baking cookies here. All ounce measurements are by weight.
Makes 1 1/2 to 2 dozen 2 to 3-inch cookies
1 stick (4 ounces, 8 tablespoons) unsalted butter, melted
1/2 cup (3 ounces) dark brown sugar (preferably organic)
1/4 cup (2 ounces) granulated cane sugar (preferably organic)
1 large egg
3/4 teaspoon vanilla extract
2 tablespoons (3/4 ounce) rye whiskey (such as Bulleit)
3/4 cup plus 2 tablespoons (3 ounces) rye flour
1/2 cup (2 1/2 ounces) all-purpose flour
1/2 teaspoon baking soda
1/2 teaspoon fine sea salt
1 cup (5 ounces) chopped (1/2- and 1/4-inch chunks and smaller flakes) 70% cacao mass bittersweet chocolate (such as Scharffen Berger)
3/4 cup (3 ounces) toasted and cooled pecan halves, coarsely chopped
flaky salt, such as Maldon, for sprinkling
Position two racks in the upper and lower thirds of the oven and preheat to 325ºF. Line two cookie sheets with parchment paper (or grease lightly with butter).
In a large bowl, stir together the butter, brown sugar and granulated sugar. Let cool to warm, then stir in the egg. Stir in the vanilla and rye, and set aside.
In a medium bowl, sift or whisk together the rye and all-purpose flours, baking soda and sea salt. Stir the flour mixture into the butter/sugar/egg mixture until just combined, then gently fold in the chopped chocolate and pecans.
Cover the dough and let it sit at room temperature for at least 30 minutes and up to 2 hours. This lets the dough firm up, as the starches absorb the moisture and the glutens relax, leading to thicker, chewier cookies with a better texture. (You can also refrigerate the cookie dough for up to a few days, optionally pre-scooped into ready-to-bake balls. For proper spreading, let the dough come back to room temperature before baking.)
Use two spoons or a spring-loaded #40 ice cream scoop to form 1″ balls of cookie dough, placing them 2 inches apart on the lined baking sheets. Top each ball with a tiny pinch of flaky salt.
Bake the cookies in the preheated oven until the edges are set and just beginning to color, 8-12 minutes, rotating the pans from front to back and from top to bottom halfway through to ensure even baking. The cookies will look under-done, but will continue to cook from residual heat. Top with a bit more salt, if you like.
Remove the baking sheets to cooling racks and let the cookies cool on the baking sheets (unless they are in danger of over-baking – in that case, sweep the cookies, parchment and all, onto cooling racks). When the cookies have cooled completely, store them at room temperature in an airtight container for up to three days.