In addition to their awesome bulk section and farmer's market caliber produce, one of the reasons I prefer shopping at our local mega-co-op, Rainbow Grocery, is the tough love. Unlike at Whole Foods, where the friendly, helpful employees always creep me out a little, the workers at Rainbow seem to take pleasure in customer disappointment.
And yet, masochistically, I don't mind the bitchy workers. It's the annoying Rainbow customers that drive me crazy.
The other day, I was at Rainbow pawing through peaches. They didn't look or smell that great, but I was prepared to overlook that fact, as well as their exorbitant price, in anticipation of the rhubarb peach pie they would become. Another shopper sidled up next to me, critically inspecting the peaches. He pointed to a bin and asked, "Are those any good?"
When I shrugged, the man bustled over to the produce stocker and asked to be advised as to the best peaches.
The stocker grinned. "They're no good. Don't buy any of them."
"See," the man called to me, "I just saved you, like, twenty bucks!" I reluctantly replaced the peaches and reached for a bag of cherries instead.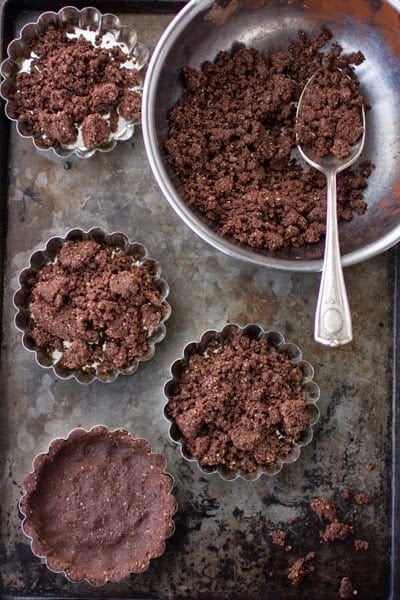 The man followed me over to the cherries and tasted one. He went back to the stocker and complained, "These aren't very good. They're kinda sour."
The stocker smirked. "That's because the season's already over. Gone. You missed 'em." Satisfied by the customer's crestfallen expression, he turned back to stocking plums.
Perhaps if I were a produce stocker at Rainbow I'd be too proud to buy Washington cherries in July. Luckily, I'm not.
I brought them home and made these tarts inspired by one of my favorite blogs, Vegetarian Ventures. Shelly fills hers with tiny strawberries topped with basil microgreens. (Basil mircogreens! Genius!) Her Mini Strawberry Chocolate Tarts with Whipped Goat Cheese are not only beautiful, but also healthy – grain-free and maple-sweetened, with yogurt in the filling.
I made my tarts a bit more traditional with a buttery crust, creamy center, and just enough sugar in each component to make these tarts sophisticatedly (that's totally a word) sweet.
I can't decide what I like best about these tarts. There's the gluten-free press-in crust that, thanks to dutch-processed cocoa powder, tastes like almond-flecked oreos. There's the cloud of whipped goat cheese filling that smacks of cheesecake. There are plump cherries simmered with ruby port and vanilla bean that manage to taste even more like themselves than plain cherries.
And then! There's the leftover syrup from the cherries that, when mixed with ice and fizzy water, makes the deepest, darkest, most delicious cherry cream soda, ever (rye whiskey optional).
The cherries alone are very worth making, and will probably keep, refrigerated in their syrup, for up to a month or two, or frozen for much longer.
All in all, a great way to extend cherry season…
and thwart snarky produce stockers.
Life is just a bowl of:
Roasted Cherry Vanilla Ice Cream with Bourbon and Chocolate
Cherry Marzipan Scones
Apricot Cherry Fold-Over Pie
One year ago:
Two years ago:
Three years ago:
Gluten-Free Chocolate, Port-Poached Cherry, and Chèvre Cream Tarts
A few notes:
If gluten is an issue for you or your guests, be sure to seek out certified gluten-free ingredients (particularly oat flour). If gluten isn't an issue, feel free to use this recipe instead. I like the Oreo-like flavor of dutch-processed cocoa powder in the crust, but natural cocoa should work, too; the crusts will be lighter in color, and have a slightly different (though still delicious) flavor. I used an organic California zinfandel port from Sobon that was mildly sweet, and I think it contributed to the deliciousness of the cherries.
Cherry pitting can be messy business, so I recommend wearing all black to do the deed, and latex gloves if you mind having purple-hued fingers the next day. If you lack individual tart pans, this recipe should work in an 8- or 9-inch tart pan.
These should be assembled "a la minute," or to order, lest the shells become soggy, but you can make all the components up to two or three days ahead. If you prefer to assemble the tarts in advance, you can paint the inside of the crusts with melted chocolate (shown here) to protect them from the moisture of the filling.
All ounce measurements are by weight.
Makes six small (3 1/2″) tarts, or 1 large (8-9″) tart
Vanilla and Port-Poached Cherries:
1 1/2 pounds fresh cherries, stemmed and pitted
1 1/4 cups ruby port
1 vanilla bean, split lengthwise and scraped
6 tablespoons sugar
Gluten-Free Chocolate Press-In Crust:
1/2 cup (2 ounces) sliced almonds
1/3 cup (1 1/4 ounces) oat flour
1/3 cup (1 3/4 ounces) sweet white rice flour (such as Mochiko)
1/3 cup (1 ounce) dutch-process cocoa powder
1/4 cup (1 3/4 ounces) sugar
1/8 teaspoon salt
3 tablespoons (1 1/2 ounces) cold, unsalted butter, in 1/2″ dice
1/2 teaspoon vanilla extract
Goat Cheese Whipped Cream:
3 ounces crumbled, soft, fresh goat cheese (about 3/4 cup)
3/4 cup (6 ounces) heavy cream
1 tablespoon sugar
seeds from 1/2 a vanilla bean
Poach the cherries:
In a wide, stainless steel skillet, combine the pitted cherries, port, vanilla pod and scrapings, and sugar. Bring to a simmer over medium heat, then reduce the heat to low and simmer, shuffling the pan occasionally, until the cherries are firm-tender, about 10 minutes.
Carefully strain the cherries into a heat-proof bowl. Drain well. Return the juices to the pan; simmer until thick, syrupy, and bubbling, about 5 minutes, swirling the pan occasionally. You can either store the cherries in their syrup, or store the two separately. Let cool to room temperature, then chill both until cool, 1 hour or up to several days. (You can probably refrigerate the cherries in their syrup for up to a month or two, though I have yet to test this theory.)
Make the crust:
Position a rack in the center of the oven and preheat to 350ºF. Place six 3 1/2″ tart pans with removable bottoms (or one 8 or 9″ pan) on a baking sheet.
In the bowl of a food processor, blend the sliced almonds, flours, cocoa powder, sugar, and salt until the almonds are pulverized, about a minute. Scatter the butter pieces over the top, sprinkle over the vanilla extract, and process until the mixture forms large, moist clumps.
Divide the crust crumbs evenly among the tart pans. Press first the sides, then the bottoms, into the pan, taking the time to make the crust even and square where the sides meet the bottom. (If the dough is soft or sticky, chill it for 5-10 minutes until it will behave.) Freeze the shells until firm, at least 15 minutes (or wrap and freeze for up to several months).
Bake the shells until they are dry and fairly firm to the touch, 15-20 minutes. Let the shells cool completely. Store them in their rings for protection until ready to serve.
Make the goat cheese whipped cream:
In a large bowl, combine the crumbled goat cheese, cream, vanilla seeds, and sugar. Whip with a sturdy wire whisk until soft peaks form. (Tip: if you overwhip and the mixture becomes grainy, gently fold in a tablespoon or two of heavy cream until the mixture smooths out again.) Chill if not using right away.
Assemble the tarts:
Just before serving, carefully remove the shells from the pans by placing a tart pan on a small, inverted bowl and gently easing away the sides. Use the tip of a sharp knife to gently pry the tart shell away from the bottom of the pan.
Place the tart shells on their serving plates. Divide the cream among the shells. Spoon the cherries over the cream, drizzling with their syrup. Serve right away.