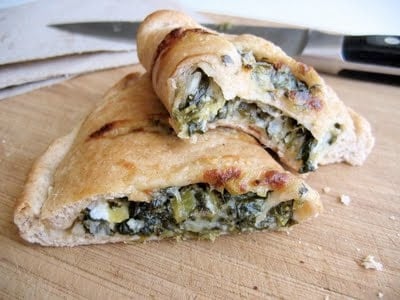 For many people, things like homemade ice cream, pandowdies, and mascarpone tarts are luxuries. Fortunately (or unfortunately, depending), these items are more the rule than the exception around my kitchen, while staples for other (normal?) people – milk, meat, sparkling water – seem like treats.

I'm not sure why, but spinach is up there for me, too. It's just something I never seem to have when I need it. Rather, I get beguiled by handsome bunches of chard, a curly head of kale, or something more obscure, like pea tendrils or mustard greens, and then have to perform culinary acrobatics to substitute them for the spinach more often asked for in recipes.

On the rare occasions that our box sends us a (filthy, mud-caked) bunch of spinach rather than the bags and bags of stir-fry mix, bok choy, cabbage heads, arugula, collard greens and chard with which they more often grace us, my mindsuddenlygoes blank of all those fascinating recipes I read through when I had some other, harder-to-deal-with greens wanting to be cooked.

Last week when I went to pick up my box, some (crazy) person had rejected their spinach and left it for another CSA member to take. I snapped it up, and there the spinaches sat, in the veg drawer, for days. Jay made more and more urgent pleas to use it up, threatening to make his fabulous frittatas everyday for breakfast (I know – rough) if I didn't do something more inventive first.
But like an actress with stage fright, I suddenly couldn't think of a single recipe containing spinach.

I went to yoga class, and while I ought to have been focusing solely on inhaling and exhaling and the 'sensations' of contorting my limbs into a funnel cake and then supporting my body weight with one pinky finger, I did what I usually do: I thought about what to cook when I got home.

Like a divine message from Buddha, the answer arrived somewhere between Warrior 2 and ardha baddha padma paschimottanasana: calzone. Aside from the rapidly wilting spinaches, I also had spring onions, green garlic, a ton of goat cheese, and some fresh marjoram to use up, and thought that stuffed breads would make ideally portable lunches for the week.

Remembering the handsome photo in Baking Illustrated, I consulted Cook's for a recipe, certain that they would list a variation with spinach. But sadly, the only recipe that called for greens asked for…

broccoli rabe. But no matter, I just made up a filling of my own, mixed up their easy and forgiving calzone dough (with some whole wheat flour thrown in for enhanced flavor and healthiness) and got to it. I hadn't made calzone since I was a kid with my dad, and was pleasantly surprised by how fun and easy they are. I fretted about sealing them properly, but followed Cook's instructions and had not a drop ooze from the seam. The dough came out light and crisp-chewy, despite the addition of whole wheat flour, and perfectly flavorful.
I baked only two the first night, so that I could tweak the filling if necessary and make the rest the following day (I didn't need to worry – it was just right). After devouring the first, it took all my willpower to leave the second one for Jay. I was relieved that I hadn't baked more that night.

Even days after being baked, the calzone didn't get soggy from the filling. With soft chèvre, goat gouda, marjoram, blanched spinach and sauteed spring onions and green garlic, the calzone taste a lot like spanakopita, the Greek, filo-wrapped spinach triangles, only less rich due to a lean, yeasted dough. So I call them 'calzonakopita' in my head. Like spanakopita, they make excellent finger food, when cut into wedges.

Come to think of it, spanakopita would be a clever use for spinach, too. As would saag paneer.

What do you like to do with spinach? I could use some more ideas, you know, for next time I get spinach stage fright.
Pazza for pizza:
Sourdough Pizza (with Chèvre, Shallots and Chanterelles)
Sourdough Focaccia
Sourdough Deep Dish
One year ago:
Herbed Spinach and Goat Cheese Calzone
Makes 6 medium (light-meal-sized) calzone
Very loosely adapted from Baking Illustrated
Cook's says that using bread flour is important here, so I take no responsibility if you decide to substitute all-purpose and they don't turn out as well. You can use all white bread flour, but I do quite like the flavor and flecks the whole wheat adds to the dough. I'd imagine you could substitute other greens for the spinach; just blanch the leaves (no stems) until tender, shock them in ice water, squeeze the dickens out of them, and chop. If making this when spring onions and green garlic aren't in season, you can probably substitute leeks and a clove or two of bulbed garlic, and oregano or basil for the marjoram.

This recipe assumes that you have a stand mixer, baking stone, a pizza peel and parchment paper. If you don't, you can knead the dough by hand, and bake the calzone on a lightly oiled baking sheet.The baked calzone keep well in the fridge for a few days, for an almost-instant lunch or supper – just heat them in the oven or toaster oven at 350º for 5-10 minutes until hot and crispy.
The dough:
3/4 cup luke-warm (about 100ºF) water
1/2 packet (about 1 teaspoon) active dry yeast
1 1/2 cups bread flour
1/2 cup whole wheat bread flour
3/4 teaspoon salt
1 tablespoon olive oil
The filling:
1 tablespoon olive oil
2 large (or 3 medium) spring onions, cleaned, halved lengthwise and sliced 1/4″ thick
1 large stalk green garlic, white and light green parts chopped
9 ounces (1 1/2 bunches) spinach, washed well (stems ok)
6 ounces fresh goat cheese
4 ounces (about 1 cup) grated goat gouda (or other mild melty cheese, such as mozzarella)
1 tablespoon chopped fresh marjoram
1/8 teaspoon salt (or to taste)
For finishing:
olive oil, for brushing
sea or kosher salt, for sprinkling
Make the dough:
Place the warm water in the bowl of a stand mixer fitted with the dough hook. Sprinkle the yeast over the top and let it sit for 10 minutes.
Add the flours, salt and olive oil to the yeast mixture, and knead on medium-low (speed 2 on a Kitchen Aid) until the dough comes together, then knead for another 10 minutes. You should have a somewhat firm dough (firmer than for a usual pizza crust) that gathers around the dough hook.
Scrape the dough into a lightly oiled bowl, cover with plastic wrap, and let rise until doubled in volume, about 1 to 1 1/2 hours.
An hour before you're ready to bake, remove all but the bottom rack of your oven, place a baking stone on the rack, and crank the oven up to 500ºF.
While the dough does its first rise, make the filling:
Heat the oil in a wide skillet over medium heat. Add the spring onions and green garlic and a big pinch of salt, and saute until tender, 10 minutes or so. Remove from the heat and set aside.
Meanwhile, bring a large saucepan full of water to a boil. Prepare an ice bath and set aside. Shove the spinach into the boiling water and cook for about 1 minute, until bright green and tender. Drain the spinach and plunge it into the ice bath for a minute or two, then squeeze the all the water out of it – it will look like a tiny, green lump. Place the lump on a cutting board, and give it a rough chop.
In a medium bowl, combine the sauteed onions and garlic with the spinach. Add the cheeses, marjoram and salt, tasting and adding more salt if you think it needs it. Divide the filling into 6 equal portions.
Assemble and bake the calzone:
Cut two sheets of parchment paper into 6 rectangles measuring roughly 8×6″ and set aside.
Turn the risen calzone dough out onto a lightly floured surface and gently press to deflate. Use a metal bench scraper or chef's knife to cut the dough into 6 equal pieces (my dough weighed 16 ounces, so each ball weighed about 2 1/2 ounces, but you can just eyeball it if you prefer). Round each piece of dough into a rough ball. Set them to the side and cover with plastic wrap to rest for 10 – 20 minutes, but no longer (this will make the dough easier to roll out).
Remove 1 ball of dough and place on a lightly floured surface. With a rolling pin, roll into an 6-7″ circle. The dough will be springy, so you will have to roll and stretch it a bit to make it cooperate.
Place 1 portion of the filling on the lower half of the dough circle, and spread it evenly on the bottom half, leaving a 1″ boarder around the bottom (see photo, above). Fold the top half of the dough over the filling, leaving 1/2″ of the bottom part of the dough sticking out. Use your fingertips to press around the silhouette of the filling, sticking the top portion of dough to the bottom part of the dough. Now fold up the 1/2″ of the bottom part of the dough up onto the top, pleating it with your fingertips, pressing very firmly to make it stick together. Place the calzone on a piece of parchment paper, and trim away the excess parchment, leaving a 1″ boarder.
Repeat with two more dough balls. Cut three 2″ slits in the top layer of each calzone. Brush the calzone all over the top and sides with olive oil, and sprinkle each with a pinch or two of salt.
Place the calzone on their papers on the pizza peel, and slip them onto the heated stone in the oven. Bake until golden and the filling is bubbling, about 12 – 15 minutes, then use a pair of tongs to pull them out, still on their papers, back onto the pizza peel. Let cool for at least a few minutes before serving. (If letting them cool longer, set them on a cooling rack; this will prevent the bottoms from steaming and going soggy.)
While the first three calzone are baking, assemble, then bake, the remaining three.
The baked and cooled calzone will keep in the fridge for up to a few days; reheat in theoven or toaster oven at 350º for 5-10 minutes until hot and crispy.