Eggplant seems to be one of those vegetable-fruits that you either love or hate. In the haters camp are those who criticize the texture ("slimy!") or flavor ("bitter!"), while the lovers expound on its delicate consistency and sweet taste. 
Indeed, eggplant can be a finicky ingredient. Larger globe varieties can taste sharp if not first tossed with salt and allowed to sweat, then rinsed and patted dry. On its own, it can taste bland and watery, but it also likes to soak up flavors, such as the salt used to sweat it. (I'll never forget an inedibly salty eggplant dish I was once served in what was usually an excellent restaurant.) Undercooked, eggplant retains a pithy texture reminiscent of a cotton ball; overcooked, it breaks down into beige mush. Even the prettiest magenta-hued nightshades turn a dingy brown when cooked. Additionally, eggplant's sponge-like surface loves to sop up oil, often emerging from kitchens slicked with grease.
But eggplant has so much potential. When prepared with love, it positively melts with sweetness, its texture almost custard-like, often reminding me of dessert. It just needs a bit of coddling to reach its potential. As with okra and zucchini, attention must be paid during preparation lest the eggplant-phobes of the world have reason to maintain their hating ways.
This time of year, Jay (a reformed hater converted in his teens by eggplant parmesan) and I rejoice in ordering eggplant wherever we can get it: on a pizza at Piccino, in yaki nasu from Umi Sushi, in a bowl of baingan bartha at Pakwan, or in a tangy-sweet caponata from Pizzeria Delfina. At home, we toss it with pasta, we roast and puree it into baba ganouj, and we use it to top pizzas of our own.
This curry is my current favorite use for the Asian varieties of eggplant. Adapted from Nigel Slater's Tender, it has all the spice of a traditional baingan bartha, but with the feel of a hearty stew. A few tricks oust common eggplant issues. First, slender eggplants are cut into large chunks and roasted to sear their outsides and develop flavor, helping them hold their shape in the finished dish. Rosy tomatoes and bright yellow turmeric give the dish a rich golden hue. A pungent blend of spices (coriander, black pepper, chiles, garlic, ginger, and cardamom) add tons of flavor. The eggplant helps to thicken the sauce, made creamy from coconut milk and ghee, and slivers of ginger and garlic add further textural interest.
I made a few tweaks to the recipe, roasting the eggplant with olive oil and salt rather than dry-frying it in pans (and trying not to eat it all before it could make it into the curry), leaving the skins and seeds on the tomatoes because I don't mind either in the finished dish, and cutting the liquid in half to keep the cooking time down and the curry thick. Curious to try black smoked cardamom in a savory dish (rather than simply making batch after batch of this ice cream), I added a few cracked pods, and they give the curry added depth.
The original recipe calls for a shower of fresh cilantro and mint. The mint surprised me, but it adds an expected top note (think mint chutney). I've made this twice in the past week, and we've been enjoying it over rice with a dollop of plain Greek yogurt. I even ate it for breakfast on morning. In fact, this curry gets better after a day or two, when the flavors have a chance to meld.
As an eggplant lover, I'm looking forward to the rest of eggplant season.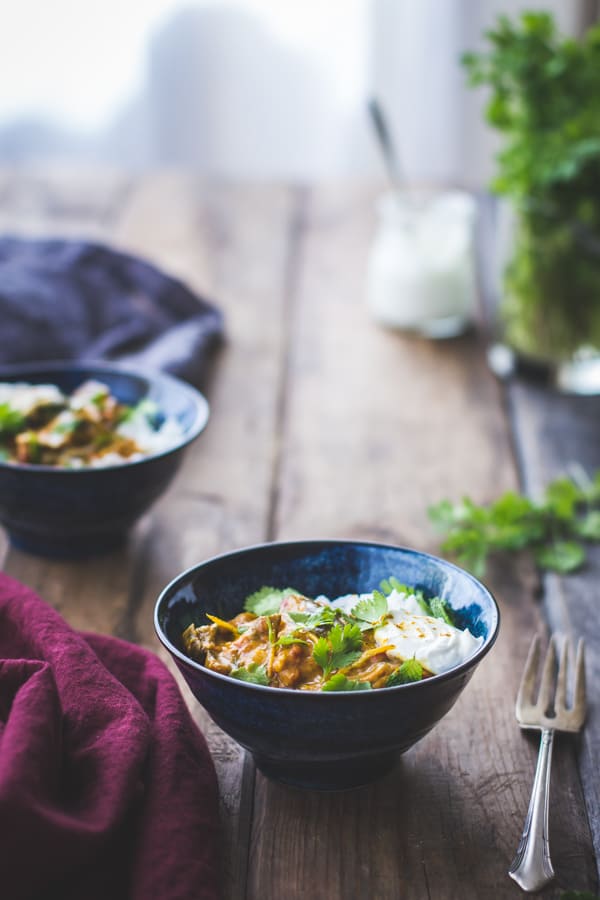 Haters gonna hate. I say let them eat curry.
Thanks for reading! For more Bojon Gourmet in your life, follow me on Facebook, Instagram, Pinterest, Bloglovin', Twitter, or subscribe to receive new posts via email.
Eggplant Love:
Roasted Eggplant, Chickpea+ Summer Vegetable Tagine
Roasted Tiny Eggplant with Muhammara and Feta
Baked Penne with Eggplant and Fontina
One year ago:
Flaky, All-Butter Gluten-Free Pie Dough and a Late Season Apricot + Mascarpone Galette (Gluten-Free)
Two years ago:
Melon with Lime, Feta and Mint
Three years ago:
Lemon Verbena and Red Berry Shakes
Four years ago:
Fig and Ginger Scones
Curried Roasted Eggplant with Smoked Cardamom and Coconut Milk
Adapted liberally from Nigel Slater's Tender
This recipe works well with fresh small eggplant, such as the Japanese or Chinese varieties; in fact, you might consider roasting a few extra since the baked slices are delicious on their own and may disappear with alarming speed before making it into the final dish. If using larger globe eggplant, cut them into fat chunks, sprinkle them liberally with salt, and let them sit in a colander for 30 minutes to sweat out any bitterness. Rinse them well, drain, and pat dry. Proceed with the recipe, omitting the salt and adding it to the final dish to taste.
Black cardamom is a different variety than their green brethren, and the pods are dried over smoke giving them a campfire-like flavor. They add a nice richness to the curry, but they can be omitted if you don't have any on hand. Do warn guests that the stew contains whole black cardamom pods. The pods contain a lot of smoky flavor that comes out when they are stewed with the other ingredients, but biting into one whole is a wholly unpleasant experience.
If you cut the tomatoes in a fairly fine dice, the skin and seeds won't be a problem. Alternatively, peel and seed them as per the original recipe.
Makes 6 main-course servings
For the curry:
2 pounds eggplant (about 10 medium Chinese or Japanese eggplant)
3 tablespoons olive oil
salt, as needed
3 tablespoons ghee (or coconut oil if vegan)
2 cups diced yellow onion (from 2 medium or 3 smaller onions)
5 black cardamom pods, cracked
1 dried chile de arbol (or other medium-spicy chile), crumbled (more or less to your taste)
8 green cardamom pods, cracked
2 tablespoons coriander seeds
1 teaspoon black peppercorns
1 tablespoon ground turmeric
4 large garlic cloves, peeled and slivered
1″ chunk of ginger, peeled and cut into long, thin strips
1 pound ripe tomatoes (10 medium dry-farmed Early Girls), stemmed and diced
1 (13.5 ounce / 400 mL) can full-fat coconut milk
1/2 cup water
a few handfuls cilantro leaves, chopped
a handful mint leaves, slivered
1 pint whole milk (Greek) yogurt, for serving
For the rice:
2 cups long-grain basmati rice
3 1/2 cups water, plus more for rinsing the rice
1 teaspoon fine sea salt
Roast the eggplant:
Position racks in the upper and lower thirds of the oven and preheat to 400ºF. If using a long, slender variety of eggplant, cut them on the diagonal into 1-inch thick slices. If using a globe style eggplant, cut them into 2-inch square chunks. Pile the eggplant slices on a rimmed baking sheet and sprinkle with the olive oil and 1/2 teaspoon salt. Toss to coat with your hands. Spread the eggplant pieces on two baking sheets, and roast until golden on the bottoms, about 15 minutes. Use a thin metal spatula to flip the slices over, and roast until tender and golden, 5-10 more minutes. Remove and turn off the oven.
Make the curry:
Heat the ghee in a large soup pot or dutch oven over a medium flame until it shimmers. Add the onion, black cardamom pods, and crumbled chile de arbol. Reduce the heat to medium-low and cook, stirring occasionally, until the onions are golden and tender, 10-15 minutes.
Meanwhile, break open the green cardamom pods and shake out the black seeds. Combine these with the coriander and peppercorns in a clean coffee grinder or spice grinder and grind finely.
When the onions are soft, stir in the ground spice mixture, turmeric, garlic, and ginger. Cook for a few minutes to toast the spices, then stir in the chopped tomatoes, coconut milk, water, and the roasted eggplant. Increase the heat to bring the curry to a simmer, then reduce the heat and simmer gently for 20-30 minutes, stirring occasionally. When finished, the eggplant should still hold its shape, but the sauce around it should be slightly thickened stew-like. Taste the curry, adding salt if you feel it needs it. It will thicken further if allowed to sit and cool.
While the curry simmers, make the rice:
Place the rice in a medium bowl and cover with cool water. Swish around for a few seconds, then drain off the milky water. Repeat this twice more; the water should be fairly clear. Drain the rice well and place it in a large, lidded saucepan with the 3 1/2 cups water and the salt. Bring to a boil over a medium-high flame, then cover the pot, reduce the heat to low, and let steam until the rice is tender and all the water is absorbed, about 15 minutes. If the rice is still crunchy, add another 1/4 cup water and continue cooking. Let the rice stand for ten minutes, then use a fork to fluff the rice.
Serve the things:
Spoon the curry onto a platter and shower with the chopped cilantro and slivered mint, and serve with rice and yogurt.
The curry keeps well, refrigerated, for up to 5 days. Reheat before serving.