As any member knows, being part of a CSA can be a mixed blessing. Nary an asparagus spear, pod pea or apricot have we received yet, and spring is (already!?) almost over. But come Wednesday morning, we could barely close the fridge for the giant orbs that were spring onions, half a dozen stalks of fresh garlic, bags and bags of green things (basil, spinach, lettuce, arugula), and two giant bunches of tokyo turnips, with masses of greens attached. We got some strawberries and potatoes, too: all in all, a fairly random assortment of produce from which one might be hard pressed to create a meal.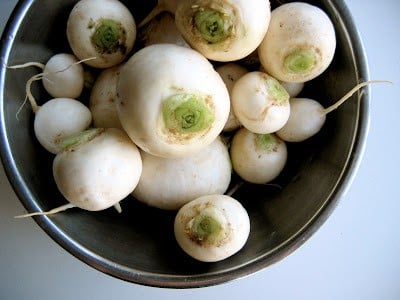 Luckily, I had some bacon stashed away (from my carbonara escapades) in the freezer, and a bit of research revealed this simple recipe from a handsome blog(ger, Matt Wright of) WrightFood. A Brit living in Seattle, this recipe reminds me of something Nigel Slater or Jamie Oliver might whip up, just to defy those who think of British cooking (excuse me, cookery) as being stodgy.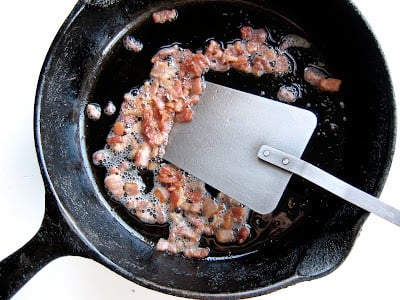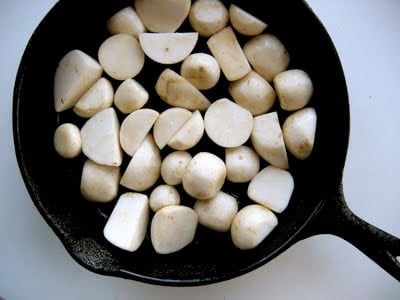 Though I found many recipes for dairy-laden turnip gratins and fried turnip cakes (not that there is anything wrong with being dairy-laden, mind), it took a Brit to unveil the potential elegance of this often overlooked vegetable.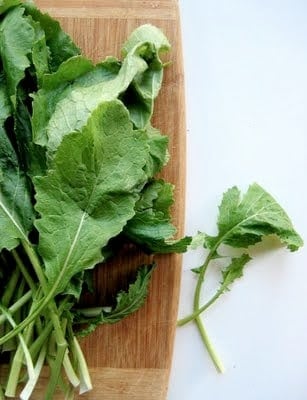 And it took Eatwell Farm to force me into looking for turnip recipes in the first place.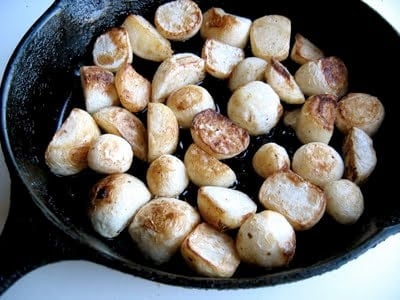 If the thought of these root vegetables makes you turn up your nose (I know, sorry), roasted turnips taste sweet and mild, with a creamy soft texture. The bitterness of the nutritious greens gets tempered by the sweet roots, a splash of lemon juice, and bits of salty bacon, making a light main course, or a unique side. If you're still not convinced, there's bacon in there, too.

But best of all, it makes a tasty way to put a dent in those random vegetables crowding the fridge. And make way for some asparagus.
Rooting Around:
Turnip and Spring Onion Potage
Oven Roasted Potatoes and Parsnips
Green Garlic and Chive Potato Cakes
One year ago:
(Gluten-Free) Chocolate Hazelnut Brown Butter Cake
Roasted Turnips with Wilted Turnip Greens
Adapted from WrightFood
Makes 2 main-course (or 4 side-dish) servings
If you want to get fancy, use pancetta or guanciale in place of the bacon. And if you want to get completely bad ass, Matt will show you how to make your own guanciale. Most any soft herb would work in place of the chives: parsley, chervil or tarragon, for instance.
2 bunches small tokyo or salad turnips, with their greens (around 15 small turnips in all, weighing roughly 1 1/4 pounds)
1 tablespoon olive oil, plus 1 tablespoon for cooking the greens
3 ounces (2 or 3 strips) bacon, diced
salt
squeeze lemon juice
1/2 – 1 bunch chives, snipped
black pepper
Position a rack in the lower center of the oven and preheat to 450º.
Cut the greens off of the turnips and reserve. Wash the turnips and trim away the tail and stem ends. If your turnips are bigger than a ping pong ball, halve them; if they're much larger, cut them into quarters.
Heat 1 tablespoon of the olive oil in a large, oven-proof skillet over a medium flame. Add the diced bacon, and cook, stirring occasionally, until crisp, a few minutes. Lift the bacon out of the pan leaving behind the fat.
Add the turnips to the pan, sprinkle with a few pinches of salt, and toss to coat them in the oil. Put the pan into the oven, and roast until caramelized and tender, about 30 minutes, turning the turnips a few times throughout the baking.
While the roots roast, wash the turnip greens well, and either cut each leaf off the stem, or use the lazy approach: stack a bunch of leaves on top of one another, and begin slicing the leaves into 1/2″ ribbons until you get to the stemmy part, then discard. (If you cut off all the stems, have a beer, then stack and slice as directed.)
When the roots are done, remove them from the pan. Place the pan over a medium flame (don't forget – that pan handle is hot!) and swirl in the remaining tablespoon of olive oil. Add the sliced greens, and toss with tongs until wilted and tender, about 5 minutes. Season with a bit of salt and a squeeze of lemon. Add the turnips and bacon to the pan, then add the chives and a few good turns of black pepper. Adjust the seasoning as you wish, then serve.