Gussy up your garden-variety zucchini soup with loads of leeks and basil, piquant pickled sweet corn, and a swirl of tangy crème fraîche; it's equally good hot or cold.
Karl the Fog is back in full force here in San Francisco. And while the rest of the Northern Hemisphere is sweltering with smoothies and popsicles, Catamus and I can be found cozied up under blankets, sipping tea, and writing lovingly about warm bowls of soup.
I actually purchased a winter coat today as my usual wardrobe wasn't cutting it. I'm not complaining – on the contrary, I'm relieved that SF is back to its regularly scheduled frigid summer temperatures after a few years of creepily warm, dry weather that seriously cramped my baking style. Whereas last summer was spent sweating in an 80-degree kitchen testing dessert after dessert for the book, Jay practically begged me to turn the oven on today. "Can you please bake something? It's freezing!"
In the past week we've had pizza twice (this GF crust topped with summer vegetables and burrata), tres leches cake, two kinds of GF chocolate chip cookies, and a GF berry cake made for a friend's birthday. Next on the list is pie, or maybe clafoutis, and definitely some ice cream sandwiches.
Another plus for chilly weather? Cats need extra snuggles to stay warm. Today, I went to my friend Shelley's house, laptop in tow, intending to wax poetic about zucchini soup while watching her new kitten. You can imagine how much work I got done. The three-month-old tabby is about the size of my forearm with downy fuzz all over her tiny frame. She immediately curled up on my chest and fell asleep, tiny paws tucked under her, purring loudly. I lay there, paralyzed by her cuteness, as the hours ticked by.
Heaven.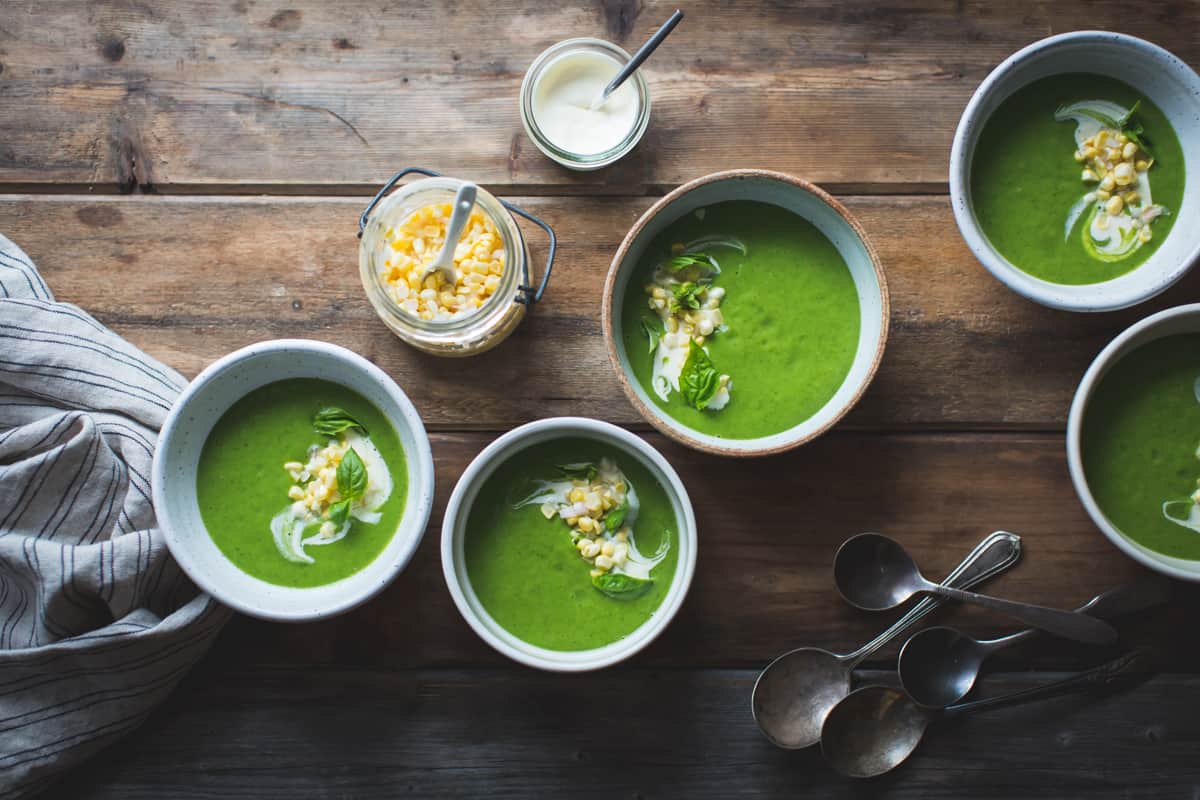 To counteract all this baking, we've been eating pot after pot of zucchini soup. This version was inspired by one that I enjoyed at Lalime's, a charming restaurant in North Berkeley that gives Chez Panisse a run for its money. It was silky smooth, kissed with cream, and topped with pickled shallots.
My version is naturally creamy from leeks and a bit of potato, with just a touch of crème fraîche on top. Sweet corn kernels lightly pickled with diced shallot make a sweet-tart counterpoint to the delicate soup that tastes like summer in a bowl.
Serve small bowls as a starter, or ladle up bigger servings with toasted cheese sandwiches for an easy supper.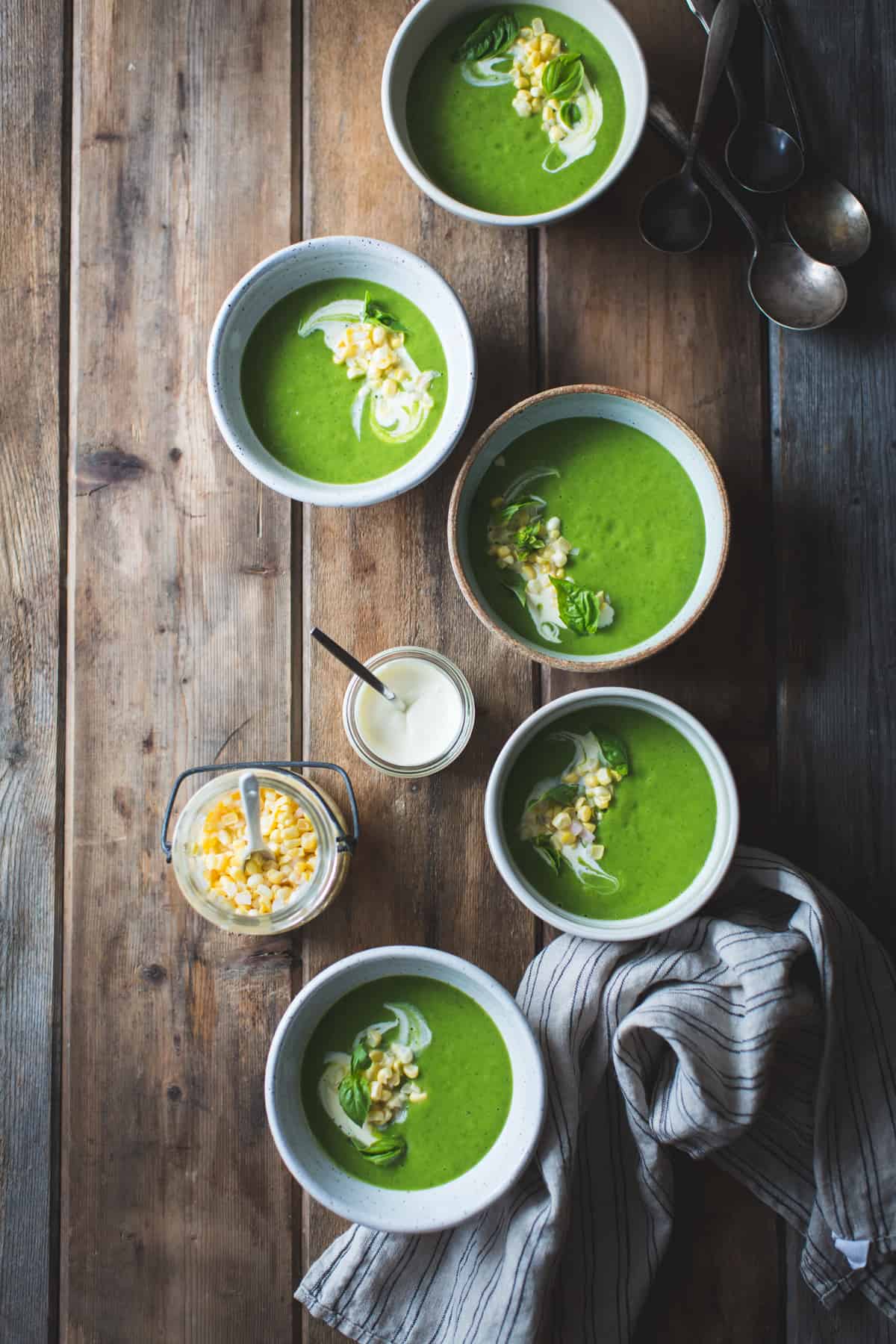 Best of all? This soup works as well warm as it does chilled; just thin the soup with a bit of extra broth and punch up the flavor with lemon juice for a refreshingly cool variation.
More Zucchini Recipes:
*Bojon appétit! For more Bojon Gourmet in your life, follow along on Instagram, Facebook, or Pinterest, purchase my gluten-free cookbook Alternative Baker, or subscribe to receive new posts via email. And if you make this zucchini soup recipe, I'd love to know. Leave a comment and rating below, and tag your Instagram snaps @The_Bojon_Gourmet and #bojongourmet.*
Zucchini Basil Soup with Crème Fraîche and Pickled Corn
Print Recipe
Pin Recipe
Gussy up your garden-variety zucchini soup with loads of leeks and basil, piquant pickled sweet corn, and a swirl of tangy crème fraîche; it's equally good hot or cold.
Servings:
4
large or 6 small servings
Ingredients
Corn:
2

medium corn cobs

½

small shallot, peeled and finely diced

½

teaspoon

fine sea salt

2

tablespoons

champagne vinegar

(30 ml)
Soup:
3

medium leeks

(500 g)

2

tablespoons

butter

(30 g)

1 ¼

pounds

zucchini, trimmed and chopped into roughly 1/2″ pieces

(about 6 small / 570 g)

1

medium yukon gold potato, peeled and chopped

(200 g)

½

teaspoon

salt, more as needed

Freshly ground black pepper

4

cups

water

(950 ml)

juice of ½ a lemon

leaves

from 1 large or 2 small bunches basil, plus a few pretty sprigs for garnish

(2-3 cups lightly packed)

crème fraiche, for serving
Instructions
Make the corn:
Shuck the corn cobs and remove the silk. Hold a cob upright in a shallow bowl and use a small, serrated knife to slice off the top 2/3 of the corn kernels, sawing with a downward motion. Repeat with the second corn cob. Add the shallot to the corn, then toss with the vinegar and salt. Cover and chill until needed, at least 1 hour and up to 1 week, stirring a few times.
Make the soup:
Slice the leeks in half lengthwise, then cut the white and light green parts crosswise into ½" thick pieces. Place the leeks in a large bowl, cover with cool water, and let stand 5 minutes and swishing occasionally; any sandy dirt stuck in the leek's layers will sink to the bottom.

In a large saucepan or soup pot, melt the butter over medium heat. Scoop the leeks from their water and add to the pot along with the potato, stirring until softened, 5 minutes. Add the zucchini and cook, stirring occasionally, until the zucchini is fairly soft, 5 minutes. Add the salt, a few turns of pepper, and enough water to just cover the vegetables. Increase the heat and bring the soup to a boil, then reduce the heat to medium-low and simmer, partially covered, until the zucchini and potato are very soft, about 15 minutes. Remove from the heat and let cool to room temperature, about 1 hour.

Meanwhile, bring a medium saucepan of water to a boil, and prepare an ice water bath. Reserve a few pretty sprigs of basil for garnish, and add the rest to the pot of boiling water. Cook until bright green, 20 seconds or so, then scoop out with a slotted spoon and plunge into the ice water bath, swishing until cold. Remove the basil from the ice bath and squeeze dry.

Scoop the solids out of the soup pot with a slotted spoon and place in the bowl of a blender or food processor (you may have to do this in batches). Add the blanched basil and a bit of the cooled soup liquid. Puree smooth, adding as much broth as you need to make a creamy soup. Blend in 2 tablespoons of the lemon juice and taste, adding more lemon, salt, or pepper if you feel the soup needs it. Blend in a few tablespoons of crème fraîche if you want a creamier soup.

To serve, return the soup to the pot over medium heat to warm, stirring occasionally. Ladle into bowls and serve with a swirl of crème fraiche, a scoop of pickled corn, and a few basil leaves.
Notes
Cooling the soup and blanching the basil before blending help preserve the soup's bright green hue.
Small zucchini tend to have the best flavor; if your zucchini are large, you may need to punch up the flavor with a cube of bouillon or some vegetable stock in place of the water.
Serve this soup warm on cool summer evenings, or serve chilled thinned with extra broth and enough lemon juice to brighten the flavors.
Trade the butter for light olive oil and leave off the crème fraîche for a vegan variation.
Nutritional values are based on one of four servings.
Nutrition
Calories:
209
kcal
Carbohydrates:
29
g
Protein:
6
g
Fat:
9
g
Saturated Fat:
5
g
Cholesterol:
21
mg
Sodium:
691
mg
Potassium:
850
mg
Fiber:
5
g
Sugar:
10
g
Vitamin A:
2365
IU
Vitamin C:
45.1
mg
Calcium:
117
mg
Iron:
3.9
mg