Oh winter squash and cheese, will I ever get tired of combining you?
This morning, I set out to make gougeres, heavenly little puffs of pate a choux with loads of gruyere cheese folded in. Pate a choux, like most things with fancy French names, is deceptively easy to make. (Take a brunoise, for instance. Sounds tricksy, doesn't it? Well it just means 'a fine dice.' Thanks, Frenchies, for constantly making us feel inadequate.)
Here in SF, gougeres seem to be the new scone, popping up at chic coffee shops, like Coffee Bar and Tartine, as a nourishing, portable, savory treat for any time of day. They are rather like the scone's refined, city-dwelling cousin; lighter, crispier and with a name that makes you salivate just pronouncing it.
For my first trial, I added small cubes of roasted squash and some crumbles of goat cheese to the finished batter, but it made the dough overly moist and heavy. The goat cheese dried out in the oven and the dough tasted overly salty. That didn't stop Jay from making them all disappear by the time I got home from work, though. For trial 2, I (sob!) omitted the goat cheese and added the squash with the other wet ingredients at the beginning, cooking off some of its liquid with the flour. These gougeres baked up light, tender and crisp. I reduced the salt by half, and found the balance of flavors to be just right.
These addictive little puffs would make an elegant and luxurious start to a fall cocktail party, or a bojon brunch. Try serving them with pomegranate mimosas or a simple glass of prosecco.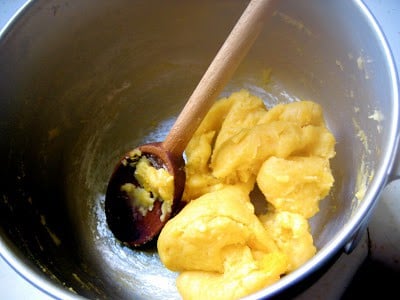 Other directions you could go with this recipe would be:
-smoked paprika or chipotle
-curry powder
-bacon!
-omit the gruyere topping, and shove some crumbles of blue cheese and a few toasted walnut pieces into the center of each unbaked gougere
If you live with a gougere hog, or are baking for guests, you might consider doubling this recipe as there never seem to be quite enough of these to go around. The batter can be made a day or two ahead and scooped just before baking, or you can scoop the dough onto a parchmented sheet pan, freeze, then save the frozen dough blobs in a ziploc baggie for instant gougere gratification whenever you please.
Winter Squash and Sage Gougeres
Makes 20 1 1/2″ puffs
Time: about 1 hour
1/2 cup whole milk
1/3 cup mashed roasted winter squash (such as butternut)
1/4 cup (2 oz.) unsalted butter
1/2 teaspoon salt
1/2 cup plus 2 tablespoons all purpose flour
2 large eggs
1 – 2 tablespoons minced fresh sage
4 oz. grated gruyere, divided
Place a rack in the center of the oven and preheat to 425º. Line a 12×18″ baking sheet with parchment paper and place on top of another baking sheet (these tend to over-brown on their bottoms.)
Combine the milk, squash, butter, and salt in a medium saucepan over medium high heat. Bring to a boil, stirring occasionally. Dump in the flour and cook, stirring constantly, until the mixture forms a ball and a film forms on the bottom of the pan, a few minutes.
Dump the mixture in the bowl of a stand mixer fitted with the paddle. Beat on medium speed for a minute or so to release some heat, then add the eggs one at a time, beating until combined and smooth after each addition. Add in the sage and three quarters of the cheese, beating to combine. Scrape down the sides of the bowl and the paddle and fold a few times to make sure the mixture is homogenous.
Using a #40 spring-loaded ice cream scoop (or a piping bag fitted with a #8 plain tip, or the old spoon-and-finger method) scoop out 20 balls of the mixture and place them, 4×5, on the parchmented pan.
Bake until puffed and golden, about 25 minutes. Reduce the oven temperature to 350º and bake for an additional 10 minutes or so, to dry out the centers slightly. (If underbaked, the gougeres will deflate as they cool.)
These are best served warm from the oven, but will keep for a couple days at room temp. You can re-toast them before enjoying, if you like.