This refreshing prosecco sangría recipe is full of floral flavors from white nectarines, fresh ginger, wildflower honey, St. Germain elderflower liqueur, and dry prosecco. Substitute white or yellow peaches or nectarines to your heart's content.
Plus I'm sharing why I said YES to writing a gluten-free cookbook!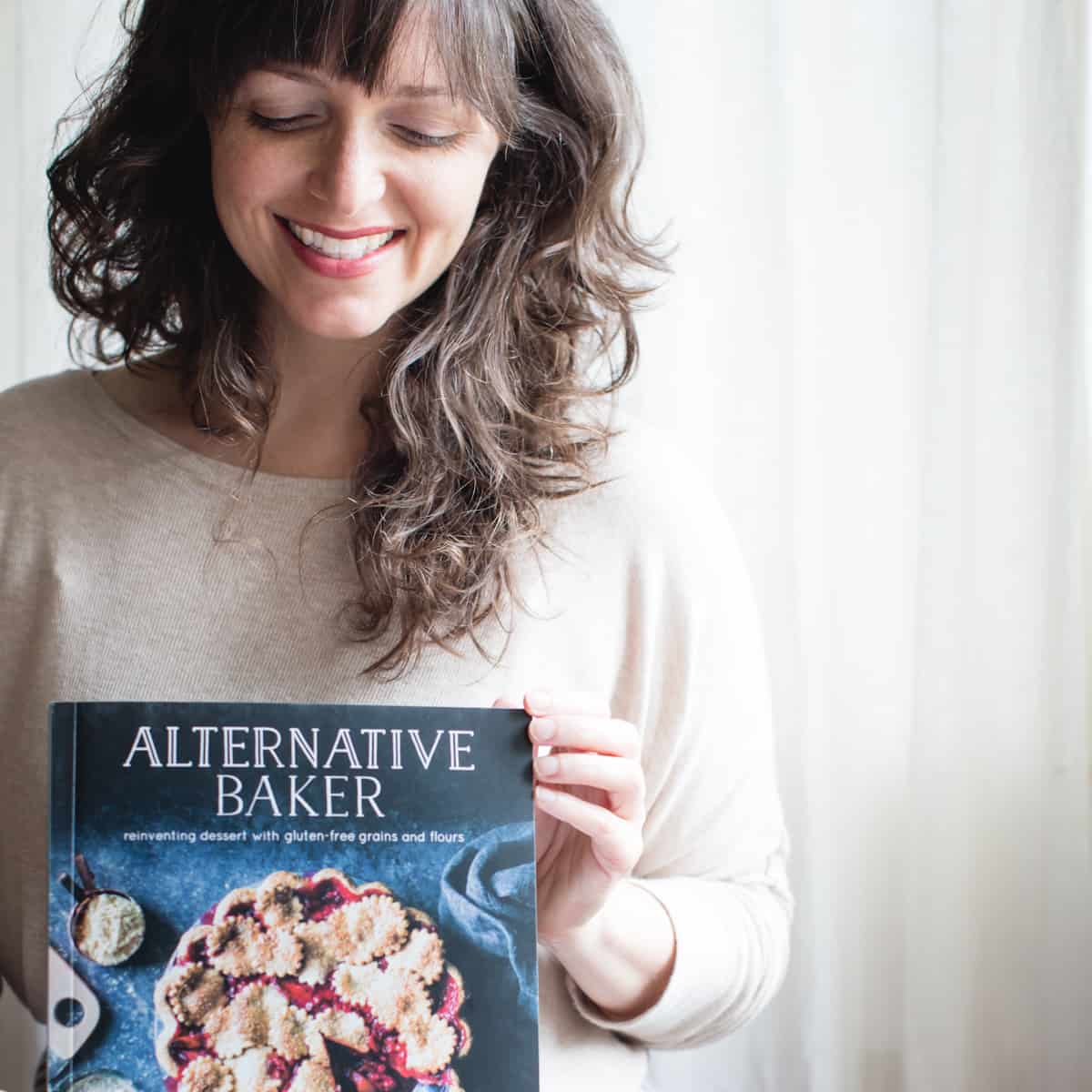 NOTE FROM ALANNA: I first shared this post announcing my cookbook back in 2015. I was so excited to tell you all about my journey of pastry chef to blogger to author and I wanted to celebrate with cocktails. Over the years I've shared many other drink recipes here, including Apple Cider Vodka Hot Toddies and The Verdant Lady: a Green Chartreuse Cocktail. Hope you enjoy this refreshing sangría and my story!
My Cookbook Journey
I've had this secret eating away at me for months and I'm so excited to finally get to share it here. I'm writing and photographing a cookbook. My first one. Hopefully it won't be the last.
It's all about baking with alternative grains and flours, with every recipe hingeing on a seasonal fruit or vegetable. It's tentatively titled Alternative Baker: Reinventing Dessert with Gluten-Free Grains and Flours. Each of the 100+ recipes, 95% of which are brand-new, gets its own full-color image, shot by yours truly. The manuscript is due this October and the photos a month later. The release date is tentatively set for April 2016.
From Book Deal to Bupkes (And Back Again)
Many of you will remember that I was offered a book deal a little over a year ago that turned out to be a no-go, and I wanted to talk a bit about what happened in the interim and how this one came to fruition.
Last spring, I wrote this post. I got a ton of amazing feedback. Most of it supported my decision, but a few comments were from people who worked in publishing saying, "Uh, that was actually a pretty good offer, yo." That was hard to hear, but I still felt at peace with my decision to continue exploring my options. I worked on finishing my proposal and reached out to a few different agents, most of whom couldn't take me on.
Finding a Literary Agent
I had read an interview on Dianne Jacob's site with literary agent Danielle Svetcov and was planning to reach out to her, when a friend of a friend offered to introduce us. It turns out Danielle is, like, THE cookbook agent in the Bay Area, but luckily I didn't know that at the time when we spoke a year ago. All I knew was that she had authored her own humorous cookbook and that I liked her immediately.
"I needed to get out of the office so I'm going to walk in the woods while we talk, is that ok?" she said when I picked up the phone. We talked for the better part of an hour, which was amazing as other agents were available for nothing more than a brief email. She told me about another client of hers whose book she felt had sold too early in the game, before the author had a big enough following to let them command more control over the book's aesthetics. "If we try to sell your book now, we're going to get a lot of rejections and it won't be fun." She essentially told me to keep working on my blog and call her in a year for a state-of-career call. She was encouraging, but it's hard to hear "not yet."
Saved by Sandwiches
Devastation mixed with relief as I hung up. I cried. I went back to working full-time on my blog. I made these sandwiches, landed in the ER, and my traffic doubled. I still don't get it.
I don't know if it was the sandwiches, but late that fall, a publisher reached out asking me to author a book with them. Danielle said to loop her in if any publishers called so I did, and we had a conference call with the head publisher. Instead of telling me what book he wanted me to write, he spent half an hour gently questioning me about what I like to cook. I got the feeling that this publisher would be on my team, advocating for my success and supporting my creative vision. When we hung up, Danielle let me know that she was impressed, too.
Cookbook Deal: The Nitty Gritty
The publisher asked me to submit a synopsis about the book concept we'd discussed, then a handful of recipes and sample images, and they eventually made us an offer. The numbers were roughly double what the previous offer had been; it would still be just enough to cover expenses when all was said and done, but it was better. Danielle pointed out that it can be advantageous to take a lowish advance for your first book as it's easier to "earn out" the advance through sales and begin earning royalties – all of which marks a book as successful in the eyes of most publishers. Only 3 in 10 books succeed in that sense. If your first book isn't "successful" by these standards, it can be difficult to wrangle another book deal. With a too-high advance, you can be doomed to fail right out of the gate because it will be nigh impossible to earn-out.
This publisher also separated the photography fee from the book advance, which is important for two reasons.
If the photo fees are rolled into the advance, the book has to earn out that sum as well.
The separate photo deal made me feel like a professional photographer; it was a sign of respect. I could write AND I could shoot, and the publisher had acknowledged that. The other publisher that had made me an offer had rolled the fees into one advance, claiming it made no difference (which wasn't true); this had given me yet another reason to mistrust the other publisher and ultimately decline the offer.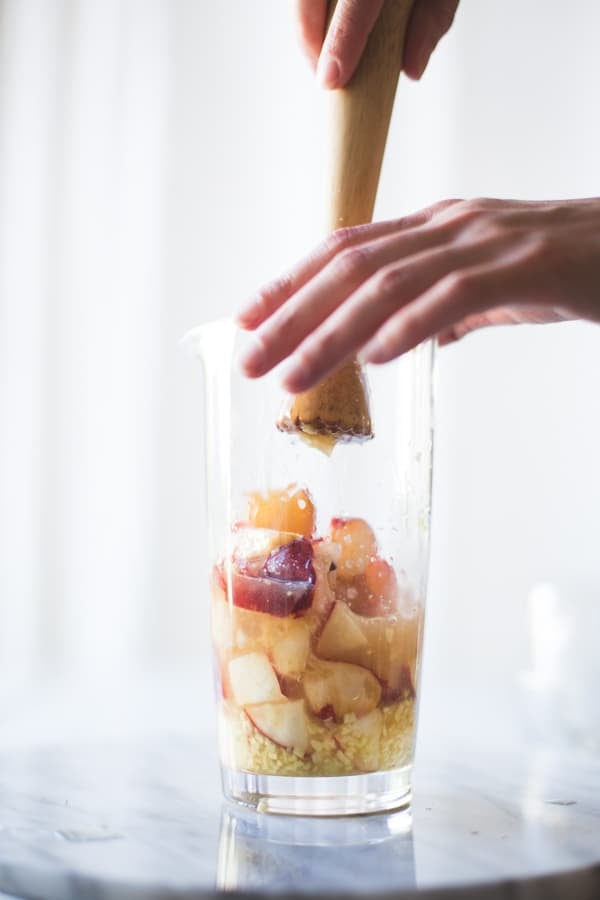 My publisher is a fairly small operation, but they are distributed by one of the "Big Five" publishers, Macmillan, meaning that the book should get the same distribution (exposure in stores) that a book from a larger publisher would. When I asked Danielle if we should wait for a bigger publisher, she explained that with a big publisher a new author like myself would simply get less one-on-one attention and have less control over the book.
All in all, this seemed like a decent first book experience. I accepted!
Why I Really Said Yes to a Book Deal
Over the past year, I've learned that the manner in which I'm treated in a working relationship is equally (if not more) important than cold hard numbers. During my interactions with the first publisher who made me an offer over a year ago, I was a bundle of nerves. I couldn't put my finger on what bothered me; I felt anxious before every interaction, confused and insecure afterward. Something about his manner just rubbed me the wrong way; we just didn't click. His nasty side came out when my consultant and I began questioning his contract, and his words turned contemptuous. Writing a book was hard enough, I didn't want to fight against the very person who should be cheering me on the most! How would I have the energy to do the actual work? I was relieved when the low royalty rate gave me a tangible reason to decline; I just didn't want to work with this person.
In contrast, this team treated me with kindness and respect. I feel comfortable asking questions and giving feedback on design details. My agent Danielle is a wealth of knowledge who I'm very grateful to have guiding me through this experience. In all, this team makes me feel valued, and that enables me to do my best work.
A Bookload of Work
I've been working on this book since January and let me tell you, it's a lot! It's like having 2 full-time jobs (I think – I've never even had 1 real full-time job...). Each week I develop, shoot and write 3-4 recipes. Since most recipes take 3 or 4 tries to get right (8 is my record so far for some finicky though insanely tasty cookies), each week is a blur of shopping, baking, shooting, washing dishes (or more frequently, begging Jay to), photo editing, writing, sending recipes out for testing, and lots of exercise to counteract the effects of all the butter. We are drowning in desserts; definitely a first world problem, but still. I actually had a dream the other night that I was trying to do a cleanse but every restaurant I went to tried to make me eat butter.
But deep down, past the busyness and schedules and spreadsheets and too much sugar and SO MANY DISHES, I'm all tingly with anticipation. Come next April, I'll be holding a copy of my very own book filled up with 100+ gems of recipes, each well-tested and flanked by a pretty picture (and hopefully you will too!). I promise to keep you posted through the rest of the process and share as much as I can. Thank you for following along on this journey!
Sparkling Prosecco Sangría
To celebrate all this hullabaloo, I got some flowers and made us some sparkling prosecco sangría full of all my favorite things and inspired by this gorgeous recipe from Feasting at Home. There's fresh ginger for a bit of zip, St. Germain elderflower liqueur for a punch of flavor, white nectarines whose red skins give the drink a rosy hue, lemon juice and honey for balance, and prosecco, sparkling water, and ice to refresh. This thirst-quenching libation boasts a full-bodied floral taste that is downright intoxicating. Serve it over lots of ice, and be sure to nom those slices of booze-soaked nectarines; they're the best part.
Got leftover St. Germain liqueur? Here are some favorite recipes that use it:
*Bojon appétit! For more Bojon Gourmet in your life, follow along on Instagram, Facebook, or Pinterest, purchase my gluten-free cookbook Alternative Baker, or subscribe to receive new posts via email. And if you make this prosecco sangria recipe, I'd love to know. Leave a comment and rating below, and tag your Instagram snaps @The_Bojon_Gourmet and #bojongourmet.*
White Nectarine Prosecco Sangría with Ginger + Elderflower
Print Recipe
Pin Recipe
This refreshing prosecco sangría recipe is full of floral flavors from white nectarines, fresh ginger, wildflower honey, St. Germain elderflower liqueur, and dry prosecco. Substitute white or yellow peaches or nectarines to your heart's content.
Servings:
6
to 8 servings
Ingredients
2

tablespoons

mild honey

1/3

cup

finely chopped fresh ginger

(35g)

2

medium-sized white nectarines or peaches, chopped

2

medium-sized white nectarines or peaches, sliced

1/4

cup

strained lemon juice

1

bottle prosecco or other dry white sparkling wine such as cava, chilled

(750 ml)

1

cup

St. Germain Elderflower liqueur, chilled

ice

1-2

cups

sparkling water, chilled
Instructions
In a large measuring pitcher, muddle together the honey and chopped ginger until the juices run out of the ginger, 1 minute. Muddle in the chopped nectarines and lemon juice until well crushed. (Alternatively, pulse the mixture in a food processor or with an immersion blender to speed up this process.) Stir in half of the prosecco. Strain the mixture through a fine mesh sieve and into a large punch bowl or pitcher, pressing on the fruit pulp to extract all the good stuff. Discard the pulp.Add the rest of the prosecco, the St. Germain and the sliced nectarines to the sangría. Taste, adding more lemon juice if you feel the drink it needs it. Add ice and sparkling water to the pitcher, and serve within the hour while the drink is bubbly, ladling it into cups with bits of the fruit.
Notes
Inspired by Feasting at Home's Peach and Elderflower Sangría.
Feel free to use white or yellow peaches or nectarines here. Since fruit and wines vary in sweetness, add more lemon or honey to your taste.
Do add the prosecco and sparkling water shortly before serving to retain the bubbles.
Nutritional values are based on one of six drinks.
Nutrition
Calories:
273
kcal
Carbohydrates:
34
g
Protein:
1
g
Fat:
1
g
Saturated Fat:
1
g
Sodium:
26
mg
Potassium:
333
mg
Fiber:
2
g
Sugar:
31
g
Vitamin A:
320
IU
Vitamin C:
10.1
mg
Calcium:
21
mg
Iron:
0.8
mg