An eggless Caesar salad recipe gets a kick in the pants from a dose of wasabi paste, smoked salmon, nori crisps, and crunchy vegetables.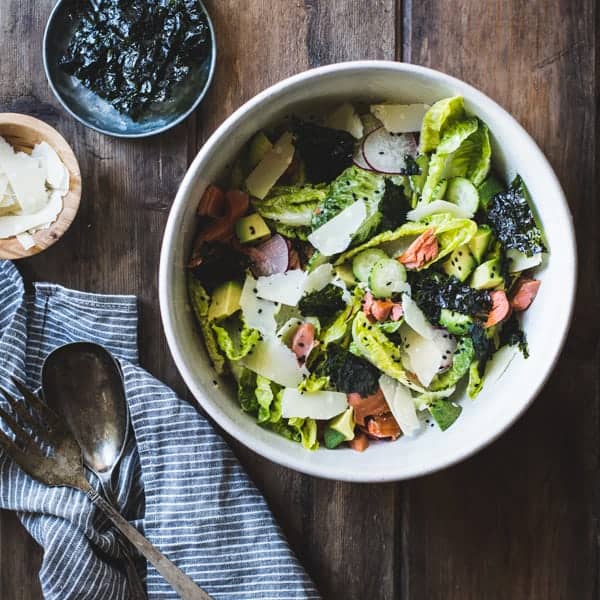 First off, I want to say THANK YOU for all the kind notes regarding my soon-to-be cookbook! I've been overwhelmed by the sweet and supportive comments, emails, Twitterings, Facebookings, and even (!) Google+ love coming at me all week. Getting to share this big piece of news with you all has made the whole thing feel so much more real, and fun to boot. I'm all warm and fuzzy.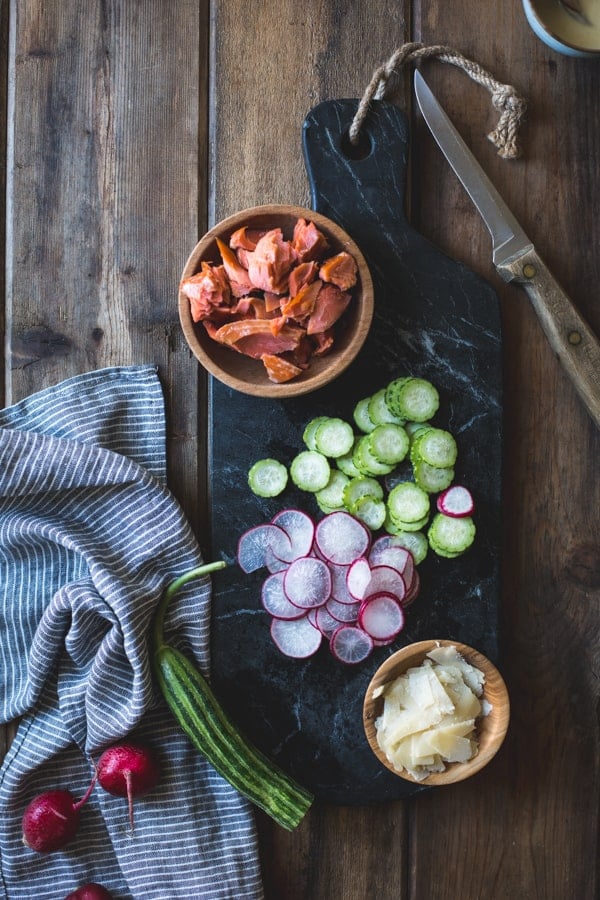 Speaking of warm and fuzzy, my nineteen-year-old niece Cierra is one of my very favorite people in the world. She's loving, personable, gracious, smart, talented, gorgeous, and a billion other positive adjectives. I feel incredibly lucky to have her in my life.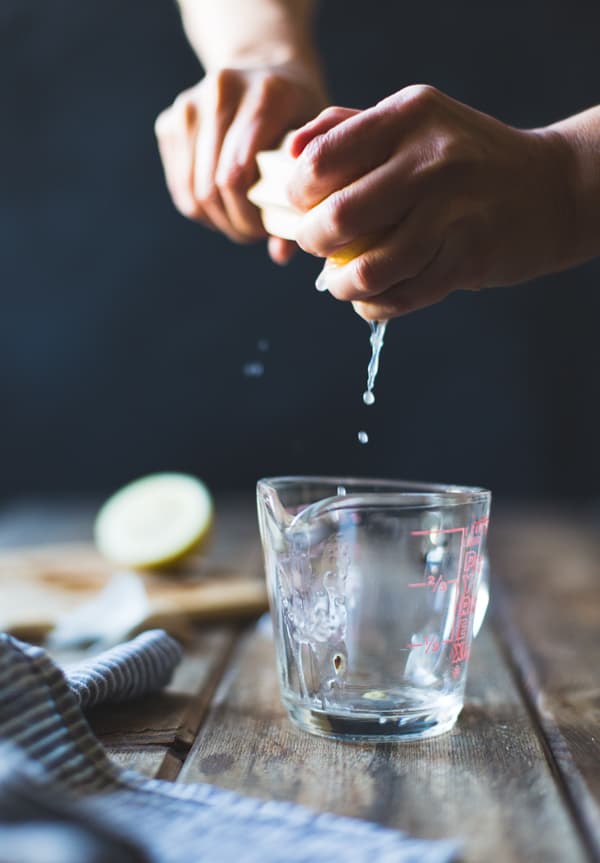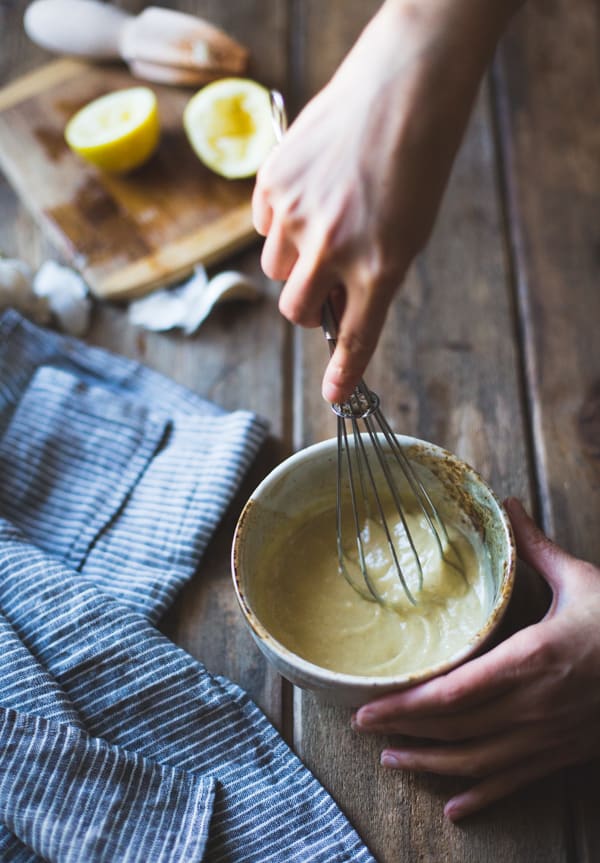 I felt especially lucky today when, home for the summer and needing some extra work to fund her Manhattan lifestyle the next school year (she studies theater at a conservatory in New York) she agreed to do some personal assistant type work for me, a.k.a. boring-ass crap that piles up on your to-do list, gnawing away at you day after day as you try to shove your growing anxiety aside and do more urgent work. For example, "renew passport" has been on my list since mine expired 5 years ago. With no plans to leave the country, I managed to find something more important to do every day for the last 5 years. And yet I anticipated the day when I would wish to travel, have no passport, and resort to being smuggled away in a car trunk/duffel bag. If I managed to procrastinate this simple task during 5 years of Bojon and part-time employment, I certainly wasn't about to prioritize it over writing a freaking book. Cierra to the rescue!
Today was one of the best days of my life.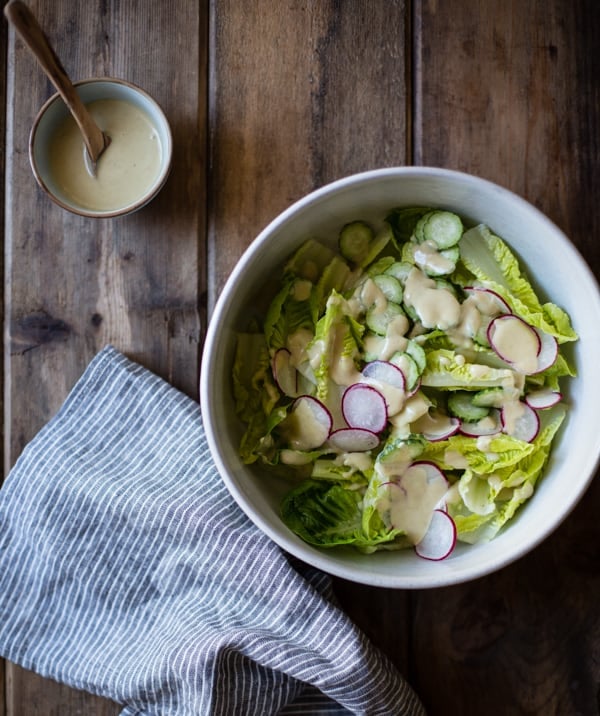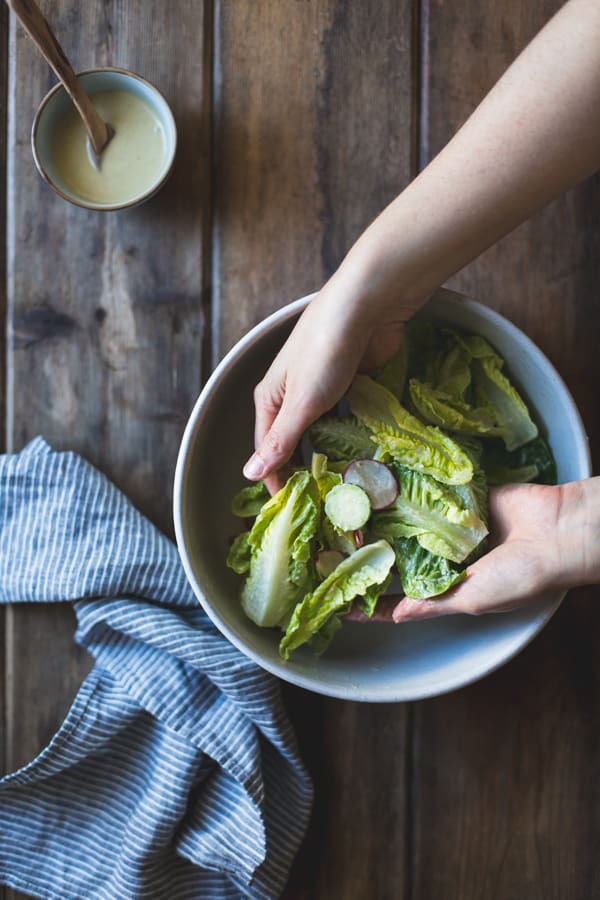 While Cierra cheerfully made my life worth living once more, I made this salad, in between apologizing for the tedium I was inflicting upon her and trying to feed her things in order to quell my guilt. The inspiration comes from Samovar, my favorite place to have tea and healthy bites in the city. I took Cierra there earlier this year for a day of aunt-niece bonding while she was in town for winter break. We met at Kabuki for a long soak, had tea and lunch afterwards, and then got our booties kicked by my favorite yoga teacher. One of the dishes we shared was Samovar's wasabi caesar salad. It could have been the post-sauna bliss, or getting to spend the day with my favorite person, but I wanted to marry that salad. It was cold, briny, creamy, crunchy, and kicky with just enough wasabi to keep things interesting.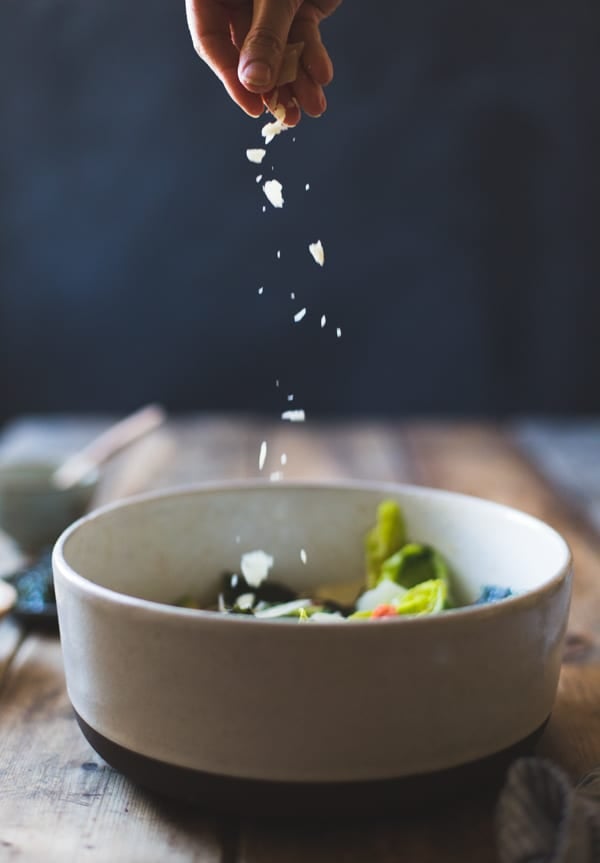 Determined to re-create it at home, I got the best wasabi I could find, which was powdered real wasabi. Real, fresh wasabi root is extremely expensive and hard to find, and the stuff we usually get in the states is actually horseradish colored green, freeze-dried and rehydrated. I mixed the powder up with the usual Caesar suspects (minus the raw eggs which give me the creeps): anchovy, garlic, lemon, oil and mayonnaise for emulsion. The resulting dressing was incredibly bitter, nothing like Samovar's. I switched to less expensive wasabi powder with the same disappointing results. I finally purchased a tube of wasabi paste, and bingo: the assertive wasabi spice I was after. Fake wasabi FTW.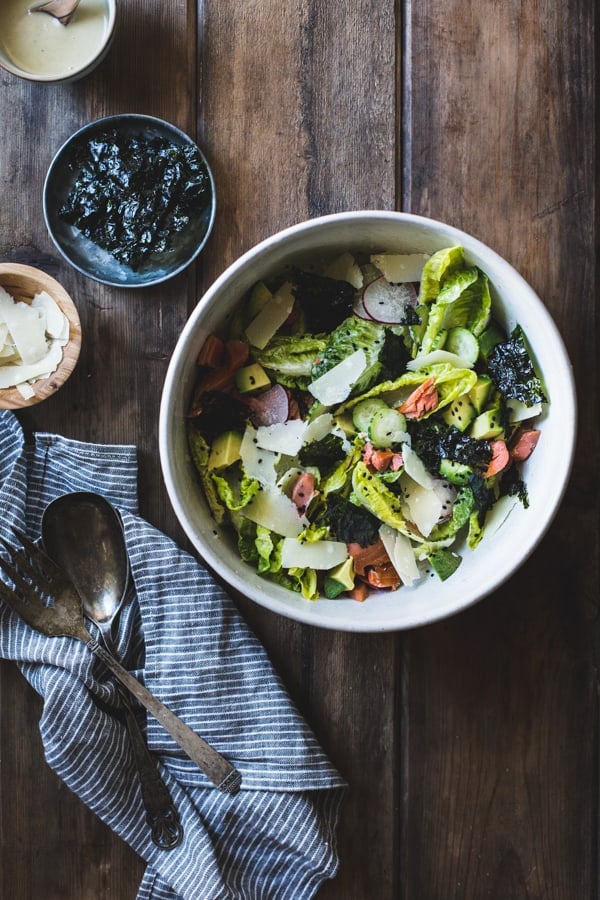 Crispy nori snacks stand in for the croutons here, and I throw in some vegetables frequently found in Japanese cuisine in the states: radish, cucumber, and avocado. Sarah's lovely salad inspired me to add a sprinkle of black sesame seeds. Smoked salmon adds the protein needed to turn this into a nourishing meal worthy of serving to your favorite person.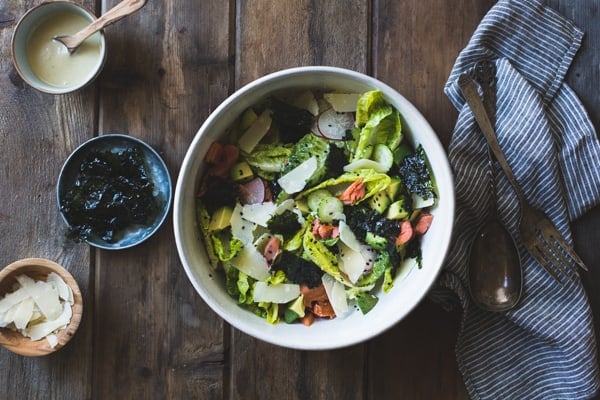 *Bojon appétit! For more Bojon Gourmet in your life, follow along on Instagram, Facebook, or Pinterest, purchase my gluten-free cookbook Alternative Baker, or subscribe to receive new posts via email. And if you make this wasabi caesar salad recipe, I'd love to know. Leave a comment and rating below, and tag your Instagram snaps @The_Bojon_Gourmet and #bojongourmet.*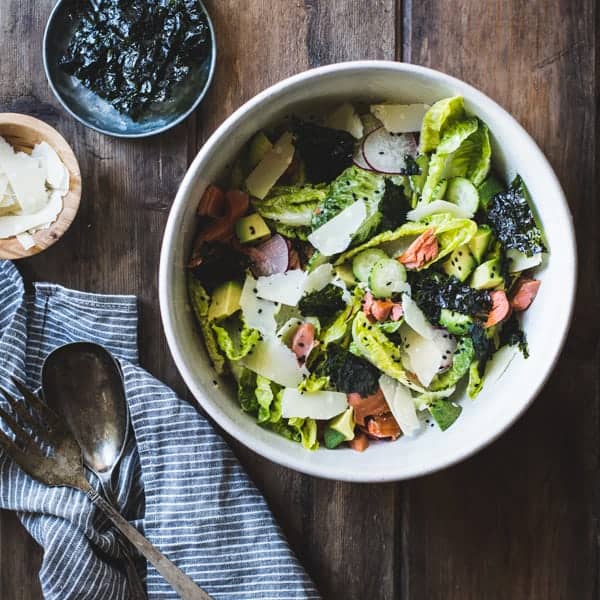 Wasabi Caesar Salad
Print Recipe
Pin Recipe
An eggless Caesar salad recipe gets a kick in the pants from a dose of wasabi paste, smoked salmon, nori crisps, and crunchy vegetables.
Servings:
2
small servings, or one large
Ingredients
Dressing (makes enough for several salads):
1

large clove garlic, crushed and peeled

2

anchovy fillets, chopped

1/4

teaspoon

fine sea salt

1

tablespoon

wasabi paste, more or less to taste (I used 1 tablespoon + 1 teaspoon)

(15 ml)

1/4

cup

good-quality mayonnaise

(60 ml)

1/4

cup

sunflower oil (or other neutral vegetable oil)

(60 ml)

1

teaspoon

tamari (or soy sauce if not gluten-free)

2

tablespoons

lemon juice

(30 ml)
Salad (makes 1 large or 2 small servings):
4

cups

little gem lettuce (or romaine hearts) leaves, rinsed and spun dry

1/4

of a medium cucumber, thinly sliced

(1/4 cup)

2

medium radishes, trimmed and thinly sliced

(1/4 cup)

~2 tablespoons dressing from above

4

ounces

smoked salmon, broken up into large pieces (about 1/2 cup)

(115 g)

1/4

cup

shaved parmesan

(1 ounce / 30 g)

1/2

a large avocado, ripe but firm, peeled and cut into chunks

a big pinch black sesame seeds

a few nori crisps, torn
Instructions
Make the dressing:
If you have a mortar and pestle, work together the garlic, anchovy and salt to a paste. Work in the wasabi, then the mayonnaise. Slowly drizzle in the oil, stirring or whisking constantly to form an emulsion, then stir in the tamari and lemon juice. (Otherwise, put the garlic through a press, mince the anchovy as finely as you can, and whisk in the remaining ingredients as described.) Taste, adding more wasabi, lemon, salt, or tamari if you feel the dressing needs it. The flavors will come out as the dressing sits. Cover and chill until needed, or up to 1 week.
Make the salad:
In a large bowl, combine the lettuce, cucumber and radishes. Drizzle with the dressing (it will be thick) and use clean hands to toss until evenly coated. Gently toss in the smoked salmon, parmesan and avocado. Sprinkle with the sesame and nori strips and serve immediately.
Notes
Feel free to add or subtract what you like from this salad. I can imagine edamame, scallions, kaiware sprouts or daikon or watermelon radish making lovely additions.
The dressing is so flavorful on its own that it could make a nice dip for crudités.
I love a good kale caesar and think this recipe would work equally well with torn dino kale in place of the lettuce.
You want the flaky, hot-smoked salmon for the fish here rather than the more thinly sliced and cold-smoked lox.
Nutritional values are based on one of two salads.
Nutrition
Calories:
308
kcal
Carbohydrates:
14
g
Protein:
21
g
Fat:
20
g
Saturated Fat:
4
g
Cholesterol:
15
mg
Sodium:
326
mg
Potassium:
498
mg
Fiber:
5
g
Sugar:
7
g
Vitamin A:
1240
IU
Vitamin C:
11.8
mg
Calcium:
210
mg
Iron:
2
mg