With cheesy millet, mushrooms, herbs, and a kicky kale pesto all topped with crunchy pepitas, this vegetarian stuffed butternut squash makes a nourishing main dish or festive side.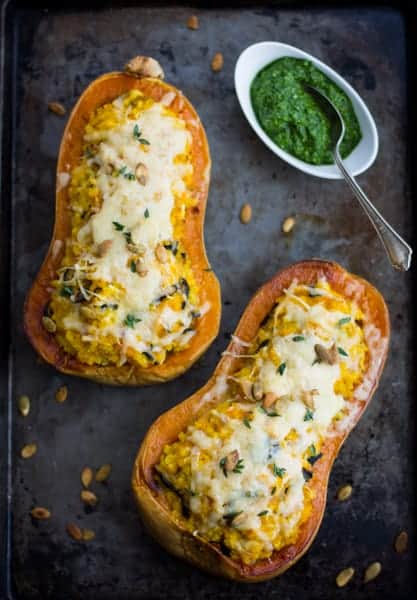 The other day, my mom was telling me about Chopped, the Iron Chef-like television show in which contestants are given a basket of unlikely ingredients from which they must compose a three-course meal in a matter of minutes.
I've long admired the type of cook who can look in the fridge, pull out half an onion, a bottle of ketchup, and a piece of stale bread, and use them to whip up a four-star meal in ten minutes.
I am not like that.
If I were, through some cruel act of nature, to go on Chopped, it would look something like this:
Receive ingredients. Compulsively page through cookbooks while eating cheesy toast as a hysterical displacement activity in response to crippling indecision over what to make. Settle on overly-complicated dishes that each take five hours and 40 ingredients to make. Make dishes while drinking copious amounts of wine to counter hideous anxiety of being on the clock. Collapse into exhausted heap at 5 a.m., having lost contest hours prior.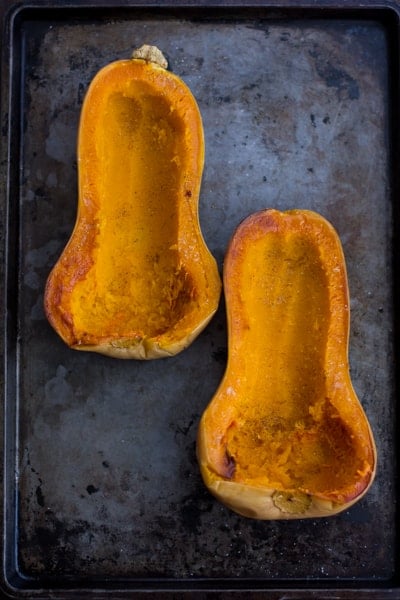 I thought of all this the other day while at the co-op house of my friend Amelia in Santa Cruz. We'd been to the Everett Family Farm Stand and were preparing to make dinner for her nine housemates, two of whom are vegan. We had planned on butternut risotto, with some form of protein for the vegans, but found ourselves zapped of energy after a long day of eating, hiking, and shopping. We spent a few tense moments deliberating: what could we make that would please everyone, with the ingredients at hand?
Had it been up to me, I would have succumbed to an overwhelmed melt-down in the middle of the kitchen. Or feigned illness while weakly suggesting everyone order pizza. Thankfully, it was not up to me.
Finding some cooked brown rice in the refrigerator, Amelia had the brilliant notion of stuffing the squash that we had already roasted. She scraped out some of the butternuts' flesh and stirred it into brown rice seasoned with sauteed onion and sweet Jimmy Nardello peppers. She added grated firm tofu for protein, and baked the whole thing in the oven. We melted cheese over the tops of some, and served slices of the stuffed squash with arugula pesto made from their homegrown greens.
The finished vegetarian stuffed butternut squash wer not only beautiful to behold, they wer delicious and healthy, too. It made me wonder why I'd never made, had, or seen stuffed butternut squash. Creamy-sweet butternuts make a pretty vessel for any filling, and even the skin turns tender and edible after so much baking.
I think Amelia would kick some ass on Chopped.
I was inspired by my new found love of millet and my ongoing obsession with chewy shiitakes to stuff these squash with a fall medley: sauteed onions and mushrooms flavored with chile flakes, sage, thyme, and a splash of wine. I added goat cheese and gruyère to the filling, and more gruyère to the tops, because cheese makes everything better (even when not consumed as a hysterical displacement activity).
And I made a kicky kale pesto to offset the sweet richness of the squash, since the arugula version at Amelia's worked so well. Wilting the kale first with boiling water helps to keep the finished sauce mild-tasting and emerald green. It's a tad pungent on its own, but balances nicely in the final dish.
This Thanksgiving, you might consider sparing the turkey and serving this vegetarian stuffed butternut squash instead. This makes a super satisfying vegetarian meal for when you want to fuss a bit. You'll need to roast squash, cook millet, sauté vegetables, and make pesto, but all of these steps can be done a day or two ahead if you wish.
Hopefully, no one will be timing you.
More Savory Squash Recipes:
*Bojon appétit! For more Bojon Gourmet in your life, follow along on Instagram, Facebook, or Pinterest, purchase my gluten-free cookbook Alternative Baker, or subscribe to receive new posts via email. And if you make this stuffed butternut squash recipe, I'd love to know. Leave a comment and rating below, and tag your Instagram snaps @The_Bojon_Gourmet and #bojongourmet.*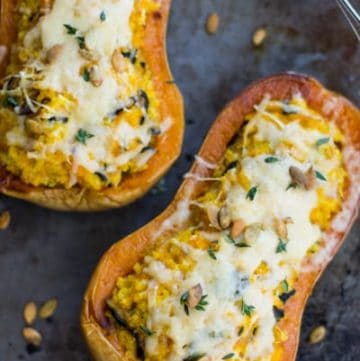 Cheesy Millet-Stuffed Butternut Squash with Shiitakes, and Kale Pesto
Print Recipe
Pin Recipe
This vegetarian main is packed full of flavor!
Servings:
4
as a moderate meal.
Ingredients
For the Stuffed Squash:
1

medium butternut squash

(about 2 3/4 pounds)

olive oil, as needed

salt and freshly milled pepper, as needed

1/2

cup

uncooked millet, rinsed and drained

1

cup

water

1

medium yellow onion, peeled, halved, and diced

1/2

pound

shiitake mushrooms, rinsed briefly, trimmed, and sliced

(3 cups)

1/4

teaspoon

red chile flakes

1

tablespoon

chopped fresh sage leaves

1/2

tablespoon

fresh thyme leaves, plus extra for garnish

2

tablespoons

white wine or vegetable broth

4

ounces

fresh goat cheese, crumbled

(about 1 cup)

2

ounces

gruyère cheese, grated, plus 2 more ounces for the tops

(about 1 cup total)

toasted pumpkin or sunflower seeds, for garnish
For the Kale Pesto:
2

cups

lightly packed, torn kale leaves (no stems)

2

tablespoons

pine nuts

1

large garlic clove

1/4

cup

grated parmesan

about 1/3 cup extra virgin olive oil

a squeeze of lemon juice

1

tablespoon

heavy cream (optional)
Instructions
Roast the squash:
Position a rack in the center of the oven and preheat to 375ºF.

Use a large, sharp chef's knife to slice the squash in half lengthwise, leaving the seeds in for now. Drizzle a bit of olive oil onto a rimmed baking sheet, and use the cut side of a squash half to rub it around. Place both halves cut side down. Roast in the oven until the long, skinny part is tender when pierced with a paring knife, about 45 minutes.

Scrape the seeds and strings from the squash and discard. Next, carefully scrape out some of the squash flesh from the shaft and cavity, leaving a 1-inch border all around. Reserve the scraped squash meat. Lightly salt and pepper the squash halves, and set aside.
While the squash roasts, make the millet:
In a small, lidded saucepan, combine the rinsed millet, 1 cup water, and 1/4 teaspoon salt. Set over a medium flame and bring to a simmer, then reduce the heat to very low, cover the pot, and let the millet steam until tender and all the water has been absorbed, about 15 minutes. Add more water and continue to steam if the millet isn't cooked enough for your liking; it should have the chewy-soft texture of brown rice. When the millet is cooked, remove it from the heat and let stand, still covered, for 10 minutes, then fluff with a fork. Measure out 2 cups, and reserve the rest for another use.

Meanwhile, cover a wide skillet with a film of olive oil, and warm over a medium flame until it shimmers. Add the diced onion, and cook, stirring occasionally, until tender, about 10 minutes. Add the mushrooms, chile, sage, thyme, and a few pinches of salt, and saute until the mushrooms are very tender, about 10 minutes. Add the wine, and cook until the pan is dry, 1-2 minutes. Remove from the heat.

In a large bowl, stir together the 2 cups cooked millet, the mushroom mixture, and the reserved squash flesh. Stir in the goat cheese, 2 ounces of the gruyère, and salt and pepper to taste.
Make the kale pesto:
Bring a kettle of water to a boil. Place the kale in a wire mesh sieve, and pour the boiling water over the kale to wilt it. Rinse with cool water until cool enough to handle, then firmly squeeze the kale dry. Combine the wilted, squeezed-dry kale in a food processor with the pine nuts, garlic, and parmesan, and process until ground to a paste, adding the olive oil little by little to make a thick sauce. Add enough salt and lemon juice until you like the flavor, and the heavy cream if you wish – I found it helped to smooth the flavors a bit. The pesto may taste slightly bitter, but it will pair well with the sweet squash. Scrape the pesto into a small bowl or jar, cover, and chill until needed.
Stuff and bake the squash:
Divide the millet mixture between the cooked and hollowed squash halves, packing it in and mounding it gently. Top with the remaining grated gruyère. Return the squash to the oven and bake until the cheese is melted and the squash and filling are heated through, 10-15 minutes.
Eat the squash!:
Slice each squash half diagonally into fourths, and serve the wedges topped with thyme leaves, pumpkin seeds, and a dollop of pesto on the side.

Leftovers will keep in the fridge for up to 3 days – reheat before serving.
Notes
Inspired by my good friend Amelia DiPrimo.
As I mentioned above, this recipe takes a few steps, much of which can be done a day or two in advance: roasting the squash, making the pesto, cooking the millet, and making the stuffing. (If you already happen to have cooked millet on hand, you'll need 2 cups for this recipe.)
I can imagine a lot of fun variations on this recipe, such as a late summer version made with quinoa, corn, poblanos, jack cheese, and cilantro pesto.
You can easily make this vegan by omitting all the cheeses and using firm tofu, grated on the large holes of a box mixer, in the filling.
Nutritional values are based on one of four servings.
Nutrition
Calories:
471
kcal
Carbohydrates:
52
g
Protein:
21
g
Fat:
23
g
Saturated Fat:
9
g
Cholesterol:
34
mg
Sodium:
318
mg
Potassium:
1147
mg
Fiber:
8
g
Sugar:
7
g
Vitamin A:
23855
IU
Vitamin C:
84.7
mg
Calcium:
412
mg
Iron:
4.3
mg
More Winter Squash Recipes: