Buttermilk ice cream, optionally kissed with vanilla, makes a tart and tangy accompaniment to all your favorite pies, tarts, and fruit desserts!
Try this homemade ice cream on pies, tarts, galettes, cakes, and fruit desserts.
Dreamy Buttermilk Ice Cream
This ice cream is like vanilla ice cream on crack. Or the tangy version of crack, whatever that is. Pop rocks, maybe. Anyway, I made it to go with a Southern-style gluten-free peach cobbler (in keeping with the Southern theme), but it turned out to be better than just an accompaniment.
This buttermilk ice cream can also take center stage.
I developed the recipe from my favorite vanilla ice cream recipe. The result is rich, tangy homemade ice cream that's versatile enough to pair with just about anything but interesting enough to eat on its own.
Ingredients and Substitution Suggestions
Buttermilk ice cream takes just a handful of ingredients, so be sure to choose high-quality ones for the best-tasting ice cream!
Buttermilk (obviously!) adds tangy notes. Kefir would make a good substitute. Commercial buttermilk in Northern California is all low-fat, which why it's important to use...
Heavy cream (a.k.a. whipping cream), which makes the ice cream rich and smooth. The fat keeps the cream pliable and it prevents large ice crystals from forming, so I don't recommend skimping on the fat, although coconut cream would probably work too.
Sugar adds sweetness and it also helps keep the ice cream soft and pliable from the freezer. I prefer organic granulated sugar, which is slightly less refined and has a little more depth of flavor, but any light-colored sugar will work. If you prefer to use natural sweetener, try using maple syrup or maple sugar. Honey might work, but it has a stronger flavor and more acidity which can cause the custard to appear curdled. See below for links to naturally-sweetened ice cream recipes!
Egg yolks emulsify the custard, adding luscious richness.
Vanilla bean adds sweet, floral notes, but you can leave it off if you prefer a classic buttermilk ice cream. Or try adding a little lemon zest and juice to bump up the tangy factor.
A pinch of salt sharpens the flavor.
How to Make Buttermilk Ice Cream
Homemade ice cream may seem intimidating at first, but it's a snap to make once you get the basic technique down.
Step 1: Heat the cream, sugar, and salt in a medium-sized saucepan until hot and steamy. Add the vanilla bean, if using, and steep for 20 minutes to infuse.
Step 2: Slowly pour the hot cream into the egg yolks, whisking constantly.
Step 3: Return the mixture to the pan and cook over low heat, stirring constantly, until the mixture thickens and registers 170ºF on an instant read thermometer. This is hot enough to kill any wayward bacteria in the egg yolks but not so hot to cause the yolks to scramble.
Step 4: Immediately add the cold buttermilk to the hot custard. This will stop the custard from cooking any further.
Step 5: Strain the mixture to remove any eggy bits. Cover and chill until very cold, at least 2 hours and up to 2 days. Or place over an ice water bath to chill more quickly.
Step 6: Churn the ice cream in an ice cream maker per the manufacturer's instructions. It will still be fairly soft at this point. I use the ice cream attachment to my Kitchen Aid stand mixer and it works wonderfully.
Step 7: Scrape the frozen ice cream into a chilled container and freeze until scoopable, at least 2 hours and up to 1 month.
Step 8: Devour!
Buttermilk Ice Cream with (or for) Dessert
Around here, we usually have several dessert options on any given day. Frequently, there is a new baked good experiment – a pie or tart, a batch of cookies, sometimes a clafoutis or layer cake. If that fails, we usually keep a bar or two of fancy chocolate around for postprandial sweet cravings. When we run out of chocolate, we turn to the freezer, where there may be a jar of ice cream, a popsicle, or an ice cream sandwich tucked away.
It's a rough life.
Lately though, our nightly dessert has been this buttermilk ice cream, either melting atop a scoop of almond flour peach cobbler, or topped with fresh blackberries. It is versatile, like regular vanilla ice cream, but taken up a notch with tangy buttermilk.
I made a second batch yesterday in order to photograph the process, and while I usually dread having too many sweet leftovers from blogsperiments, I get a thrill every time I open the freezer to see two jars of this stuff staring back at me.
Jay and I are headed to Marin today to teach some friends how to make homemade croissants. Hopefully we'll find some berries to forage for future desserts, 'cause we've got a lot of ice cream to get through...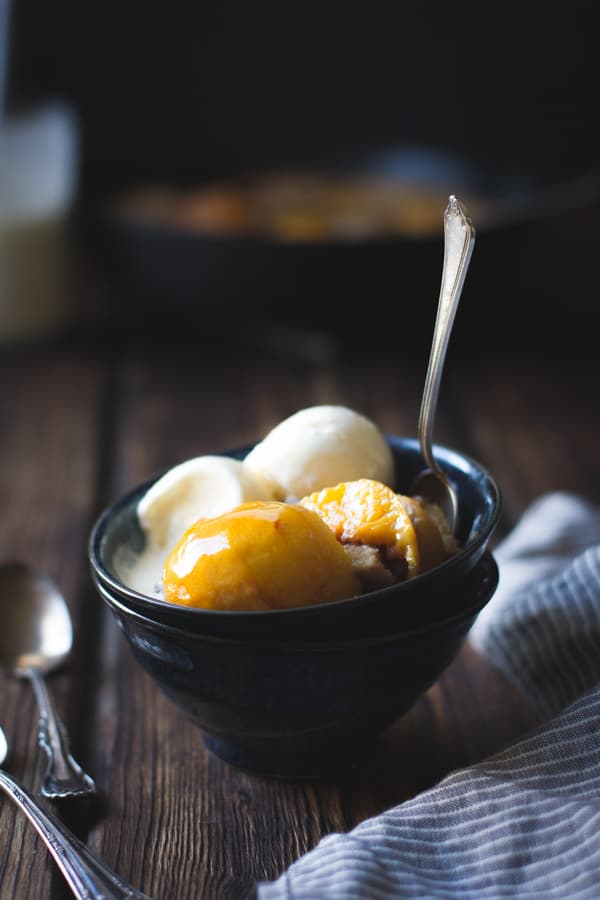 What to serve with Buttermilk Ice Cream
This versatile ice cream goes beautifully with any fruit or chocolate dessert. Here are some of my favorites:
Got extra buttermilk? Here are some more favorite buttermilk recipes
More Ice Cream Recipes
*Bojon appétit! For more Bojon Gourmet in your life, follow along on Instagram, Facebook, or Pinterest, purchase my gluten-free cookbook Alternative Baker, or subscribe to receive new posts via email. And if you make this vanilla buttermilk ice cream recipe, I'd love to know. Leave a comment and rating below, and tag your Instagram snaps @The_Bojon_Gourmet and #bojongourmet.*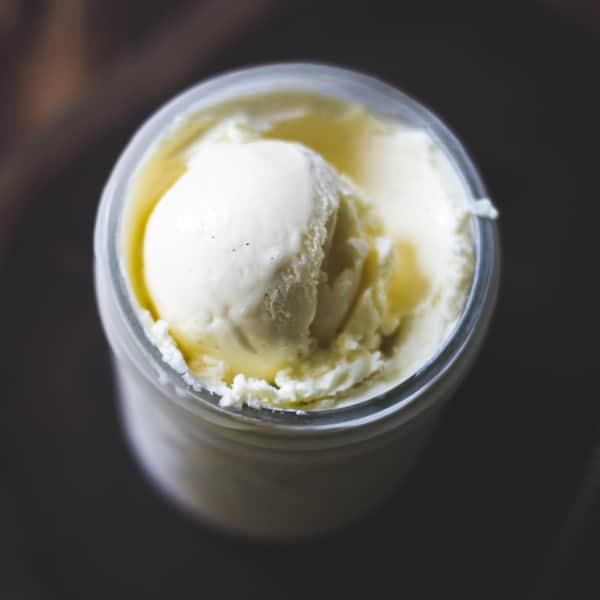 Vanilla Buttermilk Ice Cream
Print Recipe
Pin Recipe
A delicious and creamy homemade ice cream
Servings:
8
servings (makes one quart)
Ingredients
1 1/4

cups

heavy cream

(10 ounces / 300 ml)

1/2

plump vanilla bean, split lengthwise and scraped

1/2

cup

sugar (I use organic granulated)

(3.5 ounces / 100 grams)

1/8

teaspoon

fine sea salt

4

large egg yolks

1 1/4

cups

buttermilk

(10 ounces / 300mL)
Instructions
In a medium saucepan, combine the cream, vanilla pod and scrapings, sugar and salt. Bring to a bare simmer over medium heat, stirring frequently to dissolve the sugar. Cover and steep 20 minutes.

Meanwhile, place the egg yolks in a medium bowl and set the bowl on a damp kitchen towel. Measure out the buttermilk and have it by the stove.

When the cream has steeped, drizzle it slowly into the egg yolks, whisking constantly. Return the mixture to the pot and cook over a low flame, stirring constantly with a heat-proof silicone spatula, until the mixture thickens slightly, begins to "stick" (form a film othe bottom of the pan, and/or registers 170ºF on an instant read thermometer. Immediately stir in the buttermilk to stop the cooking, then strain the mixture through a mesh sieve and into a bowl or jar. Cover and chill the mixture until very cold, at least 4 hours and up to 2 days.

Churn the mixture in an ice cream maker according to the manufacturer's instructions, then scrape into a container and freeze until firm, at least 2 hours. The ice cream is creamiest within the first week of churning, but it will keep in the freezer for up to a month or two. Store it airtight with a piece of parchment paper pressed directly to the surface to prevent ice crystals from forming.
Notes
This ice cream will be creamiest if the base is allowed to chill for 4-24 hours prior to churning, but you can stick it in a metal bowl over an ice water bath to chill it quickly if you're in a hurry.
Serve it with any fruit dessert (Peach Cobbler, for instance), or with fresh berries.
I love my Kitchen Aid ice cream maker attachment, which uses the motor of a stand mixer to do its dirty work, and stays out of the way in the freezer until I need it.
Nutritional values are based on one of eight servings.
Nutrition
Calories:
229
kcal
Carbohydrates:
16
g
Protein:
3
g
Fat:
17
g
Saturated Fat:
10
g
Cholesterol:
153
mg
Sodium:
94
mg
Potassium:
88
mg
Sugar:
14
g
Vitamin A:
740
IU
Vitamin C:
0.2
mg
Calcium:
79
mg
Iron:
0.3
mg