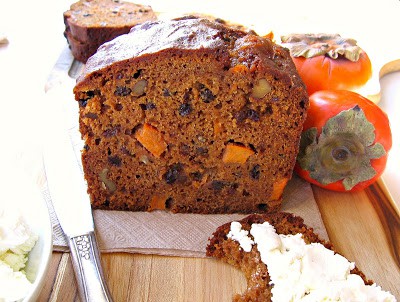 I never thought I'd say this, but I seem to be buttered-out.
Perhaps it was the scant half pound of butter in this maple bourbon pecan pie combined with the fact that 1) I had to make it three times and 2) I have no willpower when it comes to pie. Or maybe it was this bacon leek fennel quiche, chock full of butter, cream, bacon, and cheese. (I think I had a heart attack just typing that.)
Maybe it was the knitting party that I went to where I was forced to devour crack sticks aka cheese straws (made by the host! who I'd never met before! from this blog!), the best snickerdoodles ever, sugar cookies, oatmeal cookies, hot chocolate, and brie.
Whatever the case, I need a break. Today I made a vegan kale and quinoa salad for dinner. It felt like opening the car window when the heater has begun to suffocate you.
And then I did something else out of character: I swapped out the butter in this persimmon bread for olive oil.

I know! It must be because I turned thirty last week. That means I can do whatever I want now, right?
So I made Deborah Madison's persimmon tea cake (aka persimmon bread) from Local Flavors, which I'd made before. But for some reason, this time it emerged from the oven sporting a cavernous center and dry texture.
Inspired by this tangerine olive oil cake, I decided to trade my beloved butter for olive oil. Just this once. Since olive oil is liquid at room temperature, whereas butter is solid, it can keep cakes and quick breads more moist.
It worked like a charm (though I did make it three more times to get the proportions just so). Persimmons have a complex, fruity flavor and so does a good extra-virgin olive oil. They bring out the best in each other, each creating a depth of flavor that you can't quite put your finger on.
Hachiya and fuyu persimmons
Fuyu Persimmons & Hachiya Persimmons
As you may have inferred from the title, this persimmon bread contains not one, but two types of persimmons. Heart-shaped hachiyas, ripe to the point of bursting, get turned into a silky puree and whisked into eggs and brown sugar. I love having those sunny orbs lined up and ripening on my windowsill in December, the darkest time of the year. Fuyu persimmons, the squat ones, are tumbling into the markets now, too, colored the same reddish-orange as the freshly painted Golden Gate Bridge. These are ripe when still firm, and excellent simply sliced and crunched. Diced fuyus get folded into the batter which is laced with plump currants, toasty walnuts and a bit of spice.
Jay gushed that the baked pieces of fuyus resemble gooey, sweet marshmallows – and this from a man who doesn't even really like persimmons (or marshmallows... or gushing). In fact, Jay has been downright possessive of this bread, forbidding me to give any of it away (sorry, people I usually foist baked goods upon).
Maybe that's because this persimmon bread is stingily sweetened, and made with whole-grain flour. The tender loaf crumbles slightly when you slice it, keeps like a dream for days, and makes an excellent breakfast or snack on its own, or toasted and smeared with cream cheese.
Or, you know, butter.
More Persimmon Recipes:
Frostings to go on Persimmon Bread:
More Quickbreads:
*Bojon appétit! For more Bojon Gourmet in your life, follow along on Instagram, Facebook, or Pinterest, purchase my gluten-free cookbook Alternative Baker, or subscribe to receive new posts via email. And if you make this persimmon tea cake recipe, I'd love to know. Leave a comment and rating below, and tag your Instagram snaps @The_Bojon_Gourmet and #bojongourmet.*
Persimmon Bread
Print Recipe
Pin Recipe
Moist, spiced, springy persimmon bread loaded with flavor.
Servings:
8
servings (makes one 8x4" loaf).
Ingredients
1

cup

all-purpose flour

(5 ounces)

3/4

cup

whole spelt (or whole wheat pastry) flour

(3 1/2 ounces)

1 1/2

teaspoons

baking powder

1/2

teaspoon

baking soda

1/2

teaspoon

salt

1

teaspoon

cinnamon

1/4

teaspoon

allspice

1/8

teaspoon

cloves

1

cup

packed light brown sugar

(7 1/4 ounces)

2

large eggs

1/2

cup

olive oil

(3 1/2 ounces by weight)

3/4

cup

hachiya persimmon puree (see headnote)

(6 ounces)

1

teaspoon

vanilla extract

1

cup

toasted walnuts, coarsely chopped or broken up

1/2

cup

plump, fresh currants

1

cup

fuyu persimmon in 1/2" dice

(from 1 large or 2 small fuyus, see note)
Instructions
Position a rack in the center of the oven and preheat to 350º. Line an 8 x 4" loaf pan with a sling of parchment paper (or grease with softened butter or pan spray).

In a large bowl, sift together the flours, baking powder and soda, salt, and spices.

In another large bowl, whisk together the sugar, eggs, oil, persimmon puree and vanilla.

Gently stir the dry ingredients into the wets until almost smooth, then stir in the walnuts, currants and diced fuyus, and stir to distribute evenly.

Scrape the batter into the lined pan. Bake until a wooden skewer inserted in the center of the cake comes out clean (a few moist crumbs are fine), 60-70 minutes. Cool completely at room temperature.

Slices of cake are excellent toasted and topped with cream cheese, greek yogurt or crème fraîche.

The cake will keep for up to 4 or 5 days at room temperature, but refrigerate it if the weather is humid to prevent mold from forming.
Notes
This recipe calls for two types of persimmons: puree from heart-shaped hachiyas, and diced, squat fuyus (see photos in post, above).
To make the hachiya persimmon puree: Start with 3 large squishy-ripe hachiya persimmons – they should feel like water balloons that are about to burst. Slice them in half and squeeze or scoop the flesh into a mesh strainer set over a large measuring cup or bowl. Work the pulp through with a ladle or rubber spatula. (Extra puree is excellent on its own or over yogurt or oatmeal.
Read more about hachiyas and how to avoid persimmon trauma here.)
Fuyus will be firm when ripe, but look for specimen with a deep reddish-orange hue that have a hint of give. A fruity extra-virgin olive oil, such as Sciabica's, will make your cake taste that much better.
All ounce measurements are by weight.
Nutritional values are based on one of eight servings.
Nutrition
Calories:
531
kcal
Carbohydrates:
74
g
Protein:
8
g
Fat:
25
g
Saturated Fat:
3
g
Cholesterol:
41
mg
Sodium:
240
mg
Potassium:
449
mg
Fiber:
4
g
Sugar:
33
g
Vitamin A:
65
IU
Vitamin C:
34.7
mg
Calcium:
102
mg
Iron:
3.8
mg