I'm lead to believe that many people out there fear mayonnaise, particularly when it comes to potato salads.I suspect that mayophobia may be cured by making ones' own mayonnaise, which, when done correctly, is both a delicious and magical experience that may very well turn you from mayophobe to mayophile.
But if you still suffer from mayophobia, never fear: excellent potato salad can be made sans mayo, as has been proven for many years by Jay's mom. When we visit her home in the Santa Cruz countryside, there is inevitably a bowl of vinaigrette-dressed potato salad chilling in the fridge next to several bottles of Sauvignon Blanc, a bundle of Corralitos cheezy jalapeno sausages, a massive cheese plate, and an assortment of delectably pickled things. Indeed, we don't just go there for the rhubarb.
Today's recipe was inspired by Mary's iconic potato salad, and by the Country Potato Salad in a favorite cookbook called Once Upon a Tart. It is the antithesis of the homogeneous, white, gloopy stuff you usually find in a supermarket deli. Its bright colors and large shapes make it appropriate for a one-dish meal, or a quick snack to eat straight from the fridge on a warm day.A red wine vinaigrette, capers, and quick-pickled onions flavor the fresh beans, creamy new potatoes and crunchy green beans.
If you're unfamiliar with shelling beans, I recommend giving them a try. Fresh beans are lighter and brighter in flavor than their dried counterparts, and they take half the time cook. They taste less "beany," and are less inclined to, shall we say, negatively affect your digestion. Which is a good thing, because once cooked in lightly salted water, I couldn't stop eating these, and was hard pressed to leave enough for the salad.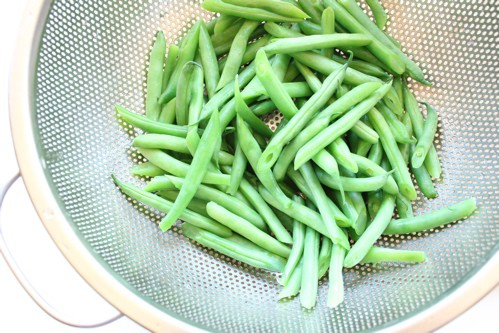 Shelling beans can be found at farmers markets from late summer through early fall, though I picked up these pretty cranberry beans from my local co-op, Rainbow Grocery, in San Francisco.
Many thanks to my über-talented friend, Amelia, who made the beautiful bowls pictured here. We adore them!
One potato, two:
Green Goddess Potato Salad
Quinoa, Kale and Sweet Potato Salad
Green Garlic and Chive Potato Cakes
One year ago:
Two years ago:
Banana Rum Upside-Down Cakelets
Two-Bean Potato Salad
You can use any fresh bean here; cranberry beans and garbonzos are the ones I see most often. Look for them at a farmer's market or well-stocked hippy co-op. Lacking shelling beans, use 1 cup of dried beans of your choice, (which will take longer to cook).
Makes about 6 servings
1 small red spring onion (or 1/2 a small cured red onion), thinly sliced
1/4 cup red wine vinegar
salt and black pepper
1 1/2 pounds new crop potatoes, scrubbed and cut into 1″ cubes
3/4 pound green beans
1 1/4 pounds shelling beans (such as cranberry beans), shelled (2 cups shelled beans)
3 tablespoons capers
1/3 cup chopped parsley
1/4 cup extra-virgin olive oil
In a small, non-reactive (i.e., stainless steel or ceramic) bowl, stir together the sliced onion, vinegar, 1/2 teaspoon salt and a few grinds of black pepper. Set aside, agitating occasionally to dissolve the salt, as you prepare the rest of the salad.
Place the prepared potatoes in a large saucepan and cover with 1 inch of cool tap water. Add 3/4 teaspoon salt, and place over high heat. Bring just to a simmer, and lower the heat to maintain a simmer (boiling the potatoes will jostle them around and knock their skins loose). Simmer the potatoes until tender, but not falling apart, about 10 minutes, then drain and let them cool.
Meanwhile, bring a second large saucepan of water to a boil and add 1/2 teaspoon salt. Fill a large bowl with ice and cool water. Cut the tips off of the green beans, and cut the beans on the diagonal into 2″ lengths. Drop the prepared green beans into the boiling water, and blanch until bright green and crisp-tender, 30-60 seconds. Scoop the beans out with a slotted spoon, reserving the hot water, and place the beans in the ice bath until cold. Drain well.
Return the green bean water to a boil, and add the shelling beans. Simmer the beans until tender, but not falling apart, about 30 minutes. Drain and cool.
In a very large bowl, combine the potatoes, green beans, shell beans, the red onion-vinegar mixture, capers, and parsley. Drizzle with the olive oil, and toss gently to coat. Taste for seasoning, adding more salt, pepper, or vinegar as needed.
Eat warm, chilled, or at room temperature.The salad is best the day it is made, but will keep for up to a few days in the fridge.