No, I'm not talking about an herbicidal Monsanto creation, merely a collection of recipes which you might consider making on the big day this year.
First things first are desserts, natch:

and Sweet Potato Pie with Bourbon and Pecans are twists on the classics,

or mix things up with individual Pumpkin Flans.

Pumpkin Cheesecake Squares with a Gingersnap Crust can be baked 'in the round'; just stick the crust and batter in a 9" springform pan (if you're good at math, you can increase the filling by 1/4, using 1 pound each squash and cream cheese, etc.), and adjust the baking time.

If you're looking for apple desserts, some options might include the Apple Custard Tart,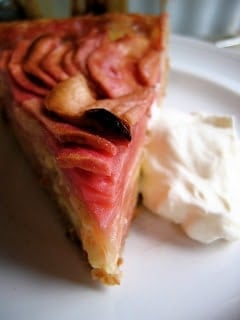 or Über Apple Upside-Down Cake.

The Apple-Huckleberry Pie could be made with fresh cranberries in place of the huckles;

ditto for the Apple Rhubarb Crisp.

Like rhubarb, cranberries have a tart and tangy bite which contrasts well with sweet, fleshy apples. Top any of these off with Dreamy Vanilla

or Green Cardamom ice cream,

or go crazy and try the Horchata ice cream.

Moving on to savories, you might begin the evening with Winter Squash and Sage Gougeres.

You might make a Pumpkin Challah for a Shabbat Thanksgiving; otherwise, the dough can be shaped into individual, goyishe rolls; just weigh out 1 1/2 ounce balls of dough and shape them into tiny boules.

Oven Roasted Potatoes and Parsnips could make a crispy change to the standard mashers.

If you're a vegetarian looking for an indulgent entree, you could make a Roasted Squash Tart, with Sage, Goat Cheese, and Truffle Oil,

or Baked Mac and Cheese with Squash, Kale and Cauliflower for your main course.

Whatever you eat, I hope you all have a lovely and tasty Thanksgiving!
Check Out These Other Holiday Recipes