Tart cherry compote, tangy whipped yogurt, and caramelized crunchy meringue studded with toasted nuts and seeds makes this tart cherry Eton mess an easy summertime dessert winner.
Pavlova, Eton Mess, macarons, and other meringue-based desserts are usually on my no-fly list – I almost always find them overly sweet, bland, and texturally lacking. Unfortunately for me, meringues are cheap, easy to make, and naturally gluten-free, so I'm often stuck with the aforementioned sweets as the only dessert option at restaurants and bakeries.
Despite all this, I've been Eton mess curious for some time now. Eton mess is the unbuttoned brethren of the pavlova – crumbled meringues layered with whipped cream and usually berries, served up in a glass or bowl with a spoon. The sweet originates from Eton College in the late 1800's and is traditionally served at cricket matches. The anglophile in me has ogled many an Eton mess, but my meringue-phobia has always steered me away. However, this tart cherry Eton mess breaks a few rules, all of which add up to a dessert I'd gladly eat any day.
Last week, my dear friend Bebe brought me a bag of fresh tart cherries found at a local market and they turned out to be the ideal fruit for Eton mess, their sour taste offsetting the natural sweetness of meringues and cream. Inspired by their common use in Eastern European desserts, I added toasted almonds and poppy seeds to the meringues. I whipped up a standard meringue recipe, put the meringue into the oven, and went to work pitting a thousand tiny tart cherries.
Half an hour later I opened the oven door to find my meringue shamefully golden. The temperature had been too high and the meringue spread too thin – rookie mistakes! I turned the oven down and kept baking the meringue, but I also made up another batch and cooked it at a lower temperature to keep it properly ivory. When they were done, Jay and I sampled both meringues and found that we vastly preferred the golden one for its complex, caramelized flavor. My meringue fail turned into an Eton mess success!
These crunchy, caramelized meringues get flavor from toasted almonds and pretty poppy seeds, and they make a beautiful foil for tangy whipped Greek yogurt and a simple tart cherry compote. You can make all the components up to 2 days ahead, which means you can easily serve tart cherry Eton mess up at parties and pot lucks.
When you taste tart cherries, you understand where artificial cherry flavor comes from. Assertively tart, they're not much good on their own, but sugar and heat brings out the uniqueness of their flavor and they add beautiful acidity to desserts for those of us who like a bit of zip in our sweets. Tart cherries are nearly impossible to find here in California. I saw them once, frozen, at my local Whole Foods several years ago, and never again since. Check farmers markets and ethnic food stores throughout June and July and you may luck out. They're smaller than your average sweet cherry, and they also go by "sour cherries."
If you can't find tart cherries, you can easily make the compote with sweet cherries instead, decreasing the sugar if you like. I can also imagine these messes made with the rosy rhubarb compote in Alternative Baker, or you could try a combination of cherries and rhubarb cooked together to imitate the tart cherry flavor. Or take this Eton mess in a more traditional direction with macerated summer berries of any stripe.
If you do stumble upon a hoard of tart cherries, give this tart cherry Eton mess a try. Or do what my friend Krista did and use them to bake up five (5!) of the cherry cacao nib crisps from Alternative Baker. Just be sure to put someone else in charge of pitting the little buggers!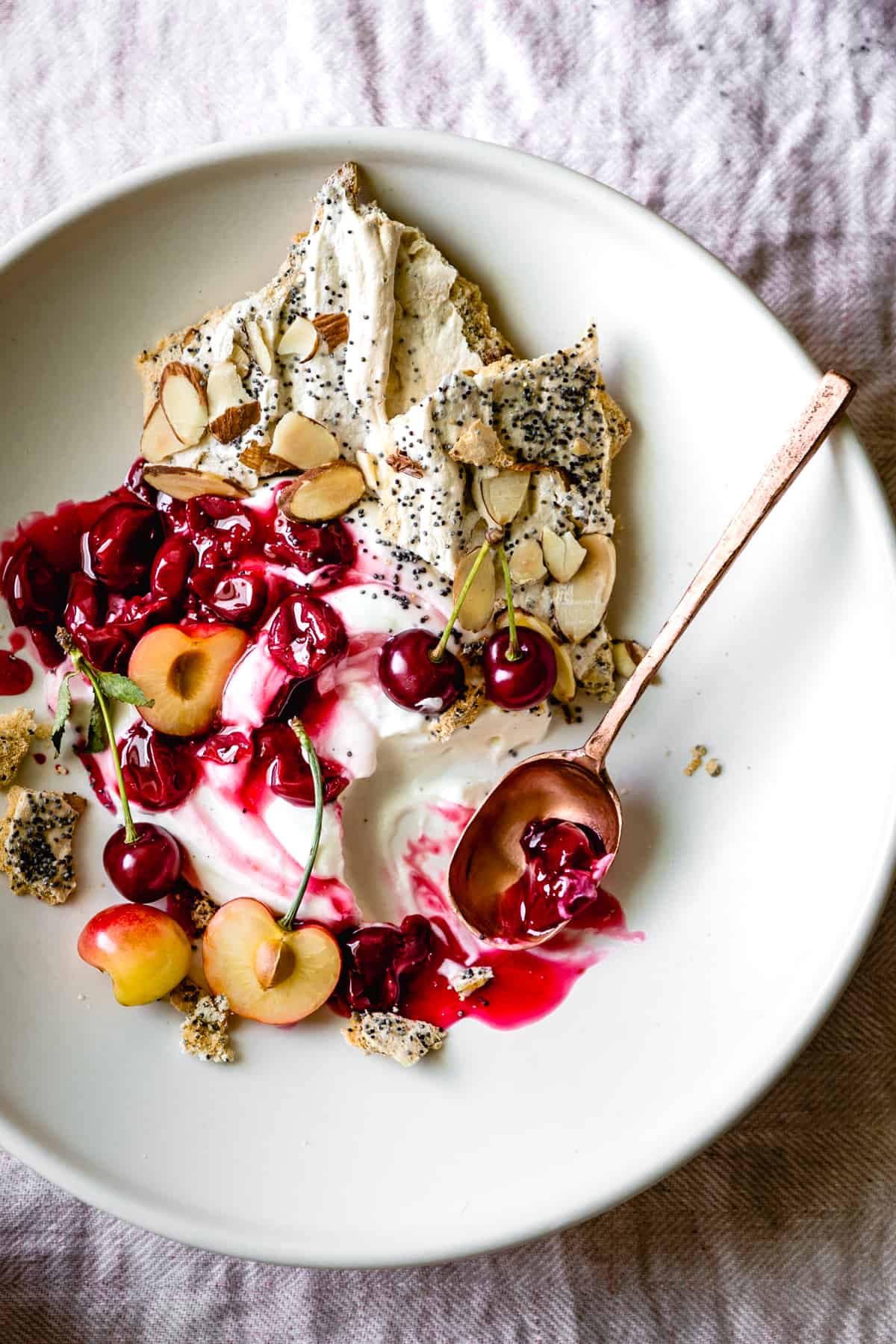 More Cherry Recipes:
*Bojon appétit! For more Bojon Gourmet in your life, follow along on Instagram, Facebook, or Pinterest, purchase my gluten-free cookbook Alternative Baker, or subscribe to receive new posts via email. And if you make this tart cherry eton mess, I'd love to see. Tag your Instagram snaps @The_Bojon_Gourmet and #bojongourmet. Shoutout to my girl Renee who also made a tart cherry eton mess success story out of failed meringues.*
Tart Cherry Eton Mess with Poppy Seed Almond Meringues
Print Recipe
Pin Recipe
This Eton mess gets layers of flavor from tangy whipped yogurt, tart cherries, and toasted nuts.
Ingredients
Meringue:
2

large egg whites, at room temperature

pinch

salt

¼

teaspoon

cream of tartar

½

cup

(100 g) organic granulated sugar

¼

teaspoon

vanilla extract

1/8

teaspoon

almond extract (alcohol-based)

½

cup

(55 g) sliced almonds, plus more for sprinkling (toasted and cooled)

2

tablespoons

(20 g) poppy seeds, plus more for sprinkling
Cherries:
¼

cup

(50 g) organic granulated sugar

1 ½

teaspoons

cornstarch

1 ½

cups

(8 ounces) pitted sour cherries (or frozen) plus some whole cherries for garnish

¼

cup

(60 ml) water

fresh sweet cherries, for garnish
Cream:
½

cup

heavy cream

¾

cup

full-fat greek yogurt

1

tablespoon

organic granulated sugar

½

teaspoon

vanilla paste
Instructions
Make the meringue:
Position a rack in the center of the oven and preheat to 300ºF. In the bowl of a stand mixer fitted with the whip attachment, beat the egg whites, salt, and cream of tartar on medium-high speed until foamy, 1 minute. Increase the speed to medium high and gradually sprinkle in the sugar. Beat until the mixture is glossy and holds stiff peaks, 3-5 minutes. Turn the mixer to low and beat in the vanilla and almond extract just until combined. Remove the bowl from the mixer and sprinkle the almonds, poppy seeds, and almond extract over the meringue. Gently fold in until just combined.

Dab a little meringue on four corners on the underside of the parchment paper to glue it to the pan. Spread the meringue into scant ½ inch thick oval. Sprinkle with extra almonds and poppy seeds.

Place the meringue in the oven and bake for 20-30 minutes, or until the meringue is light golden. Lower the oven to 250ºF and bake until the meringue is firm to the touch, 30-45 minutes longer, watching the meringue closely and lowering the oven temperature further if it seems to be browning too much. Turn the oven off, prop the door open with a wooden spoon, and let the meringue cool to room temperature, 30-60 minutes. Break the meringue into large shards – it should taste slightly caramelized and be crisp and dry throughout. Store airtight at room temperature for up to 1 week until ready to use. If the meringue becomes soft, you can crisp it back up in a low oven.
Make the cherries:
In a large saucepan, stir together the sugar and cornstarch. Add the cherries and water and toss to combine. Place over medium heat and bring to a simmer, then reduce the heat to maintain a gentle simmer and cook, stirring frequently, until the juices have thickened to a sauce, 10-15 minutes. Chill the cherries until cold, 1-2 hours and up to 1-2 days.
Make the cream:
Place the cream, yogurt, sugar, and vanilla in the bowl of a stand mixer fitted with the whip attachment. Whip on high until the cream holds soft peaks, being careful not to overwhip. (If you do take it too far and the cream starts to clump up, you can gently fold in fresh heavy cream to loosen up the mixture.) Use right away, or chill for up to 2 days.

To serve, divide the whipped yogurt cream among 4 shallow bowls. Spoon the cherry compote over the cream and swirl once or twice with the back of a small spoon. Tuck meringue shards beside the cream or crumble them over the top. Decorate the bowls with sweet cherries (halved and pitted if you like) and a few sliced almonds and poppy seeds. Serve right away.
Notes
Each component can be made at least 2 days ahead and the desserts are easily assembled to order making it a dessert well-suited to parties.
You'll likely have extra meringue, so if you're increasing the recipe for a crowd, you won't necessarily need to double the meringue for each batch.
If you don't have access to tart cherries, feel free to make this with sweet cherries instead; see the post above for some more substitution ideas.
Nutritional values are based on one of four servings.
Nutrition
Calories:
495
kcal
Carbohydrates:
68
g
Protein:
11
g
Fat:
22
g
Saturated Fat:
8
g
Cholesterol:
43
mg
Sodium:
66
mg
Potassium:
379
mg
Fiber:
4
g
Sugar:
43
g
Vitamin A:
1125
IU
Vitamin C:
1.9
mg
Calcium:
182
mg
Iron:
2.4
mg