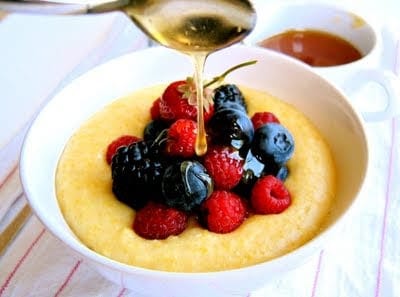 Berries and corn, corn and berries. That is all I want to eat right now. (And figs. And eggplant. And… Ok, basically I just want to walk around Rainbow's produce section with my mouth open, shoving everything I see into it.)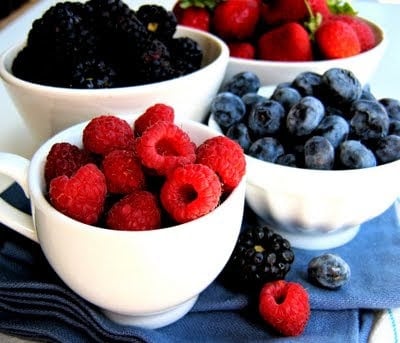 I told you about Jay's favorite breakfast, which had a nearly disastrous effect on my camera, so now I'm happy to share my own.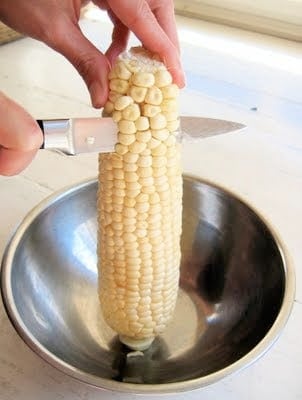 I once saw a recipe in a book for a sweet corn and berry coffeecake. It looked so good, with not only cornmeal in the batter, but sweet corn kernels, too. The berries tucked inside glistened like burgundy and crimson jewels, and the cake looked so moist and tender that it practically buckled beneath the weight of the abundant fruit.
I did not buy the book. That was a mistake.
Little did I know that the memory of that photograph would haunt me for the next three summers, as berries and corn paraded through the markets. The memory of the photograph would, but not, sadly, the memory of which book I saw it in.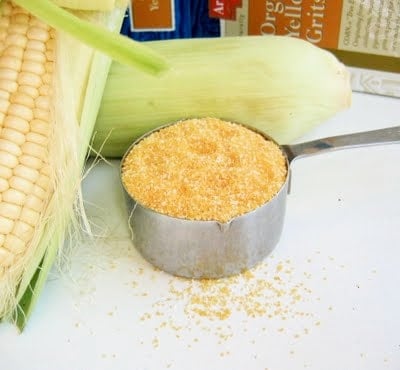 So I did what any obsessed baker would: I googled. And though I found plenty of 'sweet corn berry coffeecakes,' none actually contained sweet corn.
A few of the recipes I found were based on one from Deborah Madison's Vegetarian Cooking for Everyone, one of my very favorite cookbooks, so I made it. But it wasn't as moist and tender as the one from the mystery book looked.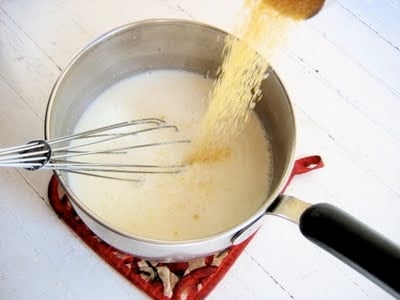 So I put the coffeecake from my mind, and began thinking of other ways to combine corn and berries. There was a sweet corn custard from another DM book, Local Flavors, or this sweet corn ice cream. But I wanted something more breakfast-y.
The other day at work, I watched as one of the prep cooks made tamales verdes by whizzing sweet corn kernels, water and cilantro in a blender, then stirring them into the masa harina, a finely ground meal made from corn treated with lime. I tasted the dough, which was sweet and toothsome, and then I imagined this breakfast.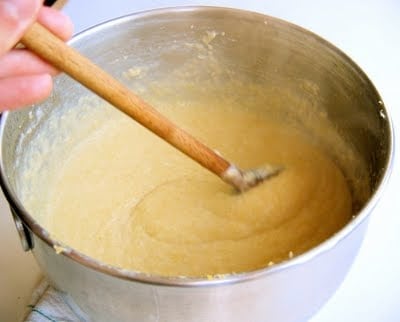 I blended some corn kernels with half and half, then combined it with water and yellow grits, which I cooked on the stovetop until creamy-soft. I originally thought that maple syrup would go nicely with the new-world flavors, but when I tasted it with the grits, it gave them a harsh bitterness. Honey turned out to be a better accompaniment, bringing forth the sweetness of the corn. The heat from the grits warmed the berries – a blend of rasp, straw, black and blue that I had on hand from adventures in pie-land – and their delicate tang played off the cereal. A splash of cold cream brought it all together. My first bite practically made me swoon; it tasted like edible sunshine.
It is all I ever want to eat.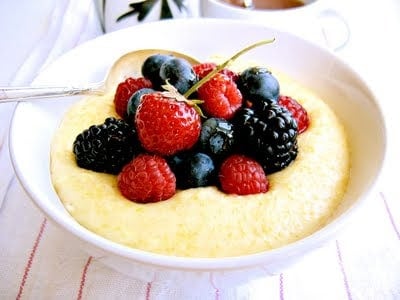 The flavors of summer, in a bowl.
Or at least, some of them.
Now off to the market to get some summer squash. And shell beans. And basil. And…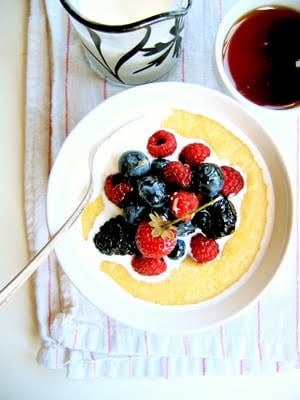 Breakfast time again:
Berry-Peach Oven Pancake
Corn and Scallion Griddle Cakes
Corn and Zucchini Crustless Skillet Quiche
Ricotta Pancakes with Summer Berries
One year ago:
Sweet Corn Grits with Berries and Honey
Makes 3 – 4 servings
I recommend using organic yellow grits, which can be found in healthy foody stores. Blackberries are especially luscious here, but all summer berries pair well with sweet corn. Use a good honey, preferably local, raw, wildflower for the best flavor.
2 ears of sweet corn, shucked
3/4 cup half and half (or a combination of whole milk and heavy cream)
2 cups water
2/3 cup corn grits (see headnote)
1/2 teaspoon salt
1 tablespoon honey, plus more for serving
1 cup berries (see headnote)
heavy cream, half and half or whole milk, for serving
Hold an ear of corn upright in a shallow-ish, medium-sized bowl, and cut the kernals off, letting them fall into the bowl. (Try to avoid hitting the knife on the bowl, as it is bad for the knife, and jarring to your arm.) Reverse your knife, and scrape the milk from the corn cob. Repeat with the second ear of corn.
Combine the corn kernels and scrapings with the half and half in a blender, and puree until fairly smooth.
Pour the milky corn goop into a medium saucepan with the water and salt. Bring the liquid to a simmer over medium-high heat, stirring occasionally, then whisk in the grits in a steady stream, stirring constantly. Bring the mixture to a low simmer, and cook, stirring continually, until the grits have thickened to your liking, and are soft and creamy to the bite, about 15 minutes.
Stir in 1 tablespoon of the honey. You can cover the pot at this point and let the grits sit until ready to eat, or serve immediately.
Spoon the grits into bowls, divide the berries among them, and top with a drizzle of honey and a splash of cream.
Extras can be kept in the fridge for up to several days, and reheat beautifully for breakfasts throughout the week.