I tried rum punch for the first time two summers ago. Some friends had rented a house in Santa Cruz, and Jay and I drove down for the day. There was a pool; or maybe it was just the rum punch making it seem like there should be. The punch looked like a layered sunset served up in a large tumbler full of ice. It contained multiple kinds of fruit juice – pomegranate, orange and lime – dark and light rums, and a bit of sparkling water. The fact that I had a nasty summer cold and had to give a vocal performance later that night didn't stop me from finishing my glass…and asking for another.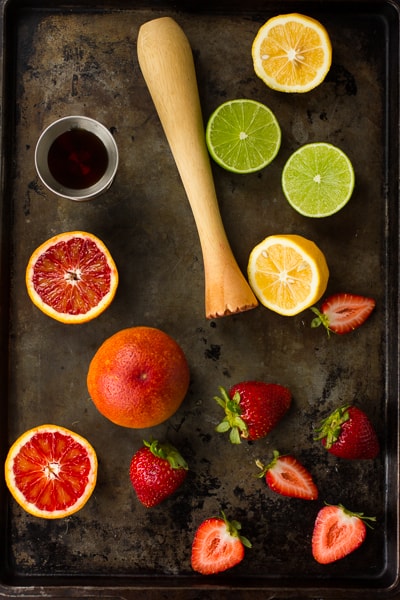 In the city, we definitely do not have a pool, and our outdoor space is limited to a tiny and inhospitable fire escape. On warm days, we open all the windows, close the blinds to keep the hot sun from streaming in, and use the weather as an excuse to sip icy beverages all day long.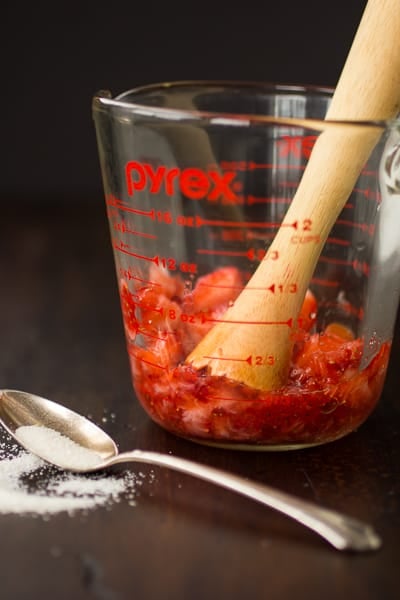 Oh, and by hot I mean 75ºF. This is San Francisco, after all.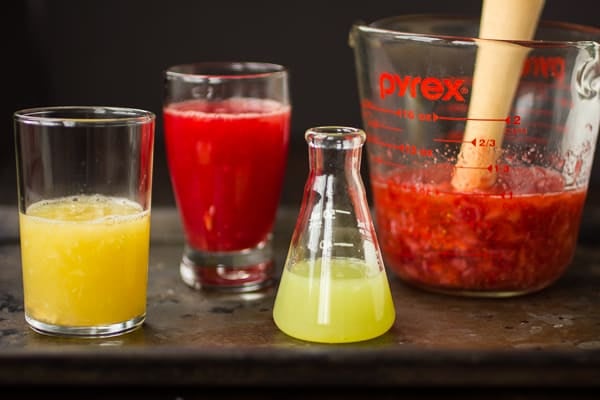 Since strawberries are hitting their stride just as blood oranges are beginning to dwindle, I decided to seize the season and mix the two together into this springy punch. It gets a touch of sweetness from sugar muddled with the berries, and some tartness from lemon and lime juices. The blood orange and berries create a vermillion-hued drink that is bright, a little tangy, and not too sweet. A splash of dark rum adds some deep molasses notes, while the light rum lets the flavors of the fruit sparkle. It tastes vaguely tropical, and very much like spring.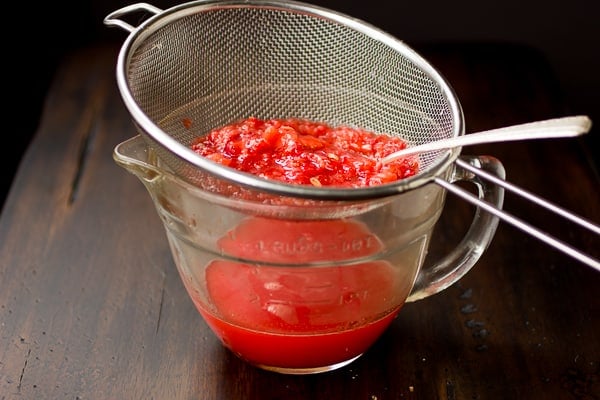 It makes me want to find the nearest swimming pool so that I can lie next to it, in the sun, sipping my rum punch.
Careful, though; this drink goes down easy, and it packs a punch.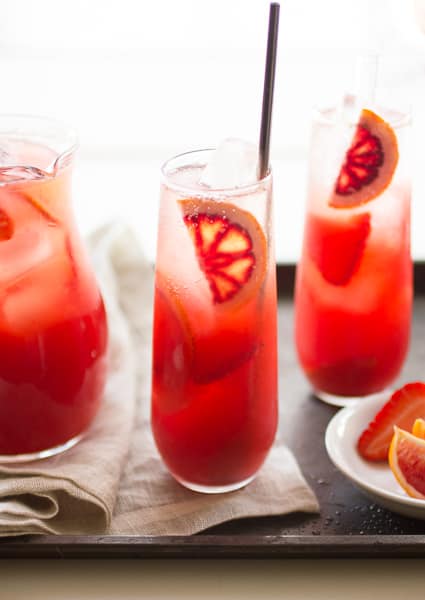 Punch Drunk:
Dark and Stormy
Bergamot Mojitos
Pink Grapefruit Vieux Mot
One year ago:
Two years ago:
Three years ago:
Bacon, Beer, Cheddar and Onion Scones
Strawberry Blood Orange Rum Punch
This recipe makes one drink, but it expands easily to fill a pitcher or punch bowl. Taste for sweetness before serving, as fruit can vary in sugar content. I juice the citrus and add it right to the strawberry muddle, then strain the whole thing, so the measurements here are for unstrained juice, which is a bit unconventional. If your juice is pre-strained, no worries; just add a little more sugar or simple syrup to taste if you want it sweeter.
I'm no rum expert, but the kinds I use here are Matusalem white rum and Gosling dark rum. All ounce measurements here are by volume.
Makes 1 drink
3-4 medium strawberries, hulled
1 1/2 teaspoons organic cane sugar
2 ounces (1/4 cup) blood orange juice (from 1 medium blood orange)
1 ounce (2 tablespoons) meyer lemon juice (or 1/2 ounce regular lemon juice)
1/2 ounce (1 tablespoon) lime juice
1 1/2 ounces (3 tablespoons) white rum
1/2 ounce (1 tablespoon) dark rum
ice
about 2 ounces sparkling water
strawberry and blood orange slices, for garnish
Place the strawberries and sugar in a jar, measuring cup, or cocktail shaker and muddle until the berries are broken down and the sugar is dissolved. Add the citrus juices, then strain the whole thing through a mesh sieve, pressing on the pulp to extract the juices. Discard the pulp.
Add the rums to the strained juice, then pour into a pint glass filled with ice. Top off with sparking water, garnish with strawberry and blood orange slices, and enjoy.