Miso adds depth of flavor to tangy buttermilk dressing – just the thing to slather on baby lettuces, snap peas, shaved fennel and radish, all crowned with custardy hard-cooked eggs and croutons.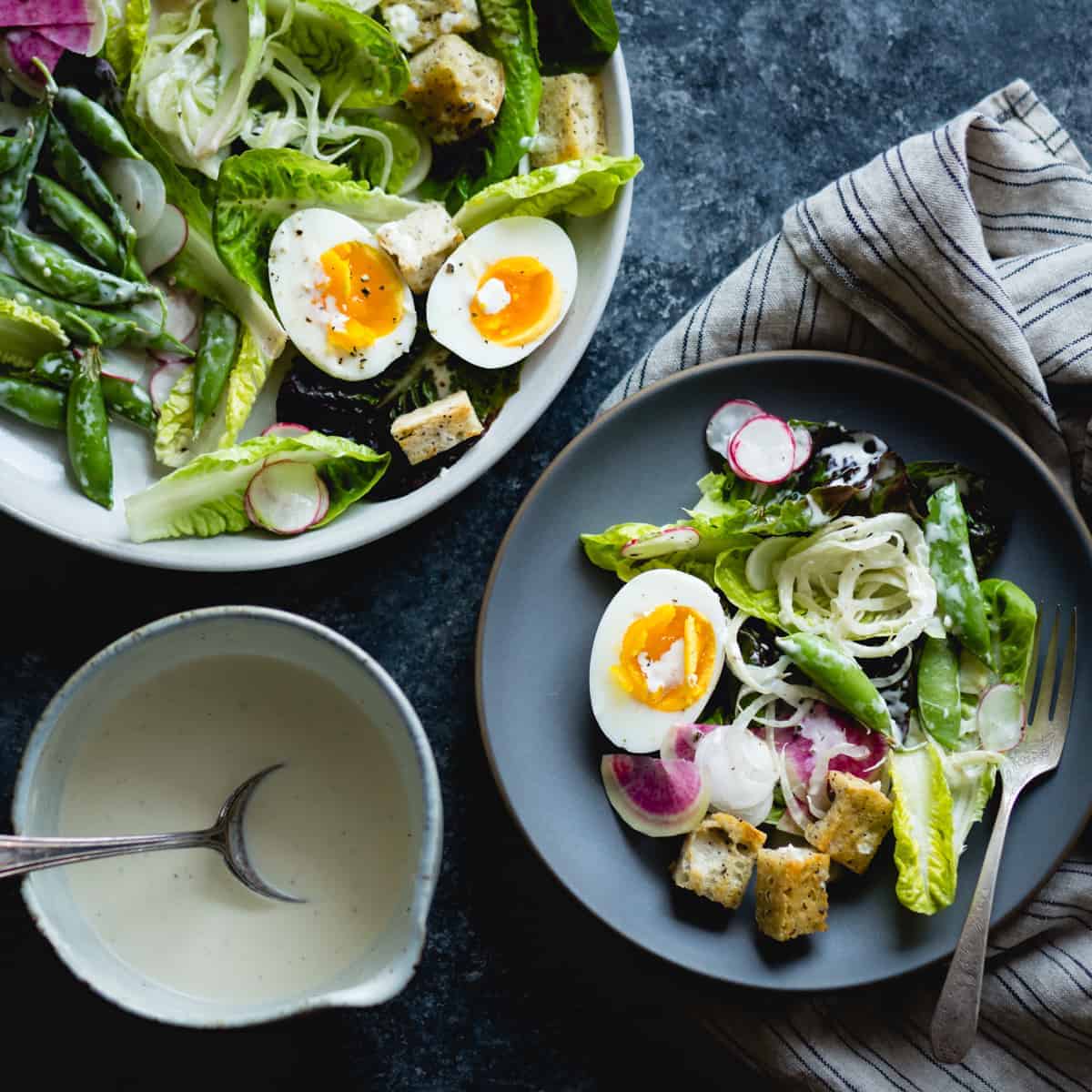 Spring seems to have sprung here in San Francisco. Foggy nights give way to sunny days, the air tinged with crispness. People smile more. Strangers are a little less mean (except when parking spaces are involved). The first of the spring things are popping up at markets: rosy rhubarb and berries, pristine baby lettuces, burgundy spring onions, and pale green garlic.
Outside of the city, the wildflowers are out in force, the hills are green, and the air has a buzz of excitement. I got to spend a day among the flowers last week with fellow foodie cat-ladies Emma and Jessica. We ate, talked about cooking, took in the vivid scenery, sipped sparkling wine on the terrace of a castle – just the usual day in wine country. It was easily the best Tuesday ever.
During a stop at Fremont Diner to line our bellies with hushpuppies, shakes, and avocado toast in preparation for the libations ahead, a conversation emerged about the various uses for miso. Not just relegated to soup, miso can go anywhere a bit of salty-sweet umami is desired, from brownies to ice cream to faux pâtés. A recent unexpected application was a salad that I enjoyed at Aster in December: a chiffonade of chicories coated in miso-buttermilk dressing.
After sipping some bubbles at Domaine Carneros (hint: if you go, skip the samplers and go straight to the Ultra Brut), we headed up to Scribe Winery to sample their dry riesling and watch the sun set over the vineyard.
It was hard to leave the winery, but dinner called in nearby Glen Ellen. At Glen Ellen Star, we devoured creamy tomato pizza, wood-fired sunchokes and cauliflower, and brown butter pecan ice cream. But first, a salad of spring greens topped with shaved radishes, croutons, and boiled eggs with soft yolks, all coated in a nap of creamy dressing. Emma took a bite and said, "This was a good idea." The simple salad acted as a brisk palate cleanser for the riches that came before and those that still lay ahead.
I've been toying with this miso-buttermilk dressing for the past couple of months, often on chicories with slices of apple and toasted pecans. A bit of white miso adds and extra layer of flavor, and the dressing, barely adapted fromadapted from Grace Parisi via Food & Wine, takes mere minutes to whip up. It goes equally well on crisp little gems and whatever crunchy spring vegetables you happen to have on hand. I'm currently loving a mix of sweet snap peas, herbaceous fennel shaved paper thin, and slices of radish, watermelon radish, and pungent Tokyo turnips. Eggs cooked until the whites are firm and the yolks are still a bit custardy add substance, as do warm croutons crisped in olive oil.
Whether you toss it all together or layer it on a platter, this salad will sing of spring. Serve as a light main dish for two, or as part of a larger spread for more.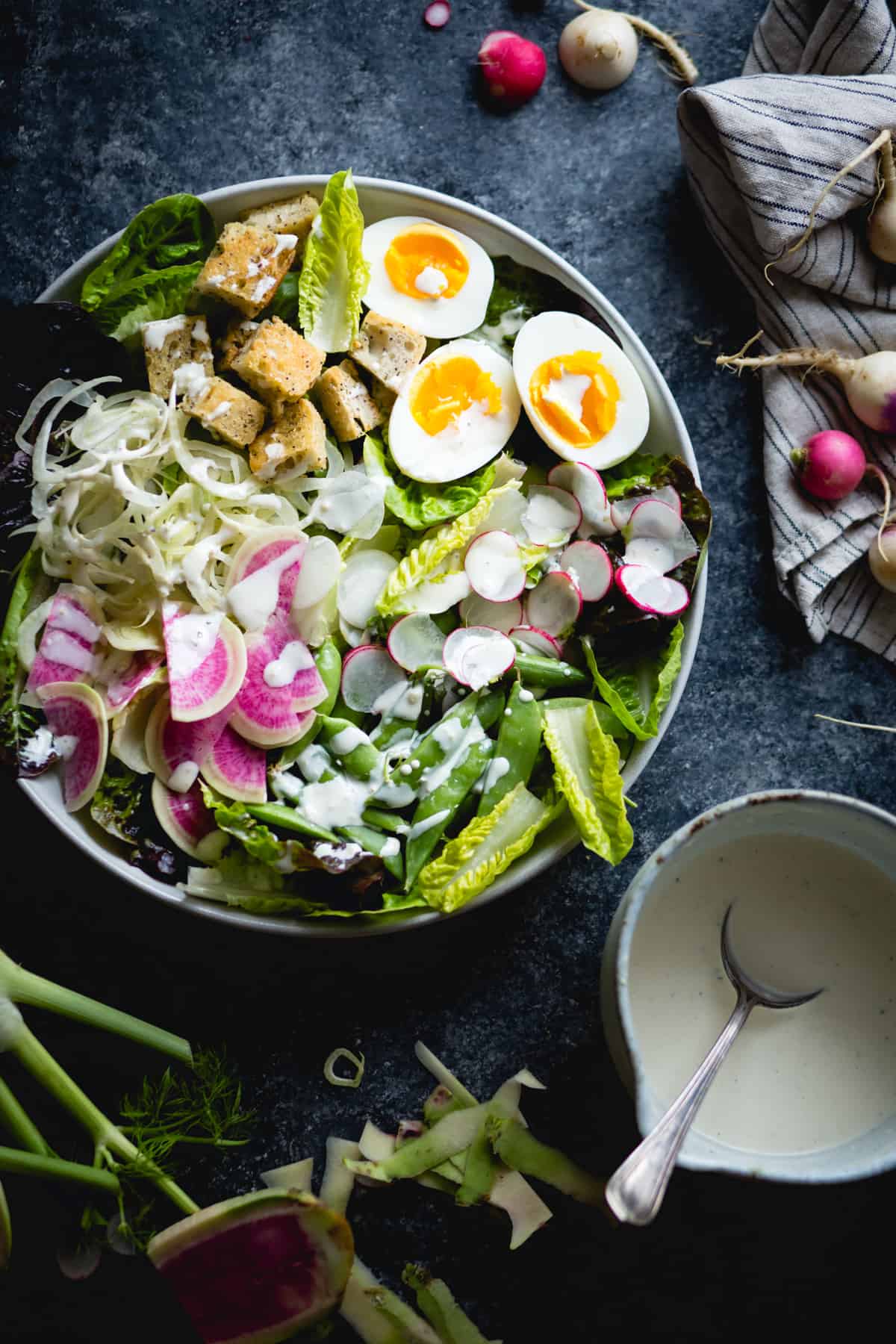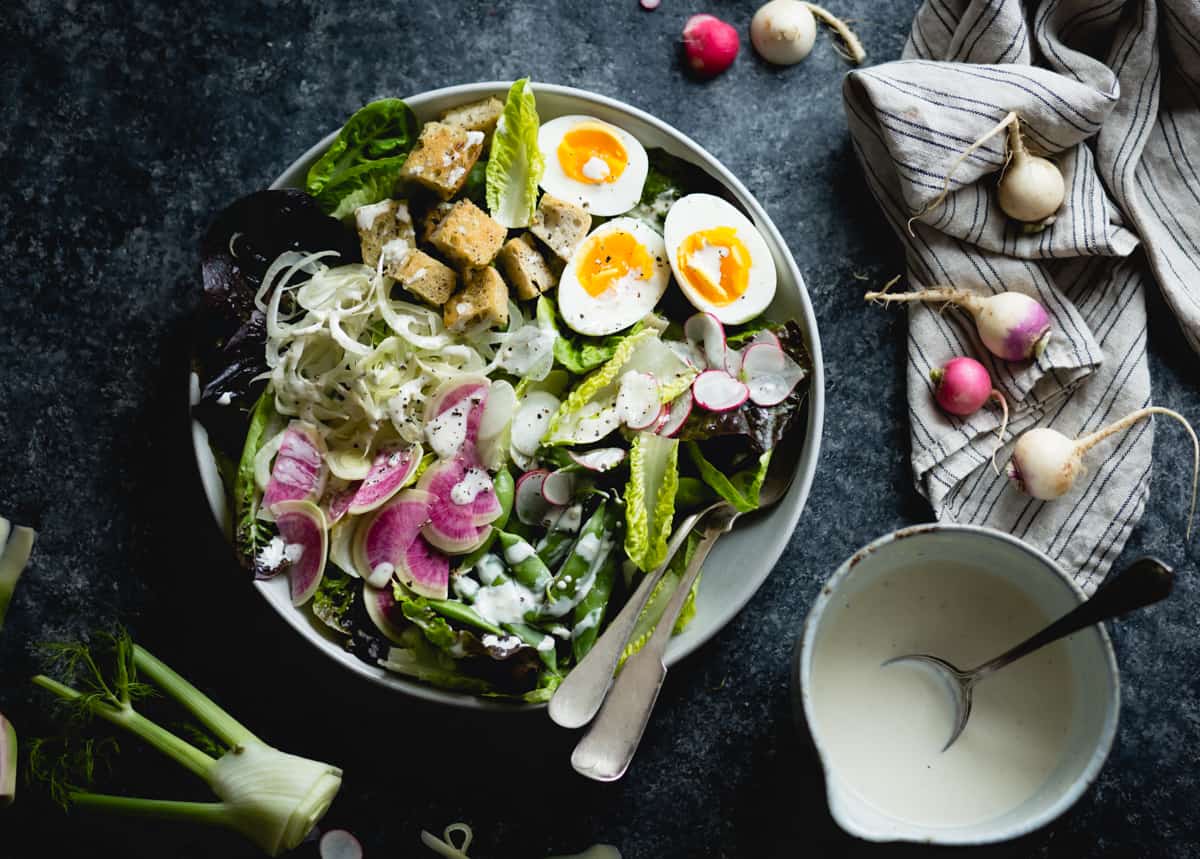 More Salad Recipes:
*Bojon appétit! For more Bojon Gourmet in your life, follow along on Instagram, Facebook, or Pinterest, purchase my gluten-free cookbook Alternative Baker, or subscribe to receive new posts via email. And if you make this spring greens salad recipe, I'd love to know. Leave a comment and rating below, and tag your Instagram snaps @The_Bojon_Gourmet and #bojongourmet.*
Spring Greens Salad with Miso-Buttermilk Dressing
Print Recipe
Pin Recipe
Miso adds depth of flavor to tangy buttermilk dressing – just the thing to slather on baby lettuces, snap peas, shaved fennel and radish, all crowned with custardy hard-cooked eggs and croutons.
Ingredients
Dressing (makes 1 cup):
1

medium garlic clove, pressed or minced

¼

teaspoon

fine sea salt

2

teaspoons

white miso paste

3

tablespoons

good mayonnaise

(45 ml)

3

tablespoons

sour cream

(45 ml)

1

tablespoon

rice vinegar

(15 ml)

¼

cup

buttermilk

(60 ml)

a few turns of black pepper
Salad:
3

large eggs

(preferably farmer's market quality and several days old for easier peeling)

2

thick slices crusty bread, cut into 1" cubes

(I use Bread Srsly Gluten-Free Seeded Sourdough)

1

tablespoon

olive oil

(15 ml)

~4 cups baby lettuce leaves (preferably little gems), washed and spun dry

1/2

of a medium fennel bulb, sliced paper-thin

(about 1/4 cup)

¼

cup

thinly sliced radish, watermelon radish, Tokyo turnips, or a combination

large handful snap peas, stems trimmed

flaky sea salt, such as Maldon

black pepper
Instructions
Make the dressing:
In a mortar and pestle, mash together the garlic with the salt and miso to form a paste. Work in the mayonnaise, then the sour cream, vinegar, buttermilk, and pepper, whisking until smooth. Cover and chill until needed.
Make the salad:
Place the eggs in a small saucepan and cover with cool water by an inch. Place over medium-high heat and bring to a rolling boil. Immediately remove from the heat, cover, and let stand 5-6 minutes. Drain the eggs and cover with ice and cold water to stop the cooking. Let stand at least 10 minutes, then carefully crack, peel, and rinse the eggs.

Heat the oil in a medium skillet set over medium heat. When it shimmers, add the bread cubes and cook until golden on each side, 1-2 minutes per side. Remove and let cool.

To assemble the salad, place the lettuce leaves on a large platter or in a large bowl and add the fennel, radish, and snap peas. Toss with 2-4 tablespoons dressing, to taste, a few pinches of flaky salt, and a turn or two of pepper. Cut the eggs in half lengthwise and place atop the salad along with the croutons, drizzled with a little more dressing. Serve immediately.
Notes
The salad measurements here are loose - just a guide. Feel free to throw in whatever you like.
You'll have enough dressing for several salads, and it keeps, refrigerated airtight, for up to a week.
Dressing adapted from Grace Parisi via Food & Wine.
Nutritional values are based on one of two servings.
Nutrition
Calories:
488
kcal
Carbohydrates:
28
g
Protein:
16
g
Fat:
35
g
Saturated Fat:
8
g
Cholesterol:
267
mg
Sodium:
999
mg
Potassium:
707
mg
Fiber:
6
g
Sugar:
8
g
Vitamin A:
1430
IU
Vitamin C:
19.6
mg
Calcium:
184
mg
Iron:
3.5
mg