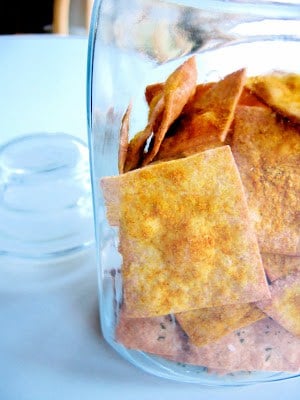 It was a revelation when I learned that baking crackers takes about the same effort as making sugar cookies. Of the many recipes I tried over the years, my favorite came from William's Sonoma Baking. The recipe was akin to making pie dough, using the biscuit method of cutting or rubbing butter and shortening into the dry ingredients, then adding enough heavy cream to make a firm dough. When I inherited a gorgeous sourdough starter, I began experimenting with baking sourdough crackers, mainly as a way of using up the constant barrage of starter I had. I tried a few different recipes with lackluster results. Most called for baking soda, which had the dually unpleasant effect of diminishing the delicious sourness of the dough, and creating a dry, brittle texture when reacting with the acidity of the starter. I decided to be brave and try something different. Using the WS recipe as a springboard, I swapped the shortening for all butter, and the heavy cream for sourdough starter. For extra flavor, I brushed the crackers with olive oil and a sprinkle of malden salt before putting them in the oven. They bubbled up beautifully in the oven, emerging as proud, rustic cracker perfection. Jay calls them "crackhead crackers," referring to their addictive qualities: crisp, flavorful, and an ideal accompaniment to any cheese or spread.
A few notes:
In this recipe, the sourdough starter acts more as a flavor enhancer than as a leavening, but the crackers do bubble up more than the original recipe. The resting dough may rise a bit from the starter, but it's fine if it doesn't, as the crackers get most of their leavening from the steam the butter gives off when it hits the heat of the oven. For this reason, the starter can be active and bubbly, or older and flat, just as long as it still smells and tastes pleasant. When I feed my starter in preparation for baking bread, I save what I pour off in a jar in the fridge. After a few feedings, I have enough to make these crackers. Weighing the starter will be more accurate than using a volume measure, since the bubbles will vary.
My starter is the consistency of a thick, pourable pancake batter. The amount of starter needed to bring the dough together will vary with the moisture content of each particular starter, so add it slowly, like adding ice water to pie dough, until the dough just comes together. The starter can be either cold or room temperature.
The dough can be made a couple days in advance and stored in the fridge, or frozen for a month or two. (The acidity from the starter can turn the dough grey if stored in the fridge for too long.) Bring the dough up to room temperature before rolling it out.
The baked crackers will keep for a couple weeks, stored in an airtight container. They can be topped with a variety of lovely things. Suggestions follow.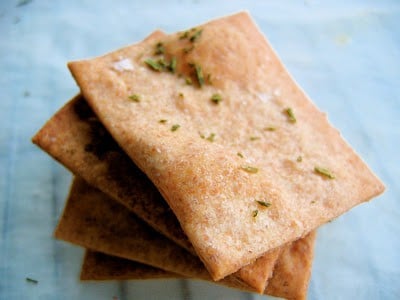 Spelty Sourdough Crackers
Makes 2-4 half-sheet pans of crackers, or approxamately 4 dozen large, or 6 dozen small
2 cups flour (whole spelt or whole wheat)
2 teaspoons sugar
1 1/2 teaspoons salt
4 Tablespoons cold, unsalted butter, cut into small cubes
1 to 1 1/2 cups (8 – 12 oz.) liquid starter*, or enough to make a firm dough
a few tablespoons olive oil for brushing
coarse sea salt (such as maldon) for sprinkling
In a medium bowl, combine the flour, sugar and salt. Rub in the butter until the mixture resembles cornmeal, and no large chunks remain. Gradually mix in the starter until the dough begins to clump together, adding more starter directly to the crumbly bits as necessary to make a very firm dough, similar in consistency to pie dough. Gather into a ball, and knead a few times to make sure the dough is homogenous.
Wrap in plastic wrap or a plastic bag, and let rest at room temperature for 20 minutes to and hour, or in the fridge for a day or two.
Preheat the oven to 350º. Line two half sheet pans or cookie sheets with parchment paper. Divide the dough in half, and keep one half covered with plastic while you work with the other. On a lightly floured surface, roll out the dough as thinly and evenly as you can without tearing it. Brush the crackers all over with a thin layer of olive oil and top with a light sprinkle of salt or any other desired topping (see below). Using a pizza wheel or large knife, cut the crackers into whatever shapes you like, such as rectangles, diamonds, or squares. Transfer crackers to the sheet pans and repeat with the second half of the dough.
Bake the crackers for about 15 minutes, rotating them front to back and top to bottom halfway through, or until they are golden brown. They will still be a bit soft, but will crisp up when they cool. If they are not crisp enough, return them to the oven. Let cool. Store in an airtight container for up to two weeks.
Other topping suggestions:
nutritional flake yeast and curry powder (pictured)
minced rosemary and black pepper
fresh thyme and lemon zest
grated parmesan and fresh oregano
smoked paprika and grated manchego
or
add a tablespoon of sesame, poppy, mustard or cumin seeds, or a combination to the dough, and top with more seeds
Serving suggestion:
Mix some fresh goat cheese with enough milk or heavy cream to make it spreadable. Add minced basil, lemon zest, salt and pepper to taste.