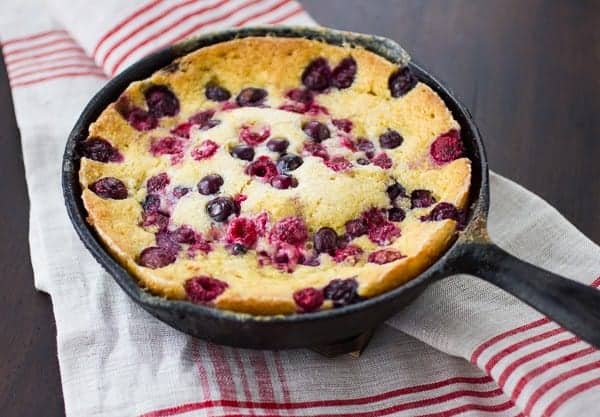 Our co-op carries the most delectable blackberry honey in bulk. Every time I pour the sticky, golden goo into a jar, I feel lucky. I tasted it for the first time last year while shopping for a shoot with food photographer Eric Wolfinger. (Talk about feeling lucky!) He poured some honey into a cup and took a taste. His eyes widened and he exclaimed, "WHAT is going on with this honey?!" I tasted a drop and wondered the same thing.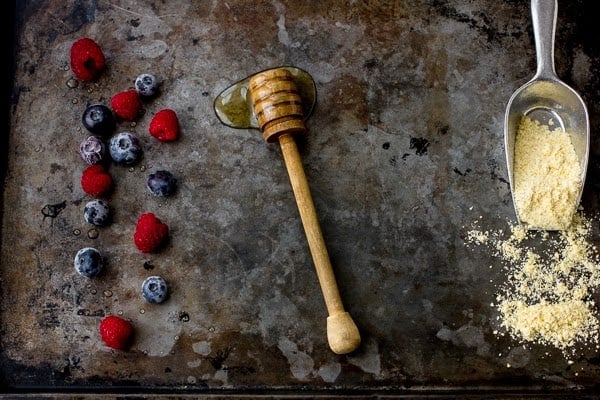 This honey is insanely good. It tastes like magic. You don't expect the flavor of ripe, summer blackberries to come through, but it does. It's always crystal clear and the color of amber.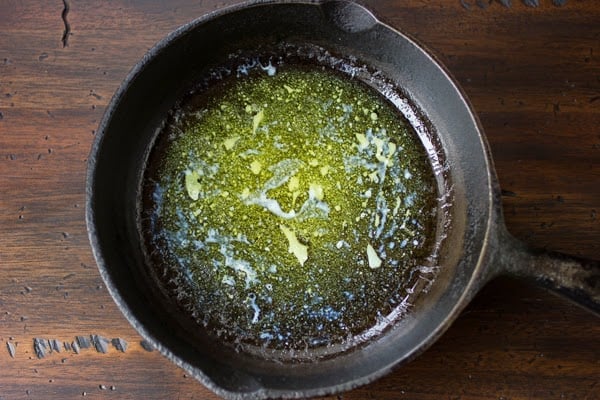 Since then, I've been using a lot of honey. We stir it into our tea every morning, drizzle it over granola bowls and tarts, and shake it into cocktails.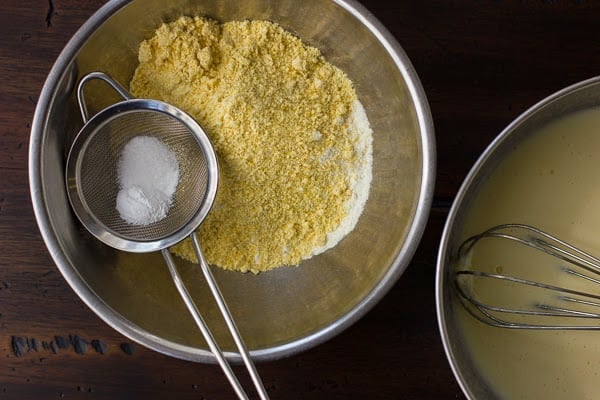 I used it to sweeten a skilletful of Marion Cunningham's famous custard cornbread, as adapted by Deborah Madison in Vegetarian Cooking for Everyone, in which a buttermilk cornbread batter gets topped with heavy cream and baked, forming a layer of rich custard and keeping the bread insanely tender. I scattered a mess of summer berries over the top, and finished it with a drizzle of honey.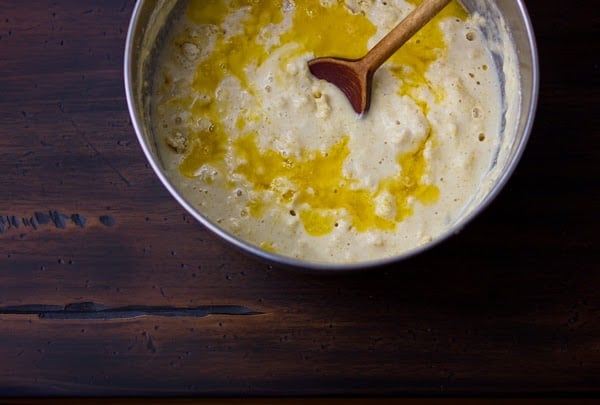 I actually botched the recipe by adding only a half cup of buttermilk instead of the full cup. I didn't realize this until, copying the recipe from my notes, I noticed that 1 cup of buttermilk doesn't weigh 4 ounces. This explained why the cornbread wasn't as custardy as I had expected it to be. I remade it with the correct amount of buttermilk, but all the berries sank to the bottom, and the bread baked up flat, dense, and overly moist.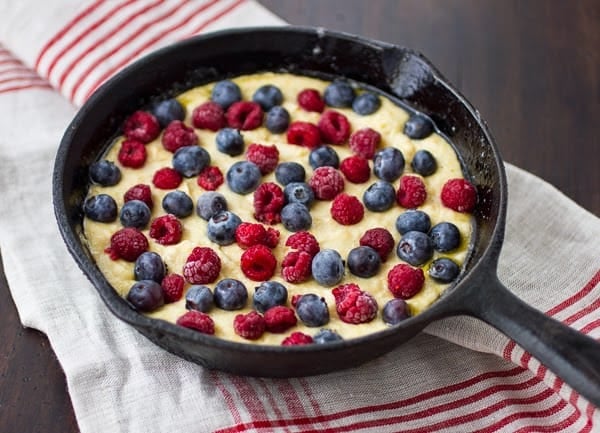 With the added moisture from the berries, the lesser amount of buttermilk turned out to be key. It bakes into the lightest, springiest cornbread, ever. Jammy pockets of berries brighten the landscape of stone-ground yellow cornmeal, and a bit of thickened cream likes to gather on the bottom of the pan. A lick of honey on top adds a touch of necessary sweetness. I used blueberries and raspberries, but I think blackberries and/or cherries would be tasty, too.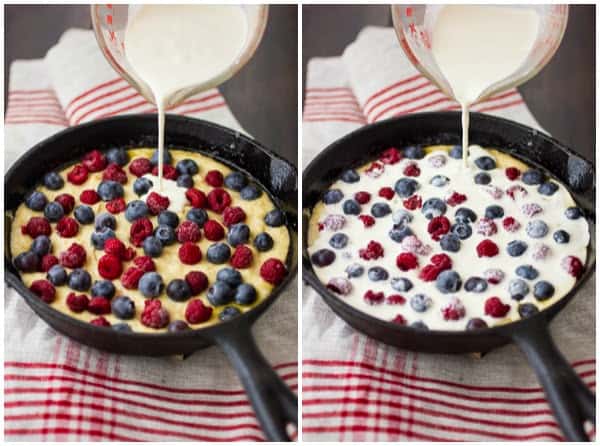 The batter comes together in the time it takes to preheat the oven, which means you can have breakfast ready in just over an hour, including cooling time. Eat a slice warm from the oven, and I think you'll feel pretty lucky yourself. I sure did.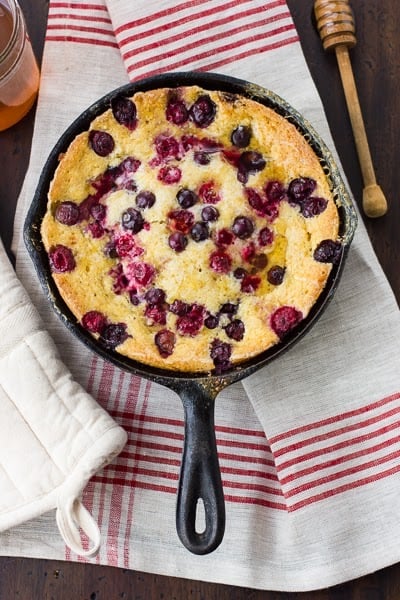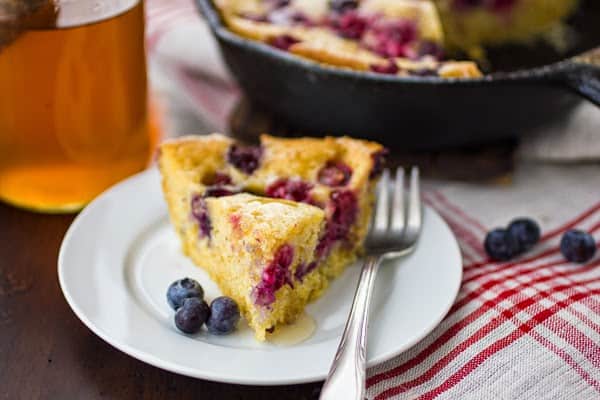 Berries for breakfast:
Berry Peach Oven Pancake
Sweet Corn Grits with Berries and Honey
Maple Blueberry Buckwheat Scones
Huckleberry Sprouted Wheat Pancakes
Skillet Custard Cornbread with Berries and Honey
Adapted from Vegetarian Cooking for Everyone
This makes enough cornbread to fill an 8-inch skillet with 1 3/4-inch high sides. If you don't have an oven-safe skillet, bake the batter in an 8- or 9-inch round, or 8-inch square, pan. You can also double the recipe and bake it in a 10-inch skillet.
Both fresh and frozen berries work fine here; if using frozen berries, no need to defrost them first. If you lack buttermilk, you can probably use whole milk or plain, runny yogurt (or a combination) in its place. And if you need a way to use up the leftover buttermilk, try this pie or these biscuits. Since cornmeal can go rancid and taste bitter, I recommend buying only what you need as you need it, and storing it at room temperature for no more than a few months. I use blackberry honey here, but any flavorful, runny honey will do the trick.
All ounce measurements here are by weight.
Makes 4-6 servings
For the cornbread:
2 tablespoons (1 ounce) unsalted butter
1/2 cup (2 1/2 ounces) all-purpose flour
1/2 cup (2 1/2 ounces) stone ground yellow cornmeal
1/2 teaspoon baking powder
1/4 teaspoon baking soda
1/4 teaspoon fine sea salt
1 large egg
1/2 cup (4 ounces) well-shaken buttermilk
2 tablespoons (1 1/4 ounces) honey (blackberry), plus extra for drizzling
1/2 teaspoon vanilla extract
1/2 cup raspberries
1/2 cup blueberries
1/2 cup (4 ounces) heavy cream
Make the cornbread:
Position a rack in the center of the oven and preheat to 375ºF.
Place the butter in a 8″ oven-proof skillet with 2″ high sides (or use an 8- or 9″ round baking pan, or an 8″ square baking pan). Place in the oven to melt, about 3 minutes.
Meanwhile, in a medium bowl, sift or whisk together the flour, cornmeal, baking powder, baking soda, and salt.
In another medium bowl, whisk together the egg, buttermilk, honey, and vanilla extract.
Stir the flour mixture into the egg mixture until almost combined. Brush some of the melted butter up the sides of the pan, and add the rest to the batter, stirring until just combined.
Scrape the batter into the hot, buttery pan and spread into an even layer. Place the berries evenly over the top. Pour the cream over the berries and batter – don't stir it in. It will sink into the batter as it bakes.
Place the skillet on a rimmed baking sheet to catch any drips. Bake the cornbread until the edges are golden and pulling away from the sides of the pan, and a tester inserted near the center comes out clean, 20-30 minutes.
Let the cornbread cool for at least 20 minutes. Drizzle the top with a few spoonfuls of honey. Cut into wedges and serve warm.
The cornbread will keep, refrigerated, for up to 3 days. Reheat in an oven or toaster oven until warm.
Variation: Extra-Custardy Skillet Cornbread with Berries and Honey
After I thoroughly trashed the über-custardy version above, it's kind of grown on me. Make this version by using a full cup of buttermilk in place of the half cup in the recipe above. I like this one best chilled and then re-heated in a 300º oven or toaster oven, as it gives the starches time to absorb the excess moisture.