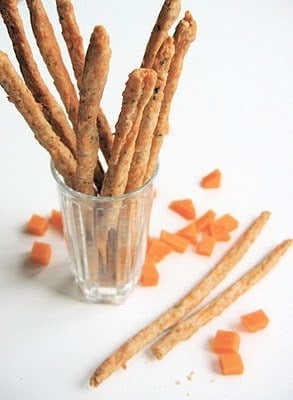 Growing up in LA, I was bound to meet many interesting people. On a camping trip in my late teens, I chatted with a friend of a friend who described trying crack cocaine for the first (and luckily, last) time. He said the high was so pleasurable and so fleeting, that had he any money at all he would have spent every last cent of it on more crack without giving it a second thought.

While I've never tried the stuff, I do pride myself on not having a particularly addictive personality. Certainly the thought of never eating chocolate again would make me weep with regret, and I did stay up until 4 a.m. every night while reading a certain series of paranormal teen chick lit which shall remain nameless.

But when Jay and I munched our way through seconds, thirds, and eventually… elevenths of these cheesy straws, we dubbed them 'crack sticks,' in reference to their addictive properties.

The straws were destined for a cast party, and shortly after setting them out on the table next to the pretzels, pita and hummus, three separate lithe dancers sauntered up and confided that it was taking all of their willpower not to run away with the rest.

The straws come from Jerry Traunfeld's gorgeous book The Herbal Kitchen, an accessible collection of delectable recipes all containing liberal amounts of fresh herbs. When I saw the photo of the green and gold-flecked sticks nestled next to a Sage Rush cocktail, I knew I would have to make them straight away.

For undisclosed reasons, I have come into a rather large sum of bright orangemimolette cheese cubes. Aged for 18 months, it is similar in texture to a parmesan or aged cheddar but with a milder flavor more closely resembling the mellow nuttiness of a gruyere.

As the recipe originally called for gruyere, I thought it the perfect opportunity to give the cheese straws a try. The dough came together as quickly as pie dough or scones, rested in the fridge for 15 minutes, and was easily rolled out, sliced, and rolled into straws. Twenty minutes later they emerged from the oven in all their cheesy glory, every bit as addictive as one might imagine. Crisp, salty, and savory, they are satisfying to munch on with a glass of beer, Prosecco, or perhaps a gin and tonic.

This recipe seems infinitely adaptable. Try using a different hard cheese for the mimolette, switching up the herbs, and optionally using other flours in place of the rye, such as kamut, cornmeal, or buckwheat. Other combinations I'm plotting are:
rosemary asiago
parmesan with lemon zest and cracked pepper
dry jack and smoked paprika
manchego and chile flakes
sharp cheddar with poppy seeds
gruyere with truffle oil

However you decide to gussy them up, resist the urge to hoard these tasty treats all to yourself. Bring them to a potluck, arrange them in a cup, and watch them disappear.You might consider telling people, 'the first one's free…'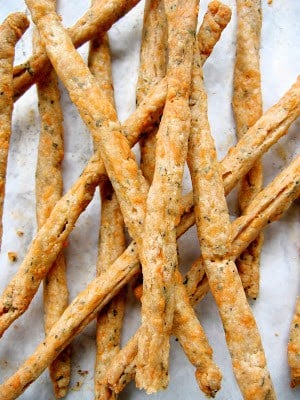 Luckily, unlike the real thing, a 'crack stick' habit won't set you back your life's savings. And the high lasts a bit longer, too.
Say cheese:
Squash and Sage Gougeres
Cheddar Herb Biscuits
Bacon, Smoked Cheddar and Beer Scones
One year ago:
Triple Ginger Molasses Cookies, Three Ways
Herby Cheese Straws
Adapted from The Herbal Kitchen
Makes 4 dozen
Use any hard cheese that you like the taste of in place of the Mimolette, such as gruyere, aged cheddar, asiago, dry jack, or manchego. For some possible variations, see the above post.
1 cup all purpose flour
1/2 cup rye, spelt, or whole wheat flour
1 teaspoon salt (kosher or sea)
2 tablespoons finely chopped sage leaves
1 tablespoon finely chopped thyme leaves
1 stick (4 ounces, 8 tablespoons) unsalted butter, cold, cut into 1/4″ dice
3 ounces Mimolette, or other hard cheese (see headnote), shredded on the medium side of a box grater (1 cup)
1/2 cup ice water
In a large bowl, combine the flours, salt and herbs. Add the butter, and rub with your fingertips until the mixture resembles coarse meal, with some barley-sized butter bits remaining. (Alternately, you can do this in a food processor or stand mixer, but add in the water by hand to avoid over-processing.) Toss in the shredded cheese, then sprinkle in the water bit by bit, tossing with your fingers or a wooden spoon, until the dough begins to clump together and no loose, floury bits remain. (You may not need all the water.) Gather the dough into an oblong, flatten into a disc, wrap in plastic, and chill for 15 minutes. (You can probably chill it for up to a couple of days, if you like, or freeze for up to a couple of months. If you do either, let the dough stand at room temp until soft enough to roll out.)
Position racks in the upper and lower thirds of the oven, and preheat to 400º. Line two sheet pans with parchment paper.
Lightly dust a work surface with rye flour, and roll out the dough into a rectangle with a long side facing you, about 5 x 24″ and 1/4″ thick. Using a pizza wheel or chef's knife, cut into 1/2″ wide strips. Roll the strips under your fingers into straws, lengthening them to about 10″ long, and place on the pan an inch or so apart.
Bake the straws until golden brown, 18 – 22 minutes, rotating front to back and top to bottom halfway through. Let cool completely on the pans (they will crisp up as they cool), then store in an airtight container.
These are awesome on the day they are baked, and will keep, in an airtight container at room temperature, for a day or two. You can re-crisp them in a 300º oven if they soften.