A creamy, roasted tomato soup recipe made with yellow heirloom tomatoes and topped with a piquant green harissa and croutons of pan-fried halloumi cheese.Gluten-free with vegan options.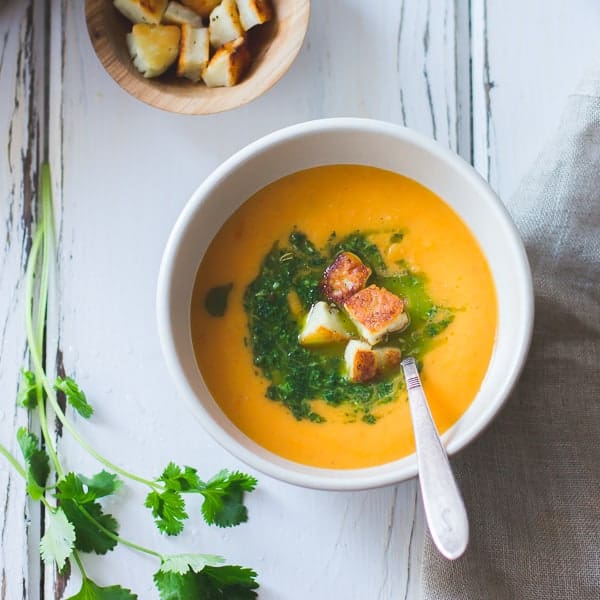 Jay and I have beef about tomatoes, or at least we used to. I really shouldn't complain; on the scale of things to fight over with your partner, tomatoes rank down by the relatively harmless, such as whether to eat salad and tacos for every meal ever, or whether one person failing to refill a half-empty ice tray gives the other person grounds to call the first person a psychopath.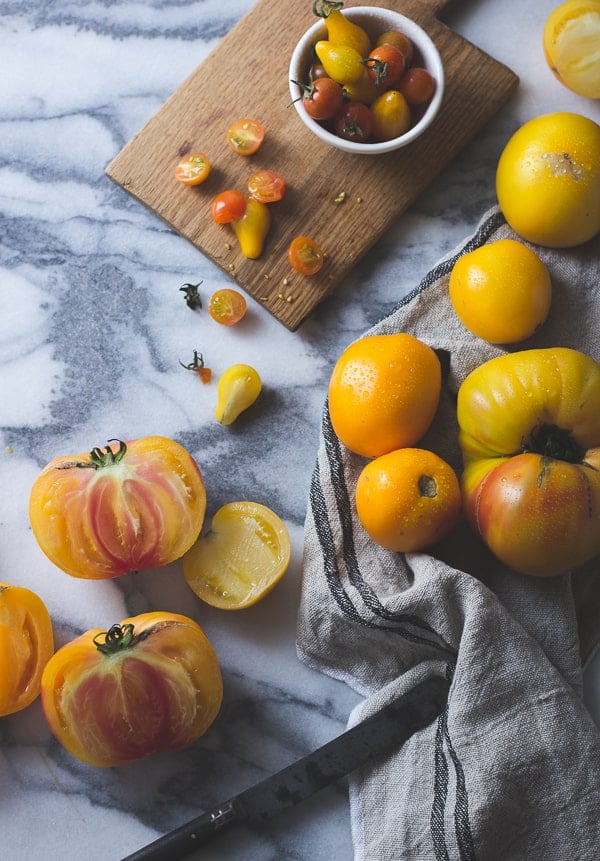 Anyway, once Jay discovered dry-farmed Early Girls, he turned his back on heirlooms. I don't entirely blame him (though clearly I have yet to forgive the ice tray incident). Early Girls are consistently sweet, with dense flesh and tons of tomato flavor. They're perfect for sauces, soups, and for eating in salads and on tacos (just not for every meal ever). Plus they're small, and easy to use up in a sandwich in one go.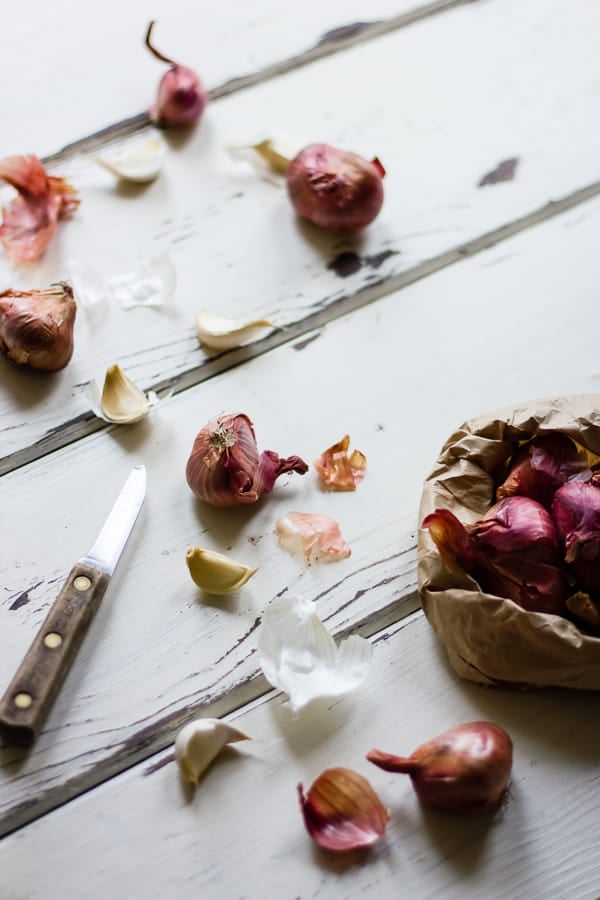 But last year toward the end of tomato season, I found I could no longer resist the pull of the brightly hued, irregularly shaped heirlooms, and I picked out the biggest yellow tomato I could find. When Jay saw my plan, he protested, expounding in the middle of the produce aisle on how impractical large tomatoes were. So I got two of them. They were nearly as big as my head, ripe and heavy; no matter that we had a 20 minute hike home. They probably cost upwards of $20 altogether.
I brought home my prizes and cut one open, only to find that its beguiling exterior gave way to dry and pithy insides. Same with the second tomato. We unhappily ate sub-par tomato sandwiches for lunch that day. I mourned my lack of good tomato, but I also grieved something far greater: I had been wrong, and, worse still, Jay had been right.
But when life gives you pithy tomatoes, what do you do? Do you sulk in the corner? Do you throw yourself a pithy party? Do you, er, expect some empithy from your partner? (Sorry..) Well, yes, I did. But I also roasted those suckers and pureed them into soup, and it was some of the best tomato soup I'd ever had. (I even let Jay have some, just to prove how right I had been to get those tomatoes. Ha!)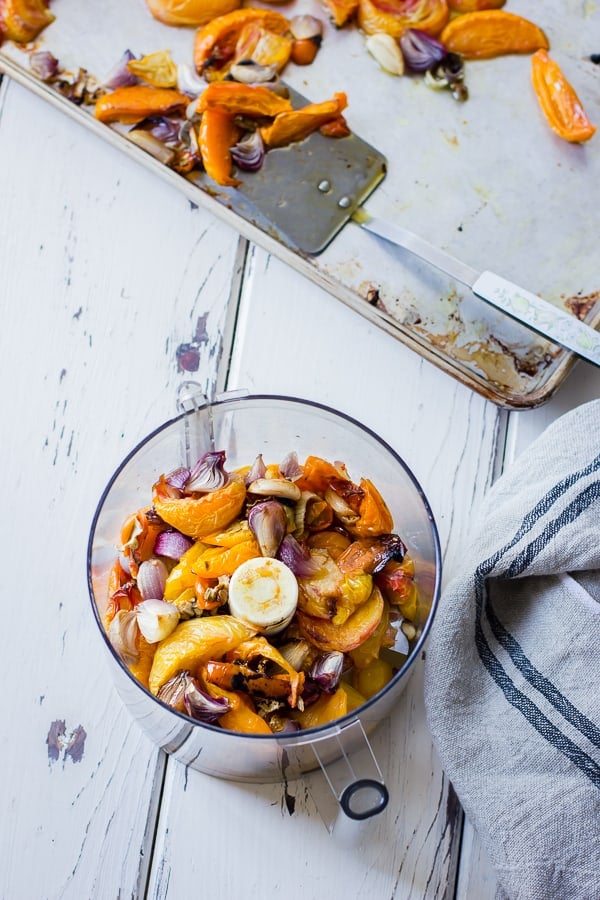 This is a slightly fancied-up version of that desperate tomato soup. There are a lot of roasted tomato soups about the interwebs, but the one that stayed in my mind is this one from Honey + Jam. I made a few modifications, using yellow tomatoes in homage to my accidental tomato soup of yore. I add fennel, saffron, and smoked paprika, which boost the flavors. And I top bowls with a green harissa and cubes of pan-fried halloumi.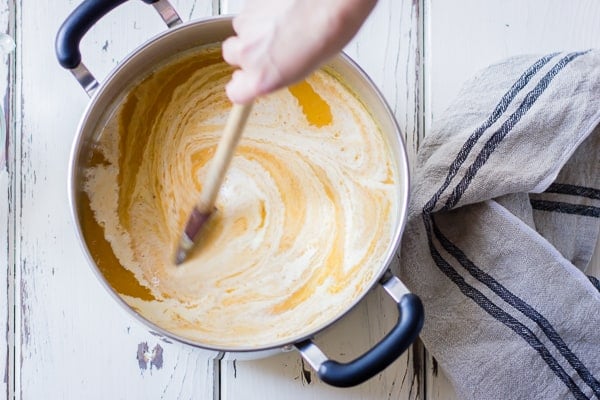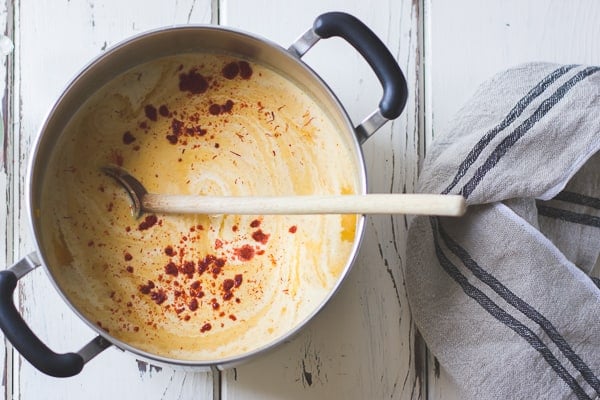 Roasting the tomatoes with shallots, garlic, and aromatics concentrates their flavor, meaning that you can get away with using water in the soup instead of stock, letting the tomato flavor take center stage. Everything goes into a food processor and gets pureed until fairly smooth (the fennel stays in little nubs that add texture to the finished product). There's no need to peel or seed the tomatoes, as these components aren't noticeable in the end, though they do add body and fiber. Then the puree goes into a pot with water and a touch of saffron, smoked paprika, and cream, and simmers for a bit to meld the flavors together.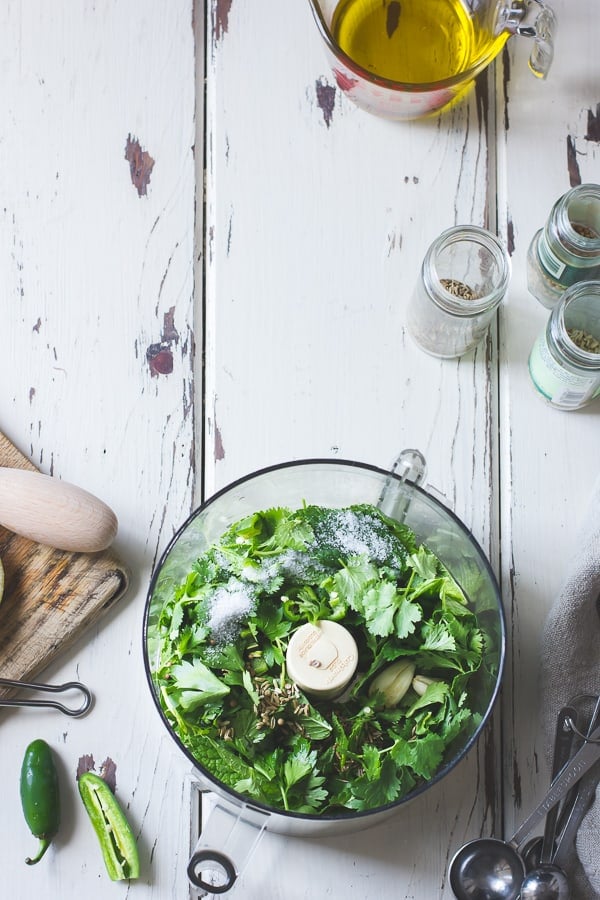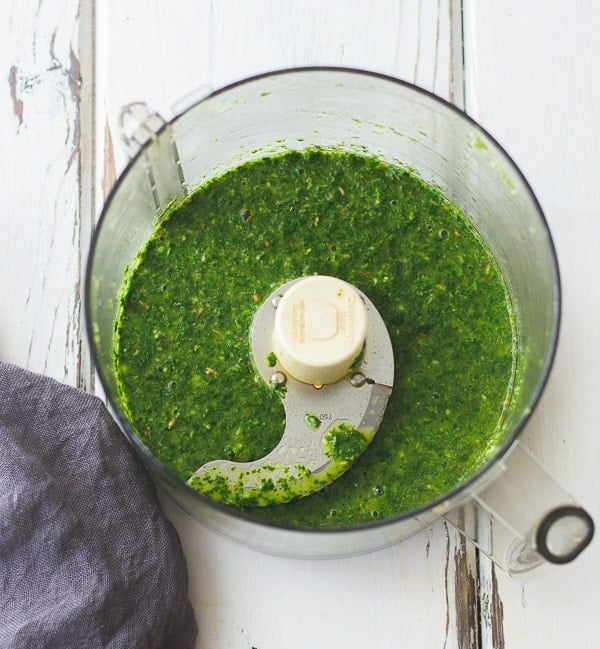 While the soup simmers, you make a green harissa with parsley, cilantro, mint, lemon juice, olive oil, chile, fennel seed, and coriander. Similar to chimichurri, green harissa is a lightly spicy condiment that can go on almost anything, from grilled meats or vegetables to whole grain bowls to (our favorite) quesadillas with avocado. It's even good on tacos. When swirled into tomato soup, it adds a fresh counterpoint to all that creamy richness.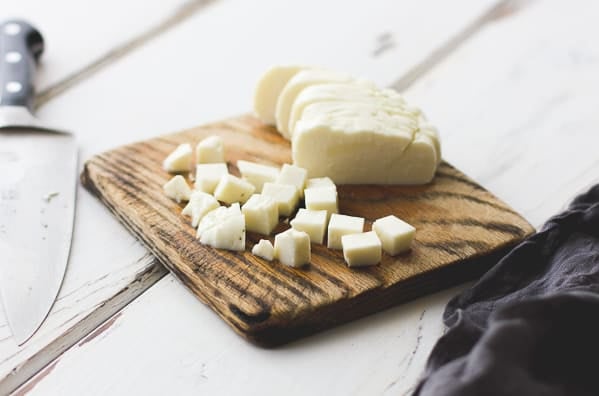 If you can keep yourself from nomming the fried halloumi straight from the pan, it adds little bursts of salty, lactic flavor to the soup, where it softens up a bit, taking on a dumpling-like consistency.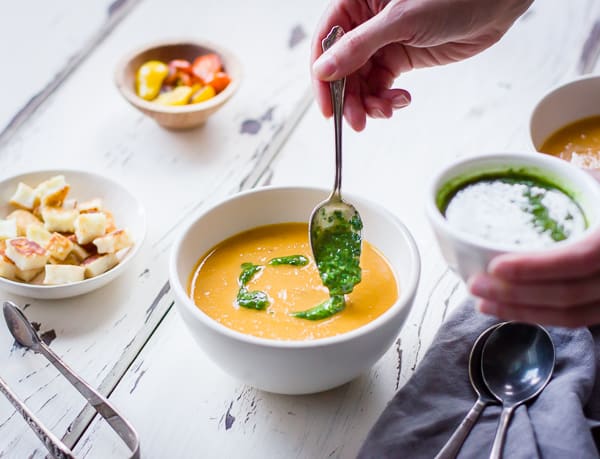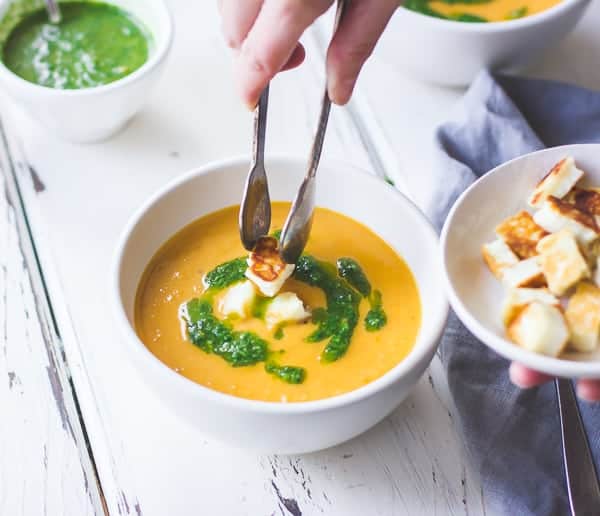 If you're looking for ways to preserve summer, a big batch of tomato soup is just the thing. It will keep for several days refrigerated, or you can freeze it (in straight-sided mason jars with plenty of room on top for expansion) for a gloomy winter's night when you may be in need of a little comfort. (Say, because someone just called you a psychopath.)
In fact I've got my eye on some other tomato soups to make before the summer ends, though I may try them with dry-farmed Early Girl tomatoes instead of heirlooms. Don't tell Jay…
Here are some stunning tomato soups from around the blogosphere:
-Really Good Vegan Tomato Soup from The First Mess gets creaminess from pureed cashews
-Heather Christo's Creamy Tomato Basil Soup does, too, and is a simpler, stove-top version of the above
-Tomato and Bread Soup, a.k.a. Pappa al Pomodoro from Simply Recipes is an Italian classic
-Roasted Tomato Basil Soup with Orzo from Foodiecrush gets texture from tiny pasta
-Roasted Tomato Soup Mac and Cheese with Sourdough Bread Bits from Adventures in Cooking – hello!
-Carrot, Tomato and Coconut Soup from Green Kitchen Stories is bright orange and spiked with turmeric and sweet corn
-Tomato Soup with Mozzarella and Coriander Olive Oil from Pratos & Travessas gets a bit of oomph from potatoes and a bay leaf
-Roasted Tomato Soup from Naturally Ella comes from The Sprouted Kitchen Cookbook and is topped with whole grain bread and thick slices of mozzarella
-Roasted Tomato and Bread Soup from Alexandra's Kitchen gets a kick from red pepper flakes
-Roasted Spiced Tomato Soup from Kiran Tarun is laced with cumin, coriander, turmeric, and roasted garlic
-Curry Red Pepper and Tomato Soup from Will Frolic for Food combines curry vindaloo, ginger and coconut milk with roasted sweet peppers and heirloom tomatoes
-I've had my eye on the Creamy Tortilla Soup from Love & Lemons since I saw it last year, which uses fire-roasted whole Roma tomatoes and coconut milk to create a creamy base
-Creamy Tomato Soup with Grilled Cheese Croutons from Damn Delicious puts the classic sandwich right into the soup (also Caprese Tomato Soup topped with burrata and balsamic reduction – yum!)
-Roasted Tomato Soup with Broiled Cheddar from Kitchen Konfidence has all the decadence of french onion soup
-Fresh Tomato Soup with Mascarpone from Love and Olive Oil gets a sophisticated boost from white wine and mascarpone cheese
-Roasted Tomato Soup with Parmesan Popcorn from No. 2 Pencil gets a creatively crunchy topping
-Roasted Eggplant and Tomato Soup from The Glossy Life combines two of my favorite late-summer vegetable fruits into a soup made creamy with almond milk
-Chickpea and Roasted Tomato Soup from Relish is gussied up with cinnamon, cumin, paprika, sour cream, and fried rosemary
-Heidi Swanson's Roasted Tomato Soup from 101 Cookbooks gets a swirl of smoked paprika and is garnished simply with a slice or two of roasted tomato
-If you don't have time to make soup, make a batch of these Cheddar Roasted Tomatoes from Healthy Seasonal Recipes
-If it's still to hot for soup in your neck of the woods, try this cool and creamy green relative from 10th Kitchen: Fresh Tomatillo Gazpacho
Do you have a favorite tomato soup recipe? Please tell me about it in the comments below!
Thanks for reading! For more Bojon Gourmet in your life, follow me on Facebook, Instagram, Pinterest, Bloglovin', Twitter, or subscribe to receive new posts via email.
Tomato-y Soups and Stews:
Roasted Vegetable Sopa Azteca with Sweet Corn and Zucchini
Smoky Tomato Butterbean Soup with Cheddar Herb Biscuits
Roasted Eggplant, Chickpea, and Summer Vegetable Tagine
Shakshouka
Roasted Yellow Tomato Soup with Halloumi Croutons + Green Harissa Recipe
Soup recipe adapted from Honey & Jam, Harissa from Sprouted Kitchen, who adapted it from Ashley Rodriquez in Food + Wine
Yellow tomatoes make for a pretty, golden soup against a swirl of green harissa and bronzed halloumi, but feel free to use any color tomato here, such as red heirlooms, Romas, San Marzanos, or dry-farmed Early Girls. The soup is good on its own should you lack the time to make the harissa and/or croutons. If a heatwave strikes, leave the soup cold and add a splash of sherry vinegar, and this soup becomes a creamy gazpacho. For a
vegan version, use coconut milk or cream in place of the heavy cream and make
traditional croutons with cubed bread instead of halloumi.
Shallots vary in size and I never know how to quantify them.
Sometimes two big ones are attached; I count these as two separate
shallots. Mine were roughly the size of a golf ball or a little bigger.
Don't worry too much if you lack any of the spices called for here
(saffron, smoked paprika, fennel seed, cumin, or coriander). The soup
will still be lovely if you need to leave any or all of them out.
The harissa recipe will make more than you'll need for the soup by about double; extra harissa is fabulous on nearly anything: sandwiches, quesadillas, grilled or roasted vegetables, fish or meats, eggs, or grain bowls.
Be careful when handling the chile for the harissa. Taste before adding it all if you are sensitive to spice, and wash your hands and under your nails thoroughly with soap and water after handling the cut chile lest it burn your skin.
Makes about 6 servings
For the Roasted Yellow Tomato Soup:
4 pounds yellow tomatoes (I used a mix of various heirloom varieties and cherry tomatoes), cut into large slices
8 medium shallots, peeled and quartered
1 medium fennel bulb, halved lengthwise and thinly sliced crosswise
6 large garlic cloves, peeled
4 tablespoons olive oil
3/4 teaspoon fine or kosher sea salt
1/2 teaspoon freshly ground black pepper
4 1/2 cups water
1/2 cup heavy cream
1/2 teaspoon smoked paprika
a pinch (about 1/8 teaspoon) of saffron threads, crumbled
For the Green Harissa:
2 medium cloves garlic, peeled
1 cup cilantro leaves (soft stems ok), washed and spun dry
1/2 cup parsley leaves, washed and spun dry
1/2 cup mint leaves, washed and spun dry
1 jalapeño or serrano chile (more or less to taste), stemmed, halved, and seeded
juice of 1 large lemon, to taste
1/2 teaspoon cumin seed
1/2 teaspoon fennel seed
1/2 teaspoon coriander seed
1/2 teaspoon salt
1/2 cup good olive oil
For the Halloumi Croutons:
12-16 ounces halloumi cheese
1-2 tablespoons olive oil or ghee, for frying
Make the soup:
Position racks in the upper and lower thirds of the oven and preheat to 400ºF.
Divide the prepared tomatoes, shallots, fennel, and garlic among two rimmed baking sheets, and sprinkle with the olive oil, salt, and pepper. Roast the vegetables until they are golden and soft, about 30 minutes. Let cool.
Scrape the vegetables and their juices into a food processor, and blend until smooth, about 2 minutes. Scrape the mixture into a large soup pot and stir in the water, cream, saffron, and smoked paprika. Bring to a simmer, and cook, stirring occasionally, until the soup is thickened to your liking, about 20 minutes. Taste, adding more salt if you like. The flavors will continue to blend as the soup sits. It keeps well, cooled and refrigerated airtight, for up to 5 days.
Meanwhile, make the green harissa:
In the bowl of a food processor, combine the garlic, cilantro, mint, parsley, chile, lemon juice, cumin, fennel, coriander and salt, and pulse until coarsely chopped. With the motor running, drizzle in the olive oil in a steady stream. Taste, adding more salt, lemon, or chile if you like. Scrape into a jar, cover, and chill until ready to use. The harissa will keep for up to a week or two, though it's brightest when freshly made.
Make the halloumi croutons:
When ready to serve the soup, heat a thin film of oil in a skillet set over a medium flame. Cut the halloumi into 1″ chunks and add them to the hot pan. Cook until golden on the first side, 3-5 minutes, then turn and cook on a second side until golden.
Serve the soup:
Ladle warm soup into bowls and top with a swirl of harissa and several cubes of halloumi. Enjoy.