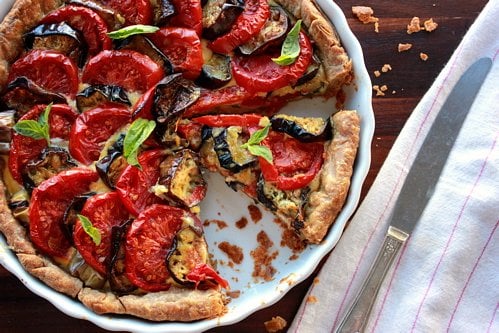 Last year I related the story of "Steve,"a well-known pastry chef who came to my school to give a demonstration on How To Make Two Dozen Culinary Students (and Their Teacher) Hate You.
After trimming a tart crust, Steve took a break from humiliating his captive audience, mashed the dough scraps together, and held the lump aloft for all to see. "I used to wrap these in plastic and store them in my freezer," he whined, "then two months later I'd throw them away. Now I just throw them away." He made a show of chucking the offending lump of dough, which was half the size of his crust, in the garbage.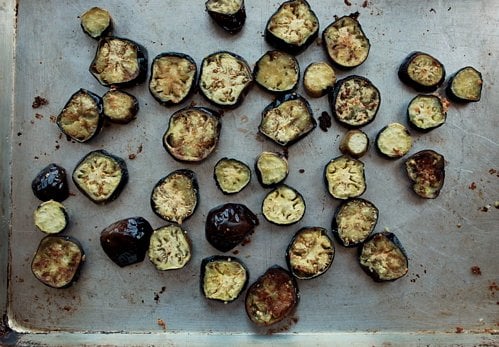 Wanting to be in every way opposite from Steve, I began wrapping and storing excess dough scraps in my freezer.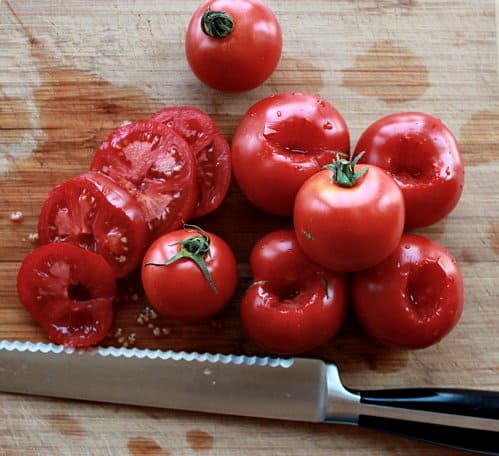 When I make pie dough, I take the extra step of fraisage-ing, folding and rolling the dough, as though making puff pastry. The small amount of extra work makes for an exceptionally flaky crust, but when rolled out, it insists on becoming more square than round. Once trimmed to a circle, the cut-off corners are ample.
So I do unto my dough what I would like to have done unto Steve: Iflatten the scraps into a disc, wrap it in plastic and a freezer-safe zip-lock bag to prevent freezer burn, and store it below 32 degrees Fahrenheit. (Not a perfect analogy – I wouldn't care if Steve got freezer burnt.*)After three or four pies, I have enough scraps in my freezer for a fresh pie or tart. (And zero pastry chefs, I swear.)
I pressed my last set of scraps together into a sort of franken-crust, par baked it, and filled it according to a recipe from Once Upon a Tart, one of my all-time favorite cookbooks. Frank and Jerome's gem of a book chronicles (mostly vegetarian) recipes from their adorable New York cafe, and this tart is nothing short of spectacular.
Parmesan, goat cheese and slivered basil form a bed onto which sliced tomatoes and garlic-roasted eggplant layer in concentric circles. A simple custard brings everything together as it bakes, and small basil leaves make a simple and pretty garnish.
This crust is as shatteringly flaky as the originals from whence they came, making a crisp foil to the meltingly-tender filling. Dry farmed tomatoes, which are dense and low in moisture, prevent the tart from becoming soggy, their flavor intensifying in the heat of the oven. The layer of cheese beneath the custard also helps keep the bottom crust firm, and gives the tart big flavor."It tastes like pizza," Jay exclaimed after I'd shoved a slice into his mouth; it certainly satisfies like a gooey-crisp slice of pizza (especially a deep-dish slice of a Little Star pie). It reminds me of eggplant parmesan baked in a buttery crust. The flavors are summery and bright, but the rich dairy softens the bite of the eggplant into early-fall comfort. A green salad and glass of wine make it a perfectly nourishing vegetarian lunch or supper.
*No animals were harmed in the making of this tart – not even a grumpy pastry chef.
Once upon a (savory) tart:
Bacon, Leek and Fennel Quiche
Zucchini-Tomato Tart
Pear, Blue Cheese and Hazelnut Tart
Über Aubergines:
Baked Penne with Eggplant and Fontina
Eggplant Parmesan
Roasted Summer Vegetable Caponata
One year ago:
Roasted Eggplant Pizza with Fontina and Olives
Two years ago:
Three years ago:
(What? Yes, it's true! Happy third birthday to The Bojon Gourmet!)
Spelty Sourdough Crackers
Roasted Eggplant Tomato Tart, with Basil and Goat Cheese
Adapted from Once Upon a Tart
Unless you have scraps with which to make a franken-crust, use your favorite pie dough, or the recipe below. The cultured dairy adds extra tenderness and flake, but you can leave it out, no problem – just add extra ice water. See this post on making puff pastry for pictures of the fraisage/folding/rolling process. (You may wish to make a double batch of dough if you do these extra steps; double-wrap it and store it in the freezer for up to several months.) Also note that a metal pan will conduct the heat more quickly than a glass or ceramic pan; if you use a metal pan, check the par-baking crust earlier than suggested.
Dry-farmed tomatoes are my favorite, but you can substitute flavorful, ripe Romas or San Marzanos. Small, fresh eggplants tend to be mild and sweet, and don't usually need to have the bitterness sweated out. If yours are more elderly, toss the slices with a couple teaspoons of salt and let them sit for 30 minutes, then pat them dry, and taste a roasted slice before adding more salt to the recipe.
Makes one 9 – 10″ tart, 8 servings
Flakiest, all-butter pie crust:
3/4 cup all-purpose flour
1/2 cup whole spelt (or whole wheat pastry) flour
1 teaspoon sugar (optional)
1/2 teaspoon fine sea salt
4 ounces (8 tablespoons/1 stick) cold, unsalted butter, in 1/2″ dice
2 tablespoons buttermilk, sour cream or crème fraîche
2 tablespoons ice water, more as needed
Eggplant-Tomato Filling:
1 pound Japanese or small globe eggplants, sliced into 1/4-1/2″ thick rounds
2 garlic cloves, pressed
2 tablespoons olive oil
1 1/2 pounds small, flavorful tomatoes (about 8 or 9, see headnote), cut into 1/4″ thick rounds
1/2 cup finely grated parmesan
1/3 cup fresh goat cheese, crumbled
1/4 cup basil leaves, thinly sliced, plus some pretty leaves for garnish
Custard:
2 large eggs
1/4 cup heavy cream or half and half
1 teaspoon salt
freshly ground pepper
Make the crust:
In a large bowl, stir together the flours, sugar and salt. Scatter the butter pieces over the flour, and rub in with your fingertips until the mixture resembles sand with lots of pea-sized butter chunks. Stir together the buttermilk and ice water. Drizzle this mixture over the flour mixture, 1 tablespoon at a time, tossing with a rubber spatula, until the dough will hold together when you give it a squeeze, adding more ice water by the teaspoon directly to the dry bits as needed.
You can call it here, or you can do either or both of the steps below for extra flake:
Option 1 – fraisage:
Dump the dough out onto a counter, divide it roughly into 8 portions, and fraisage by dragging a portion of dough across the counter using the heel of your hand. Scrape up the dough (a metal bench scraper works well here), gently press it into a ball and flatten into a disc. Slip it into a plastic bag, and chill for at least 30 minutes or up to 2 days.
Option 2 – roll, fold, roll:
On a lightly floured surface, roll the chilled dough out into a rough square that is about 1/4″ thick. Fold it in thirds like you're folding a letter, then roll up from a skinny end into a loose spiral. Gently press to flatten it slightly, and chill for 30 minutes to 1 hour.
Remove the dough from the fridge, unwrap, and place on a lightly floured surface. Roll out the dough into a 12″ circle, dusting the dough lightly with flour as needed, rotating and flipping it to prevent it from sticking. Ease the dough into a 9 or 10″ tart pan (or a 9″ glass pie plate), fit it into the corners, and trim it to a 1″ overhang. Fold the overhang into the pan, pressing to adhere so that the sides are double-thickness. Trim away any excess dough, and prick the crust all over with a fork. Save the scraps to patch any post-par-baking holes, and/or to make a future franken-crust.
Chill the crust for 20 minutes, then freeze it for at least 20 minutes, until solid.
While the crust chills, prepare the eggplant:
Position a rack in the upper third of the oven and preheat to 450ºF. Toss the eggplant slices with the garlic and olive oil, and spread on a lightly oiled sheet pan. Bake untilthe eggplantbegins to brown, 10-15 minutes, flipping the slices if they are browning on the bottom but not the top. Remove and let cool.
Par-bake the crust:
Position a rack in the bottom third of the oven, and reduce the oven temperature to 400ºF. Place the frozen crust on a rimmed baking sheet. Line the crust with a piece of parchment paper or foil, and fill with pie weights, dry beans, or clean pennies, pressing the weights into the sides and corners of the crust.
Bake the crust for 15-20 minutes, until the dough will hold its shape when you lift off the parchment, then remove the weights and parchment and bake until the bottom is dry and lightly golden, about 5 minutes longer. (If there are any holes in the crust, patch them with a tiny piece of dough scrap.) Reduce the oven temperature to 350ºF.
Assemble the tart:
Cover the bottom of the par-baked crust with the parmesan, then crumble the goat cheese over, and top with an even layer of slivered basil. Layer the eggplant and tomato slices–alternating between eggplant and tomato–in concentric circles, beginning with the outside and working inward. Use small pieces to fill in any gaps, so that the crust is completely covered.
Make the custard and bake the tart:
In a measuring cup, whisk the eggs to break up the yolks, then whisk in the cream, salt, and a good grinding of black pepper. Pour the custard over the vegetables.
Carefully transfer the tart to the oven and bake until the custard is set, firm to the touch, and doesn't jiggle when you give it a shake, about 1 hour 10 minutes. Remove from the oven and let cool to warm on a wire rack. Garnish with basil leaves.
Serve the tart warm. Leftovers will keep well for up to 3 days–re-heat before serving.