Warm lentils and roasted spring vegetables get a tangy boost from herbaceous yogurt sauce, briny feta, and crunchy almonds in this protein-rich roasted beet & carrot lentil salad. Adapted from Dishing Up the Dirt: Simple Recipes for Cooking Through the Seasons.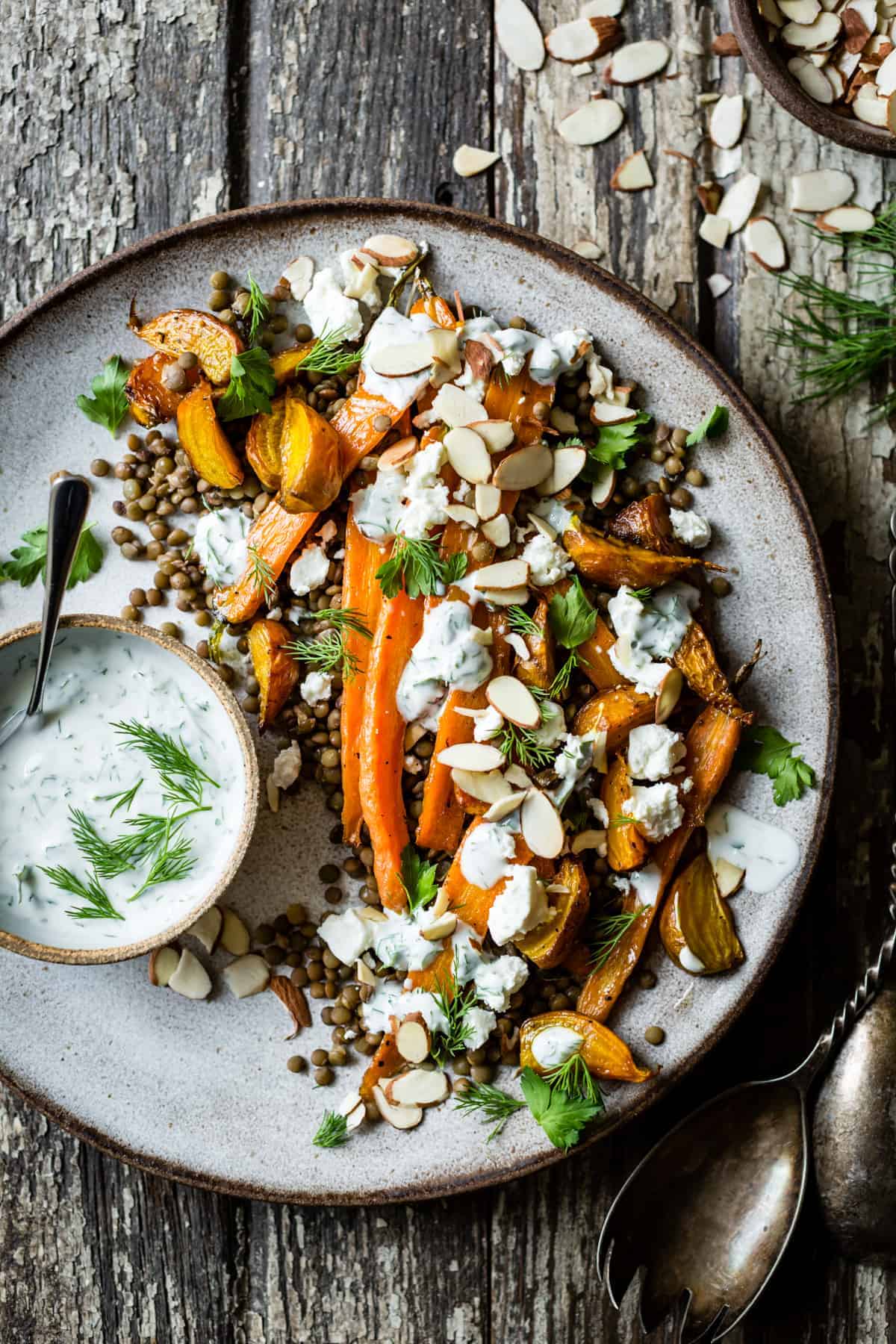 We're just back from a 2-week romp on the East Coast (more on that later!) But today I'm excited to share this roasted beet & carrot lentil salad from Andrea Beamis's beautiful new cookbook Dishing Up the Dirt: Simple Recipes for Cooking Through the Seasons.
Andrea isn't your garden-variety food blogger; she's a legit farmer in Northern Oregon and spends what seems like all day, every day tilling the soil, planting, weeding, watering, raising chickens, and selling her bounty at farmer's markets and in CSA boxes with the help of her beau Taylor and trusty dog Henry. I don't know how Andrea finds the time to develop and shoot beautiful recipes while being a full-time farmer, let alone write and shoot an entire book, and still be one of the best-natured, down-to-earth people I've ever met. I'm thinking it's either the good, clean air or really strong coffee...
I had the pleasure of visiting Tumbleweed Farm last summer with Emma during a trip to the Columbia River Gorge outside of Portland. Tumbleweed gets a stunning view of Mount Hood which, in mid June, was still dusted with snow. Immaculate rows of every vegetable you can imagine peppered the sprawling 6 acres. We wandered through the veggies as Andrea fed us juicy cherries and freshly picked snap peas. We ogled her prop collection and saw where her cooking and photo magic happen, and traded cookbook battle stories. Then Andrea sent us on our way with a warm hug and crate of eggs. On a trip where everything went wrong, Tumbleweed was a welcome breath of fresh country air.
To say I was excited to get my hands on Andrea's book this spring would be an understatement. Everything about the book takes my breath away, from the innovative recipes for every season, to the bold photography – a mix of plated shots (one for every recipe) and snaps of the farm in action – to the unfussy styling (with help from the talented Ashley Marti) to Andrea's prose about how her life "took a turn for the dirt." Recipes are organized seasonally and include a good mix of savory dishes, sweet treats, and drinks, with lots of recipes friendly to vegan, vegetarian, and gluten-free diets.
After bookmarking just about every recipe, so far I've made the Spring Celebration Bowls (steamed quinoa topped with roasted asparagus, tahini sauce, and a fried egg), Honey Cardamom Lattes (coffee whipped with a spoonful of almond butter, honey, and spice), and this glorious platter salad. Others at the top of my list are:
Sweet Potato Tart with Hazelnut Oat Crust (vegan, GF)
Spiced Cauliflower with Honey Tahini Sauce (vegan, GF)
Beet Pickled Eggs (GF)
Crispy Broccolini & Chickpea Salad (GF)
Kholrabi Fritters with Garlic Herb Cashew Cream (vegan)
Crispy Smashed Potatoes with Herbed Yogurt (GF)
Mustard Greens & Gruyere Quiche with Almond Crust (GF)
Sweet Corn & Summer Squash Coconut Milk Chowder (vegan, GF)
We whipped this salad up before we left for our trip primarily as a way to use up odds and ends from the fridge and to have something healthy to eat on the plane. Like all of Andrea's recipes, this combines a nourishing base (simmered lentils) with a seasonal topping (roasted beets and carrots) and a drizzle of something tasty (herbed yogurt, feta, and toasted almonds).
The roasted vegetables on their own taste like crack – we had trouble saving enough for the salads, we just wanted to pop them in our maws straight from the oven. But we're glad we did, because they were the perfect sweet foil for earthy lentils, salty feta, and tart yogurt kissed with dill and garlic.
I highly recommend this roasted beet & carrot lentil salad for a laid-back lunch or light supper when root vegetables are at their peak – spring, fall, or winter here in California. It also makes a pretty plate for entertaining. And I *also* highly recommend picking up a copy of Andrea's beautiful book to feed the soul of your inner farmer.
More Salad Recipes:
*Thanks for reading! For more Bojon Gourmet in your life, follow along on Instagram, Facebook, or Pinterest, purchase my gluten-free cookbook Alternative Baker, or subscribe to receive new posts via email. And if you make this lentil salad, I'd love to see! Tag your Instagram snaps @The_Bojon_Gourmet and #bojongourmet.*
Roasted Beet & Carrot Lentil Salad with Feta, Yogurt & Dill
Print Recipe
Pin Recipe
Warm lentils and roasted spring vegetables get a tangy boost from herbaceous yogurt sauce, briny feta, and crunchy almonds in this protein-rich roasted beet & carrot lentil salad.
Ingredients
1 1/2

cups

(200 g) French green lentils, rinsed and picked over

1

small yellow onion, quartered

1

large bay leaf

fine sea salt

freshly ground black pepper

1

bunch beets (any color, or a combination), scrubbed, trimmed, and cut into eighths

1

bunch carrots, scrubbed, trimmed, halved lengthwise (if small) or cut into 1/2-inch slices (if large)

3

tablespoons

(45 ml) olive oil, more as needed

1

cup

(235 ml) plain full-fat yogurt

1

large clove garlic, put through a press or minced

1

tablespoon

(15 ml) fresh lemon juice, more as needed

1/4

cup

parsley, chopped, plus more for garnish

1/4

cup

dill, chopped, plus more for garnish

~4 ounces feta cheese, crumbled

1/2

cup

(70 g) toasted almonds, coarsely chopped if whole
Instructions
Position a rack in the center of the oven and preheat to 425ºF.

Place the lentils in a medium saucepan, cover with 3 inches of water, and add the onion and bay leaf. Place over high heat, bring to a boil, then reduce the heat to low and simmer until the lentils are tender but still holding a shape, 20 to 30 minutes. Add 1 teaspoon salt toward the end of the cooking time, and more water if needed. Drain the lentils and discard the onion and bay leaf.

Meanwhile, toss the beets and carrots with 2 tablespoons of the olive oil and 1/2 teaspoon each salt and pepper. Roast in the oven until browned and tender, tossing them halfway through cooking, 25 to 30 minutes.

In a small bowl, whisk together the yogurt, garlic, lemon juice, chopped parsley and dill, 1/4 teaspoon salt, and the remaining 1 tablespoon olive oil.

When ready to serve, toss the lentils with a drizzle of olive oil, a good squeeze of lemon, and (if needed) salt and pepper to taste. Place the lentils on a large platter (or divide among 4 plates or shallow bowl) and top with the roasted vegetables, feta, extra herbs, and almonds. Drizzle with the yogurt sauce and pass extra sauce at the table. Serve warm or at room temperature.
Nutrition
Calories:
546
kcal
Carbohydrates:
70
g
Protein:
30
g
Fat:
26
g
Saturated Fat:
8
g
Cholesterol:
33
mg
Sodium:
510
mg
Potassium:
1579
mg
Fiber:
28
g
Sugar:
19
g
Vitamin A:
13530
IU
Vitamin C:
25
mg
Calcium:
350
mg
Iron:
7.5
mg