This babka recipe features a golden challah-like dough kissed with rye flour and kabocha squash puree filled with a swirl of spiced chocolate, all topped with a salted maple sugar and rye flour streusel.
I think babka may be the new cinnamon roll. The concept is similar: a yeasted dough, enriched with milk, butter and egg, wrapped around a gooey, spiced filling and baked. Where cinnamon buns are sliced prior to baking, babka is rolled up into a long log, twisted around itself, and baked in a loaf pan. This is advantageous for babka as the filling doesn't leak out onto the bottom of the pan and burn; rather it stays on the inside, adding extra moisture and richness to the dough.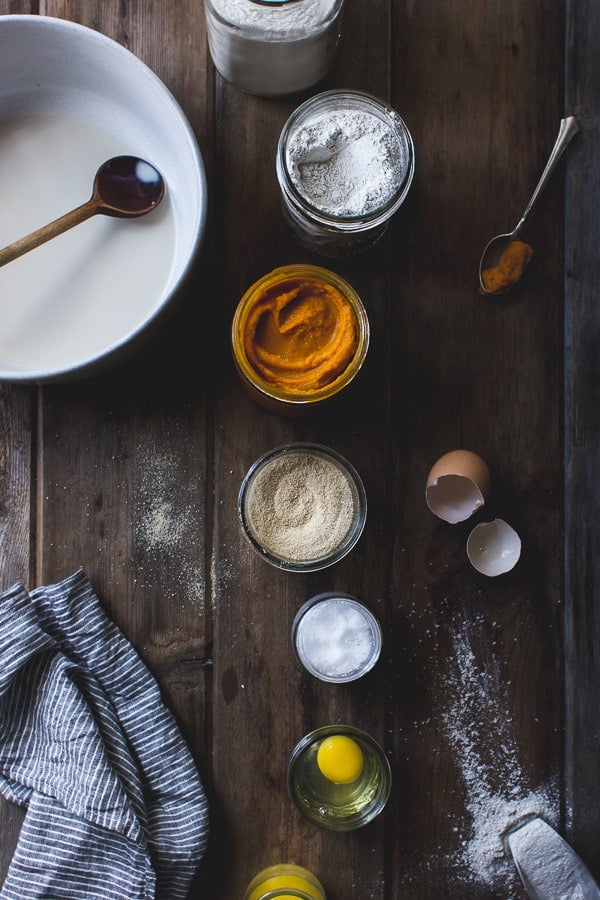 The best babka I've had comes from Wise Sons, a stellar Jewish delicatessen here in San Francisco. Layer upon layer of tender dough separated by nubby bits of chocolate, all crowned with buttery streusel, it is a perfect specimen of chocolaty goodness. I try to reserve my gluten-eating for special occasions, since too much makes my tummy unhappy. Chocolate babka is one of such occasions. I'm thrilled with this version, which is made slightly healthier by using some whole grain rye flour, a scoop of winter squash puree, and minimal amounts of unrefined sweeteners.
But homemade babka eluded me for years. One great-looking recipe made three (three!) large loaves, and was troublesome to divide due to calling for a pesky 5 eggs. Another version I tried used all sorts of fancy flours and took two days to make only to turn out a dense, overly salty bread. I gave up for a while.
Then I made two ginormous loaves of pumpkin challah for a feast co-hosted with Nik and Phi, and I wondered if it might be the answer to my babka woes. I made a small batch of dough using kabocha squash puree leftover from this pie which I spread with a spiced chocolate paste and topped with a maple sugar streusel sprinkled with coarse sea salt.
It was babka perfection, or it nearly was. A few last tweaks turned out the babka of my dreams; pillowy soft, with many thin layers of dough and a gently spiced, slightly nubby chocolate filling. Jay and I both agree that the streusel is our favorite part. It has a pleasant saltiness, sandy texture, and earthy flavor from maple sugar and rye flour.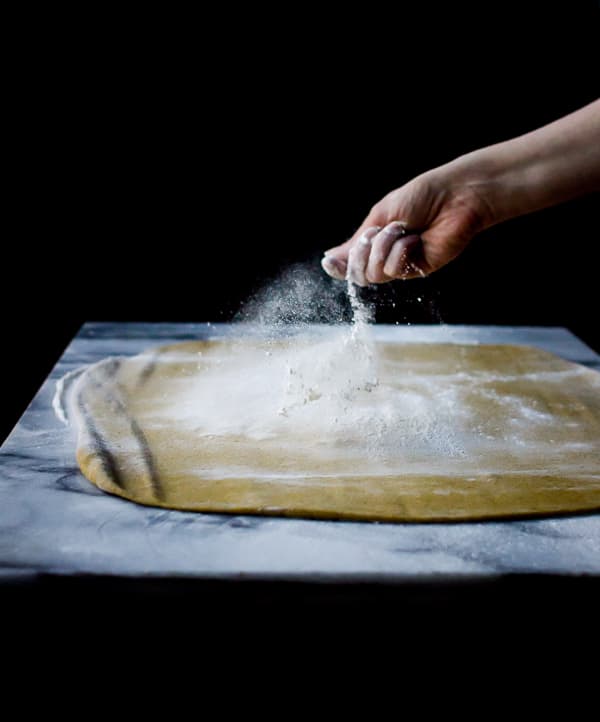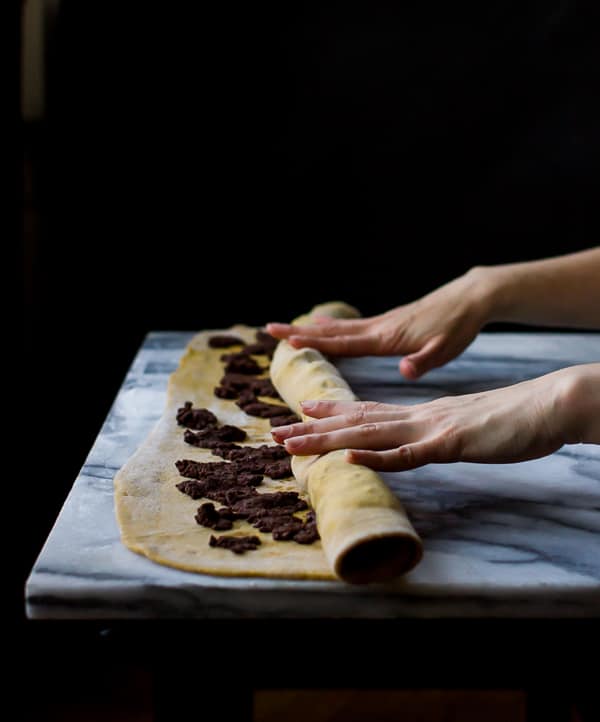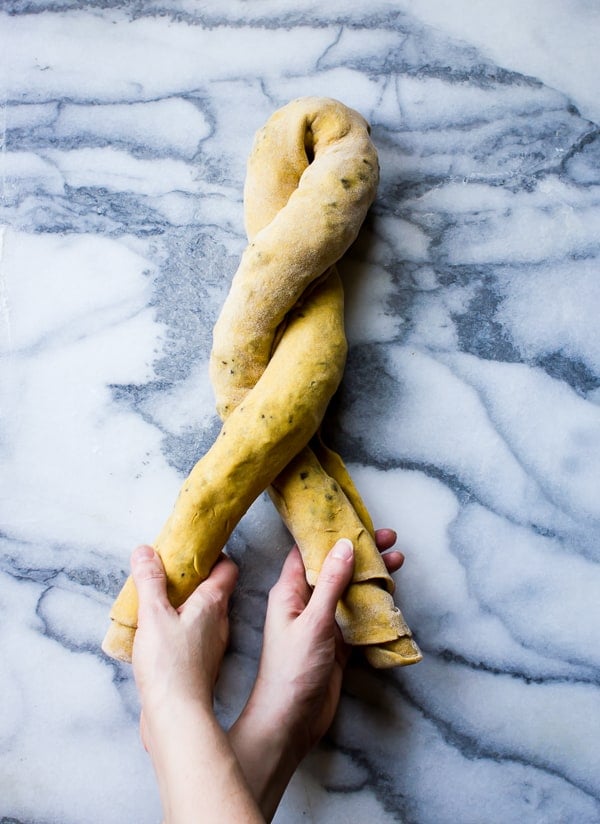 I wrapped up a few pieces which I brought to a friend who I met for drinks at our new favorite cocktail bar. We were seated next to the executive chef of several hip, Mission restaurants and when Amelia unveiled the babka he said, "Is that from Wise Sons?"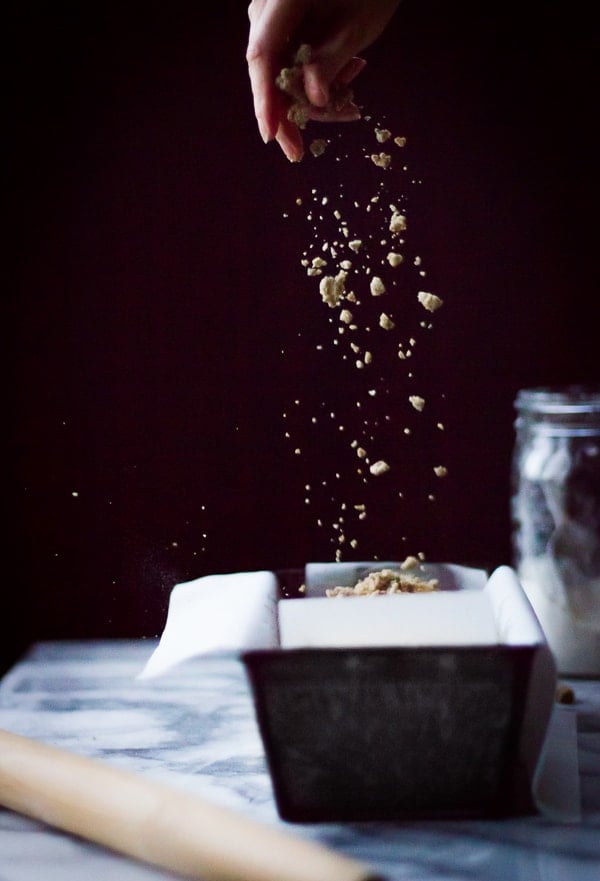 I felt like a million shekels.
Plus, the golden dough contrasted with dark brown chocolate stripes reminds me of a tiger. Which I consider a pro. (So does Catamus…)


I was recently sent a sample of sea salt from J. Q. Dickinson Salt Works and I've been loving using it in cooking and baking. The salt crystals are coarse enough to use as a finishing salt, but fine enough to use in a baking recipe. It has a nice, clean flavor, and I love that it's harvested and produced in small batches by a family in West Virginia. Highly recommended!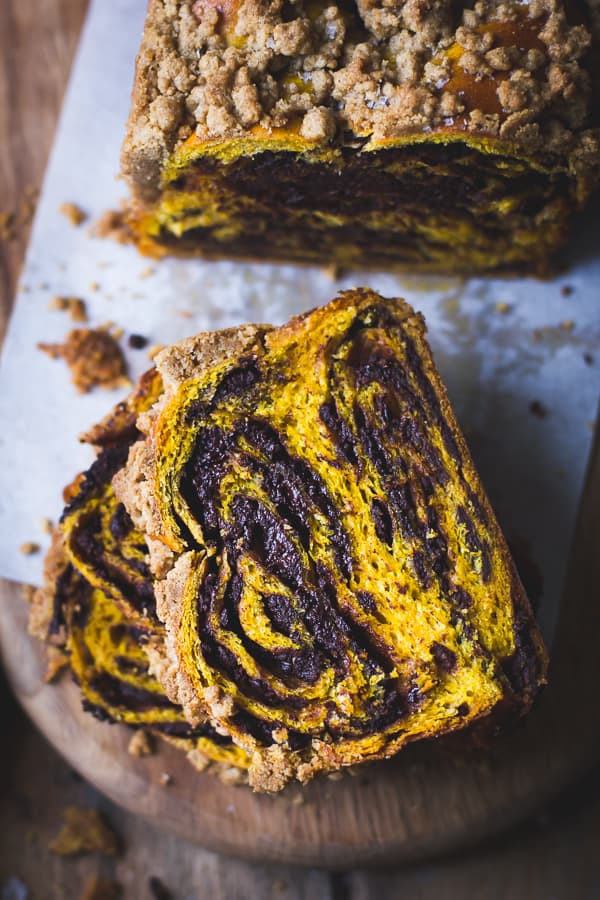 Babka is always best the day of baking, but I've given a bunch of do-ahead options below. Leftover slices can be toasted gently, and I bet they would make killer french toast or bread pudding, too. I wouldn't hesitate to serve it to the most discerning of guests.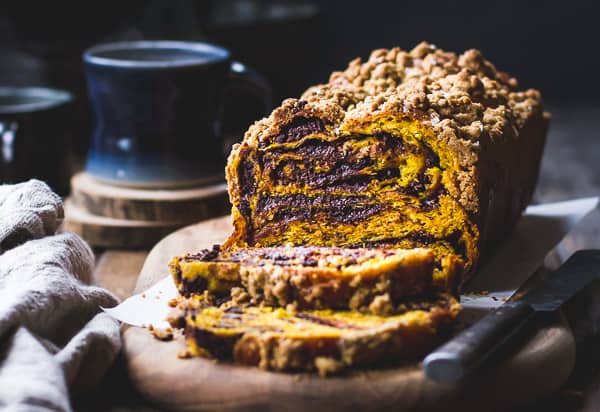 Thanks for reading! For more Bojon Gourmet in your life, follow me on Facebook, Instagram, Pinterest, Bloglovin', or Twitter. Subscribe to receive new posts via email, or become a sponsor. 
Yeasted Sweets:
Rye Flour Pains au Chocolat (Chocolate Croissants)
Chocolate Things
Pumpkin Cinnamon Buns
One year ago:
Cauliflower and Yellow Split Pea Soup with Turmeric and Curried Ghee
Two years ago:
Buckwheat Cacao Nib Snowballs 
Butternut Squash Risotto with Pancetta and Chèvre
Three years ago:
Bacon, Leek and Fennel Quiche 
Four years ago:
Lentil Soup with Chestnuts and Fennel
Five years ago:
Brown Butter-Glazed Pumpkin Chocolate Chip Coffee Cake 
Pumpkin, Rye + Chocolate Babka with Salted Maple Sugar Streusel
I like to use maple sugar in the dough and topping to keep them light in color, and unrefined muscobado sugar in the filling for some molasses-y richness, but you can use granulated sugar in place of the maple and light or (preferably) dark brown sugar in the filling if it's what you have on hand. Feel free to trade the rye flour for another gluten-containing whole-grain flour if you like, such as whole wheat, spelt, kamut, or barley. I've made this recipe with both fine sea salt and with a semi-coarse variety from J. Q. Dickinson Salt Works. I love the texture that the J.Q.D. salt adds, but you can also use a fine sea salt in the babka components and top the babka with a flaky salt such as Maldon. (Just don't use iodized table salt as it has a harsh flavor and will produce an overly-salty babka.)
Do ahead: You can make the dough a day or two ahead and let it rise in the fridge. Let it come to room temperature before shaping it. The streusel can be made up to a few days ahead and stored airtight in the fridge. The filling can be made a day or two ahead and stored airtight at room temperature. The filled + shaped babka can probably be refrigerated overnight, allowed to finish rising at room temperature, then egg washed, streuseled and baked the next morning.
All ounce measurements here are by weight.Ps. As you make the dough, you will think that the ratios won't make a proper dough. But don't worry, they will. 
Makes 1 large loaf, about 10 servings
For the pumpkin dough:
1/4 cup plus 2 tablespoons (3 ounces / 85 grams) milk (I use whole, but any fat content should be fine)
1 packet (2.5 teaspoons / .24 ounces / 7 grams) active dry yeast
1/2 cup (4.5 ounces / 130 grams) pumpkin or winter squash puree (I use kabocha)
1 large egg (preferably room temperature)
2 tablespoons (1 ounce / 30 grams) unsalted butter, softened to room temperature
3 tablespoons (.75 ounces / 25 grams) maple sugar (or granulated)
3/4 teaspoon sea salt
1 cup (4 ounces / 115 grams) dark rye flour
about 1 cup (5 ounces / 140 grams) bread flour, plus more for kneading
For the streusel:
1/2 cup (2 ounces / 55 grams) dark rye flour
1/4 cup (1.25 ounces / 40 grams) maple sugar (or light brown sugar)
1/4 teaspoon sea salt
1/4 cup (2 ounces / 55 grams) cold butter, cubed
For the chocolate cinnamon filling:
2 1/4 cups (10.5 ounces / 280 grams) chocolate wafers or coarsely chopped chocolate
1 tablespoon ground cinnamon
1/4 teaspoon sea salt
1/4 cup (1.5 ounces / 40 grams) unrefined muscobado sugar (I use Eco Goods brand; maple sugar or brown sugar are fine, too)
1/4 cup (2 ounces / 55 grams) cold butter, sliced
For finishing the babka:
1 egg, beaten well
coarse or flaky salt (such as J.Q. Dickinson or Maldon)
Make the dough:
Warm the milk in a small saucepan until it's just warmer than body temperature, around 100ºF (no hotter, or it could kill the yeast). Pour into a large bowl, sprinkle the yeast over the top, and let sit to dissolve the yeast, 10 minutes. Stir in the pumpkin puree, egg, butter, sugar, salt, and rye flour. Stir in the bread flour in quarter-cup increments until the dough pulls away from the sides of the bowl and becomes difficult to stir. Scrape it out onto a floured surface and, with clean, dry hands, knead for 10 minutes, until the dough is smoother and springy, adding as little flour as possible as you work to keep the dough from sticking to your hands and the work surface. Place the dough in a lightly oiled bowl and cover with a damp cloth, plastic wrap, or a large plate. Let rise in a warm place until doubled in bulk, about 1 hour.
Make the streusel:
In the bowl of a food processor (or in a medium bowl), combine the rye flour, maple sugar, salt and cold butter. Pulse (or rub) the butter into the dough until the butter is incorporated and the streusel forms hazelnut-sized clumps. Cover and keep at cool room temperature until needed.
Make the filling:
In a food processor, combine the chocolate, cinnamon, salt, and muscobado sugar. Pulse until the chocolate is ground to the size of peas. Add the cold butter and process until it clumps into a coarse paste.
Shape the babka:
On a lightly floured surface, roll the dough out into a large rectangle that measures roughly 14 x 20 inches and about 1/8″ thick, turning and flipping the dough, dusting with more flour, as needed to prevent sticking. Smear the chocolate goo as best you can all over the dough, trying to get it as even as possible and taking care not to tear the dough. The more evenly you spread it, the more defined your babka's layers will be.
Starting on a long side, roll up the dough into a fairly tight log. Pinch the bottom seam closed and roll the log along your work surface to elongate it. Fold the dough in half, twisting the two ends over each other three times. Place the babka in a 9×5″ or 10×5″ loaf pan that has been lined on all sides with parchment
paper. Slide the whole thing into a clean, plastic garbage bag, inflate the bag, and tie or clamp it shut.
Let the babka rise 30 minutes, until it fills the bottom of the pan. Remove the bag and brush the top with the beaten egg. Sprinkle the streusel all over the top, and sprinkle with a few pinches of flaky salt. Let the babka rise until it reaches the top of the pan and is spongy to the touch, another 15 -30 minutes.
Meanwhile, position a rack in the lower third of the oven and preheat to 350ºF.
Bake the babka:
Remove the babka from the bag, slip in the oven, and bake until the top is deeply bronzed, the bread sounds hollow when rapped, and an instant-read thermometer inserted in the center registers 180ºF, 50-60 minutes. (Decrease the oven temperature to 325 or 300º if the top is browning too quickly within the first half hour.)
Let the babka cool completely, 2 hours; it is still cooking from residual heat.
Slice with a large, serrated knife and serve. The babka is best the day of baking, but leftover slices can be gently toasted.