I've had a thing for cinnamon buns since I was a kid. My mom and I would drive from LA to some mountains somewhere (Mom, help me out here) and we would always stop at a cafe of sorts where they sold the giantest cinnamon buns. They must have been as big as my 8-year-old head – gooey, beige dough with a simple, deep brown filling and an enormous slather of pasty, white frosting. My mom would only let me eat half of one at a time, which was wise. I have no recollection of the sugar highs that followed (I must have blacked out) but I'm sure they were epic.
The memory of those buns pose a challenge to any cinnamon bun trying to live up to them. (They have, er, big buns to fill.) The Cinnabons in the mall wafted out promises of butter and spice, but they always tasted false, ingenuine. Those buns of yore had integrity. They were the real deal.
So several years ago, around the time when I finished pastry school (the failure to be handed the perfect cinnamon bun recipe just another disappointment) I went on a hunt. I tried three or four different recipes. But here's the thing: I was going through an anti-wheat phase, and was making the buns with a combination of whole and white spelt flours. My logic was that spelt flour, which is closer to pastry flour in its low levels of gluten, would make a softer dough. But each recipe that I tried came out overly dense, with a dry, cardboard-y texture. When I finally tried a blend of a few different recipes from Baking Illustrated (the dough from the sticky buns, the filling from the cinnamon buns, and the cream cheesy glaze from their quick cinnamon buns) I thought I'd struck gold.
But looking back, I realize that this was just the first time that I had broken down and used all-purpose flour. (Thanks, pastry school.)
Since then, I've learned that "hard" wheat varieties, which comprise bread flours with a higher gluten content, actually make for a softer dough, which is somewhat counter-intuitive.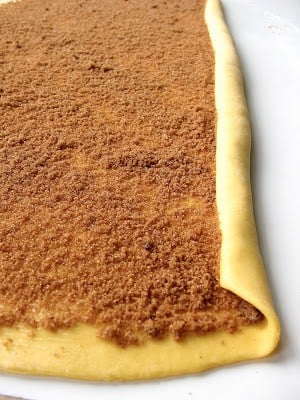 I've also learned that (for me) wheat isn't so bad in moderation.
Unfortunately, my cinnamon bun-eating impulse is, apparently, not something that can be done in moderation. Cinnamon buns, like chocolate chip cookies, are at their peak moments (or 20 minutes for the buns) out of the oven, when they are warm and gooey. Since I know that the buns/cookies will never be better than at that precise moment, restraint can be something of a challenge. With cookies, one can bake off a few at a time, hoarding the dough in the fridge for later cravings. But buns are a different story. I like my buns baked in the pull-apart fashion of shoving them all into one pan; but then, of course, they all have to be baked off at once. And this can lead to abundant bunnage (yes, in the many senses of the word).
At least these buns contain a hefty dose of pureed winter squash (see? healthy). I adapted my pumpkin challah dough to make a 9×9″ panful of buns, rolled the buttery dough up with dark brown sugar, melted butter, and cinnamon, and then drizzled the buns with a sour cream glaze. The squash imparts a brilliant color and the starches give the dough a pillow-soft, almost feathery texture. Aside from that, they resemble the buns of my youth (uh, what?) with their tender layers of dough soaked with syrupy filling and tangy-sweet glaze. I did make them smaller than most, though, and cut the dough into 16 (rather than the usual 9) buns.
I've never been into "stuff" in my buns (yikes), but if you are, feel free to add dried cranberries, toasted pecans, or chopped crystalized ginger.
Any way you slice them, these buns make a welcome treat for the holidays.
Or even the "challah days."
Breads and buns:
Rum and Sweet Potato Cinnamon Buns
Pumpkin Challah
Multi-Grain Sandwich Bread
One year ago:
Smoky Tomato Butterbean Soup, and Cheddar Biscuits
Baked Pancake with Pear and Cardamom
Pecan-Topped Sweet Potato Pie
Two years ago:
Sourdough Apple Oat Pancakes
Curried Sweet Potato Pound Cake
Mac and Cheese with Bacon, Squash and Collards (I just had this for dinner again tonight, and I love it as much as ever)
Pumpkin Cinnamon Buns
Makes 16 smallish buns
All the butter in the dough makes this a slow-riser; it took about 4 hours for the initial rise and 2 hours for the second in my chilly apartment this morning. You have a couple of do-ahead options, though: you can make the dough up to a day or three ahead, and let it rise in the fridge overnight or longer (it probably won't rise much, so leave it a few hours of room-temperature time to double in bulk before working with it). You can also let the shaped buns rise in the fridge overnight (same here – let them double at room temp before baking them off).
These buns are mildly spiced and closer in flavor to a classic cinnamon bun than pumpkin pie. I like them the way they are, but if you want more spice, try adding 1 teaspoon cinnamon and 1/4 teaspoon allspice to the dough along with the nutmeg.
If you want bigger buns (heh), roll the dough into a shorter, fatter rectangle, and cut the log into 9 pieces.
The dough:
6 tablespoons (3 ounces) milk (whole or not, or water)
1 package (.24 ounces) active dry yeast (or 1 package instant yeast, or 2 tablespoons fresh, cake yeast)
3/4 cup (6 ounces) canned pumpkin or roasted squash puree (I used a lantern squash)
2 large eggs
6 tablespoons (3 ounces) unsalted butter, melted and cooled to warm
6 tablespoons sugar
2 teaspoons sea salt
a good grating of nutmeg (about 1/2 teaspoon)
2 1/2 – 3 1/2 cups bread (or all-purpose) flour, plus more for dusting
Filling:
1 cup dark brown sugar (fresh and non-clumpy)
2 teaspoons cinnamon
1/4 teaspoon sea salt
1/8 teaspoon cloves
3 tablespoons unsalted butter, melted
Glaze:
3 tablespoons sour cream
1 tablespoon milk or whiskey (or dark rum or brandy)
1/4 teaspoon vanilla extract
3/4 cup powdered sugar, sifted
Make the dough:
In a small saucepan, warm the milk over a medium-low flame, until a bit warmer than body temperature, but not so hot that you can't hold a finger in the milk for 10 seconds (100-110ºF). Pour into a large bowl, sprinkle the yeast over, and let sit to dissolve, 10-15 minutes. (If using instant or fresh cake yeast, skip the step of warming the milk and just whisk the yeast together with all the wet ingredients.) Whisk in the pumpkin, eggs, butter, sugar, salt and nutmeg to combine. Begin adding the flour 1/2 cup at a time, stirring after each addition, until a soft, shaggy dough forms.
Scrape the dough out onto a lightly floured surface (a plastic scraper works brilliantly). Optionally cover the dough with the bowl and let rest for 15-20 minutes (this is called autolyse, and lets the dough get a head start smoothing itself out.) Knead the dough vigorously for 10 minutes, dusting your hands and the surface with just enough flour to prevent the dough from sticking. After 10 minutes, the dough should be smoother, only slightly tacky to the touch, and slightly springy.
Round the dough into a loose ball, and place it in a lightly oiled bowl (or container) that is 3x the size of the dough, turning it to coat. Cover tightly with plastic wrap (or the lid) and let rise in a warm spot until doubled or tripled in size, about 2 – 4 hours.
Make the filling:
In a medium bowl, whisk together the brown sugar, cinnamon, salt and cloves.
Scrape the risen dough out onto a lightly floured surface and gently press out the air. Roll the dough out into a long rectangle, about 25″ long and 10″ wide, dusting and flipping the dough occasionally to prevent it from sticking. Brush the entire surface of the dough with about half of the melted butter. Sprinkle the filling mixture over the dough, leaving 1/2″ space at the top (long side) of dough. Press the mixture into the dough.
Beginning with a long end, slowly roll up the dough into a tight cylinder. Pinch the seam closed. Place the log seam-side down. Using a sharp, serrated knife, gently saw the log in half crosswise. Cut each half in half (quarters), then cut each quarter in half (eighths) and slice each eighth in half (sixteenths). (For the most even buns, cut the skinny end pieces longer than the fat middle pieces.)
Brush a 9×9″ square pan with half of the remaining melted butter. Place the buns in the pan 4 by 4. Press down on the buns to flatten them out and squish them into each other. Cover the pan tightly with plastic wrap (or place in a large plastic bag) and let rise in a warm place until puffed and almost doubled in size, 1 – 2 hours.
Meanwhile, position a rack in the center of the oven and preheat to 350ºF.
When the buns are fully risen, brush the tops with the remaining melted butter. Bake the buns until golden brown, 30-40 minutes.
Whisk together all the ingredients for the glaze until smooth and pourable. Drizzle the hot buns with the glaze (you may not want to use it all) and let them cool for at least 20 minutes before serving (the buns are still baking from residual heat.)
The buns are best within hours of being baked, but can be stored at room temperature for up to 3 days. (Or use leftovers to make killer bread pudding.)