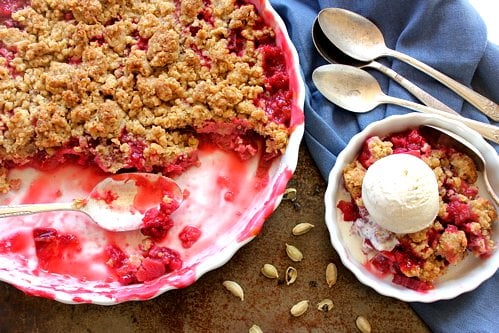 Whatever you title it – crisp, crumble or crunch – soft, warm fruit topped with streusel and ice cream equals heaven in my book. Andthis version, to me, is crisp nirvana.
I've been curious to bake something with plums, rhubarb and raspberries since Fall of last year after seeing recipes for rhubarb-plum, raspberry-plum, and raspberry-rhubarb desserts. I'm always looking for new ways to use rhubarb, and I imagined that the triumvirate could be nothing less than holy. All three "fruits" have sweet, tart, and floral flavor profiles and rosy color schemes. Plums fruit along the California coast while rhubarb and raspberries continue to carry on. As the saying goes,"what grows together goes together."
Inspired by a(nother) recipe on Leite's Culinaria, I turned the threesome into my favorite fruit dessert of all. This recipe looked like the crisp of crisps, with an ideal fruit-to-pastry ratio and large pebbles of golden-brown topping.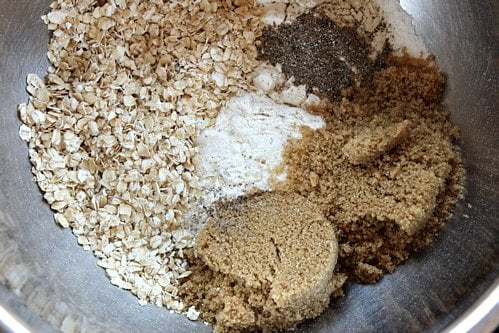 Quick-cooking oats, which are smaller, thinner and flakier than their old-fashioned-rolled cousins, seem to be the magic ingredient here. The topping bakes into tender nubs of sablé-like bliss that first crunch and then melt in the mouth. Whereas this crumble topping, which contains egg and baking powder, has a cookie-like chewiness, the topping here is more delicate and sandy. Its only caveat is that it reaches its peak shortly after leaving the oven, when the components have cooled and settled a bit so that you can really taste the flavors. After several hours, the streusel begins to absorb moisture from the fruit, softening where the two come into contact. The aforementioned crumble is sturdier and keeps well for several days, whereas this crisp is best within an hour of baking. (Though that hasn't stopped us from reheating leftovers at all hours of the day and night.)
Aside from a stellar fruit trio, a couple of other ingredients make this crisp sparkle: a generous splash of ruby port in the fruit deepens the flavor and color, and freshly ground cardamom in the topping adds its intoxicating spice. The play of musky cardamom against bright fruit is sublime, and it carries this summery dessert into the cooler days of Fall. (Oh, no, I said the F word!)
I want to make this crisp for everyone I know; I suspect it will be my go-to formula for a while. I imagine any other summer fruit could be swapped in or out of the holy triumvirate: apricots, figs, cherries, peaches and all berries (including huckles) play well with cardamom. Other types of liquor could be good in place of the port, like bourbon with peaches, kirsh with cherries, or brandy with apricots.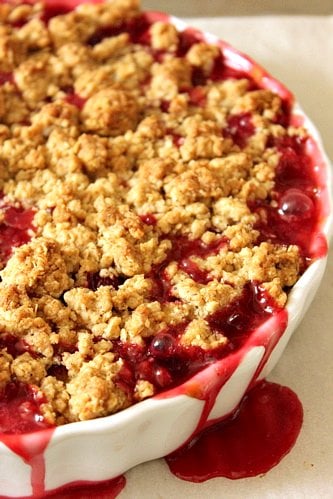 And don't forget the scoop of ice cream on top; crisp doesn't reach its full potential until the crunchy topping and gooey fruit meet melting ice cream. (Though my favorite dessert makes a decadent breakfast, too, topped with a scoop of greek yogurt instead.)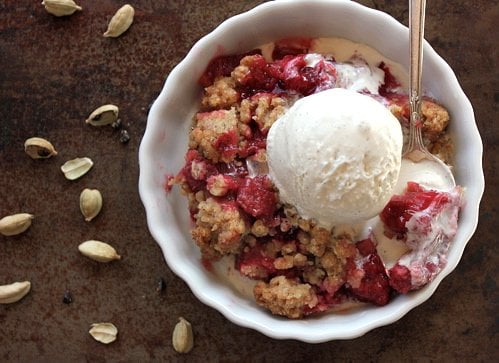 Crisps and crumbles:
(Gluten-Free) Strawberry Rhubarb Crumble
(Gluten-Free) Apple Crisple
Ginger Plum Crumble
One year ago:
Zucchini, Corn and Chèvre-Stuffed Squash Blossoms
Two years ago:
Chocolate Rosemary Pots de Crème
Plum, Rhubarb, and Raspberry Cardamom Crisp
If you lack quick cooking oats, which are smaller and thinner than old-fashioned rolled oats, David Leite says you can whizz old-fashioned oats in a coffee grinder or food processor to break them up a bit. I haven't tried making this recipe gluten-free yet, but next time I plan to try using oat flour in place of the AP as per my gluten-freeApple CrispleandStrawberry Rhubarb Crumble. Serve bowls of warm crisp with a scoop of vanillaor honey yogurt ice cream.
Makes about 8 servings
Filling:
1/2 cup sugar (preferably organic turbinado)
1 tablespoon plus 1 teaspoon cornstarch
pinch salt
12 ounces trimmed rhubarb, sliced 1/4″ thick (3 cups)
12 ounces plums (about 3 medium-large), halved, pitted, cut into 1″ chunks (2 cups)
2 tablespoons ruby port
1 1/2 cups raspberries
Topping:
(Adapted from Ian Knauer's The Farm via Leite's Culinaria)
3/4 cup all-purpose flour
1/2 cup quick-cooking oats (see headnote)
1/2 cup light or dark brown sugar
1 teaspoon ground cardamom
1/2 teaspoon fine sea or kosher salt
1 stick unsalted butter, cubed and softened slightly
ice cream, for serving (see headnote)
Prepare stuff:
Position a rack in the upper-middle of the oven and preheat to 375ºF. Place a 10″ ceramic tart pan (or a 9 or 10″ deep dish pie pan or the equivalent) on a rimmed baking sheet lined with parchment paper to catch drips.
Make the filling:
In a large bowl, whisk together the sugar, cornstarch and salt. Add the sliced rhubarb, plums and port, and toss to coat. Add the raspberries and fold gently to combine. Scrape the fruit into the baking dish in an even layer. Set aside while you…
Make the topping:
In a large bowl, stir together the flour, oats, brown sugar, cardamom and salt. Add the butter cubes and rub with your fingers until no butter chunks remain and the mixture begins to clump together. Sprinkle the topping over the fruit, using your fingers to break and squish it into roughly almond-sized chunks. Don't pack the filling down.
Bake the crisp: until the juices are bubbling vigorously and overflowing a bit, and the topping is thoroughly golden and cooked through, about 45 minutes. Let the crisp cool and settle a bit, about 20 minutes, then spoon into bowls and top with scoops of ice cream (see headnote for suggestions).
The crisp is best the day it's made, when the topping is, well, crisp, but it will keep for up to a few days and can be reheated in an oven or toaster oven. Store extras in the fridge after 1 day.