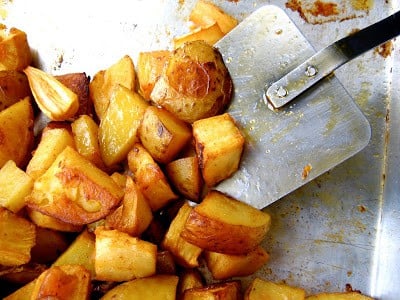 Making delicious roasted potatoes is so easy, there is really no excuse for the pale, bland, flaccid wedges you often find when brunching out. The roots are simply cut, tossed with olive oil and salt, and ignored in the oven for an hour until they develop a crunchy crust and soft interior.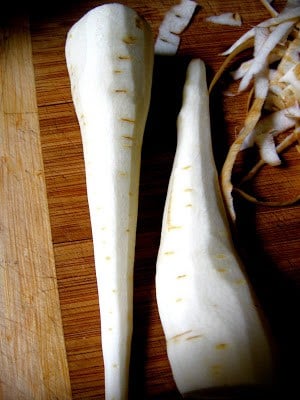 The last time I made these, I had some parsnips leftover from a soup recipe, and threw them in with the potatoes. The result surprised me. Roasted parsnips taste incredibly sweet with a uniquely earthy bite, adding a welcome change from the usual spud suspects (spudspects?). I usually add some fresh rosemary needles and whole cloves of garlic to the mix, but this time I tossed in a bit of curry powder and smoked paprika instead. The spices, staining the roots a warm golden color, melded together to form a deliciously enigmatic seasoning, making them the perfect accompaniment to any number of dishes, from poached eggs to ratatouille to spinach and goat cheese souffle to any meat or fish dish. Serve with a dollop of creme fraiche, sauce gribiche, romesco, or whole milk yogurt flavored with mashed garlic, mint and cilantro.

Don't leave these cooling on the rack for too long, or you may be surprised when these roots mysteriously disappear, one by one, off the baking sheet without ever making it to the table…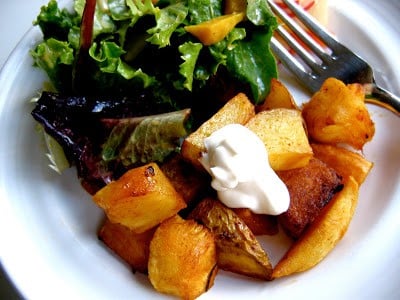 Oven Roasted Potatoes and Parsnips
Makes 4-6 servings
2 pounds yellow potatoes, cut into 1″ chunks
2 pounds parsnips, peeled, cut into 3/4″ chunks
1/4 cup olive oil
1 teaspoon salt
1/2 teaspoon curry powder
1/2 teaspoon smoked paprika
Preheat the oven to 400º with a rack in the lower-center.
Toss all the ingredients together in a large bowl. Turn out onto a rimmed baking sheet and spread in an even layer. Roast in the oven for about 30 minutes or until the bottoms form a golden brown crust. Use a thin, metal spatula to flip the wedges. Continue roasting until the potatoes and parsnips are golden and crusty all over and soft on the inside, another 30 minutes or so.